I'd been on the cliff-top at Bempton most mornings in mid-June, being rewarded with my first Eurasian Spoonbill for the site and movements of hundreds of Common Swifts heading south. On 24th, having stood on Grandstand viewing platform for a few hours with Mike Atkinson, I was debating whether to go for the Western Subalpine Warbler on the Outer Head, to have some lunch or give it a little bit longer – I'm glad I did the last!
At 11.49 am, Mike and I saw a bird at a very awkward angle, through the legs of visitors and the fence. It was beneath us, close to the cliff, and it was immediately obvious that it was a delicate, thin-winged tern with dark upperparts. We realised we were dealing with a Bridled or Sooty Tern, but unfortunately it disappeared behind an area of cliff. I gave birders further north a heads up.
I left Mike on Grandstand and rushed, still in disbelief, to the next viewpoint up: Bartlett Nab. After letting the visitor centre know what was going on, Mike radioed me and said he could see the bird looking north-west from Grandstand. I ran to Bartlett Nab and got straight onto it.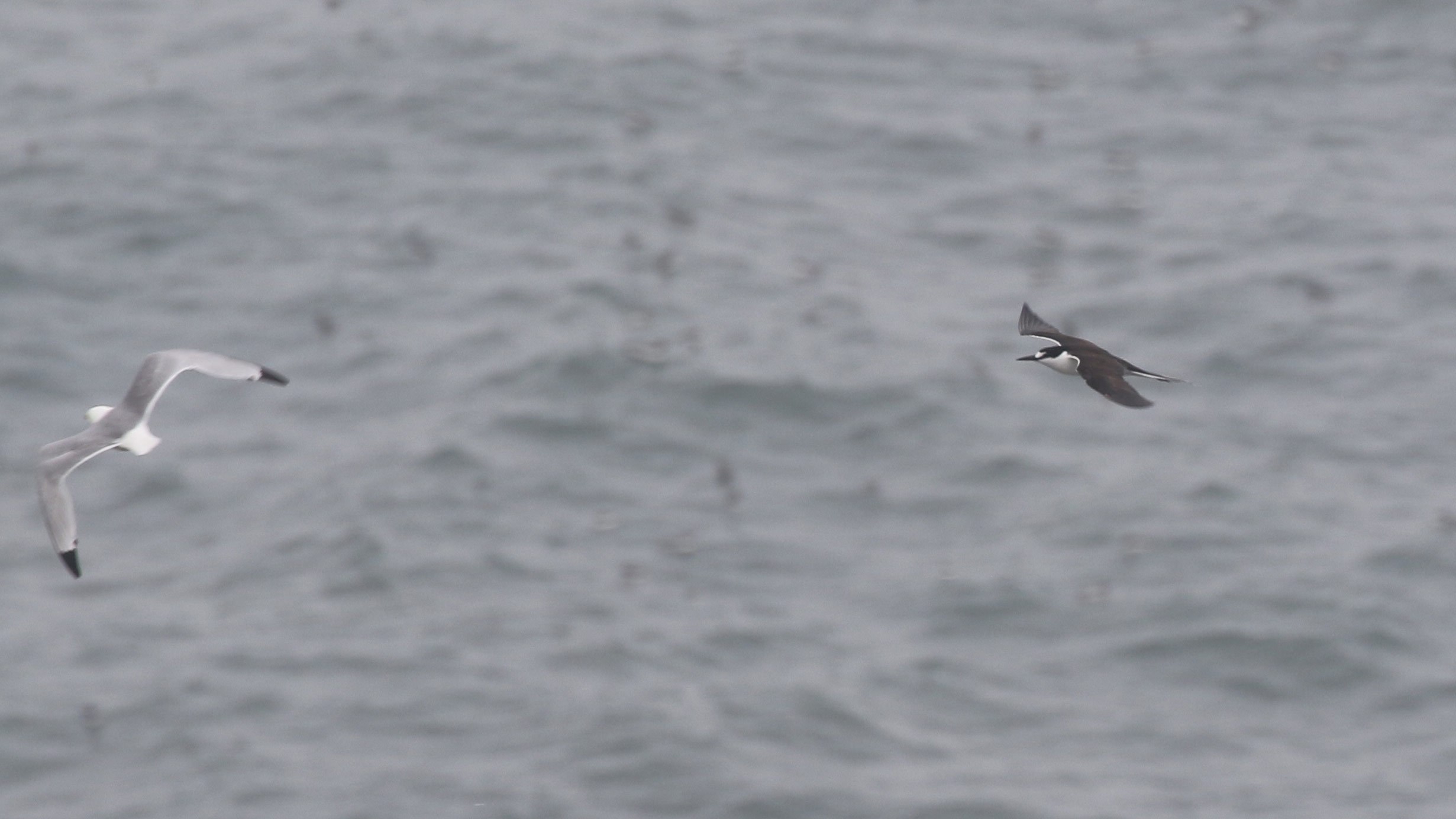 Sooty Tern, Bempton Cliffs RSPB, East Yorkshire (Will Scott).
These closer views, as it circled among Kittiwakes, allowed confirmation that it was in fact a Sooty Tern. I immediately got the word out and tried to get people who were at Bartlett Nab onto it, though clearly these visitors were unaware of the existence of Sooty Tern as a species!
By 12.05 pm I lost it again behind an area of cliff further to the north-west, still close in and high up. I raced to the next viewpoint but unfortunately there was no sign. I stood with a few others for the next 50 minutes, by which point we got news that it had been seen heading north past Filey Brigg.
The bird took some 45 minutes to get from Bempton to Filey Brigg, a journey of 10 miles. Birders were present at all of the usual seawatching points north of Filey, but the tern wasn't relocated, nor did it appear in any tern colonies further north. Perhaps it just headed out to sea, having briefly checked out the cliffs at Bempton.
Not only was Sooty Tern a new species for both the Filey and Flamborough lists, but also an addition to the Yorkshire list.
The Sooty Tern was later tracked between Flamborough Head and Seahouses, Northumberland, on 9 July before being seen past Weybourne and Sheringham, Norfolk, on 2 August.