Thirty years ago, during October 1989 and aged just 17, I made my first visit to the Isles of Scilly with my birding mates. The islands had long been on my wish list to visit and although 1989 wasn't a classic year for rarities, for me it was very exciting, seeing my first eastern gems like Olive-backed Pipit, and Radde's and Pallas's Warblers – I was hooked. The Isles of Scilly had become a permanent feature of my birding year!
Since that first visit there have been very few years that I haven't made a trip to Scilly, mostly autumn birding visits, some in spring and also helping with seabird surveys, but it's always a place I absolutely love to visit. The only thing that has really changed over the years has been my birding focus. In the past, my focus was very much on seeing as many new and exciting birds as possible, from Yellow-browed Bunting and Pechora Pipit to Black-billed Cuckoo and Northern Parula, but all found by other people.
However, in more recent years, my focus has been much more on trying to find something exciting myself, staying on a more remote island away from St Mary's. On previous visits I have stayed on St Agnes and Bryher, but it is St Martin's that keeps drawing me back. I have always felt it is very much neglected by birders. The best I had found on the island was an Arctic Warbler in 2003, but it has recorded many far rarer birds including Cream-coloured Courser, Common Nighthawk and Black-and-white Warbler to name just a few!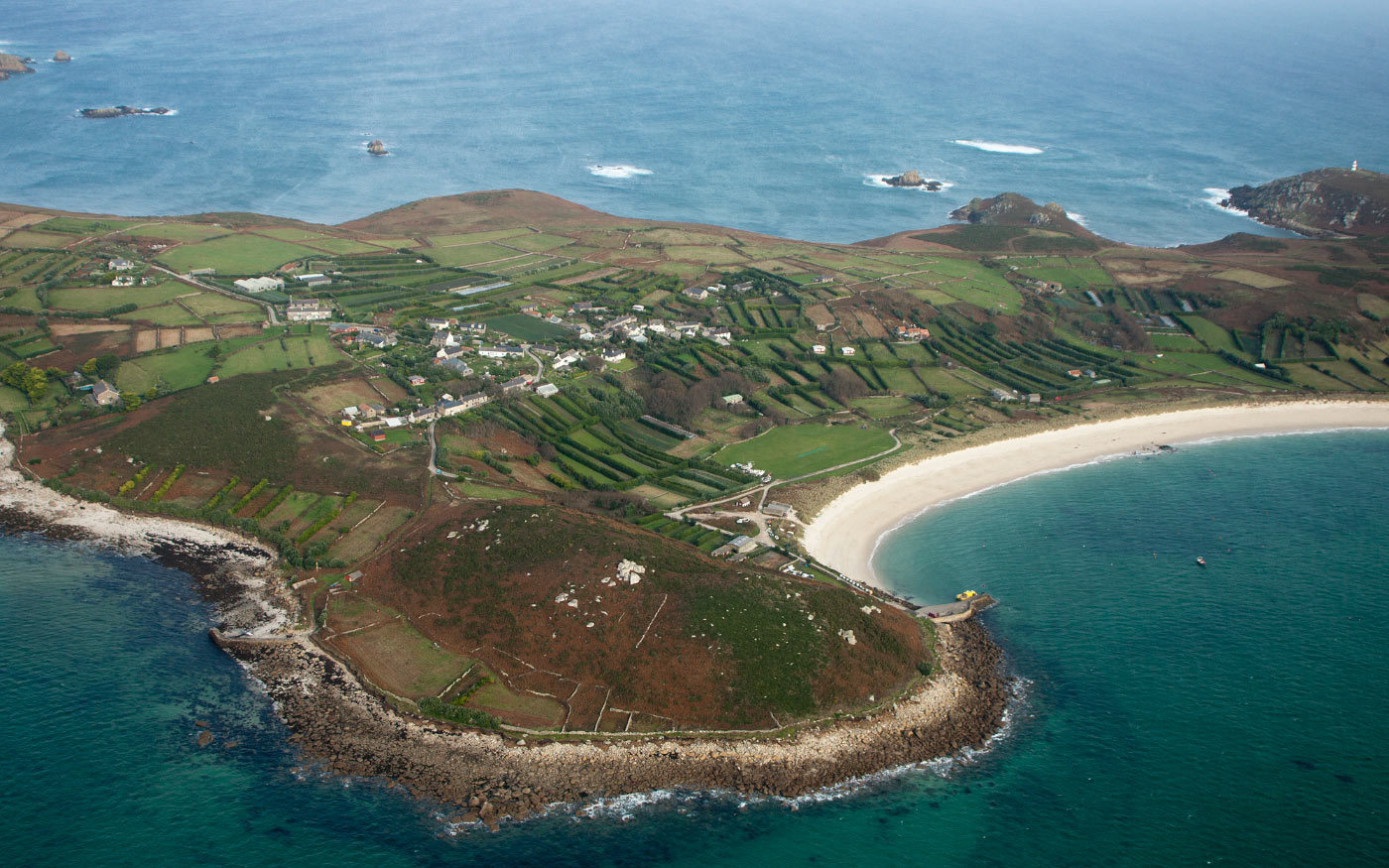 Chris fell in love with St Martin's and returns there to search for rarities every autumn (Tony Mills).
Fast-forward 30 years to 12 October 2019 and I arrived on St Martin's with my partner Helen and we checked in to our accommodation in Lower Town. As usual, I was already boring Helen with the endless possibilities of American vagrants that we could find and was keen to get out birding. At this point, I have to say Helen is a very competent birder with a sharp eye and although, unlike me, not obsessed with hopes of finding vagrants, she is very long suffering and I am blessed that we both have a great love for Scilly.
The continual south-westerly wind and rain from the previous week and an autumn that seemed to be shaping up to one of the best in recent years for 'Yanks'; it surely had to be one of the best autumns for finding an American passerine? Maybe I was just being greedy? After all, only this morning I had seen the long staying Yellow-billed Cuckoo on St Mary's during a casual walk around the Dump Clump while waiting for our boat departure to St Martin's. Yet, many birders had spent hours looking for it during its stay without a sighting.
Back on St Martin's, Helen and I wandered around Lower Town and up to the more sheltered area of Middle Town where the best we could muster was a Pied Flycatcher. The wind picked up and the drizzle started and despite birding until dusk, the flycatcher remained the best bird. I awoke early on Sunday 13 October, excited by the heavy rain during the night and thoughts of what the day might bring. I headed out to a fairly blustery grey morning and after birding the sheltered pines at Middle Town again, I decided to head to Higher Town. On my way, I met Andy Hearn, who was walking to Lower Town to catch the boat to St Mary's for the day. Andy is a birder that regularly stays on St Martin's, with over 50 years of visiting the island and many good birds. We had a brief chat and swapped mobile numbers and I remember my parting words were: "there must surely be an American bird on here somewhere!"
I then headed up the main track past The Plains and to the small disused quarry/garden waste dump. I could see a small group of House Sparrows perched on some branches of garden waste and I thought to myself, "there really should be a Common Rosefinch in with that lot", so I raised my bins to scan the flock and was immediately hit in the face, by the unmistakable head pattern of a first-winter Rose-breasted Grosbeak!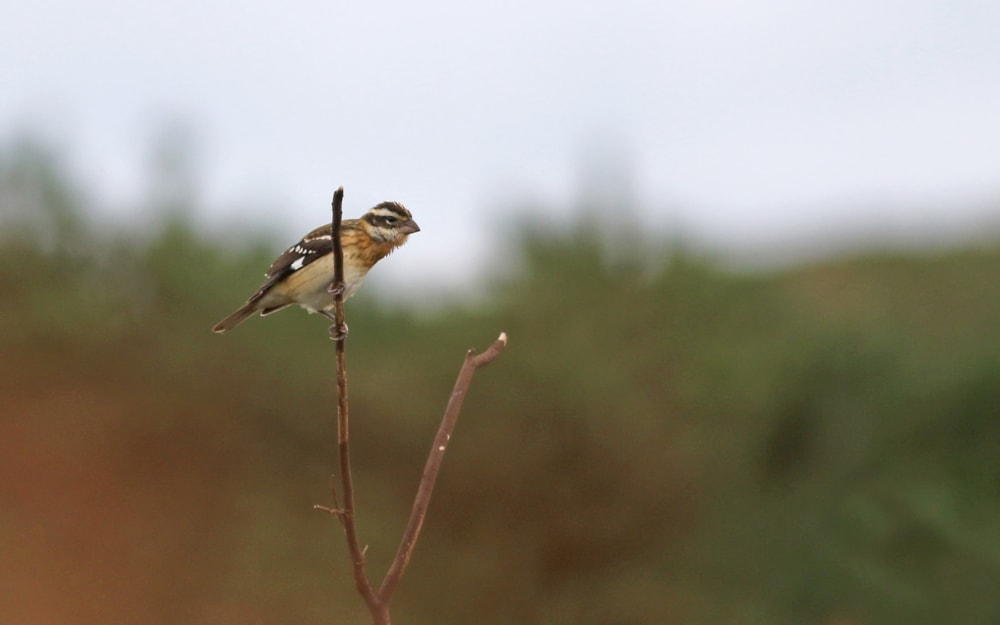 Rose-breasted Grosbeak, St Martin's, Isles of Scilly (Chris Townend).
I went straight for my camera to get a photo in case it flew – I even had to double check the photo just for a reality check that I wasn't going completely mad. The bird was only about 30 metres from me, perched high on the top of a dead branch. It was being mobbed by a Meadow Pipit and it seemed to be a fresh arrival – it was looking around as if trying to work out where the hell it was! I could clearly see the thick bill, the very striking black ear coverts and broad, long and white supercilium. There was a buffy median crown stripe and contrasting black wings with equally contrasting white wingbars, as well as a large white wedge to the bases of the primaries. The breast seemed quite buffy orange with some streaking. It was relatively bright and I suspected it was a male and a hint of red just visible on the shoulder from the underwing coverts confirmed this.
With an instantly easy identification and the photo secured, my thoughts then turned to getting the news out. I first rang Helen, who ordinarily would have been with me to join the euphoric moment, but an annoying cold had kept her back at base, though it was great to share the excitement albeit on the phone. I then tried Andy, in the hope he would get the message before getting the boat off the island, but it went to voicemail. Next, it was time to put it out on the Scilly Bird News WhatsApp Group via a quick delirious call to Kris 'Spider' Webb and the wider world of Twitter. I also had to call local birder and friend, John 'Higgo' Higginson who only the day before, jokingly pointed at my bins and said: "You won't be needing those on St Martin's matey!" By now, the bird had flown to the back of the old quarry and was in the bracken being mobbed by more Meadow Pipits.

Rose-breasted Grosbeak, St Martin's, Isles of Scilly (Chris Townend).
I was annoyed that I had missed the bird fly and therefore missed seeing the red underwing coverts. However, I was pleased to see Andy walking briskly up the main path towards me, but the bird had vanished. Will Wagstaff then arrived, who purely by chance had been staying overnight on St Martin's and another couple of birders also staying on the island arrived. I left them to it, as I suspected the bird may have headed towards Higher Town. Luckily the bird was relocated later by some of the hundred or so birders that arrived from St Mary's.
The rest, as they say, is history! The bird remained on the island for the next three days allowing a good number of birders to see it, despite it being particularly mobile during its stay! The bird mostly frequented the Higher Town area around the bakery and the fields below the cricket pitch, though on one occasion it was even seen at Lower Town.
It was a special bird to find and not only a self-found American passerine, but a UK lifer too. I enjoyed receiving the the live Twitter and text messages of congratulations throughout the day, some even as far as birding friends on Corvo and Unst! My only regret was that Helen wasn't with me at the time of the find! However, we did both enjoy exceptional views together on its last day in the sunshine when we finally got to see those lovely scarlet underwing coverts ...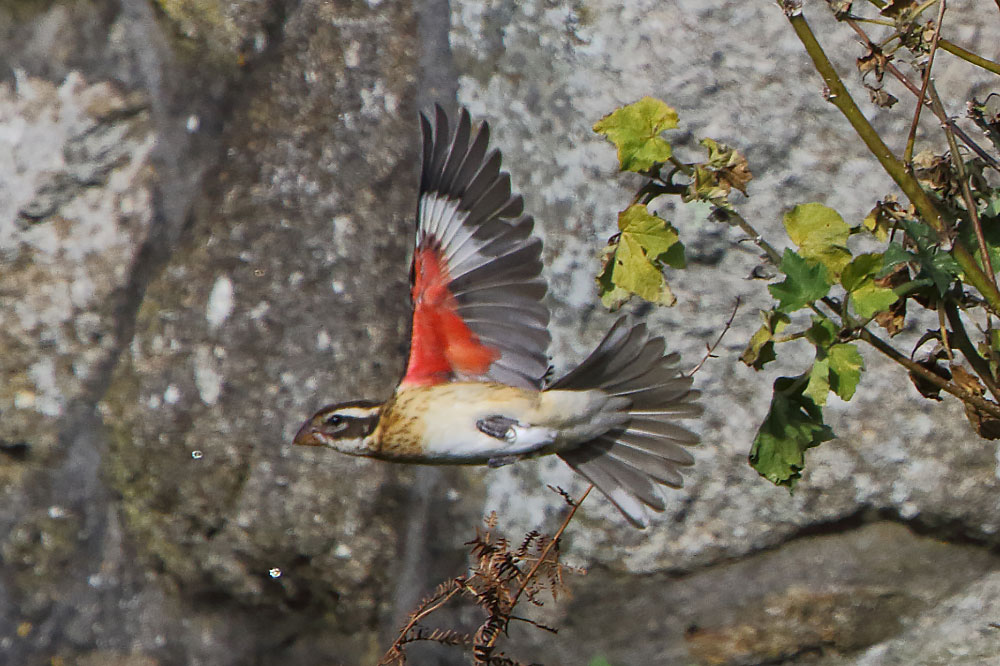 Chris was thrilled to finally clap eyes on the red underwing coverts on the bird's final afternoon (Jim Almond).