Strong and blustery southerly winds greeted me as I entered the first field on the south side of Hornsea Mere around 08:30 on Saturday 10 August. It was also sunny and warm and the light was good, so I was looking forward to getting a few hours' birding in. My usual vantage point by first field reedbed is in a dip, so I'm relatively sheltered from the wind while scoping the Mere.
Several Bearded Tits had been reported from the reedbed earlier that morning and I was hoping to catch up with these while scanning the water. A couple of small groups of Eurasian Teal appeared to be fresh in, juvenile Common and Mediterranean Gulls were loafing with 18 Little Gulls off the reedbed and two Common Sandpipers patrolled the shore edge. Good numbers of hirundines, mainly Sand Martins, were present.
More Little Gulls were feeding with several Common Terns out in the middle of the water. Numbers of these gulls often pick up here when there is a southerly component in the wind direction at this time of year, so it was no surprise when c 30 birds arrived at the east end just after 09:00. As I picked these birds up through bins, I noticed in the background a sizeable gathering of Common Swifts over by Kirkholme Point and Swan Island.
Often in blustery conditions here, swifts and hirundines feed in the channel between the north side of Swan Island and the northern wooded edge of the Mere, exiting the feeding loop at the east and west ends of Swan Island, before entering back into the sheltered channel to feed. During a quick scan with bins over towards Kirkholme Point and the island, I estimated some 150+ swifts with a bias in numbers towards the west side, so I decided to 'scope there first. What I saw next was off the scale ...
The first swift I scoped had a gleaming white rump, an attenuated rear to a forked tail, and long, thin scythe-shaped wings! I immediately had an idea of what I was looking at and tried to keep my composure as best as I could, well aware in the back of my mind I could lose sight of this bird very soon. I actually got a much longer look at the bird than I anticipated as it was just hanging and shearing in the wind with two or three Common Swifts off the west side of the island, before then banking back east through the treeline and out of view.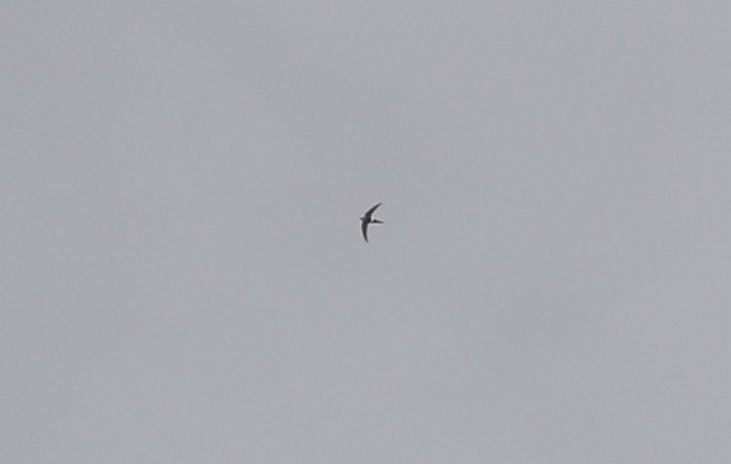 Pacific Swift, Hornsea Mere, East Yorkshire, 10 August 2019 (Will Scott).
I needed others to get on this bird, and sharpish. Hornsea Mere regular Jon Lamplough was around, so I rang him first. Jon was in the second field on the south side, some 5-600 metres west of my position. I explained with a rapidly drying mouth what I'd seen and exactly where I'd seen it. Tim Isherwood and Tony Martin were then contacted, before Jon rang me back several minutes later to say he'd had two brief views of the bird off the west side of the island. I felt sheer relief that someone else had seen it; happy days!
Tim and Joanne Richardson met me in the first field around 09:30, by which time I'd had another couple of brief views over the west side. However, it took us another 15 minutes to get another look at it when Tim then picked it up over Swan Island at 09:45. Needing closer views, we headed to Kirkholme Point. There was no further sign initially until 10:29, when Tim picked the bird up distantly over Heslop's reedbed briefly on the south side of the Mere.
More people were arriving on site by this point and Mark Thomas superbly relocated the bird high above Swan Island, thus giving us the closest and most prolonged views we'd had – and also affording a first opportunity for most of the assembled birders to see it. The bird then performed well from 11:00-11:20 in the channel between the island and north side, giving excellent scope views and leaving us in no doubt that the bird was a Pacific Swift. The swift continued to perform on and off in spells in tricky conditions until just after midday, allowing for most visiting birders to catch up with it.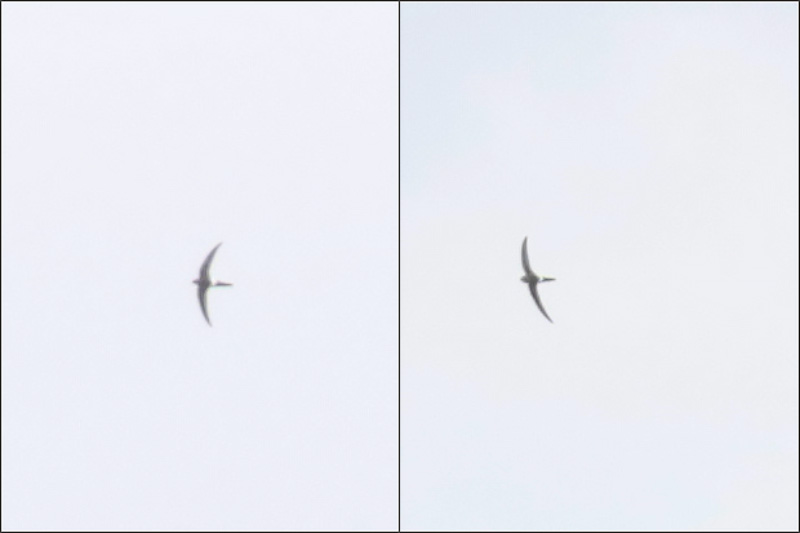 Two further record shots of the Hornsea Mere Pacific Swift, illustrating the long-winged and long-tailed appearance (Mark Thomas).
While it was great to find such an amazing bird, it was even better to share the experience with my closest pals – especially when they are experiencing the sheer disbelief and joy of what they are looking at. A big thanks to Jon Lamplough, Tim Isherwood, Joanne Richardson, Ade Johnson and Tony Martin for the quick reactions and keen eyes, as well as Mark Thomas and Will Scott for the near-impossible feat of obtaining record shots in the most challenging of conditions.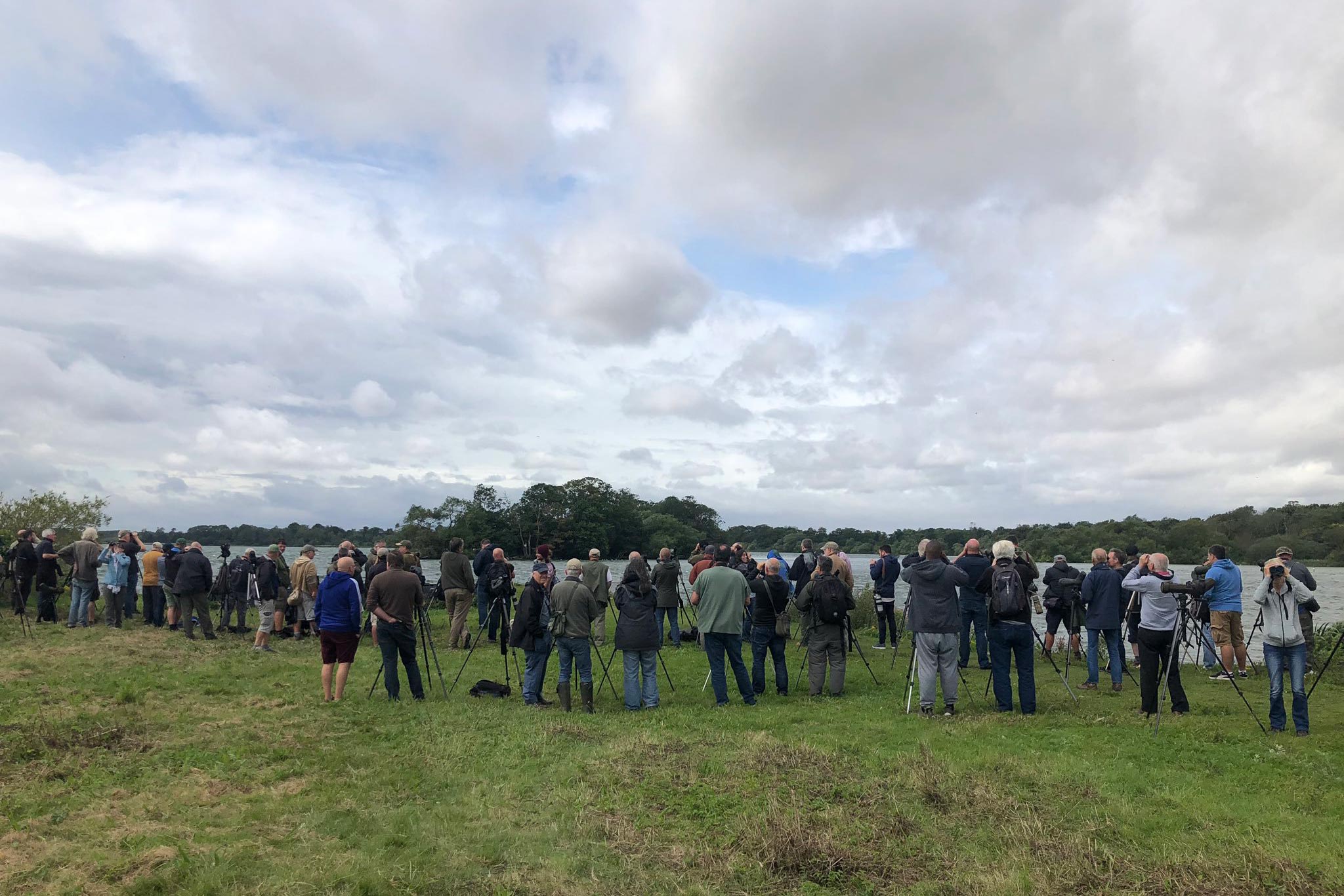 A sizeable crowd had gathered to watch the Pacific Swift at Kirkholme Point by mid-day (Andrew Dove).
Stats & facts
Pacific Swift breeds widely across Central and East Asia, wintering south to South-East Asia and Australia. It is an extremely rare visitor to Europe with 10 previous accepted British records, the most recent of which involved a brief bird in Aberdeenshire in July 2017 (see this article). Yorkshire has produced more records of Pacific Swift than any other county – assuming its acceptance, the Hornsea Mere bird will be the fifth for the county, with the previous four individuals all seen in the Spurn recording area in the midsummer period, more specifically between 12 June and 9 July.