One of the birding highlights of the year for me is the return migration of adult waders. Norway is a rare bird-finder's paradise, with lots of great birding spots, our legal 'right to roam' and very few birders about. However, when it comes to waders there are not so many good spots, and those are often well-watched. In addition there are dog walkers, kite surfers and, not least, plenty of German nudists that for some reason tend to gather at the best wader beaches! As a result, an early-morning visit usually gives the best results, so there I was, on an early visit to Kviljoodden at Lista on the southern tip of Norway, on the morning of Sunday 12 July.
This summer has been very poor for wader migration in Norway, and a brief scope-check from a distance did not suggest any promise of an improvement. On the bright side, the calm winds and overcast skies seemed to have left the kiters stranded, the dog walkers at home and the nudists in their RVs, leaving me alone on the beach. As I looked over the sand dunes I immediately noticed two divers only a short distance offshore. The first impression was of a Black-throated Diver and a Red-throated Diver, but when I got my bins on them it came clear that both were Black-throated; one adult and one first-summer. Still, the younger bird seemed a bit strange so I fixed my camera on them and fired quite a few shots as they swam further out.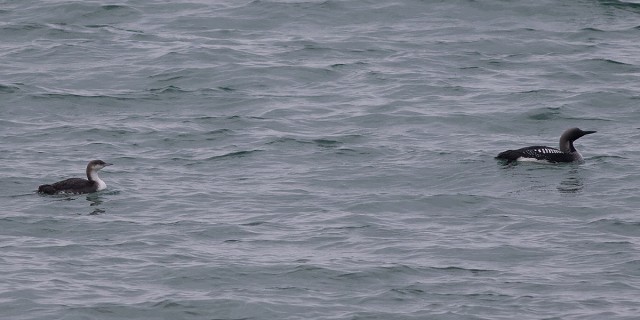 Pacific Diver (left) and Black-throated Diver (Photo: Tor Olsen)
I'd recently returned from Varanger, seeing plenty of both Red-throated and Black-throated Divers. The display on my camera clearly showed the younger bird to have flanks which looked like Red-throated, a fine bill and smaller size compared to the adult. Pacific Diver was already on my mind, but shouldn't they have an obvious chin-strap? And could they show such an obvious white 'water-line'? A quick google search for Pacific Diver ID produced (among a variety of great-looking Pacific scuba-diving sites) an article by Andrew Birch and Cin-Ty Lee that was very informative. This was starting to look very interesting!
A text with a shot of the back of the camera to my friend Håvar Hveding, who, as opposed to me, has some experience with the species, yielded the following reply: "Exciting! Where?" A few more texts, a call and some disbelieving scope-views later, my hopes had been raised even higher; in the meantime, however, the two divers had had time to make it almost halfway across the bay. I spent the last mA of battery on my phone sending out a bird alert with a tentative and very uncertain identification of the bird as Pacific Diver, before heading back to my car.
On arrival at the other side of the bay, at Havika, I soon spotted three divers exactly where I found them originally; two adult Black-throateds and the rather drab-looking but very interesting first-summer bird. Back to the car, heading for Kviljoodden again! On the way I managed to charge my phone just enough to send out a new, quite optimistic Bird Alarm update.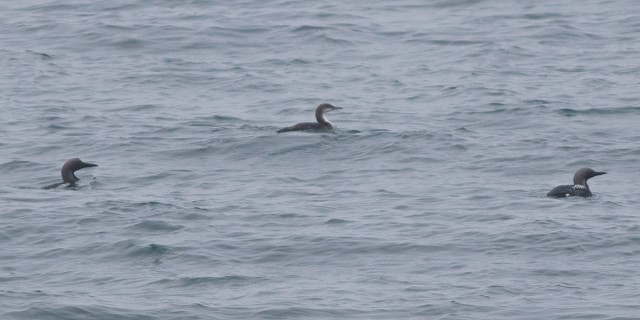 Still distant! (Photo: Tor Olsen)
Back on Kviljoodden a bit later I got good scope views of the trio of divers. The new adult Black-throated did appear to have a somewhat finer bill and seemed a bit smaller than the first as well. Could the size and shape of my suspect bird just come down to individual variation in Black-throated Diver? When it started to preen it also became clear that what I earlier thought was a clear vent-strap was in reality just the dark thigh. I got a couple supportive texts from people seeing the photos I had attached to the Bird Alerts, but they also had a slight concern about the head shape. Further scope views left me a bit uncertain on this character as the head shape seemed to vary quite a bit with posture. By now I had a few co-observers, but unfortunately none with previous experience with Pacific, and none that could give me the confirmation I was eagerly hoping for.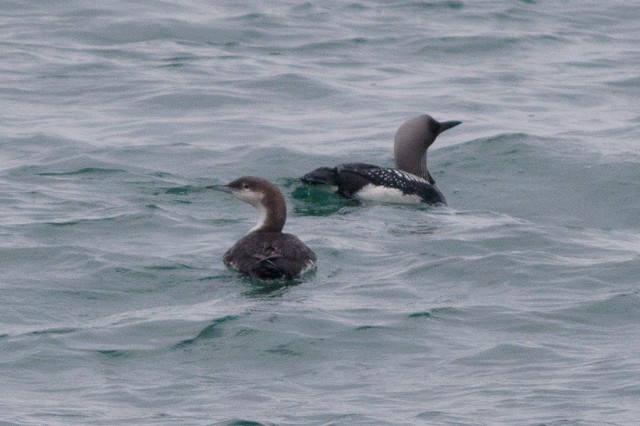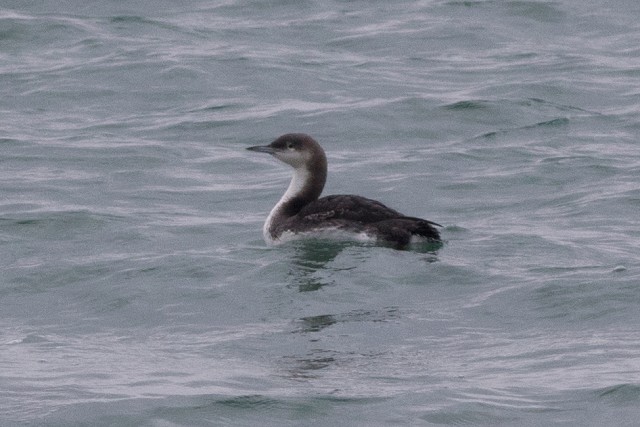 Pacific Diver, Lista, Norway, 12 July 2015 (Photos: Tor Olsen)
As time passed the divers again swam further out into the bay, and as the distance increased the apparent size difference between the three birds seemed to decrease proportionally. Even more worryingly I started to doubt my own eyes. Was the bill actually finer or was it just an effect of the paler greyish bill of the first-summer bird contrasting less with the grey sea than the solid black of the two adults? As my phone was now long dead again I feared I would miss calls from people studying the photos in more detail. With others starting to arrive from farther away and more probably on the road already, doubts suddenly hit. Was I about to string a runt and drab-looking Black-throated? After all Pacific Diver would be a mega, unlikely to end up here in the middle of the summer. With fears of becoming the Norwegian birding scene's laughing stock and making people waste money on petrol, I asked one of my co-observers to put out an update saying that the bird was most likely just a Black-throated after all.
I was not able to have another look at the photos until I was back in Stavanger in the evening. A selection was shared without me really looking at them; I just expected to get a confirmation that it was a Black-throated anyway. However, Bjørn Olav Tveit and Simon Rix soon replied very enthusiastically about the bird actually being Norway's first Pacific. Without studying the photos in more detail, I sent some to Hans Larsson who found Sweden's first Pacific just a couple of months earlier. Knowing his capabilities, I felt sure he'd studied diver identification and variation in detail. To my great surprise I soon got a reply that the bird was spot on for Pacific! For some reason I was still reluctant to accept his conclusion, feeling that there were a lot of supporting characters missing. Hans kindly offered to forward my photos to Killian Mullarney, who replied the next morning with his comments that the bird "looks perfect for a first-summer Pacific".

Pacific Diver, Lista, Norway, 12 July 2015 (Photo: Tor Olsen)
Unbelievably, even with the unanimous comments from Killian, Hans, Bjørn, Simon, Håvar and others, I still was not convinced and did not surrender until a few hours later. In hindsight it's amazing how I refused to acknowledge the diagnostic characters like dark rear flanks, the fine bill and small size just because supportive characters like chin and vent straps were less obvious or absent. I guess the lesson learned is to have more confidence in the first impression. Luckily the bird was still present on the Monday and Tuesday mornings so people held back by my hesitation were still able to connect before it disappeared. This coincided with wind and wave conditions taking a turn for the worse, so the bird may still actually be present.
When it comes to identification features the obvious lack of a white anterior thigh-patch is of course the most important. As I've now learned, this single character is diagnostic for Pacific, and the evenly wide white 'waterline' along the flanks is actually a good fit for this species. Furthermore, the small overall size and fine bill compared to the two accompanying Black-throated Divers also nails the identification. Looking through my photos it's beyond doubt that the head has a less angled shape than our European counterpart.
A few of the other supportive characters could be mentioned. The bird had some retained juvenile wing coverts, as can be seen on some of the photos. These seem to have quite obvious pale edges, a character that has been put forward as supportive for juvenile Pacific. On the other hand, the bird does not show the famous chin-strap on any photos, nor did it in the field. Absence of this feature is, however, not critical for a first-summer bird, as stated by Birch and Lee. I never managed to confirm whether it actually had the dark vent-strap. On some photos taken when the bird was preening there seems to be a thin dark line, but this could just be a shadow. Anyway, the vent-strap is difficult to observe or document on a diver sitting on the water, and with all other characters pointing towards Pacific, it's not essential to see.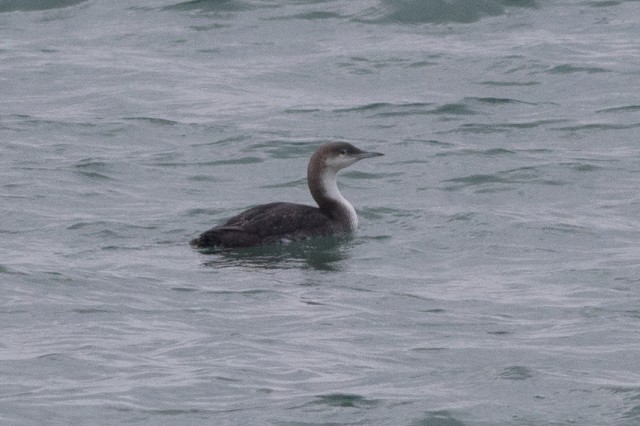 Pacific Diver, Lista, Norway, 12 July 2015 (Photo: Tor Olsen)
An easier-to-observe field-mark is the dark ear-coverts. On a typical Black-throated the dark hood is more or less level with the underside of the eyes, making the ear coverts mainly white. On Pacific, as on the Lista bird, the ear coverts are obviously darker, reaching well below the eye to create a head pattern that is less clean-cut. The bird never gave the 'Cobra pose' that is often associated with Pacific, but this should be more prominent on adult birds. I've also seen that contrast between a pale hind-neck and darker sides to the neck may be a supportive character at least for juvenile birds. Even though there was a difference in colour tone on the neck it did not play a major role in the identification of this individual.
As it turned out, wader migration was still very slow with only a handful of Ringed Plovers and Dunlin plus a single Whimbrel present. But that was easily forgiven with a national first floating around offshore!