The phone rang around 9am on the penultimate day of December 2013; it was John Kemp wondering whether I wanted to join him in trying to photograph the Pied-billed Grebe at Loch nam Feithean, North Uist. The day had dawned brighter than of late and we were experiencing a rare, calm(ish) spell. It didn't take long to ponder his suggestion and within the hour we were off. We located the grebe pretty quickly in a sheltered arm of Loch Scaraidh, which is joined to Loch nam Feithean via a channel, although at the time it was more like one giant loch after all the rain! We actually managed to get reasonably close to this very wary bird but the light was atrocious, with bright sunshine directly south of us and coming from exactly the same direction that the grebe was feeding. We gave up with little prospect of getting any decent images and went to look at the Glossy Ibis feeding by a croft house in nearby Hougharry. Another good bird under the belt and John asked the million dollar question "What next?"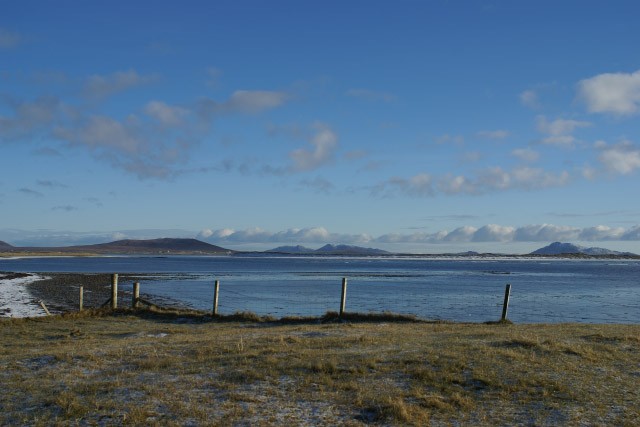 Looking east from Rubh' Arnal, North Uist (Photo: Steve Duffield).
During the previous week I had seen a few white-winged gulls near Rubh' Arnal, plus what was probably a Little Stint that had unfortunately eluded positive identification due to its untimely disappearance in the quickly deteriorating weather. The prospect of a few more decent birds was temptation enough for John and the scene was set for one of the most remarkable discoveries I've ever been involved with.
John decided to park at Kyles Paible and walk up the coast towards Rubh' Arnal. We passed a number of flooded fields and spent the next hour admiring a decent selection of Glaucous Gulls, Iceland Gull and a mixed flock of Snow Buntings and Twite feeding on the machair. We were heading back to the car sometime after 2pm when I happened to see a small to medium-sized wader up to its vent in one of the flood pools.
"John, what's that wader?"
"It looks like a yellowlegs."
We both stood still pondering the bird when some Redshanks nearby took to the air in their customary noisy manner, carrying the mystery wader with them. As it climbed away from us, we both searched for the square, white rump of a yellowlegs but it wasn't there; in fact the white rump extended in a white flash up the back to the mantle. In my mind I had already decided that it must be a yellowlegs as what else could a delicate wader with a fine, dark bill be at this time of year? So when the bird shot off with the shanks revealing its distinctive upper parts my mind seemed to hit an identification brick wall. I'm sure it was John who first mentioned the words Marsh Sandpiper but surely not — on the west coast of Scotland, in winter?!
Content continues after advertisements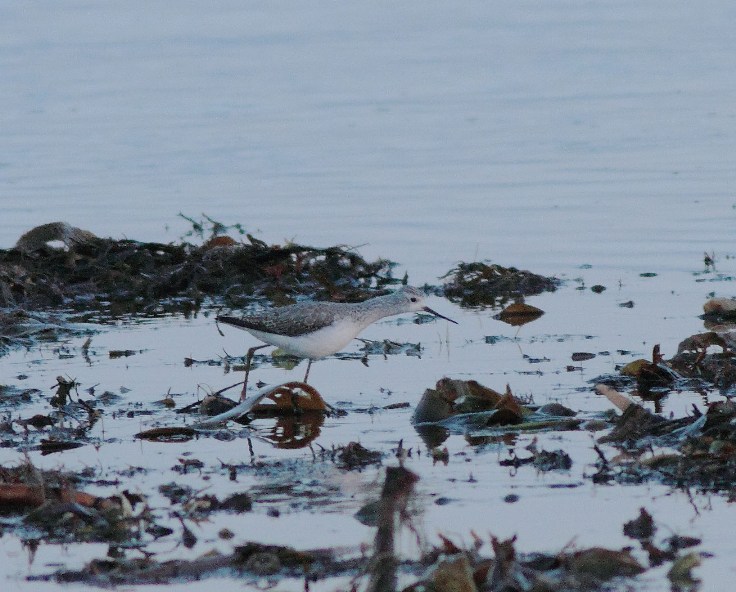 One of Steve's first shots of the Marsh Sandpiper, taken on 30th December (Photo: Steve Duffield)
The long-legged mystery wader joined up with the small band of Redshanks, revealing its smaller size and lighter build before the flock descended on a distant flood pool. A giddy feeling of incredulity swept over me; I could hardly believe what we had just seen and I'm glad that there was someone else with me to make sure that the excesses of the seasonal festivities hadn't affected my eyes. We ran through the features again and again, with John muttering "it can't be anything else". We both carry cameras and had opted to leave the scopes behind so rather than going back to the car we decided to try and secure some images, for there was a good chance no one would believe us.
It was difficult to get close to the sandpiper as it associated with a small flock of Redshanks but we did manage to obtain a few shots that were enough to show the relevant features such as the small size in direct comparison to a Redshank; a fine, all dark, long bill; long, dull green legs and a primary projection that just reached the tip of the tail. I went back for my scope allowing me to get much better views of this delicate wader while John continued to photograph it. By the time we had erased all semblance of doubt from our minds it was beginning to get dark and we headed back for the vehicle. In another fortunate twist the flock of shanks and the sandpiper flew onto the shore with the rising tide, where the sandpiper became separated from the main flock as it fed on the seaweed. On its own it was much more approachable and with the setting sun behind us we managed to capture much better images of this amazing bird. Who would have thought that, in mid-winter, we'd have been watching birds that originate from the north, south, east and west!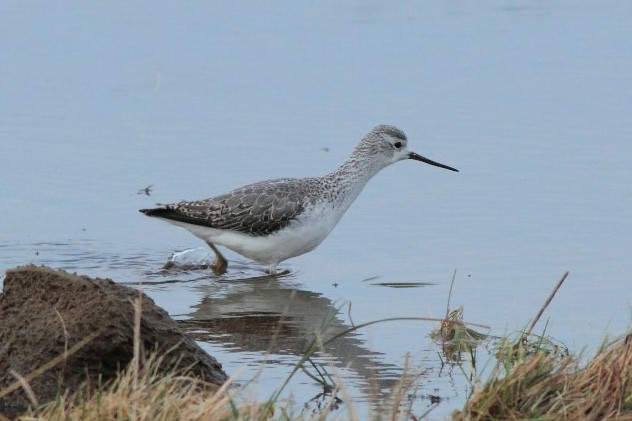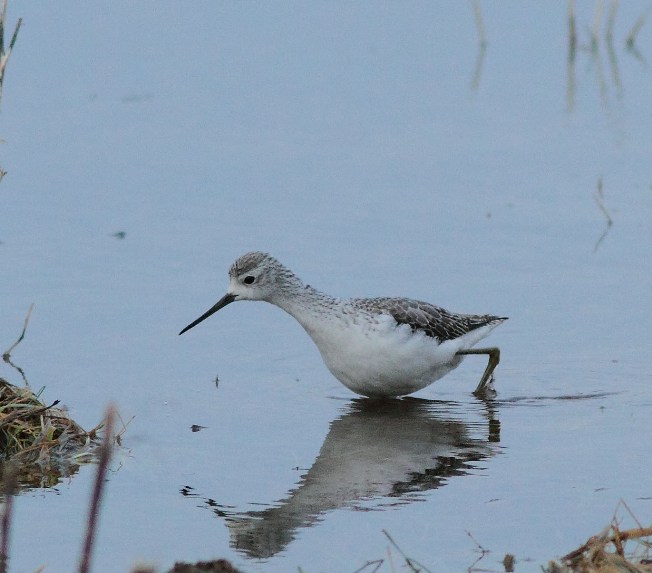 Further shots of the Marsh Sandpiper at Kyles Paible, North Uist taken on New Year's Day (Photos: Steve Duffield)
We later found out that a wader resembling a Marsh Sandpiper had been seen but not identified at nearby Loch Paible on 13th December. Luckily for us this news had not been relayed our way and the joy of bumping into such a surprising bird had not been diluted by rumours and possibilities making this quite staggering occurrence all the more enjoyable.
For bird sightings and tours throughout the Outer Hebrides please visit www.western-isles-wildlife.com.