While our garden had played host to a singing male Bluethroat, it's fair to say that the numbers and variety of grounded migrants had proved more than a little underwhelming on Unst in mid-May, despite three days of what had felt like promising south-easterly winds. Overnight on 13-14th there had been a splash of rain, and perhaps just as importantly, a classic reversal in the wind direction to a north-westerly, which sometimes seems to stop northbound spring migrants in their tracks.
An early morning visit to Skaw produced a Lesser Whitethroat and a Willow Warbler: although there were still far more perches than birds, it almost amounted to a fall by this spring's poor standards. A walk along Lamba Ness added a female Pied Flycatcher sat along a fenceline, adding to my suspicion that there was a thin scattering of migrants grounded across the island. In fact, there then seemed something for every birder active on the island, with a succession of messages received relaying news of another Pied Flycatcher, a Spotted Flycatcher, a male Red-backed Shrike, a male Bluethroat, a Sedge Warbler and a Marsh Warbler.
As the migrants included some clearly bound for Scandinavia, I'd mentioned to Brenda the possibility that we might find a Rustic Bunting, having found two spring birds on Unst in the last three years. Unbeknown to me, whilst leaving me to check a garden or two, Brenda had refreshed her memory of what to look for by taking a quick look in the Collins Bird Guide that was in our car.
We'd taken a long walk around Haroldswick and then visited Burrafirth but had seen very little. It was already mid-afternoon by the time that we headed for Baltasound. Birders were present at all three of our first intended stops so we deviated from our planned route but again saw very little at the sites that we checked. By late afternoon we decided to make the gardens along the road to Baliasta our last port of call for the day. We'd checked the gardens from the Manse to the cemetery, that will be familiar to many birders for being the area which the Cape May Warbler frequented in autumn 2013. We were back in the car heading for Houlland when Brenda suggested that we take a look at a small, sunken garden en route that looked something of a suntrap in the late afternoon sunshine. Having been out in the field for nearly 12 hours by then, I was flagging, and I almost didn't bother to stop …
Parking the car, I walked across the road to the dry-stone wall opposite with the sun behind me. From immediately the other side of the wall, a tiny, long-tailed Sylvia took flight, and with a typically weak and jerky flight it set off low across the rough grass towards the wall the other side of the c30m wide field. Its jizz was that of a Dartford Warbler but its plumage appeared a uniform paler grey – even in that short flight – and the possibility of it being a Marmora's Warbler flashed through my mind.
It landed on the wall, perfectly lit by the sun, and appeared all slate-grey save for its darker lores, red eyes, pinkish base to its bill and orange legs … and then it all too promptly hopped over the top of the wall and out of sight. Of all the miles of dry stone wall to walk up to, I'd literally had the good fortune to choose the correct square metre of wall to do so! Despite the whole encounter lasting just a few seconds, I shouted to Brenda that it was a Marmora's Warbler, and for her to grab her camera. She rather calmly but reassuringly replied: "oh, the all grey one with a red eye and orange bill & legs", which rather took me by surprise, as she seemed to know as much about the species that there is to know – it transpired that while looking for buntings in the Collins Bird Guide, the Sylvias had caught her eye, especially Marmora's Warbler, as it had an unfamiliar name that she'd never heard me mention until now!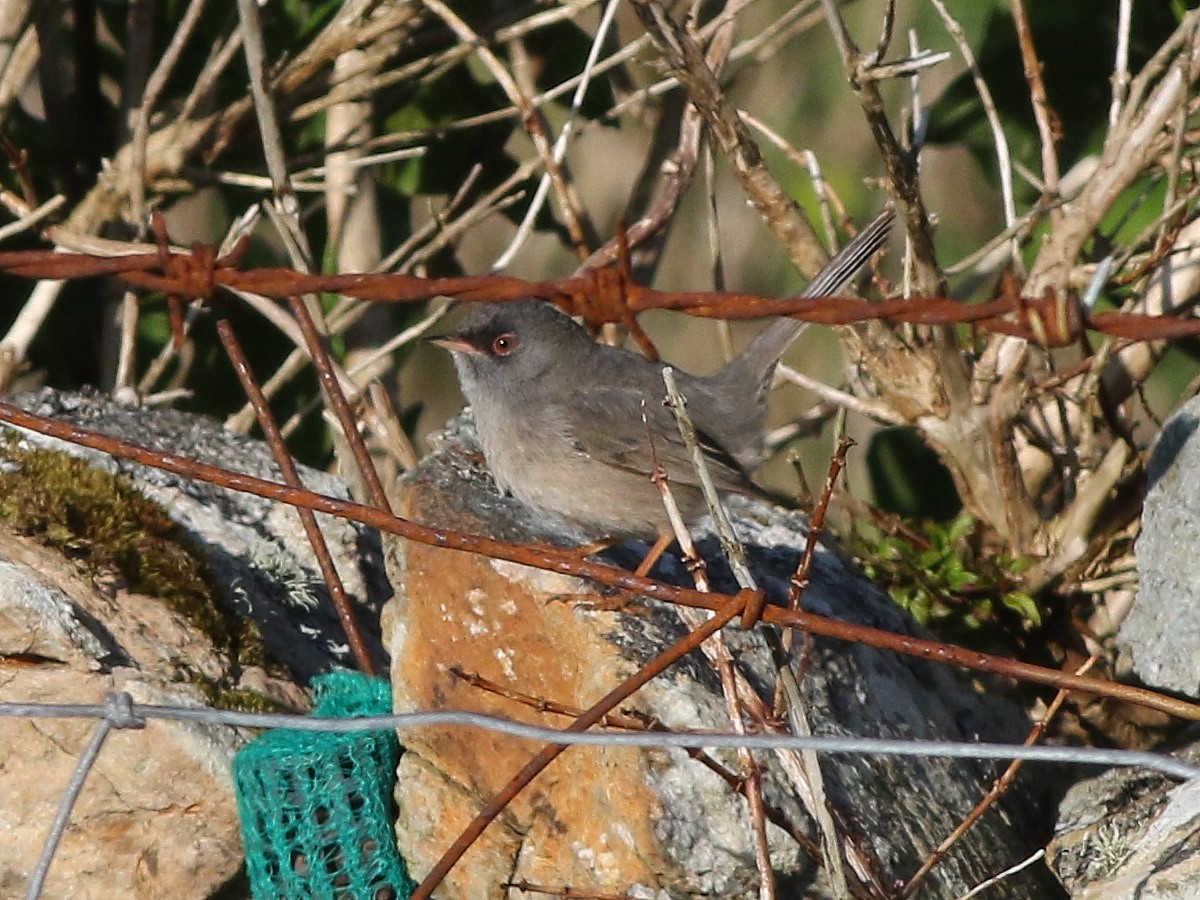 First-summer male Marmora's Warbler, Baliasta, Unst, Shetland, 14 May 2018. Similar to our first view of the bird perched, tail typically held half-cocked, it reveals its red iris and mixed red/white orbital ring, pinkish base to its dark-tipped bill and orange legs and feet and its plumage comprised of subtly differing shades of matt slate-grey save for its darker lores/mask, whitish malar spot and vaguely buff-tinged flanks (David Cooper).
I still don't recall how I sprang over the fence/wall combination and crossed half the field in pursuit, but as I cautiously crept the last few metres with camera poised, unbelievably there was no sign of it. I'd seen exactly where it had disappeared, and had remained transfixed, hopefully ensuring that I didn't miss it fly again. I re-checked along the wall but there was still no sign of it. As I looked up I could see walls stretching away into the distance in just about every direction. Surely we weren't to be left without any further views or images of it?
I was almost at a loss as to know where to look. The sunken garden itself had a few Rosa rugosa bushes, so I considered that the best place to start. I'd made it halfway across the field towards them when, much to my relief, it flew right past me, heading in the same direction! It landed on some bare earth and hopped, tail-cocked, into the depths below one of the bushes. Still no images, but it soon worked its way up through the bush and perched briefly on the adjacent wall allowing for more views and we both quickly rattled off some photos. It disappeared over the wall and out of sight again. I checked my images, and while confirmatory, the camera settings weren't great, being on a very high ISO.
We walked the wall, but again, it had vanished in front of our eyes. We then re-checked the sunken garden and the immediate surrounding walls but there was no sign of it. Effectively we'd had two very brief encounters, but then completely lost it.
I explained to Brenda that Marmora's Warbler had recently been split into two species, and that we needed to eliminate the albeit unlikely possibility of it being a Balearic Warbler. Our first edition Collins Bird Guide pre-dated the split and I was struggling to recall the features of Balearic Warbler. My own recollections of them from Mallorca was that they were paler, more silvery-grey in appearance when compared to the only Marmora's Warbler that I'd seen before – the first-summer male at St Abbs in 1993 that I'd considered was darker, more sooty grey in appearance. I'd already noted that ours was also showing some brownish hues to its upperparts, and particularly its wings, which I was fairly sure I could recall helped aged the St Abbs bird as a first-summer.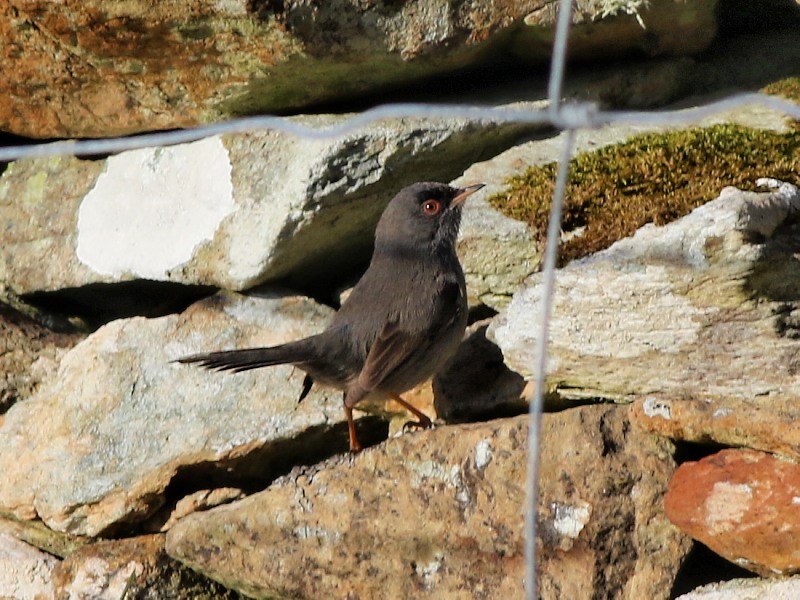 The brownish hues visible to its upperparts, tertials and faded worn primaries aged the Marmora's Warbler as a first-summer (David Cooper).
With no mobile phone signal, we drove to Houlland, where we knew we would obtain service. With it already approaching 6 pm, I didn't think anyone would thank me for not putting the news out while we further considered the unlikely possibility of it being a Balearic Warbler, so Brenda put a couple of 'back of the camera' shots, along with the appropriate caveat that we didn't have any literature, on the local WhatsApp group. With the lack of bandwith available it took nearly 10 minutes for each shot to upload to Whatsapp despite Brenda's arm being stuck up in the air out of the car window!
In the meantime I spoke to my father, John Cooper, and he very quickly checked the Sylvia Warblers guide. The combination of its small white malar and dark throat swung it firmly in favour of Marmora's, although I could tell that he was slightly perplexed by me describing its underparts as showing some buff. I then phoned Brydon Thomason and pretty much just said "Marmora's Warbler, Baliasta, get here!!" After a few expletives he said that he was about to take his son, Casey, to a youth club commitment but they'd now make their way via Baliasta …
My father then called me back to read me the text in the Helm Guide relating to a first-summer Marmora's Warblers that stated 'underparts more solidly coloured but, compared to adults, slightly duller and buffier overall'. Hence, nothing at all seemed amiss for it being a Marmora's. I then called Roger Riddington whose initial reply was a simple "bloody hell …" I ran through the identification features that we were using and his words were something along the lines of "it sounds like the job is done; I'd love to see it, please stick with it until 9 pm as I should be there about then…!" While speaking to Roger the first Whatsapp message complete with photo pinged through. Paul Harvey soon phoned and ran through the features of Balearic and Marmora's Warbler. Someone also took the trouble to send the complete Surfbirds article dealing with the identification of the two species, written by Brian Small.
Of course, by now, we wanted to return to the site to try and relocate and watch the warbler and we simply didn't have time to reply to all of the incoming congratulatory messages. We returned and Brydon, Casey and Robbie Brookes were already there. Thankfully Brydon and Casey had obtained views of the Warbler but it had done its usual vanishing act over the top of a wall. However, it didn't take long for it to reappear just prior to Al Conlin arriving. Brydon had helpfully brought his copy of Sylvia Warblers, that only reinforced our view that it was a Marmora's on seeing the plates. While elusive, it seemed to have a discrete circuit feeding in and out of nooks in the dry-stone walls. It helped that it was a lovely sunny, warm and calm evening. Brydon and Casey left for the youth club beach clean-up, Brenda headed home and Al did likewise to tend to a chicken that he'd left cooking in his oven!
Robbie and I decided that we would remain on site until 9 pm, but then we received the news that Mark Warren had found a Black-faced Bunting at Norwick! Dilemma. We decided that we just had enough time to look for it and get back to Baliasta before the birders arrived from the mainland. We failed to find the bunting but did arrive back at Baliasta just before Pete Ellis, Paul Harvey, Dougie Preston, Roger Riddington and Paul Sclater arrived off the ferry. A tense wait ensued, but just after the sun dropped below the hillside, the warbler obliged. It then gave its most prolonged and close views to the assembled small group of observers who in turn where giving a few "oohs" and "aahs" in appreciation. It gave a few quiet calls comprised of short, hard, slightly slurred and scolding 'chak' notes strung together – very different to the long, drawn-out churring call of a Dartford Warbler. It also responded to a short playback of Marmora's Warbler song – Brian Small's article suggested that neither species reacts to the playback of the other's song. It then flicked into a garden that offered plenty of suitable cover for it to roost and all the observers left the site.
The birders from the mainland were effectively stranded on Unst, so a couple of them stayed at ours and the malt whiskey flowed in celebration. I was so wired that I was still awake at 1 am! It was a calm, clear and very bright night, and unfortunately there was no sign of either the Marmora's or the Black-faced Bunting the next day. Very many thanks to John, Paul, Roger and Brydon for openly sharing their expert opinions with us, and indeed to everyone for making it all the more memorable an occasion.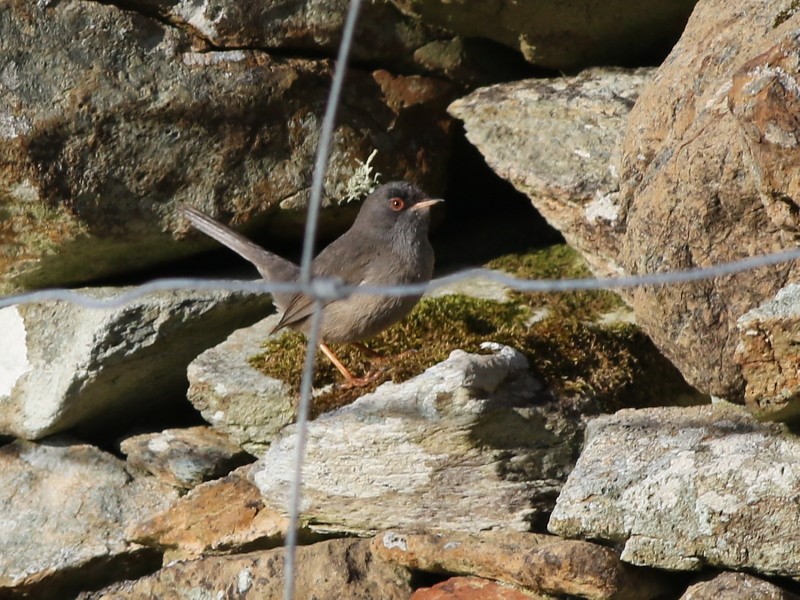 First-summer male Marmora's Warbler, Baliasta, Unst, Shetland, 14 May 2018 (David Cooper).