It was 1 May, the wind had turned south-easterly and the island was closed to visitors, and Andy and I were out birding.
Various common migrants were hopping about on the dykes, geos and cliff faces, and as we walked along cliff dyke at Faedda Ness on the south east corner of Noss, we flushed a small raptor from one geo onto a ledge approximately 30 m away from us, where it settled.
We both saw it and immediately thought "Common Kestrel", a good addition to the Noss year list having been missed last season. We were able to approach to within about 10 m, and once we were happy with a few sharp images we left the tired looking raptor in peace and continued our circuit. A selection of pictures of various birds was posted to the Birds of Noss Facebook group, and a picture of the kestrel was also uploaded to the Nature in Shetland Photos Facebook group.
Nothing more was thought of this individual until 24 May, when an eagle-eyed BirdForum member, Philip Wilson, recognised sufficient features within the photo shared to warrant further discussion.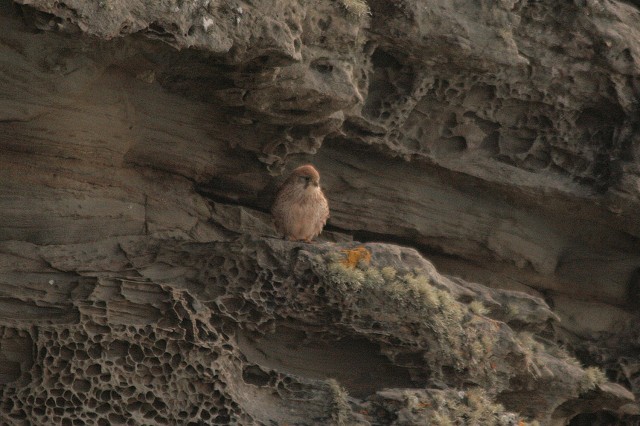 Field views showed a rather tired-looking female 'Kestrel', although its true identification was realised over three weeks after the event (Photo: Craig Nisbet)
The first apparent anomaly for Common Kestrel was the lack of black claws (diagnostic for the more expected species), but through discussion with other forum members, including individuals from Luxembourg and Denmark, other features were highlighted, including the pale, plain flat face with a short bill and pale black eye stripe, the chevron markings on the scapulars and coverts, the relatively long wings, an unbarred tail and the pale belly with sparse streaks rather than bold dots, plus the general smallness and 'cuteness' of it.
After this discussion then sighting was quickly reported to BirdGuides as a retrospectively identified Lesser Kestrel, seen and photographed on Noss on 1 May. A description has been written and submitted to the Rarities Committee and, if accepted, the record will represent just the third modern-day Scottish record and the second for Shetland, the first having been a male on Fair Isle in 1987.
Reading back through various field guides, female and immature Common and Lesser Kestrels can be tricky to separate, and we are gutted that we didn't realise at the time that what we were looking at was much rarer than initial impressions indicated. Nevertheless, it was an excellent 'armchair tick' for Andy and myself, and it is also testament to the positive impact of photography and the internet as identification tools. Thanks must go to identifier Philip Wilson, without whom the true identity of this bird might never have been realised.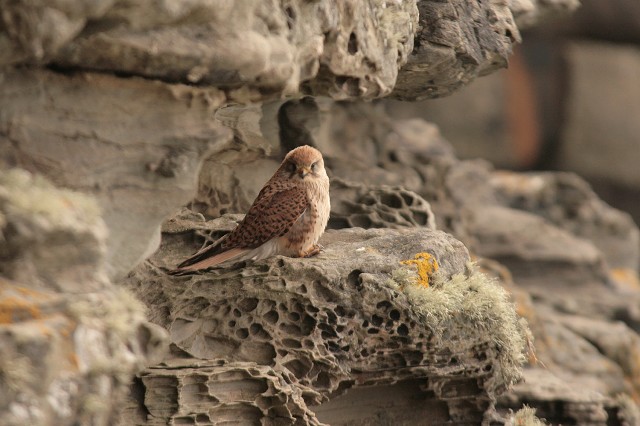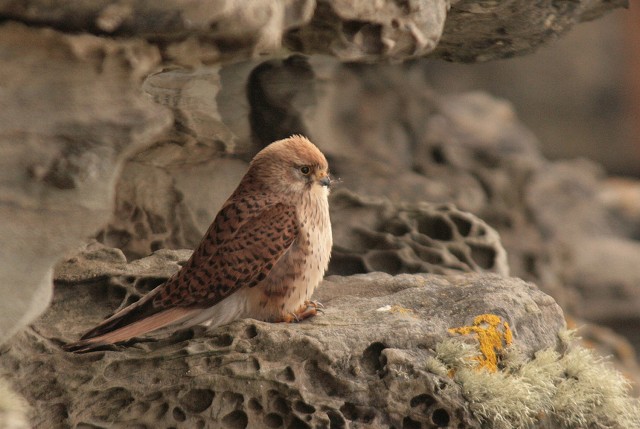 Female Lesser Kestrel, Isle of Noss, Shetland, 1 May 2017 (Photos: Craig Nisbet)