The serendipitous nature of finding rare birds never ceases to amaze me – those numerous little things that come together at some finite point, resulting in a discovery. Sunday 15 March on St Mary's, Scilly, was a case in point.
I set off quite early, starting with a leisurely walk over the airfield. I planned to continue via Giant's Castle, Porth Hellick and finally through Salakee Farm. It's a regular circuit of mine that I often do on a Sunday.
By 11.45 am, I was walking along the footpath near the beach at Porth Hellick when I noticed a kestrel hovering over the adjacent down. It was fairly distant, and ordinarily I might not have bothered with it, but since I had recently acquired a pair of Canon 12x36 image-stabilising binoculars, I thought I'd have a look – the novelty of the IS system not having worn off yet. I raised my bins and pressed the button.
The bird was side on and completely silhouetted, but even so it just didn't 'feel' right for Common Kestrel. What really struck me was the junction between the lower belly and the tail. Lesser Kestrel has a chubby rear belly ending rather abruptly at the vent; thus there's an obvious up-step that gives the tail a 'stuck-on' impression. In Common Kestrel, the lower belly/vent tapers smoothly into a longer-looking tail. I've checked this feature on numerous birds, including the 2002 Scilly bird and others in Europe and the Middle East, but seeing it on a bird in Scilly in early March is another thing altogether ...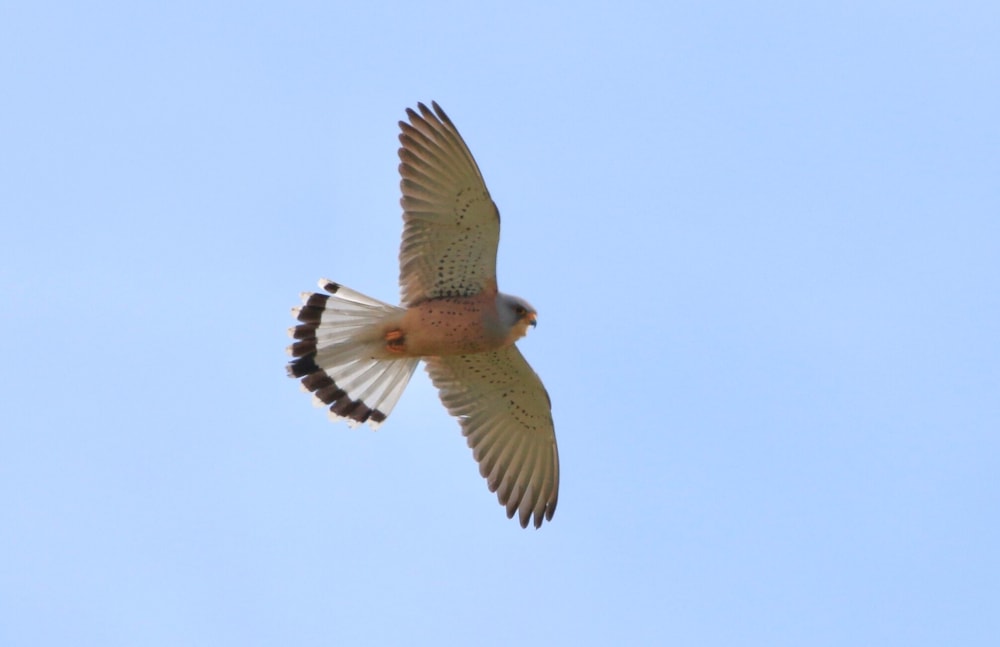 Although silhouetted at first, Ashley immediately thought that the kestrel he located over Porth Hellick on 15 March looked interesting – and so it proved (Scott Reid).
Calmly, I said to myself "It's a Lesser Kestrel", but then dismissed the idea as ridiculous. Apart from a slight increase in the number of Common Chiffchaffs and a single Sand Martin, there'd been little evidence of migration and the weather just hadn't been conducive to movement. In fact, it had been the worst winter and lead up to spring in living memory: constant south-westerly gales, lashing rain, mud – and no rare birds (except for a pair of Choughs). In other words, I had zero expectation of anything turning up.
Anyway, as I continued to watch the bird, it swung round giving me a brief view – in decent light – of its underside. The underwing looked alarmingly pale with noticeably darker tips to the outer primaries; the underparts (breast and belly) looked orangey and the central rectrices appeared to be protruding. YIKES! I got a massive jolt of adrenaline: this had to be a Lesser Kestrel!
Content continues after advertisements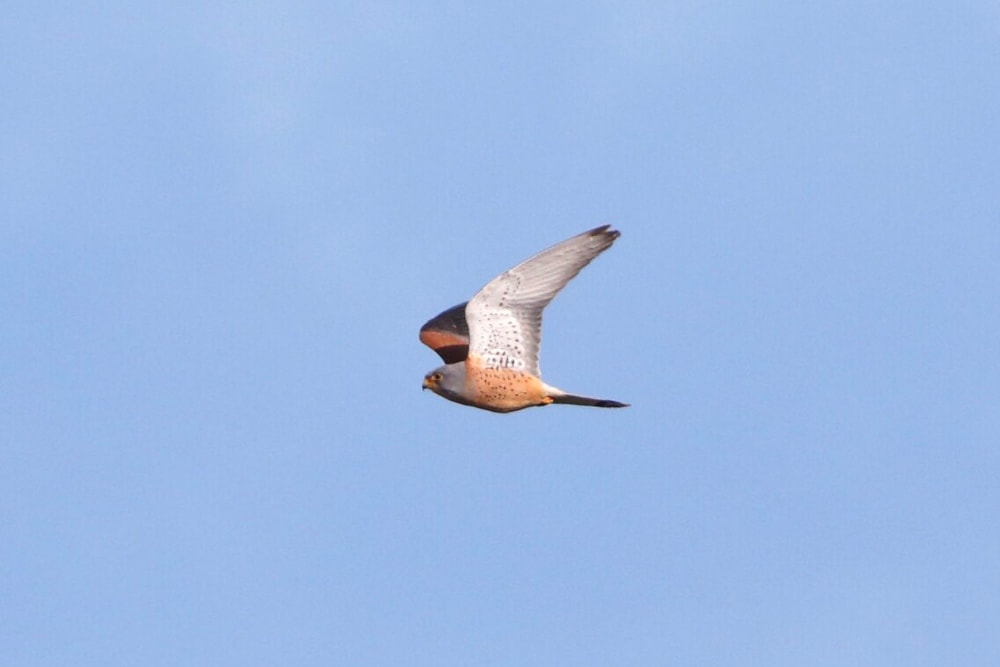 The 'alarmingly' pale underwing and orangey wash to the underparts had Ashley firmly believing that he was watching a male Lesser Kestrel (Scott Reid).
I ran up the down to find a good vantage point with the sun behind me. I desperately wanted better views. But, as is typical in such tense situations, the bird had other ideas. Over the next 50 minutes or so, a most frustrating game of cat and mouse ensued – the bird seemed to be doing its utmost to avoid giving decent views: it would go missing or fly up to either Deep Point or across the bay to Salakee Down. Even so, it didn't once give off vibes of Common Kestrel.
I knew that I was being overly cautious, but I just wanted that clinching view. In the end, the strain was just too much: I put out a message on the local birding WhatsApp group stating that I thought I'd got a male Lesser Kestrel, but that it was being difficult. Several minutes later, I saw the bird over Deep Point and in the same field of view as local birder Rich Aston. I called Rich and explained the situation – he'd glimpsed the bird (but, of course, it had gone missing) and headed in my direction at great speed.
As soon as Rich arrived, the bird reappeared and the views steadily improved; and then (trumpet fanfare!), it did the decent thing and gave us the most crippling fly-by imaginable. Plain rusty mantle, scapulars and upperwing coverts, grey outer greater coverts and lovely blue-grey head – phwoar! It then caught an updraft and turned, revealing the underside in all its glory: I went into headless chicken mode, punched the air and did my 'happy dance'.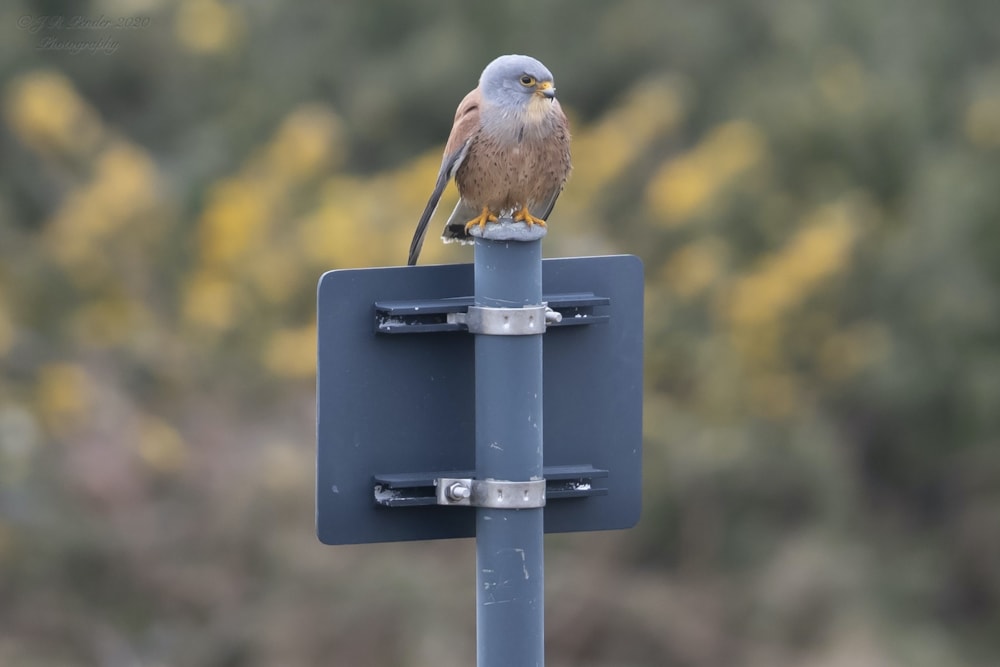 The Lesser Kestrel went on to perform daily on St Mary's until at least 26 March (Joe Pender).
Then my mobile phone started ringing; it was Joe Pender (skipper of Scilly Pelagics and keen bird photographer). He was certain that he'd photographed this bird on 9 March. His description of the bird and its movements left me in no doubt that he had indeed seen it [later, it transpired that Joe had also photographed it on 7 March and had seen it on the downs a couple of days before that].
Finally, local birders started arriving and the bird put on a really good show – even dropping down to collect insects from the heath. I was a tad cheesed off that it hadn't done this earlier, but hey ho. There was tidal wave of elbow bumps (being mindful of social distancing) and the inevitable abundance of daft grins.
Over subsequent days, more of the bird's movements became known, and with a little care and patience, it was possible to see it resting on the ground or perched on signposts by the Burial Chamber – all at relatively close range. What a crippling bird!