The morning of 15 November saw me make an early morning drive from Co Wexford down to Baltimore in Co Cork for the ferry crossing to Cape Clear, where I planned to spend a few days birding and ringing at the observatory with Sam Bayley, the Wildlife Officer there.
I caught the 11 am ferry and the boat departed on a grey and misty late morning with a slight swell. The flat light made conditions ideal for birding and I retrieved my binoculars from my bag.
About 20 minutes out from Baltimore, in Roaringwater Bay between Sherkin and Hare Islands, I noticed a small, nondescript brownish duck on the south side of the boat. From a three-quarter rear view the bird seemed teal-sized with a darkish tail which slightly stuck up.
From the side, I noticed a white spot behind the eye and a 'dirty' white face. The bill was very small, neat, pointed and pale. I realised that I was looking at a species I probably hadn't seen before and tried to take in as much detail as possible. Views were excellent, with good light. The boat got to within 25 m of the unconcerned duck, which was a drab greyish brown, the head slightly darker making the white spot stand out.
I retrieved my camera from my cabin but on returning, the bird — now astern of the boat — took off, flew briefly alongside, banked across the prow and headed north-west before dropping down 150 m away.
Content continues after advertisements
With lens cap on, camera turned off and a zoom lens to focus, there was no point in attempting a photo. I grabbed my bins and got approximately 15-20 seconds of good views of the bird in flight before it disappeared. There were no pale wing-bars, wing patches or trailing edges, and I got good views of the underside.
Arriving in Cape Clear I checked a birding app on my phone, and the image of a female Harlequin Duck looked very close to what I'd seen. Sam promptly told me to write up my notes and sketch exactly what I'd seen without delay. He gave me several books illustrating Harlequin Duck, which showed a picture of the bird I'd seen: a female Harlequin. It was only then I realised that a Harlequin would be a first for Ireland.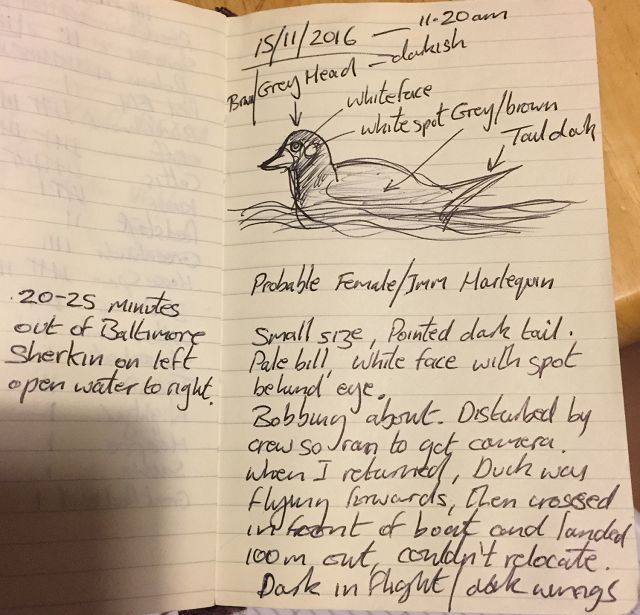 Mark's sketches of the female Harlequin Duck seen off Sherkin Island on 15 November.
With news released, a group of us headed out on a boat, retracing the ferry route in order to relocate the bird, but we were unsuccessful. I submitted a rarities report to the Irish Rare Birds Committee (IRBC).
I'm still a bit bemused. I'm not a hardcore lister and I don't do long-distance 'twitches'. I'm the last person I know that expects to find rarities. My find lies in the hands of the IRBC and we'll see what it makes of it.