Birding Fair Isle in the winter can be relatively quiet: the days are short, the weather can be miserable and the number of species present is fairly low (even familiar breeding birds such as Oystercatcher, Ringed Plover, Pied Wagtail, Meadow Pipit and Skylark tend to depart the Isle for the winter). There's always the chance of something stunning (Great Bustard, Harlequin, Snowy Owls and Gyr Falcons have all been found early in the year), but the best that can usually be hoped for is something of the ilk of a weather-driven Coot. Gulls are normally only found in any numbers when windier conditions cause them to seek shelter on the island top and it's always worth a scan of any flocks that are around. Like much of the country, Fair Isle has been enjoying a good winter for white-wingers, particularly Glaucous Gulls, with 14 on 20 January the highest count since 1985.
Having returned from a family holiday six days previously, I was trying to catch up with 400 emails and other office work that had built up. That meant that any time I got out, I tried to make the most of it! Coming back from dropping Freyja at nursery, I scanned a flock of around 100 large gulls on the cliff top at Ditfield (just south of the Obs). There was a juvenile Glaucous Gull, which was nice enough, and a small flock of Oystercatchers contained a ringed bird. It was close enough to the road that I reckoned it would be readable with a 'scope, so I popped back to the Obs for one. After about 15 minutes, it was clear that the Oyc was not playing ball so I gave up and turned the van around to head back to the office. Trying everything possible to delay the inevitable, I had one more scan of the gulls. "Oh hello, that's interesting..." Partially tucked away behind a Great Black-back was a grey-mantled gull with grey wing-tips. I set up the 'scope and it looked even more promising. Although hybrids are always a possibility (I've seen a couple of presumed Herring × Glaucous Gulls on Fair Isle), this was far more exciting. The grey primaries looked the same shade as the mantle, the eye high up in the head gave a distinctive look and the head, chest and belly were covered in an interesting mottling.
I realised that Glaucous-winged Gull was a bird I knew only the basics about, but this matched up to the image I had of the species and, short of a hybrid I wasn't familiar with, couldn't have been much else. Without photos, I reckoned the record was less likely to get very far, so back to the Obs again to pick up Susannah, the Gulls book and a camera and we started phoning the news out — I may not have been entirely sure on the ID at this stage, but I knew it was worth people coming up for a look. We 'scoped the bird from the car and got a few shots as some horrible squalls blew through. Once it started to wander about a bit it was possible to get more features and everything still looked good. It was clearly an immature, but the largely grey mantle suggested an older bird, probably fourth calendar-year. The dark eye and its unusual-looking placement and the bulky, 'chesty' look of the bird were obvious. There was darker brown in the tertials, although there was a prominent white-trailing edge to them and the greater coverts. The bill was dark smudged, particularly in the mid-section, with a pale-tip. I had a quick scan of the book to check whether there was any 'smoking gun' feature I should particularly try to concentrate on, but it seemed like the best bet was to get as much detail as possible, while all of the features we had noted so far looked positive.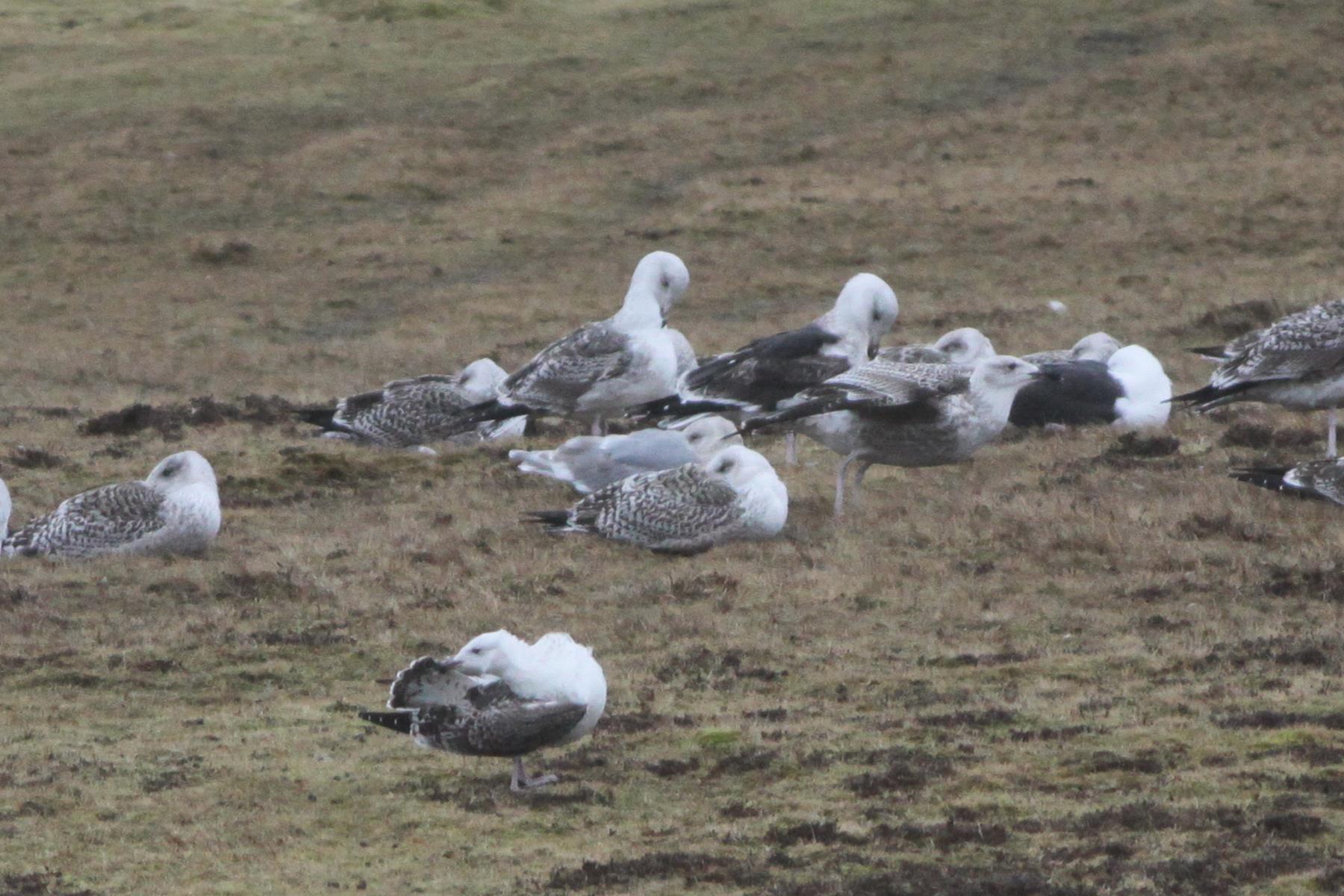 Glaucous-winged Gull, Fair Isle, Shetland, 4 March 2017 (Photo: David Parnaby)
Deryk Shaw was the first to arrive and agreed that this looked a really good candidate for Glaucous-winged. Shortly after, the gulls took flight and the Glaucous-winged was seen heading off south around Goorn, when its broad-winged appearance was noted. I headed back to the office to put out the news, then got the call to say it was back. It had returned to Johnny's Peats (just across the bay and therefore more distant than previously), where it wandered around occasionally, but mostly just slept. The flock at this time was composed of around 160 birds, mostly Great Black-backs, but a few Herring and five Glaucous Gulls. The Glaucous-winged was fairly easy to pick out among this flock, despite the distance. It was a large gull with a hefty-looking structure, with the arrestingly pink legs also being noticeable for the first time (at Ditfield it had largely been sitting or was often behind other birds). The gull remained on Johnny's Peats until dusk, but the following day there was disappointment for the three Shetland birders who'd taken a chance on coming in, as the gull flock was slightly smaller and didn't contain the bird, although there were still five Glaucous Gulls. Subsequent days saw similar numbers of gulls but no return of the star attraction. Although crowds on Fair Isle are never large, it still seemed strange that only seven people saw this bird — and that included our eldest daughter Grace, who had a quick look on her way back from school.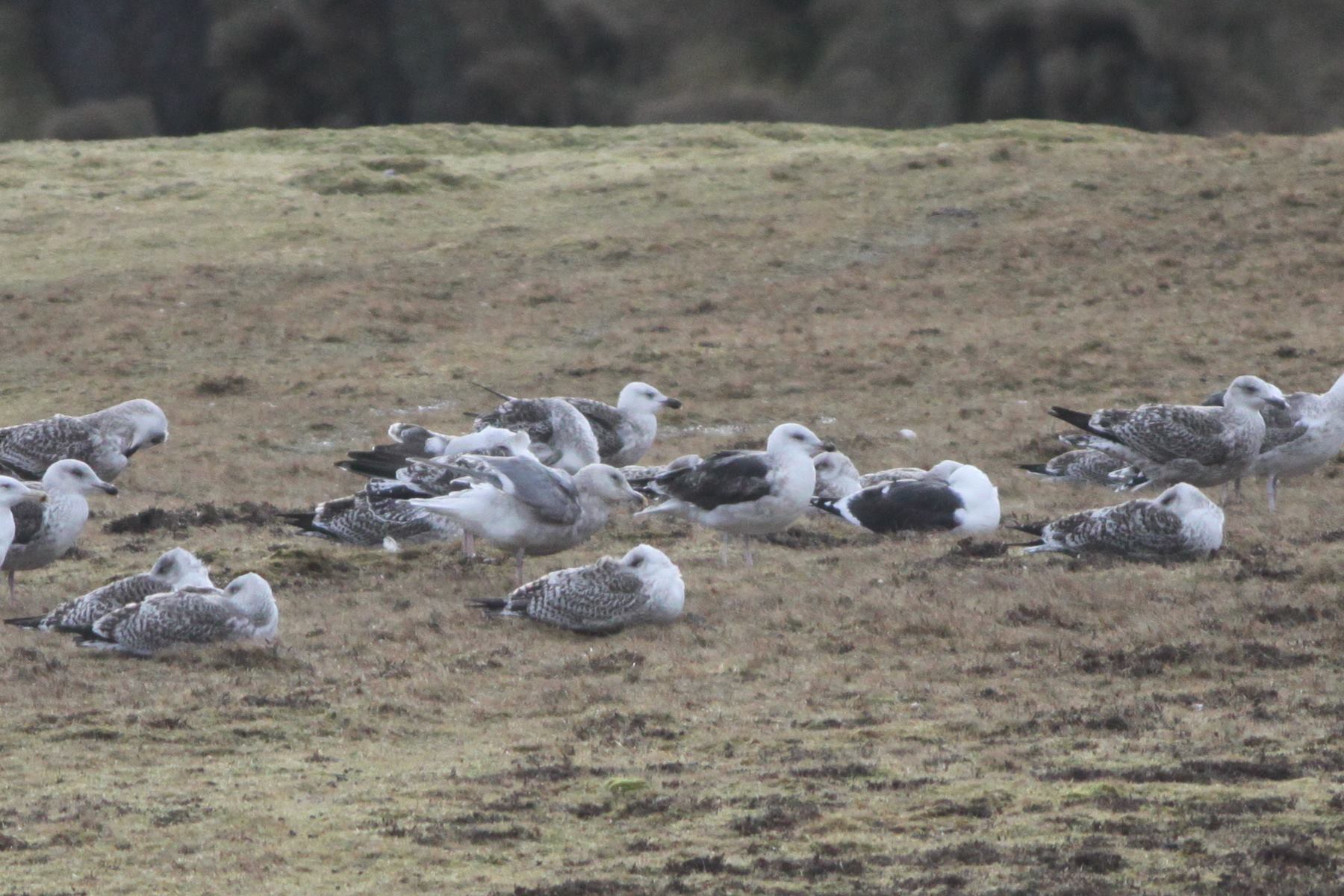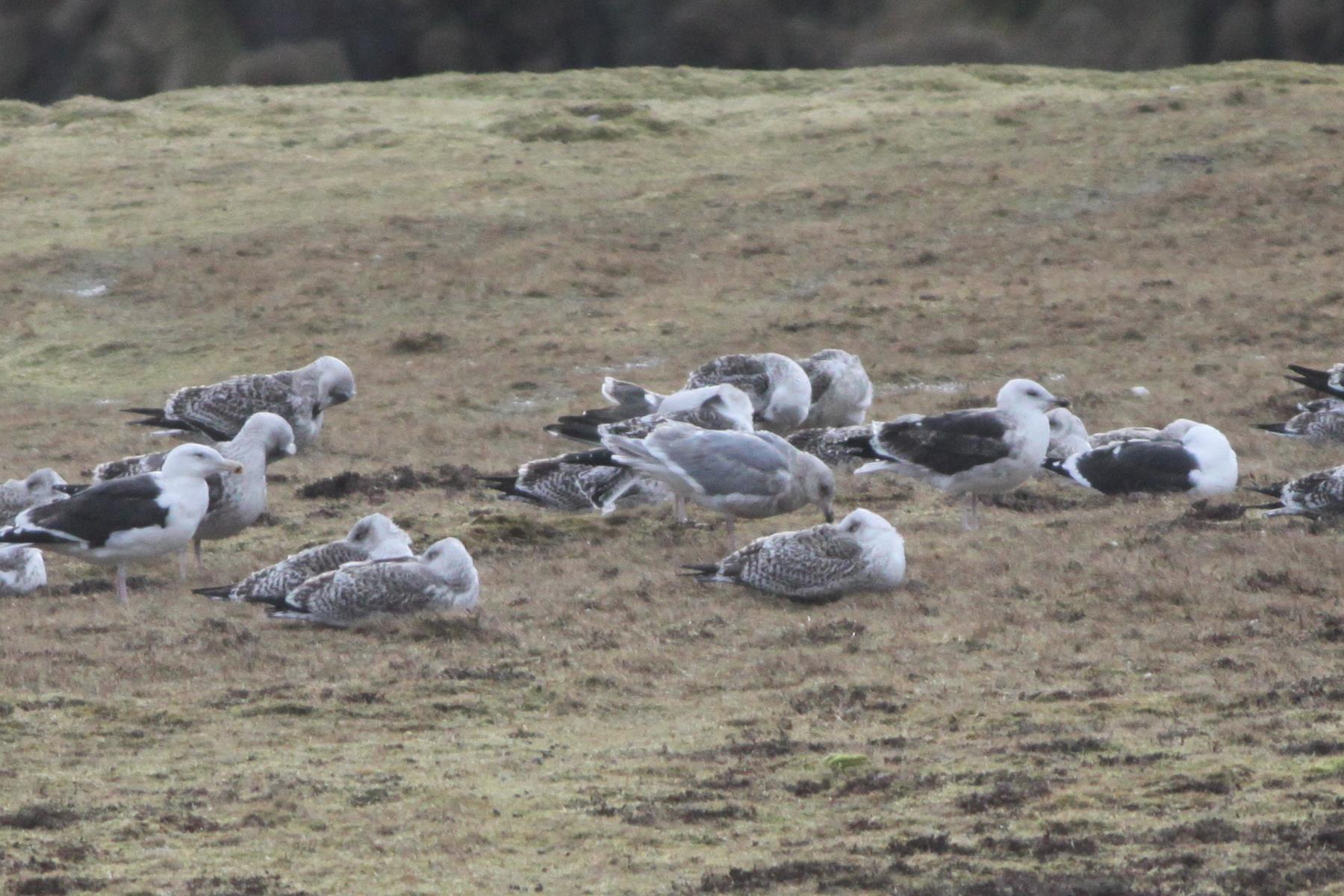 Glaucous-winged Gull, Fair Isle, Shetland, 4 March 2017 (Photos: David Parnaby)
Although still distinctive when it was at greater range, I was thankful it had been found at Ditfield (the closest the gull flock ever loafs in a situation where it can be viewed) to enable some of the extra detail to be noted that will hopefully give this bird a good chance of being accepted as the third of its kind in Britain, the first for Scotland and the 389th species for Fair Isle. For fans of the random, pointless statistic, I think this was the first addition to the Isle list to be made in the month of March since Dipper in 1934!