Mark Newsome: The weather charts for Tuesday 2 July looked interesting. A period of hot weather, high pressure to the west of the country and winds coming 'over the top' in a classic loop (albeit for a short period of time) made it seem promising. However, it was early July and little out the ordinary had happened in the South-West Approaches (apart from a South Polar Skua!). Still, the lads covering the morning seawatch at Whitburn had seen a decent increase in Manx Shearwaters and I was unsettled at work so, by 3.30 pm, I was in position in the seawatching hide.
Within 10 minutes, it was obvious the Manx passage was ongoing and the sea conditions were fantastic – a slight rolling swell from the north and moderate cloud cover between sunny spells, creating a grey sea and excellent light. The Manxies continued but there was little else in terms of variety. At 5.40 pm, a distant, dark bird flying with Manxies caught my eye for a split second.
It was head on and the thought process in the next couple of seconds were: "dark and long winged, maybe an early Sooty Shearwater. Hmm … wings are drooping and a bit floppy – large shearwater species?" It then banked to reveal its underparts as almost blackish, the comparative size with Manx Shearwater became apparent, and the pale bill hit me. With a dry mouth, my heart racing and shaking like a leaf I just kept telling myself "It can't be?!"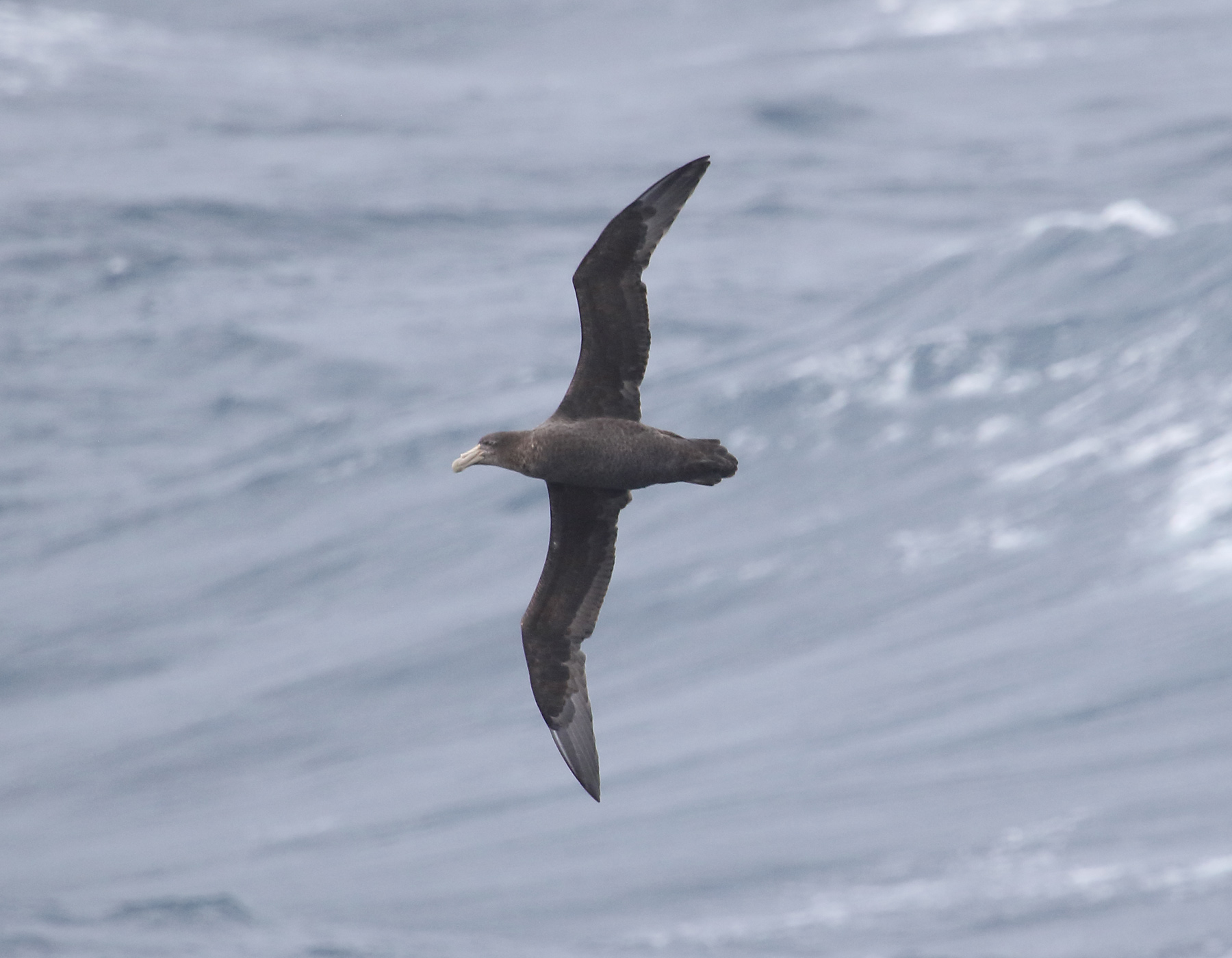 This immature Southern Giant Petrel was photographed by the finder on an expedition in Antarctica and the South Atlantic last year (Mark Newsome).
During March and April 2018, I spent six weeks on the Antarctica and Atlantic Odyssey seabird extravaganza with Oceanwide Expeditions. All those memories flooded back as it was now blatantly obvious this was a giant petrel species, a species pair which I had become very familiar with during my time in the South Atlantic and Antarctica – not exactly what I was expecting when I left work to count Manx Shearwaters!
The bird continued to fly north and veered more slightly towards me, meandering leisurely and steadily. I took in as much as I could of the bird over the next three minutes until it was out of view. I knew there were a good few seawatchers to the north of me that could potentially intercept the bird, so news was immediately passed on, but there were mixed fortunes. Iain Johnson saw what may have been it distantly off St Mary's Island at 6.38 pm. It must have then drifted further offshore at Newbiggin, as it bypassed the assembled crowd there. However, Mark Eaton and Stewart Sexton watched it for 10 minutes off Cullernose Point, north of Howick, at 7.45 pm.
I noted the following details to enable the ID:
Structure and flight: a very large, long-winged and rakish seabird, slightly up on Northern Gannet in size in both body bulk and wing length. The wings were quite ungainly at times, oversized and long with a deep loose flap followed by a stiff-winged glide. The wing profile when head-on was bowed slightly downwards from the carpal, and the long hand of the wing also always looked slightly angled back from the carpal. There was never a stiff-winged, high shearing flight of a Northern Fulmar or Sooty Shearwater, and the languid, elastic wing action lacked the effortless soaring and gliding of an albatross species. The length of the wings made it look a little ungainly and disproportionate. The body bulk was obvious even at distance; broad, hunch backed and powerfully barrel chested.
Plumage: the whole of the upper and underparts were uniform dark chocolate brown with a subtle charcoal cast, rather than being a warmer brown. No paler areas could be seen.
Bill: even with the distance involved, the pale creamy bill was very large and obvious, more so than on a Northern Gannet, but was perhaps accentuated in the evening light. It almost gleamed in the sunshine! If the day had been duller, the bill would likely not have stood out so much. The contrast with the all dark plumage further emphasised the paleness, but even at 60x magnification, it was not possible to see actual detail on the bill.
Ageing of the bird is quite straightforward. Giant petrels in their first year have a wholly dark blackish brown plumage which then slowly lightens over the next 7-8 years until mature. Specific identification between Northern and Southern Giant Petrels needs a close enough view to see bill detail, as there is no plumage difference at this age.
The darker reddish tip of Northern can be quite obvious at close range, but this level of detail was obviously not possible with this bird. However, the fact that I could not confirm to species level did not detract from the amazing experience one bit.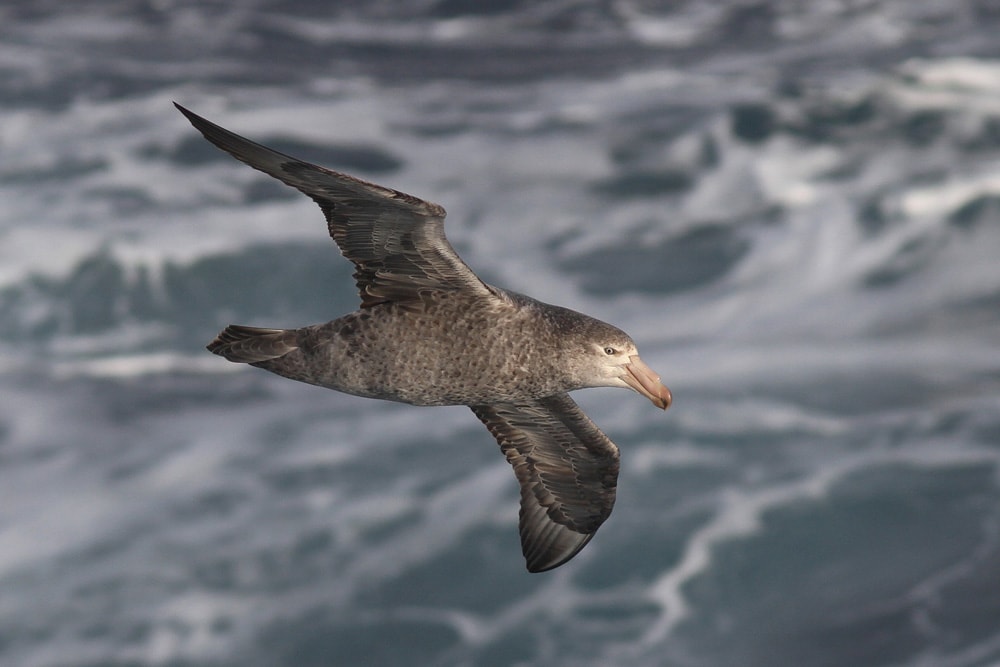 The darker reddish tip to the bill of Northern Giant Petrel can be seen in this image (Steve Copsey).
There have been several previous claims of giant petrels in the UK, none which have been accepted by the BOU, so the species group is not on the British List:
Wolf Rock, Cornwall, 20 October 1967;
Islay, Argyll, 6 June 1976;
Flamborough Head, East Yorkshire, 4 July 1988;
Skokholm, Pembrokeshire, 16 August 2000;
Dunwich, Suffolk, 25 October 2010.
There are, however, two accepted European records of giant petrels: Ouessant, France, on 2 November 1967 (accepted as Northern/Southern) and from a ferry between Greece and Ancona, Italy, on 2 September 1991 (accepted as Southern).
Seabirds are among the most travelled avian migrants and constantly surprise. A Tahiti Petrel off Cape Hatteras, North Carolina, in May 2018 is but one example demonstrating that incredible seabird vagrancy is happening in front of our eyes, perhaps increasing with a rapidly changing world climate. For a local patch seawatcher, persistence can, and occasionally does, pay off big time … or should I say giant time!
Mark Eaton: With news of the northbound giant petrel being released the moment it had disappeared from view at Whitburn, like many birders throughout Northumberland I dropped everything and headed for the coast. I normally seawatch from relatively low-lying Boulmer, but decided, for such a once-in-a-lifetime bird, the extra height of the nearby cliffs at Cullernose Point might offer an advantage. On arrival I found that Stewart Sexton had made the same decision, and I settled down to watch alongside him.
To be honest, my hopes were not high as, since a report of a probable sighting very distantly from St Mary's Island, there had been no further news, not even from the seawatching hotspot of Newbiggin to the south of us. Still, it was a pleasant evening with a steady trickle of Manx Shearwaters and the to-ing and fro-ing of local auks, terns and Kittiwakes. Suddenly, at 7.45 pm, Stewart exclaimed confidently "I've got the giant petrel!".
After 10 seconds of panic (it seemed longer) I was on it, marvelling at this astonishing seabird. It was distant – 2 km, possibly even 3 km out – but given its size the views were still reasonable. Despite the lack of swell it could disappear by skimming very low over the waves, and we lost it on several occasions; we suspected it may have landed more than once. It circled occasionally, and once switched back south for a few seconds. Other than these brief diversions it headed steadily north, but slowly – wasn't in straight-ahead 'migration mode' like many seabirds appear to be.
It was a very distinctive bird, completely unlike anything either of has ever seen while seawatching in the UK, although I've seen both giant petrel species off Cape Town in the dim and distant past. I won't bore you with my notes as they closely match Mark's above: the all-dark plumage, large size and bulk, gliding on long, bowed wings interspersed by frequent flapping with surprisingly deep and elastic (and quite rapid) wingbeats, particularly when banking and turning.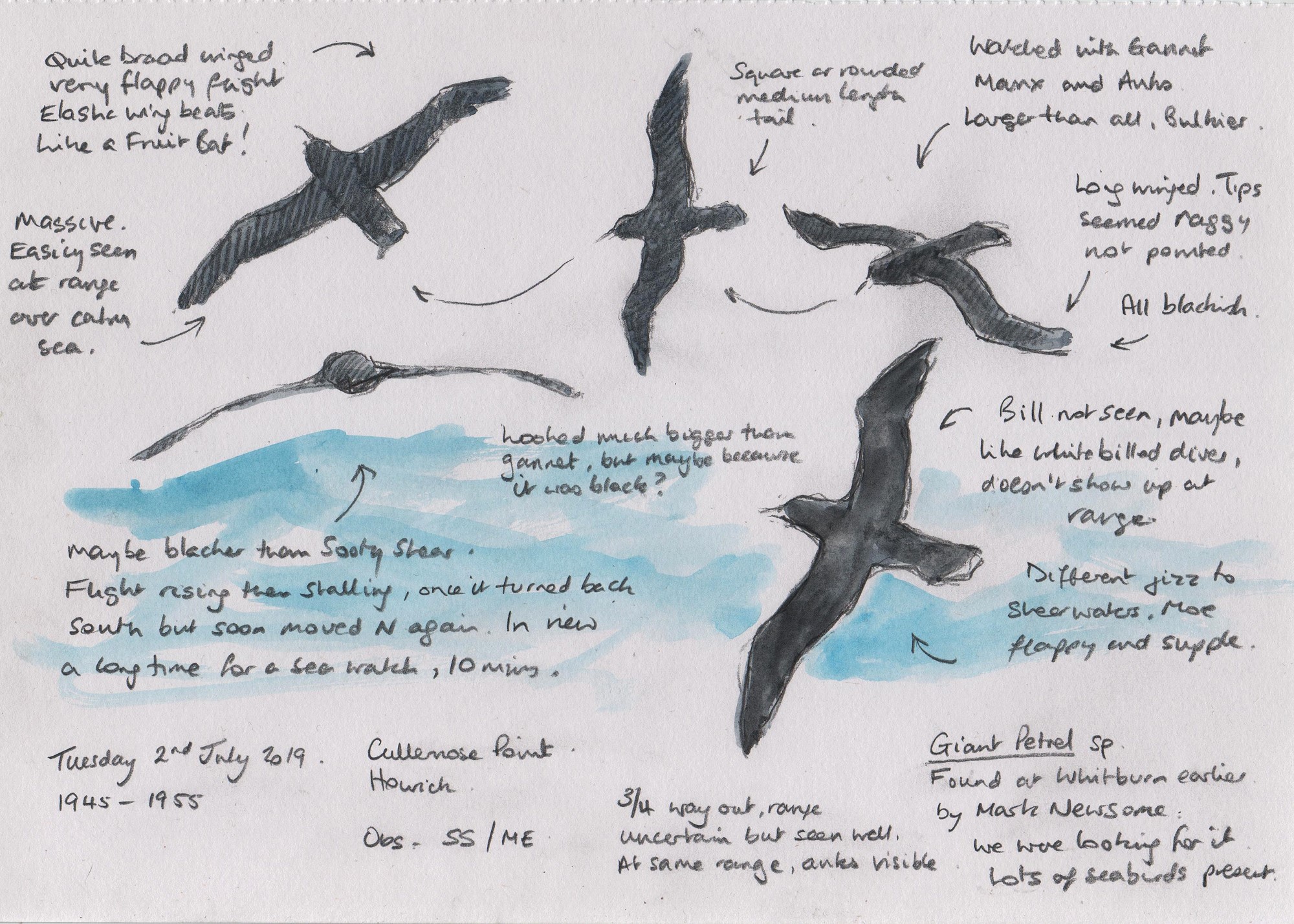 At Cullernose, Mark and Stewart were able to film distant footage and sketch field notes respectively while they watched the Giant Petrel (Stewart Sexton – boulmerbirder.blogspot.com).
Surprisingly, neither Stewart or I noted the bill – presumably due to the greater distance than its Whitburn fly-by, and the dull light. One additional note was a slight ragged look to the primaries due, I think, to a moult step partway along, giving the outer primaries a slightly 'stuck-on' look. As ever, Stewart's field sketches nailed it, far better than my pitiful attempts at record shots and video.
I reckon we watched it for some eight minutes, in which time it covered 3-4 km. It was still distantly in view when I ran up the slope, looking for a phone signal to share the news. Unfortunately, it wasn't picked up the north of us, and had eluded expectant birders to the south including at Boulmer, making me very grateful for my earlier decision. Maybe it had strayed further out as it came up the coast, then bounced back in as it passed us.
Unless it pitches up causing havoc at some east coast seal colony, we'll never know what species of giant petrel this was, but I can totally concur with Mark that it doesn't detract from one of the birding experiences of a lifetime. All credit to Mark and his seawatching colleagues at Whitburn, who put in countless hours and enable us part-timers further north to enjoy the spoils of their labours.