I was the only birder on Ouessant, France, during the windy and rainy days of late September. In the past, I have visited the island with my birding mates in late October, hoping for some 'Sibes' at the end of the autumn – a time when there are dozens of binoculars staring into the bushes here.
However, this year I wanted to try something new, having some thoughts of 'Yanks' and wanting to look for quiet places to make sound recordings ahead of the publication of my forthcoming book on bird sounds (Les Oiseaux par le Son).
So, I went to Ouessant and, as it turned out, got marooned during a stormy week that extinguished any hope of making decent recordings. It seemed as if the wind and rain would never stop and I could imagine the island being emptied of its birds as the days went by. It's fair to say that the weather looked quite promising for American vagrants but it was physically and mentally very demanding to keep on searching in the heavy rain, when you struggle to find even a single Common Chiffchaff. The complete lack of any American passerines in the British Isles and the fact that it had now been eight years since the last New World wood warbler in France, brought me back to earth and made me think that I had no real hope of finding anything unusual.
However, things changed on the night of 25-26 September, as I discovered the calls of an American Golden Plover that had twice flown over my microphone – this, I was very happy with. I decided to focus all my attention on shorebirds and spent 26th looking for the plover on Ouessant. Even so, I couldn't find a single sandpiper on the whole island!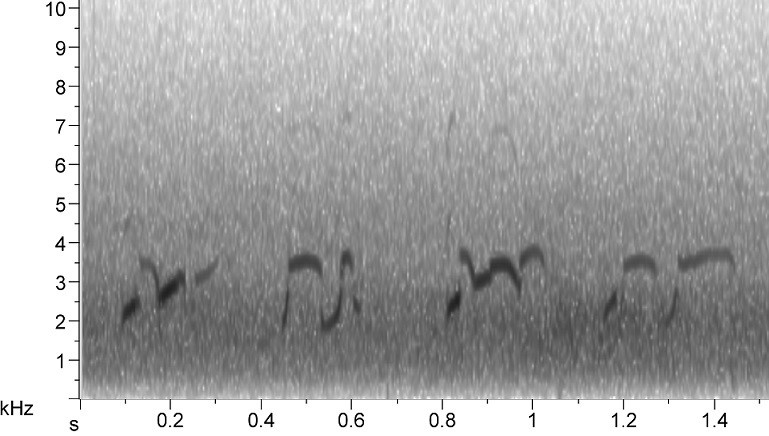 Sonogram of the American Golden Plover over Ouessant Island, Finistère, on 25 September 2019 (Stanislas Wroza).
It was at that point I decided to move to another island, Molène, on 27th, as it is better known for shorebirds. Amélie Robin, a beginner birder who I had met on Ouessant, was interested in joining me, in the hope that she might see her first migrant flycatchers. As expected, Molène produced most of the shorebirds that I had recorded on nocturnal migration on Ouessant during the previous days (including Curlew Sandpipers). However, the bushes produced nothing more than a Common Chiffchaff – making it probably the worst day I have ever had for passerine migrants on any of the French islands!
Since Molène is quite small, we had time to double check the whole island for migrants. As we were reaching the end of the day and were both tired, we decided to stroll in the centre of the village while waiting for the boat, talking more than birding. I said to Amélie: "I think we did the job pretty well by covering the whole island. We probably didn't miss anything rare. Anyway, I've never found anything rare in a garden and it's definitely not going to happen today …"
I had barely finished my sentence when my eyes were attracted to a small bird with a golden crest, sitting in full view on fragments of slate in the middle of a garden, just a few metres from us.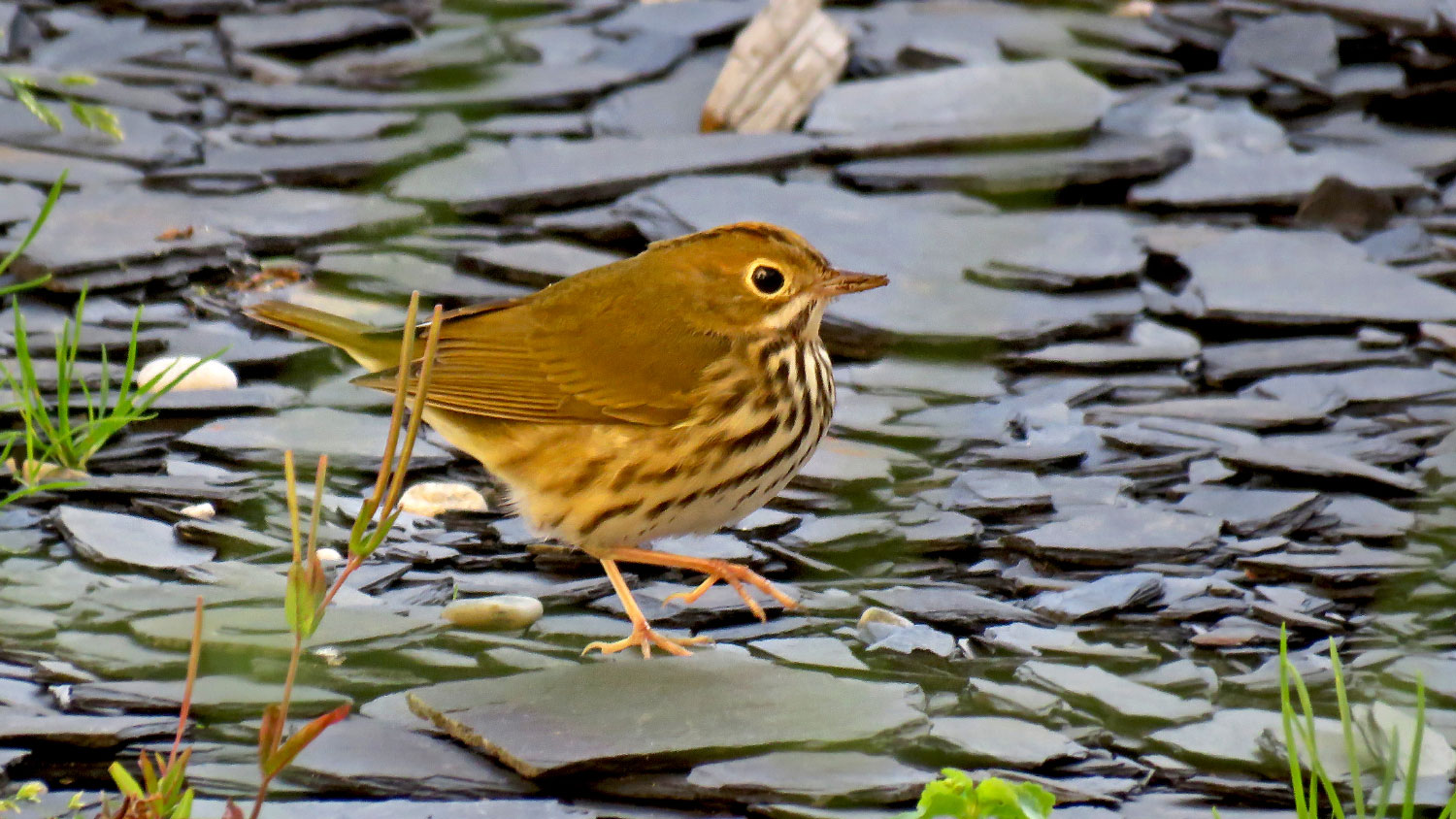 Initial views of the Ovenbird were at close range as the bird confidently walked around in the open. Identification was immediate (Stanislas Wroza).
Having lived in the US for several months, I didn't even need to raise my binoculars to know that it was an Ovenbird. It was just like a punch in the face. The golden crown, big parulid eye and a curious overall appearance that suggested a cross between a Goldcrest and a pipit, with the malar stripe and streaked underparts being immediately striking.
I was in a complete state of panic and asked Amélie if she had a camera with her, but she didn't. Instead I asked her to look carefully at the bird, so there was at least one witness were it to suddenly disappear. My hands were shaking while I tried to grab my camera and then my lens had some focusing issues, so the 30 seconds it took to take the first photo felt like an age.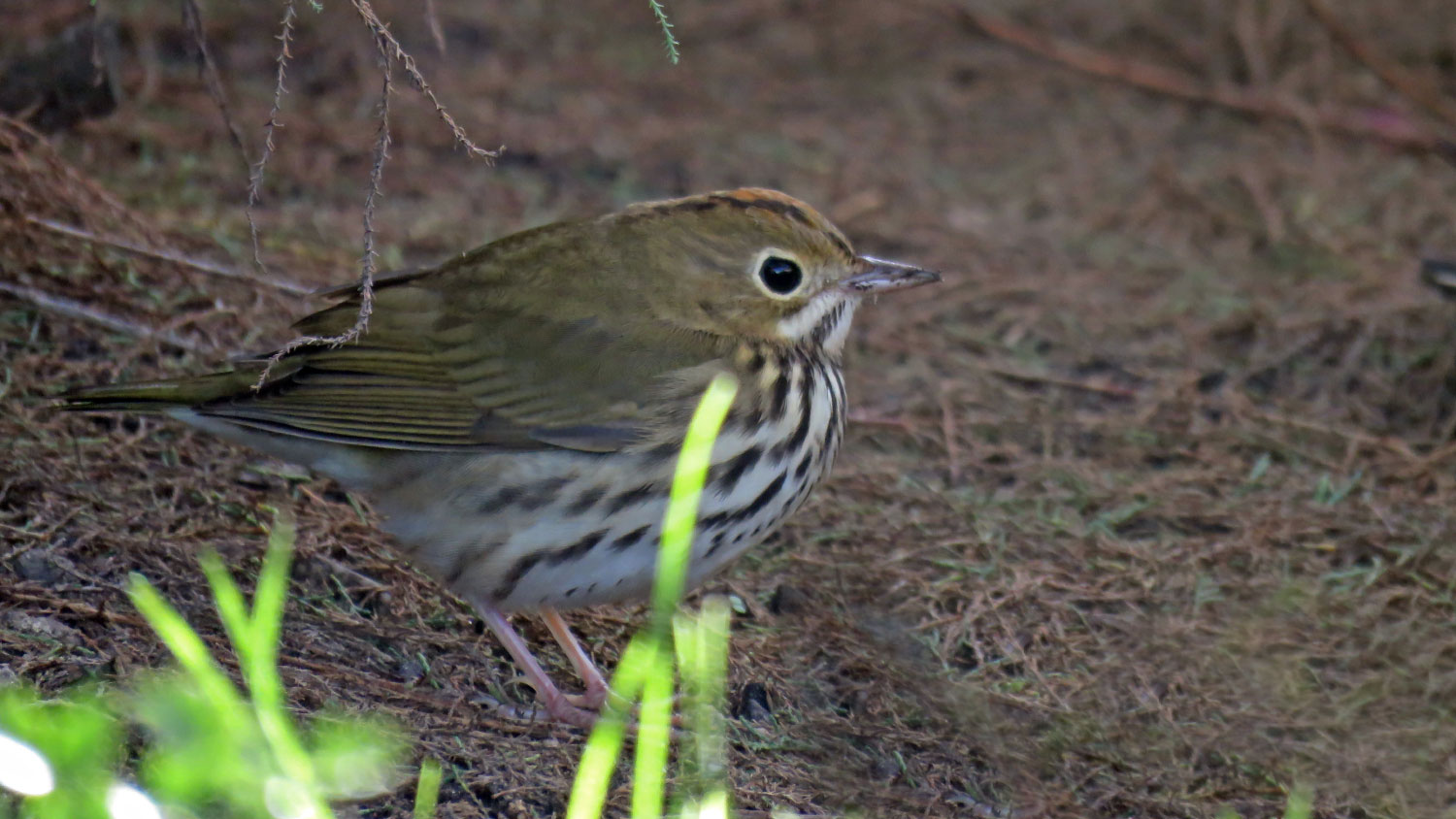 Ovenbird, Molène Island, Finistère, 27 September 2019 (Stanislas Wroza).
Luckily, the bird appeared confident and remained happily on the slates, allowing me to take some nice shots. I texted my friends: "Phone me as soon as possible please … I have an Ovenbird in a garden … This is not a joke".
Over the following minutes we enjoyed astonishing views of this fearless bird. It stayed until we had to leave for the last boat and even the owner of the garden had the chance to admire it.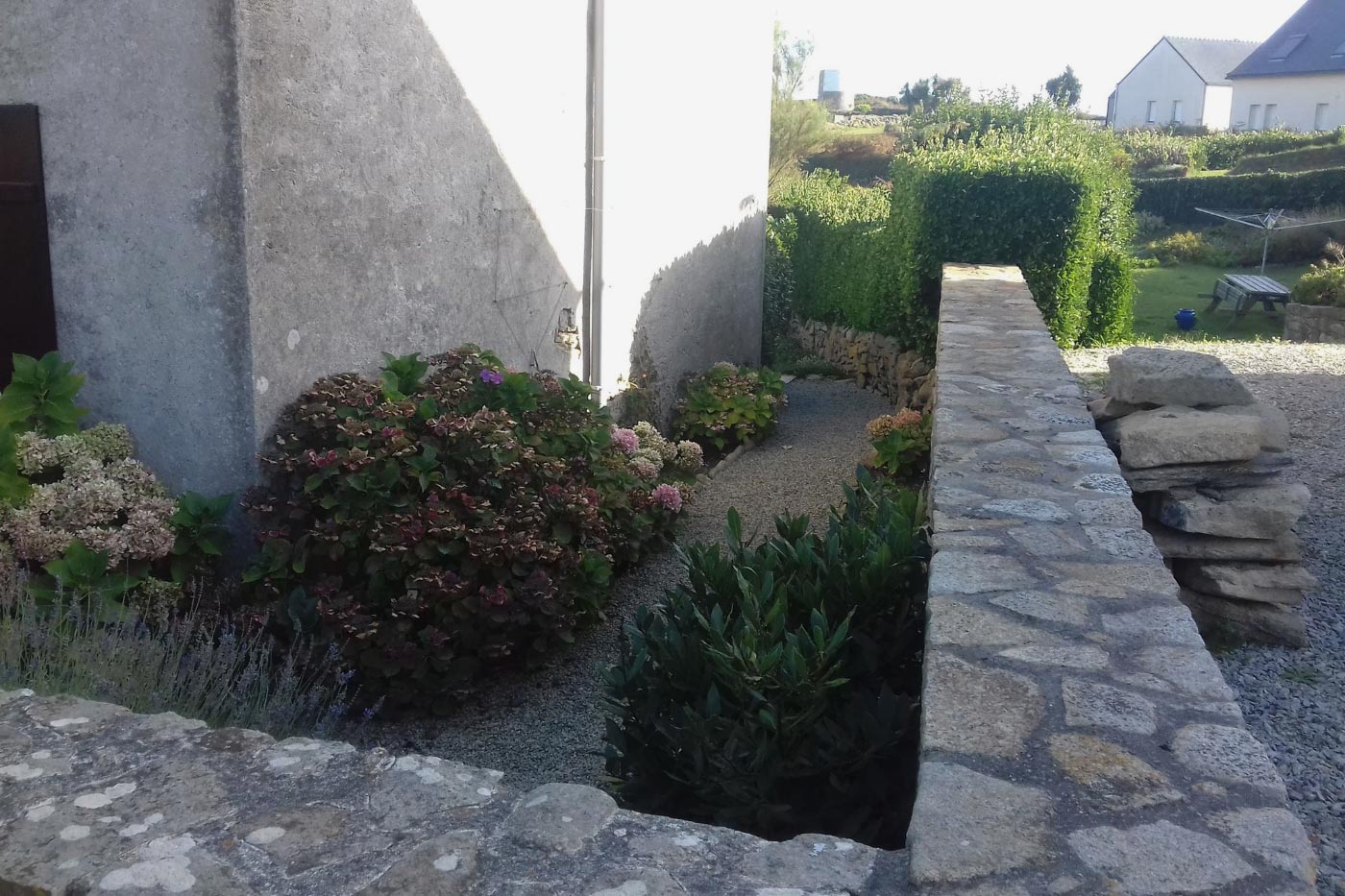 The Ovenbird's favoured garden (Stanislas Wroza).
Molène is notorious for its feral cat population (we counted 14 in a single garden!) and many a twitcher had a restless night. Fortunately, though, the bird stayed into the next day and for a few beyond, allowing plenty of people to make a trip over to the island to see it. It seemed fit, healthy and continued to prove very co-operative throughout.
Ovenbird, Molène Island, Finistère, 29 September 2019 (Laurent Spanneut).
Two years ago I was involved in the discovery of another first for France – an Eastern Bonelli's Warbler. However, the sensation felt from finding the Ovenbird was much more intense. The immediate identification and pure beauty of that bird was something beyond description, being a complete shock and of course the stuff of dreams for all birders.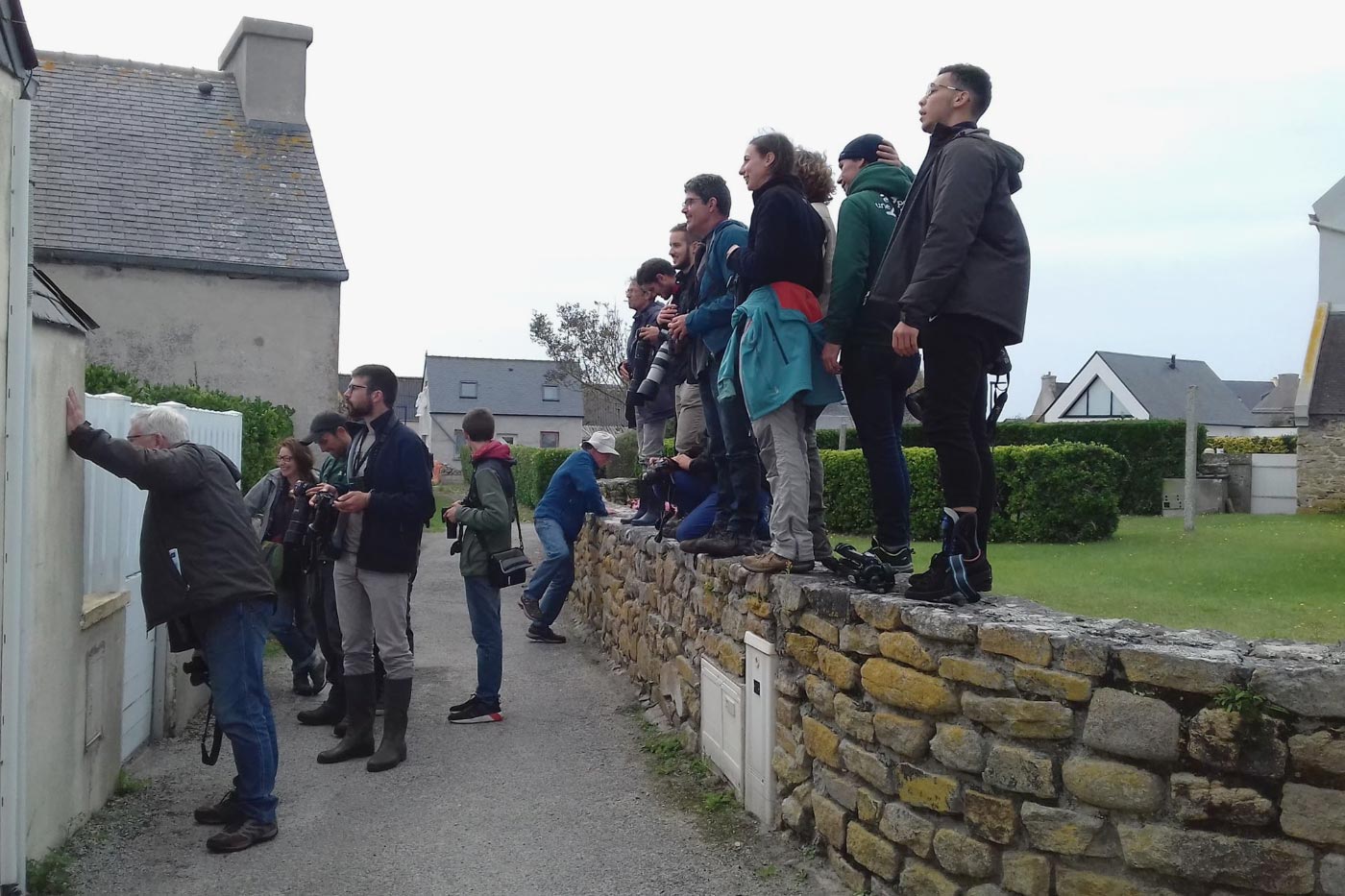 Happy French twitchers after seeing the Ovenbird on 28 September 2019 (Stanislas Wroza).