Wednesday 7 June was all about the wind. Westerly gales the previous day had brought an influx of European Storm Petrels to southern and western coasts, giving me a rare opportunity to try to see one from my Sandy Point patch. As with most seawatches from Sandy Point, it was hard going: around 10 Northern Gannets, a Fulmar and flocks of up to 34 Common Scoter toing and froing were all that I saw in the first couple of hours. At 07:42 two Manx Shearwaters flew east — a really good bird here — and another flew west 20 minutes later. However by 09:30 I'd failed to get even a hint of a 'stormie' and with high tide at 11:15, I decided to stretch my legs and make my way to Sparkes Marina to check the high tide roosts.
Unsurprisingly, Black Point had very little — just two Ringed Plovers and two Dunlin trying to shelter from the wind. I moved across to Fishery Creek, and could see that there were quite a few gulls and terns on the small promontory on the north side of the creek. I decided I'd better have a scan, just in case there were any roosting waders that I couldn't see with bins. Sheltering in one of the slipways, I trained my scope on the spit. The next thing I knew was that I was looking at an Elegant Tern.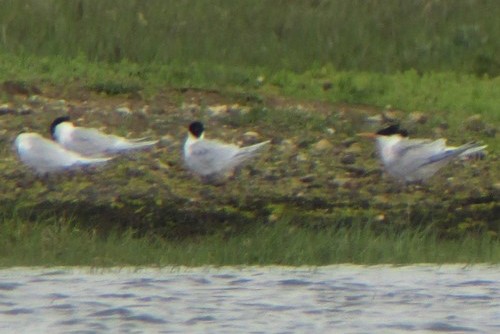 Elegant Tern, Hayling Island, Hampshire, 7 June 2017 (Photo: Andy Johnson)
Holy cow! How did that happen?! I'd obviously been hoping that Guernsey's American Royal Tern would make its way to the south coast and end up on my patch — but that didn't even enter my thoughts at this point, as I was so obviously looking at an unmistakable adult Elegant Tern! I soon noticed that it was colour-ringed, too — green over yellow on the left, with a white ring on the right leg, and a metal ring above the knee. I had a vague recollection that some of the French birds had been colour ringed, and thought it would at least preclude any question marks over the bird's identity.
Although views were great, trying to take photos of the bird was proving difficult on account of the distance (300 m from my position on the south side of Fishery Creek), the relentless wind (from which it seemed impossible to shelter completely) and the fact that if the tern wasn't asleep, it was actively preening, resulting in plenty of useless images! I directed visiting birders to a vantage point much closer to the spit, so that they would get much closer views, less than 100 m away. Unfortunately, for me to get there would involve a half-hour hike to the end of the creek and back up the other side — not a realistic option at this point.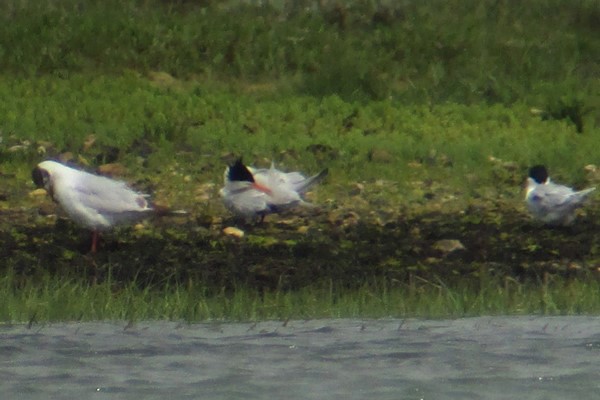 Elegant Tern, Hayling Island, Hampshire, 7 June 2017 (Photo: Andy Johnson)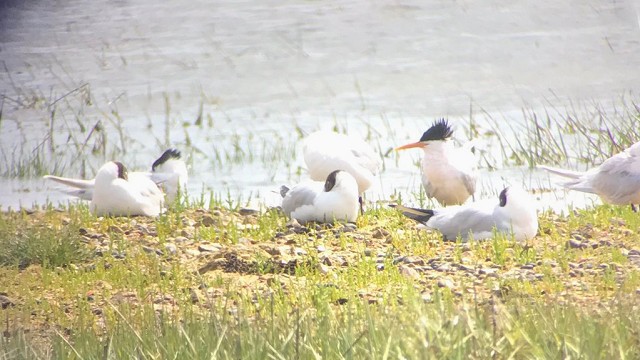 Elegant Tern, Hayling Island, Hampshire, 7 June 2017 (Photo: Martin Gillingham)
Twice already the Elegant Tern, along with the eight Sandwich Terns with which it was associating, had got up, flown round, and landed again, when at 11:15 they took to the air for a third time. This time they gained height and headed eastwards, away from the spit. I kept the scope on the Elegant and watched it suddenly plunge earthwards, losing it behind Sparkes Marina. I prayed that it had come back down at Black Point, but alas it had not, and it never returned. Five people managed to get there in the hour or so that the bird was present.
So was this bird seeking shelter from the gales, having been feeding in the English Channel? It was certainly a long way from its regular haunt at Banc d'Arguin, Gironde, France, where it had been present until at least mid-May (see here for more details). And with a proven, genuine Elegant Tern now having turned up in the UK, hopefully the three previous occurrences can be reassessed and accepted as also being the real deal.
Oh, and by the way, I eventually had great views of at least one European Storm Petrel off Sandy Point two days later!
Postcript: Andy relocated the Elegant Tern back off Hayling Island late afternoon on Friday 9 June.