Filey had been my local patch for 25 years, but for several local birders the area was starting to lose its appeal. Many had either chosen to concentrate on foreign birding trips, or simply to spend fewer hours in the field; another Barred or Icterine Warbler no longer seemed to galvanise activity like it once did. I was determined to avoid such a fate, so took the radical step in late 2008 to 'up sticks' and relocate to Flamborough. Several friends had recently reinvigorated the birding scene there and I decided to start a new local patch. My Filey list of 290 meant additions were now less than annual, whereas my Flamborough tally was 160 — so many potential new local patch species meant Christmas would come around far more often.
My first full day in the field proved to be a spectacularly good one: five Yellow-browed Warblers topped off by the mainland's first twitchable Brown Shrike! With a start like that, I was convinced I had made the correct decision. However, what really makes me get up early in the morning is the potential to find my own birds. In autumn 2008 I managed to unearth Honey Buzzard, Red-backed Shrike, several Yellow-broweds, Firecrest and a Siberian Chiffchaff, but a true rarity proved elusive.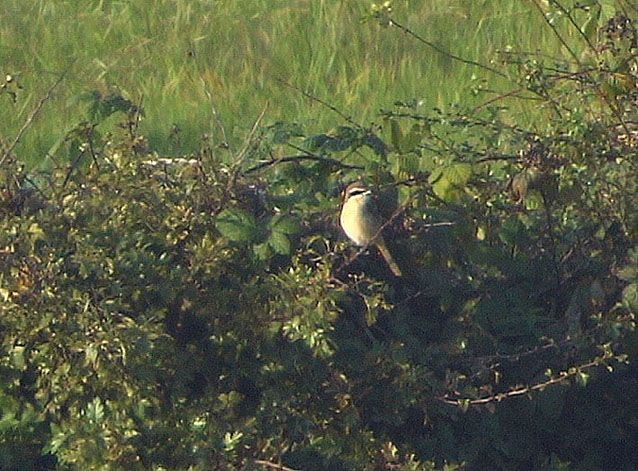 Brown Shrike, Flamborough Head, East Yorkshire (Photo: Roy Harvey)
Last year was frustrating, with highlights of a trip of Dotterel, Grey-headed Wagtail, Marsh Warbler, male Montagu's Harrier and another Siberian Chiffchaff. I even managed to find a male Subalpine Warbler, but failed to clinch it! Alerted by several distinctive calls, I managed to get on a small Sylvia with slate grey-blue upperparts and orangey-buff flanks. However, I never saw the sides of its face/throat as it hopped into Suaeda, subsequently vanishing into thin air.
Near misses continued in the first half of 2010: visitors located a shrike which they believed to be a Red-backed, but when I relocated it I found myself watching Flamborough's first ever twitchable Woodchat — close to a 'good find', but no cigar. Self-analysis of why I couldn't find anything better became all-consuming. I upgraded my bins, bought a new small scope, pored over maps of Flamborough, studied weather systems relentlessly, spent fewer nights in the pub and got into the routine of getting out ever earlier. My luck started to change when I visited North Marsh on 21st August. No waders were present, but I was fortunate enough to spot a Barred Warbler lurking in nearby cover. The following day I decided to check the gulls and waders on South Landing beach. Well over 100 large gulls were present in a flock that had recently held Yellow-legged Gull. However, better still, I soon found myself staring at a juvenile Caspian Gull loafing amongst Herring and Great Black-backeds close inshore. Sometimes it only takes a little find to start the optimism coursing through the veins again and it finally felt like I 'belonged' to my local patch.
Fast-forward another week: low-pressure systems had dominated the UK for many days, but finally a high established itself. Often the rarest local finds seem to be associated with the first day such systems exert their influence over Scandinavia; this would coincide with either 1st or 2nd September, so I decided to take a couple of days off and work the Headland carefully. Setting out from the Lighthouse towards Old Fall, initial rewards were confined to several Common Whitethroats, a Willow Warbler and two Yellow Wagtails. Matters improved with a Barred Warbler in the corner of the Gorse Field and three Lapland Buntings overhead. At 09:30 I arrived at the southern side of Old Fall and scanned the edge of the wood.
Of late I had determined to slow down my birding pace a little, the logic being that what I might lose in being less sharp (41-year-old eyes aren't as good as the 20-year-old versions) would be compensated for in being more thorough. Having had nothing other than single Lesser Whitethroat, Pied Flycatcher and Chiffchaff in 25 minutes, I was contemplating walking off when there was a movement in a Hawthorn. Raising my bins I could see a largely obscured passerine with only the belly and part of the wing visible. My initial thoughts were of a possible Garden Warbler, and I trained my scope on the bush and waited for the bird to move. After a few seconds it shifted and I could make out the head — the long bill ruled out a Sylvia and the overall facial pattern suggested a Hippo, while the pale grey-brown crown was very interesting.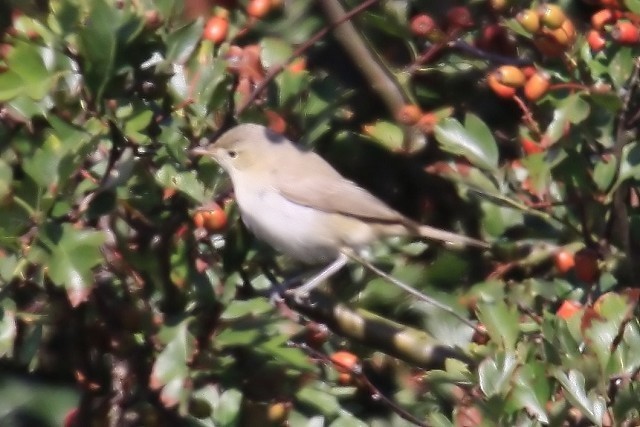 Eastern Olivaceous Warbler, Flamborough Head, East Yorkshire (Photo: Brian Henderson)
Excitement mounting, I waited for the wings to show and when they did there were pale edges to several of the feather tracts. The overall feel suggested Eastern Olivaceous Warbler and I waited a couple more seconds for the tail to show. Thankfully the warbler obliged by moving into full view, dipped its tail three times and that was it — I went to pieces! My arms started to shake, the legs buckled and I had to sit on the ground. Eventually I managed to set up the scope on the Hawthorn, check I wasn't going mad and simultaneously ring a few locals with the news of "a rare Hippo, get to Old Fall now."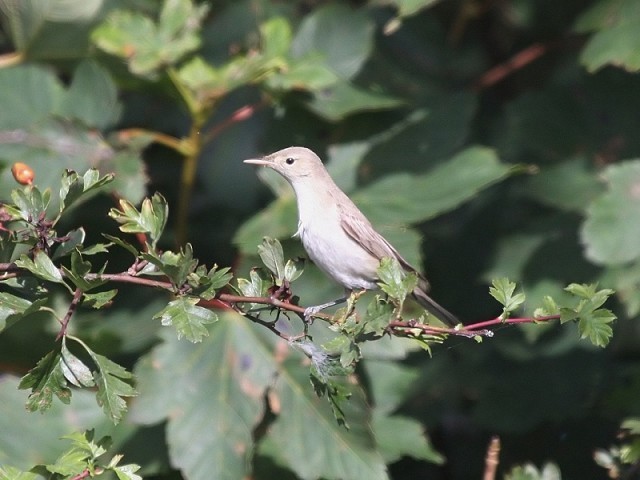 Eastern Olivaceous Warbler, Flamborough Head, East Yorkshire (Photo: John Harwood)
While waiting for the entourage to arrive I started to cross-reference the main features. It felt Reed Warbler size, the forehead sloped to a peak behind the eye and the primary projection was almost two-thirds the length of the exposed tertials. The upperparts were a pallid grey-brown tone, while the supercilium was relatively subdued and ended just behind the eye. Importantly, the tertials were dark centred with contrasting edges, while the greater coverts and secondaries were edged pale, the latter forming a pale panel. The face and flanks were buff, although this feature was often bleached out in bright light. A thin white edge was present on the square-ended tail, which was repeatedly dipped. Although I knew others would be scurrying to the scene, it still seemed like an age before they arrived. Meanwhile, my mind was in overdrive — had I made a monumental error? Every time it disappeared, I worried it wouldn't show again, followed conversely by briefly wishing that it would vanish to end this nerve-wracking hell! However, Phil Cunningham, Richard Baines and Andy Malley arrived soon enough and although the warbler was initially out of sight, it eventually gave itself up (or at least bits of it). Features were checked and re-checked and, in addition, we were also able to confirm that the tchack call emanating from the bushes was coming from the warbler.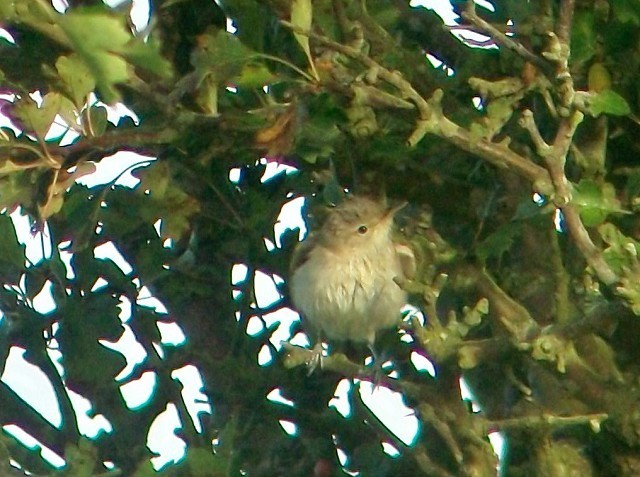 Eastern Olivaceous Warbler, Flamborough Head, East Yorkshire (Photo: Andy Hood)
Simon Waines, the farmer, was informed and gave his consent to set up a car park, signs were made and we were ready for a full-scale twitch. After a short deliberation I decided to ring out the news — well, if it was wrong I'd just have to take up stamp-collecting next week! In total over 520 birders enjoyed the warbler before mid-afternoon on 3rd September, when it finally disappeared. A total of £640 was raised, split between St Catherine's Hospice in Scarborough and conservation projects on the Headland. Thanks are due to the Waines family for yet again hosting a twitch on their land and to Richard and other local birders for helping to facilitate the event.
So Flamborough tick 241 finally proved to be my first decent find on my new local patch; to add further icing to the cake, it also earned me £20. Local birders run a sweepstake predicting the next new Flamborough bird — my choice?... Eastern Olivaceous Warbler!