Jonathan Norgate: on Friday 31 May, my wife (Nicky) and I were making a second visit to Minsmere RSPB during a week's holiday. The drive up from north Essex reinforced the usual excitement of visiting, as a Common Rosefinch and Eurasian Hoopoe had been found locally. Upon arrival, there was lots to see. After fantastic views Eurasian Bittern at Island Mere, we watched a Red Fox cub trying to catch a butterfly while totally oblivious to our presence. This was followed by great views of a Broad-bordered Bee Hawk-moth near the visitor centre. Finally, we heard the singing Iberian Chiffchaff, before we popped into East Hide.
Following a brief chat with David Walsh, we headed to the beach to look for Dartford Warblers. Nearing the sluice, I looked down on the shingle and saw a bird about 15 m away. I raised my binoculars and immediately thought of male Ortolan Bunting, as it was rufous underneath with a mainly grey head. Something didn't look quite right, though, so I tried to scope it, but it flew off straight away and, after briefly perching, it took off towards the sluice and out of view.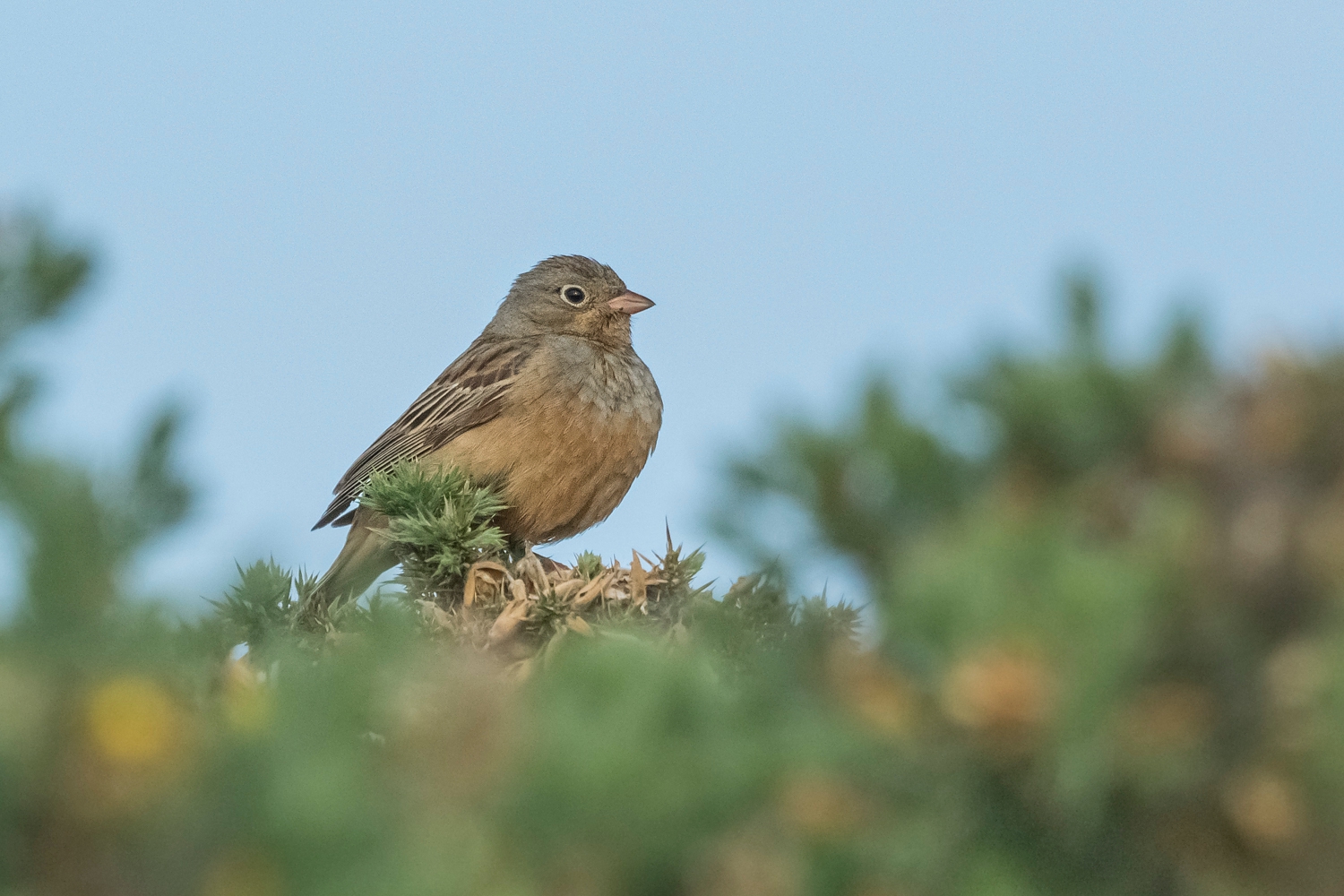 The rusty-orange malar stripe and throat and richly toned underparts help distinguish the bird from Ortolan Bunting, as does the whitish eye-ring (yellow on Ortolan) and bluish-grey head (© Henry Page).
I ran up the bank and saw Liz Huxley, also from Essex, with a few other birders who said they had just seen what she thought was a female Ortolan. They hadn't seen it fly over so I decided to put out the news straight away (as an Ortolan), so that others could look for it.
As I searched the shingle and dunes, I realised that I hadn't seen any yellow on its head (I had recently seen the Abberton Ortolan Bunting very well) and I started to consider Cretzschmar's Bunting. I shared this with David, who had come out of East Hide. We were both a little frustrated that not many people were looking. David then put out news that it might have been Cretzschmar's, and I searched for a bit longer with no luck, but hoped someone might refind it …
Henry Page: what I thought would be a normal day at Minsmere RSPB turned into a mega cascade of events. I am currently living on site and involved in the RSPB's internship program for practical conservation. Living on site has its perks and I am usually out on the reserve long after people have gone home or well before they arrive, which was key to this discovery.
It was a blisteringly hot day; my morning was spent changing the battery and doing repairs on the Sand Martin fence as well as other odd jobs. I also saw my first ever Broad-bordered Bee Hawk-moth as I was heading back to the office for lunch. I returned with the camera and typically it had long gone – fail.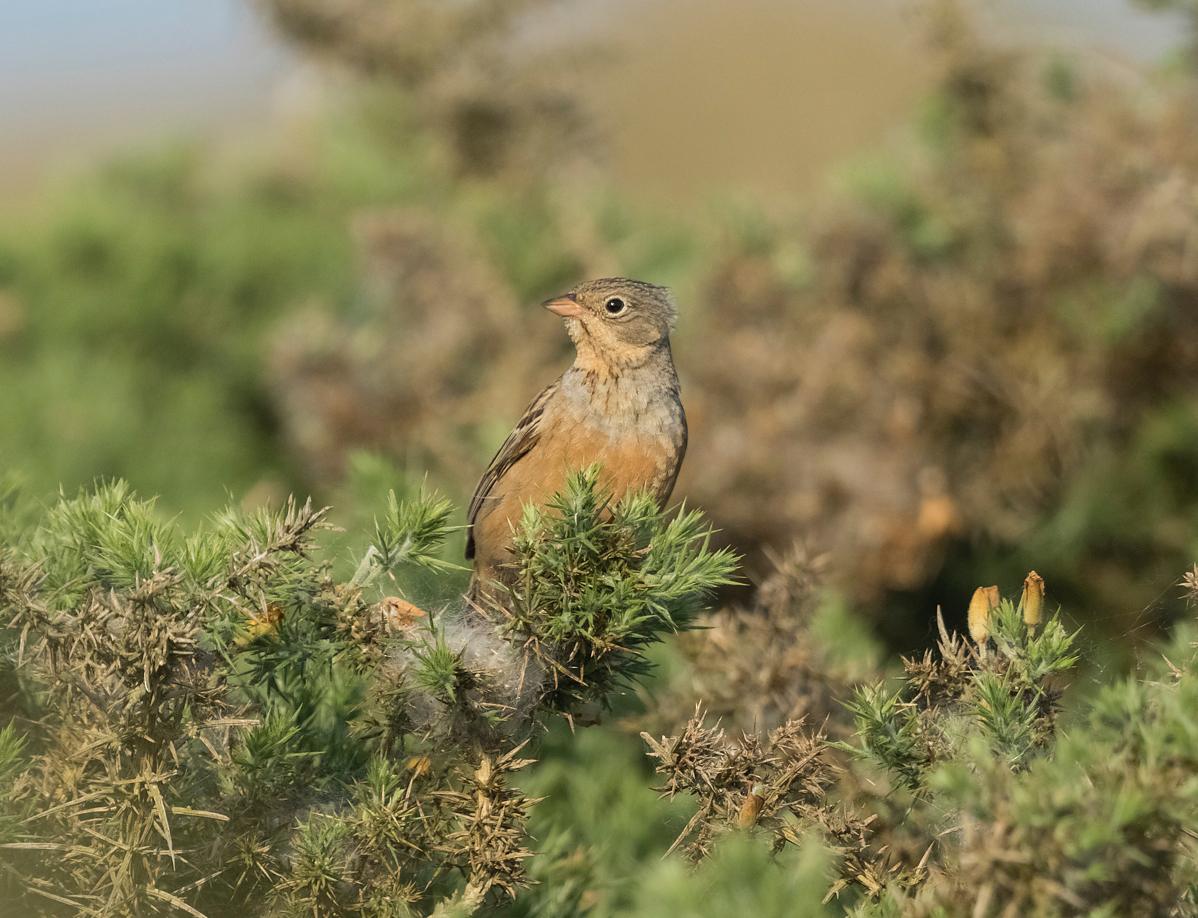 The Cretzschmar's Bunting, a female, will represent both a Suffolk and mainland British first, pending acceptance (© Henry Page).
I was then told by one of my colleagues that a Eurasian Hoopoe had been seen at Aldringham. He really wanted to see it during his lunch break and kindly invited me along. While picking me up, all of a sudden, my radio went off with a message explaining that visitors had seen an Ortolan Bunting, or possibly even a Cretzschmar's, but it had flown south. Having heard the message, my colleague asked if I was going to stay for the bunting or come to see the Eurasian Hoopoe. I chose the latter.
After returning from the briefest glimpse of a Eurasian Hoopoe I've ever had – the second photographic fail of the day – I worked the rest of the day and finished around 5.30 pm. In the office there was talk that staff members and birders had been looking for the bunting with no sign whatsoever.
At this point, as it was a wonderful sunny evening, I thought I may as well have a walk along the coast before heading back home to Norfolk for the weekend. In regard to the bunting, I felt the same as I did at the time of the earlier message saying it had flown south: the chances of finding this thing would be akin to a needle in a haystack and almost impossible. However, I thought I'd try my luck and set myself the challenge of walking from North Wall to Dunwich Heath NT, then the whole stretch to Sizewell.
Deserted dunes greeted me; everyone had gone home for the day leaving me peacefully with the Dartford Warblers, European Stonechats, Common Linnets and all the other regulars. I wasn't far away from the Sizewell dome when I received a young farmers message for a meeting at the pub for 8 pm – it sounded very appealing by that point. So, I gave up, and headed back towards the sluice.
Less than a minute later, I noticed an odd-looking 'linnet' perched on the gorse some distance away. As soon as I looked through my bins, the excitement and adrenaline kicked in – I was looking at a beautifully coloured bunting with a noticeable eye ring. I'd found it! Being a wildlife photographer at heart, I got the camera out and took a number of shots as it flitted along the gorse. My photographic fail streak had ended.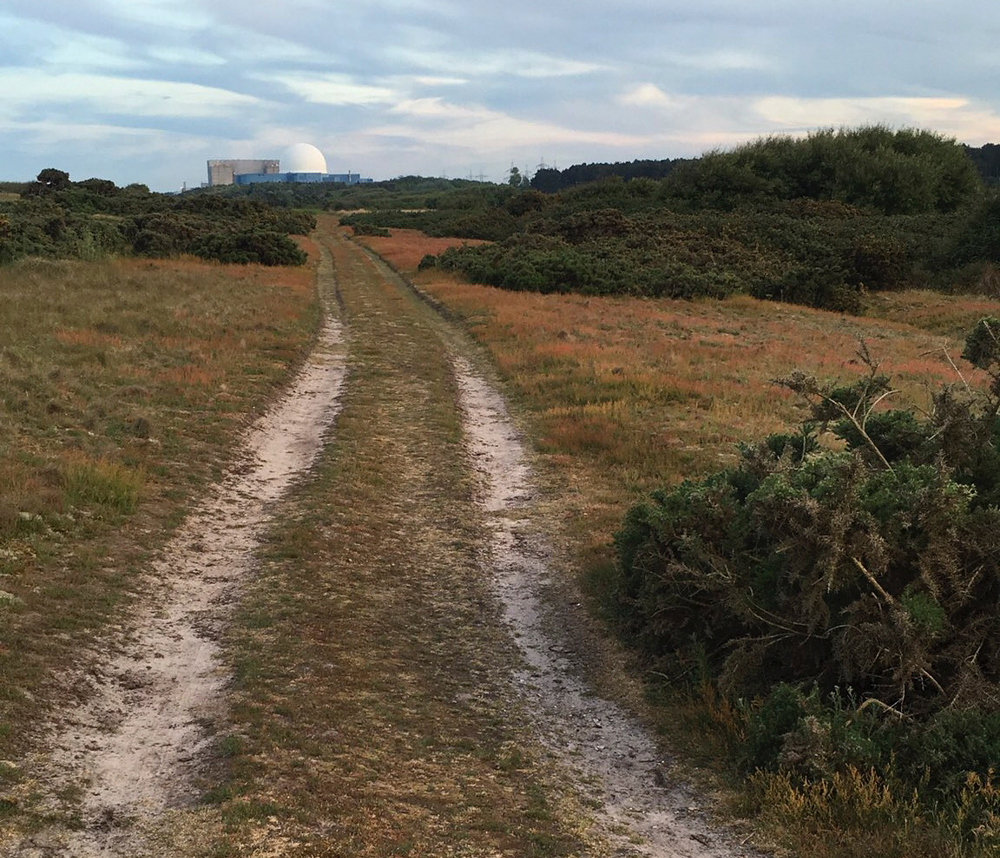 Scrubby gorse in the dunes near Sizewell domb was where Henry relocated the bird in the evening (© Henry Page).
Shortly after, however, it was flushed by a cyclist and I lost the bird in a flock of flighty Common Linnets. At this point I knew I had to get the news out so I quickly took some back of camera shots with my phone (the latter of which had only five per cent battery left). Now, this isn't a regular finders account where, as soon as I saw the bird, I confirmed the ID – I had never seen a Cretzschmar's Bunting before.
From my back of camera shots, the eye ring looked bright and the slight overexposure from the phone picture made the throat appear yellowish. I drafted a tweet out – unbelievably, as soon as I pressed send, the battery gave up. I knew the tweet hadn't gone out, so I had a manic long walk back to the cottage, where I had to wait for the phone to charge up sufficiently then get in the car to drive to the nearest area with phone signal.
I sent out a new, rushed tweet after briefly looking at the BOC shots (by this point my camera had died as well) with a comment of 'looks Ortolan to me'. At this point, my phone blew up with notifications of people congratulating me on clearing up the ID of the mystery bunting.
However, one tweet stood out from the rest, with some very astute ID features noticed and commented by Mike Buckland alluding to the fact that it may well be a Cretzschmar's Bunting. I drove back to Norfolk and at around 10 pm, downloaded the images and had a proper look at them. Something didn't seem right. On close review the bird didn't look like an Ortolan. It didn't have a bright white eye-ring and the throat was more of a rusty-orange colour. Mike's comment prompted me to post some high-quality photos to resolve the dilemma.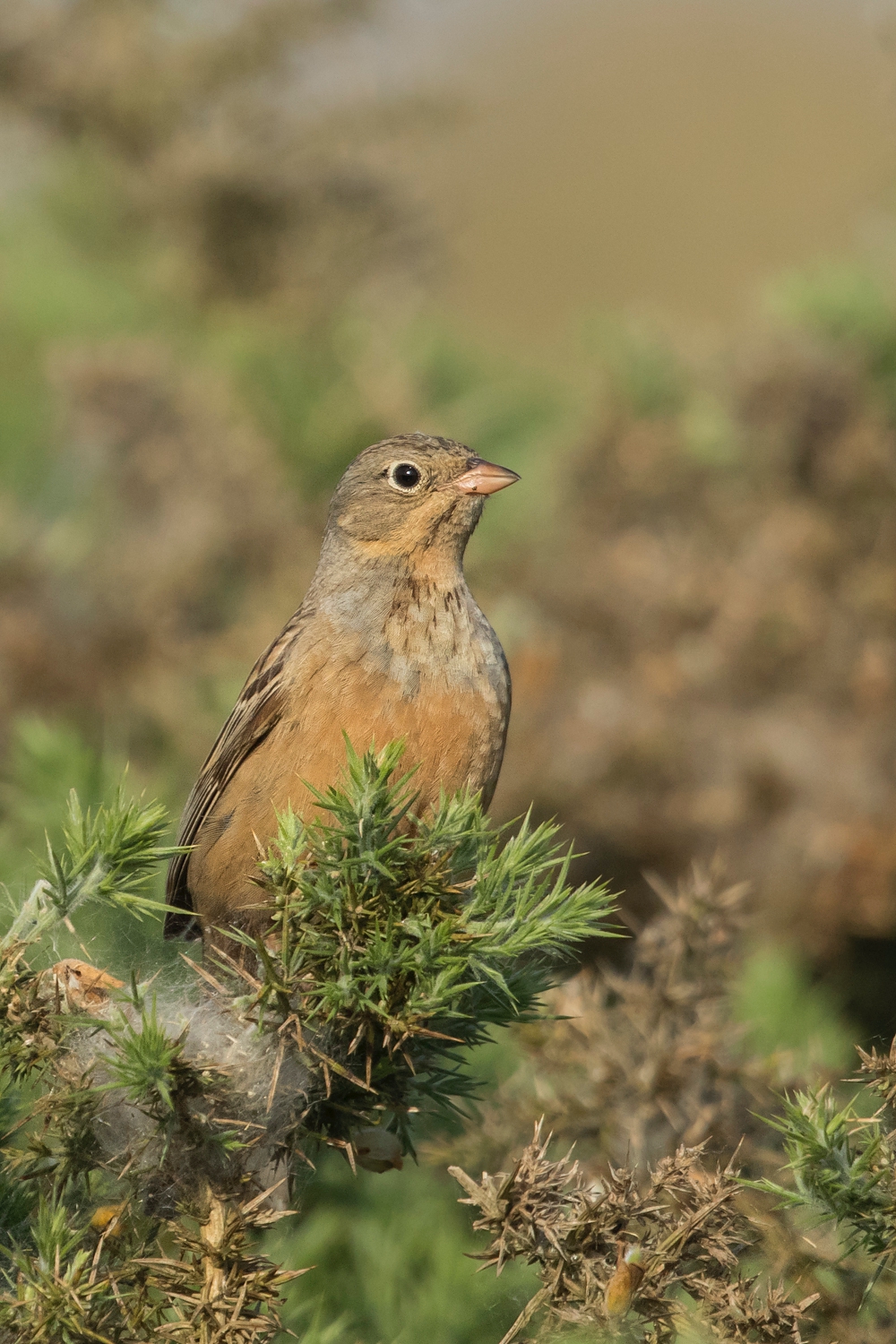 This excellent photo helps sex the bird as female. The duller tones to the underparts and malar stripe can be seen, along with the creamy-yellow chin and throat which extends onto the upper breast. As well as this, the breast streaking is more extensive (© Henry Page).
Into the small hours I was looking up Cretzschmar's Bunting and discussing identification with multiple people who too had been kept awake by the idea of one in Suffolk! The more I researched, the more I confirmed in my head that the bird was in fact a Cretzschmar's. I eventually had a reply from Mike, who'd looked at the photos and concluded it was indeed one.
At this point I became 100 per cent sure and realised that, if a mega of this magnitude was relocated, hundreds of people would be turning up at the visitor centre and the team would have a serious shock to the system – all because I put the news out. So, I checked what time sunrise was, had a quick shower and snack at 3 am, and was back in the dunes by 4.30 am, trying to relocate the bird with no sleep.
Unfortunately, there was no sign of it, despite a number of keen birders looking. It was fantastic to meet up with many birding friends new and old. All was not lost, though, as a Broad-billed Sandpiper was group-found flying in off the sea before landing on the south levels – a comforting distraction from the lack of bunting for many.
By 9.10 pm on Saturday evening, exhausted, I finally called it a day. Despite the disappointment of the bird not reappearing, two reeling Savi's Warblers, Iberian Chiffchaff, Broad-billed Sandpiper, self-found Golden Oriole and refound Cretzschmar's Bunting in recent weeks made me extremely proud to be working alongside such fantastic staff on one truly special reserve.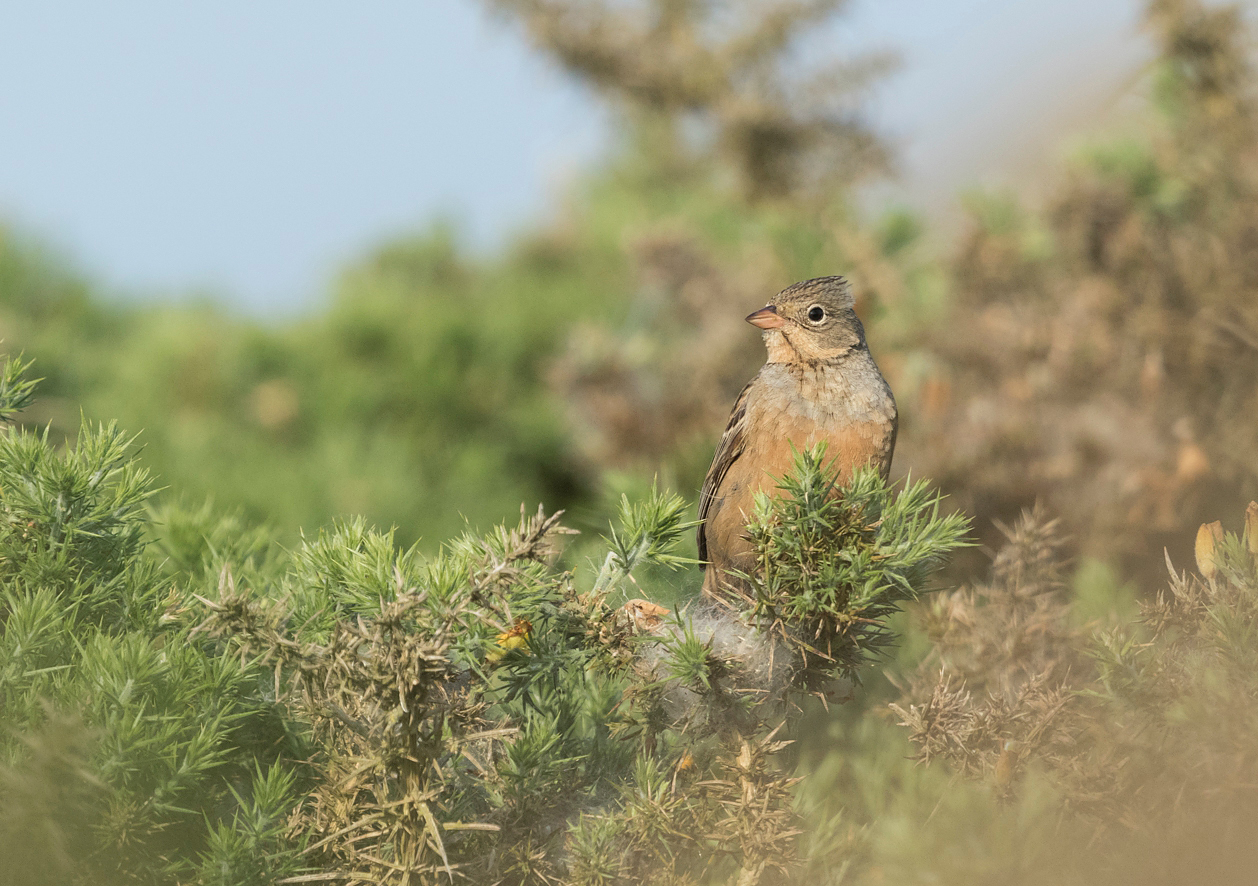 Of the six previous Cretzschmar's Bunting records, all bar one have been in May or June (© Henry Page).
Congratulations to John Norgate and other observers on the initial find and airing the possibility of Cretzschmar's instead of Ortolan – it was that possibility that motivated me to relocate the bird and confirm a first for Suffolk and mainland Britain.
Jonathan Norgate: thanks to Henry's perseverance the identification was finally nailed. I was gutted that it wasn't refound earlier, so that others could see it, but I wasn't surprised that it was gone the next day, given the weather conditions. I love Minsmere!