My shift work consists of one day on and two days off, which means I am able to get a fair bit of time heading out and about birding around Kent and East Sussex, while supporting my wife with looking after our beautiful six-month-old son. The previous day I was out birding on my own at the stunning spot of Conyer until dark. I was over the moon that night as I saw two Little Owls, and at dusk I sighted two Long-eared or Short-eared Owls fly over my head heading to hunt over marshes at night.
The following day I was sat at home attempting to upload my photos of the two Little Owls onto the computer when my laptop charger decided to pack up on me – typical! With the laptop out of action, my wife and I then decided to take the dog and our son out for a walk, at the start of the second lockdown. I have been birding at Burham Marshes a fair few times in the past, which has a nice circular walk with large reedbeds fringing the River Medway. I was umming and ahhing about whether or not to take my bins and camera as birding and wife just do not work together – she has no patience in waiting for me while I look at the birds, so she ends up walking ahead and scaring the birds away before I can even get to them (I'm sure I'm not the only one!). To cut a long story short, I decided to just take my DSLR – and luckily I did just that!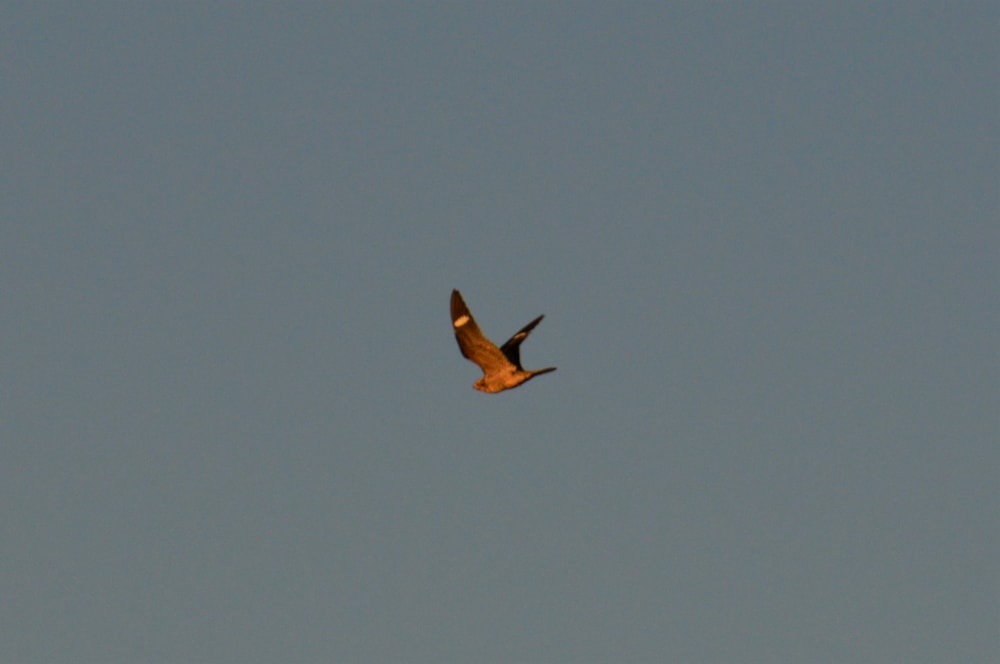 The white wing patches and V-shaped tail of a Common Nighthawk meant the finder knew he was onto something out of the ordinary (Joel Savill).
Arriving at Burham Marshes around 2.30 pm, we parked at the little church and started our circular walk. The weather was beautiful – fresh and sunny, no clouds and no wind. Perfect! If truth be told, the real reason I suggested heading to Burham Marshes was that there was a report of Bearded Tits from there the previous day, and this was secretly my main focus while scanning the reedbeds as we slowly wandered around together. I didn't manage to see them, however I did see some nice Reed Buntings instead. At around 3.40 pm we were coming to the end of our walk around and due to the leaves falling from the trees we managed to find an opening off the path that lead us onto the riverbank with beautiful views across the river. By now the sky was turning colour and the sun was starting to go down – the view was stunning.
All of a sudden something caught my eye about 10 m above us. I initially thought it was a bird of prey but when I quickly noticed the striking white stripe on each wing and the V-shaped tail, I knew that this was something different and like nothing I have ever seen before. My heart started beating faster with excitement as I started snapping away at it hoping to get a good shot. This bird was so fast, erratically flying up and down and side to side with long, dark, V-shaped wings. It reminded me of a crazy, extra-large bat! The bird flew over our heads and across the river, zig-zagging over the reedbeds. Then it was off – up and down over the trees across the river, flushing other birds out of the trees. Even my wife was in awe at the spectacle of this bird darting across the setting sky for the next few minutes until we lost it behind the distant trees. We waited a few minutes, but as we had our son we really needed to head home. If I was on my own I think I would have stayed there the rest of the night!
Content continues after advertisements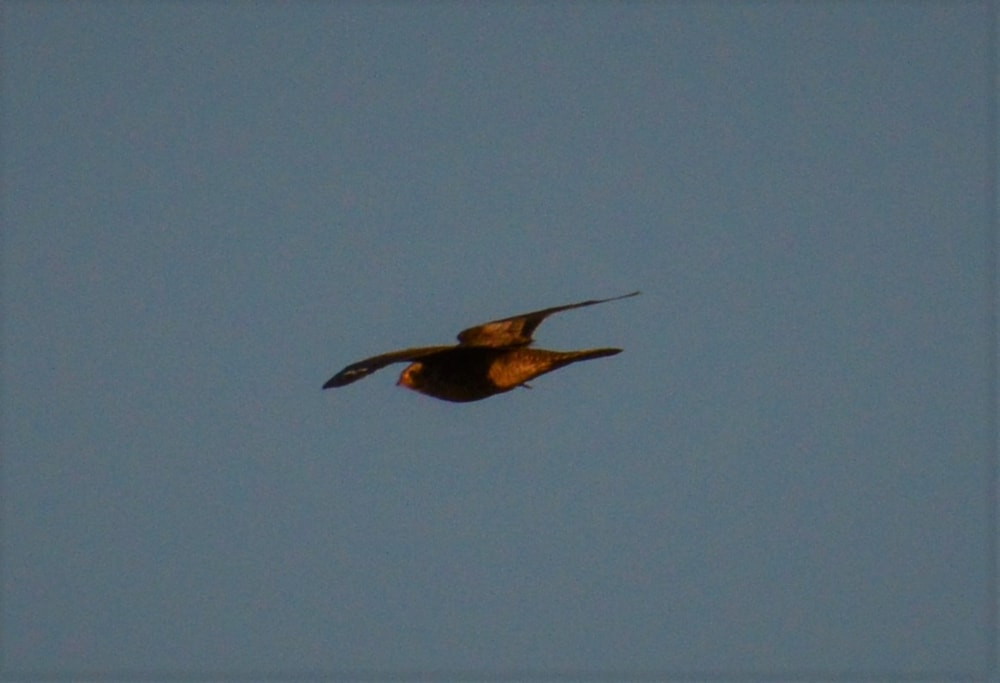 The Common Nighthawk reminded the finder, Joel, of a crazed, oversized bat, eratically flying on long, dark, V-shaped wings (Joel Savill).
When we got back in the car all I could think and talk about was this bird, but looking back over my photos I did not know what it was. After looking at them for a while I wondered if it might be a European Nightjar but I wasn't sold on this. We parked up at Aldi, my wife popped in to get some wine and I took some back-of-the-camera shots and posted these on the Kent Birding Facebook group, to hopefully get some clarification on what we had just seen. When we arrived home soon after, my phone was buzzing non-stop with messages and comments identifying it as a Common Nighthawk and that it's a mega rarity. I was gobsmacked and just couldn't believe what I was reading. People were asking me to upload the original photos but I was gutted as my laptop charger had packed up that afternoon – I didn't want people to think I wasn't being serious (of all the days for it to stop working!).
That night the wine tasted 10 times better than usual after one of the most incredible days I have had birding. I count myself very lucky to have been in the right place at the right time, however being in the field a lot and having the desire to always scan for birds wherever I go meant that something out of the ordinary would finally show up one day. I guess it did!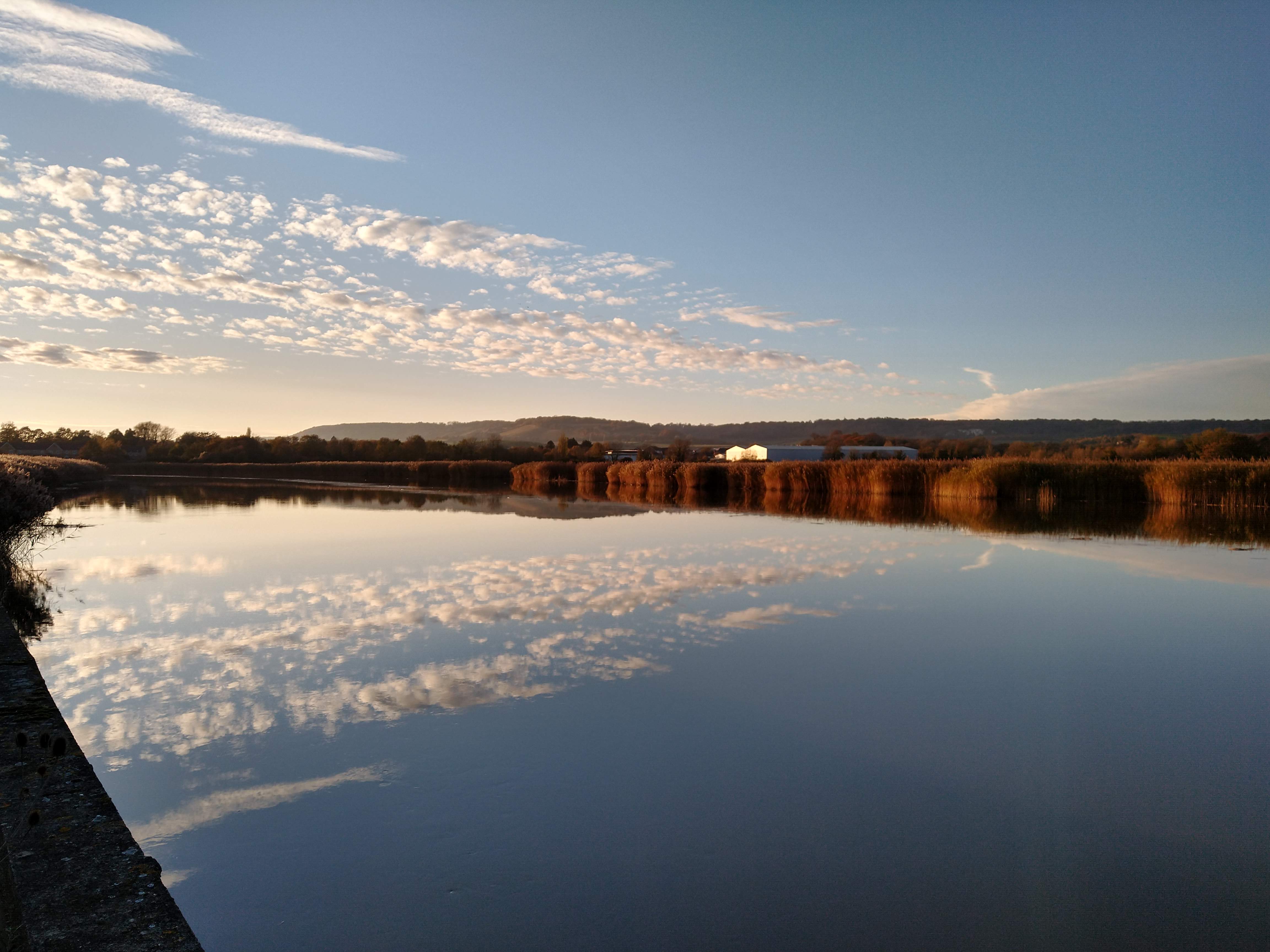 Burham Marsh is an 11-ha tidal reedbed on the outskirts of Snodland that provides winter foraging for flocks of Bearded Tits that flit between the network of reedbeds along the River Medway (Joel Savill).
A first for Kent, it follows hot on the heels of another British occurrence, at Church Norton, West Sussex, on 8 October. Found by the local Reverend Andy Wilkes (see here), it was a similarly brief visitor, and spent barely an hour at the West Sussex site before doing a disappearing act.