I had spent the morning of Wednesday 9 May trudging across open moorland and bog doing some conservation work for Stagfire Ecological Surveys. When I reached my next section of the survey area, I sat down to have a sandwich and cool down from the morning's trekking.
I was sat along a deer fence line and noticed a small bird flitting between the top of the fence and the pine trees behind I saw a flash of white in the wings and assumed it was probably the Chaffinch which had been singing away and I returned to my snack. However, after seeing that the bird was hanging around on the fence (the boundary of my survey area) just as much as the trees, I thought I should have a look through my binoculars and identify it before it disappeared into the pines. As I focused on the bird, I was immediately excited – it wasn't a Chaffinch but a black-and-white flycatcher!
Having only seen Pied Flycatcher once a few years ago – and a female at that – I was pleased enough to see this smart male. While I quickly wolfed down the rest of my sandwich I got out my Collins Bird Guide to check the monochromatic flycatcher page and suddenly realised that I might not be watching a 'Pied Fly' at all …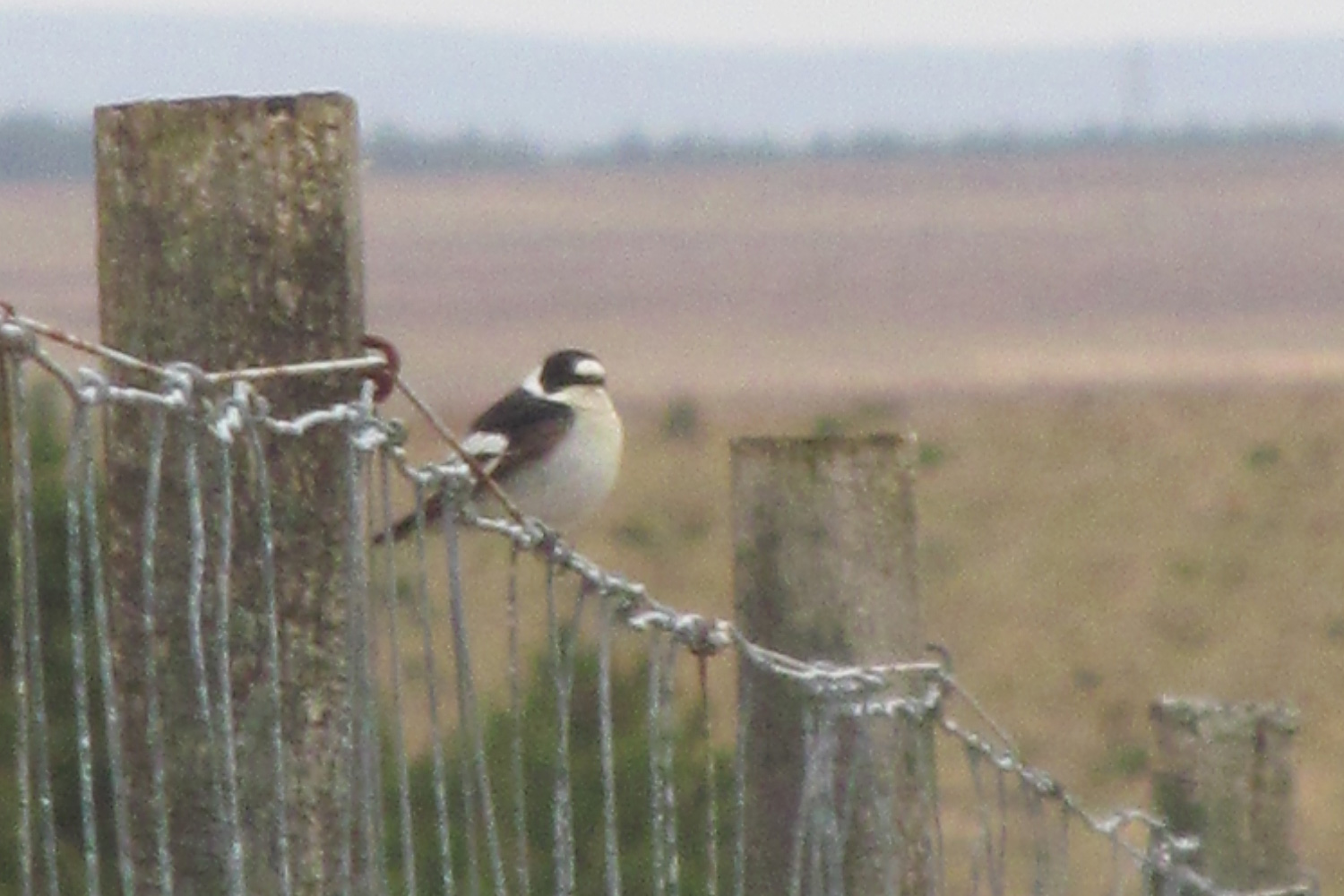 Collared Flycatcher, near Camster, Highland, 9 May 2018 (Alex Dodds).
I'd taken my high visibility jacket off when I sat down and thought it best if I didn't put it back on! I managed to get a few good looks at it in the binoculars and was 99 per cent sure I wasn't looking at a Pied Flycatcher, but a Collared! There was an unmistakable broad collar of white around the back of the neck and a large white patch on the forehead. Before moving closer, I took a few record shots, knowing it didn't need to be of a crystal clear, award-winning standard, but enough to show the identification features. As I edged to within 15 m or so of the bird, I took more photos. Reviewing these much clearer images, there was no doubt that it was a Collared Flycatcher.
I watched it flit among the pine branches for 5-10 minutes more, before remembering that I was technically at work and carried on walking along the fence line to continue my survey. I sent a text message about the bird to the other surveyor on site and, just as I would have done, his first message back sceptically questioned my identification. Even though I'd been 100 per cent sure only 10 minutes ago, the hint of doubt caused me to get my camera back out to triple check the presence of the solid white collar.
After the day's survey was complete, the other surveyor and our colleague who'd been working elsewhere, went back to try and see my black-and-white friend. Unfortunately, it had been solidly raining for the past hour or so and the bird was probably being sensible and sheltering among the dense pines, hidden from sight. The next morning the flycatcher was nowhere to be seen. I was so lucky that I'd just happened to be in the right place at the right time – another reason why I never go out without a camera!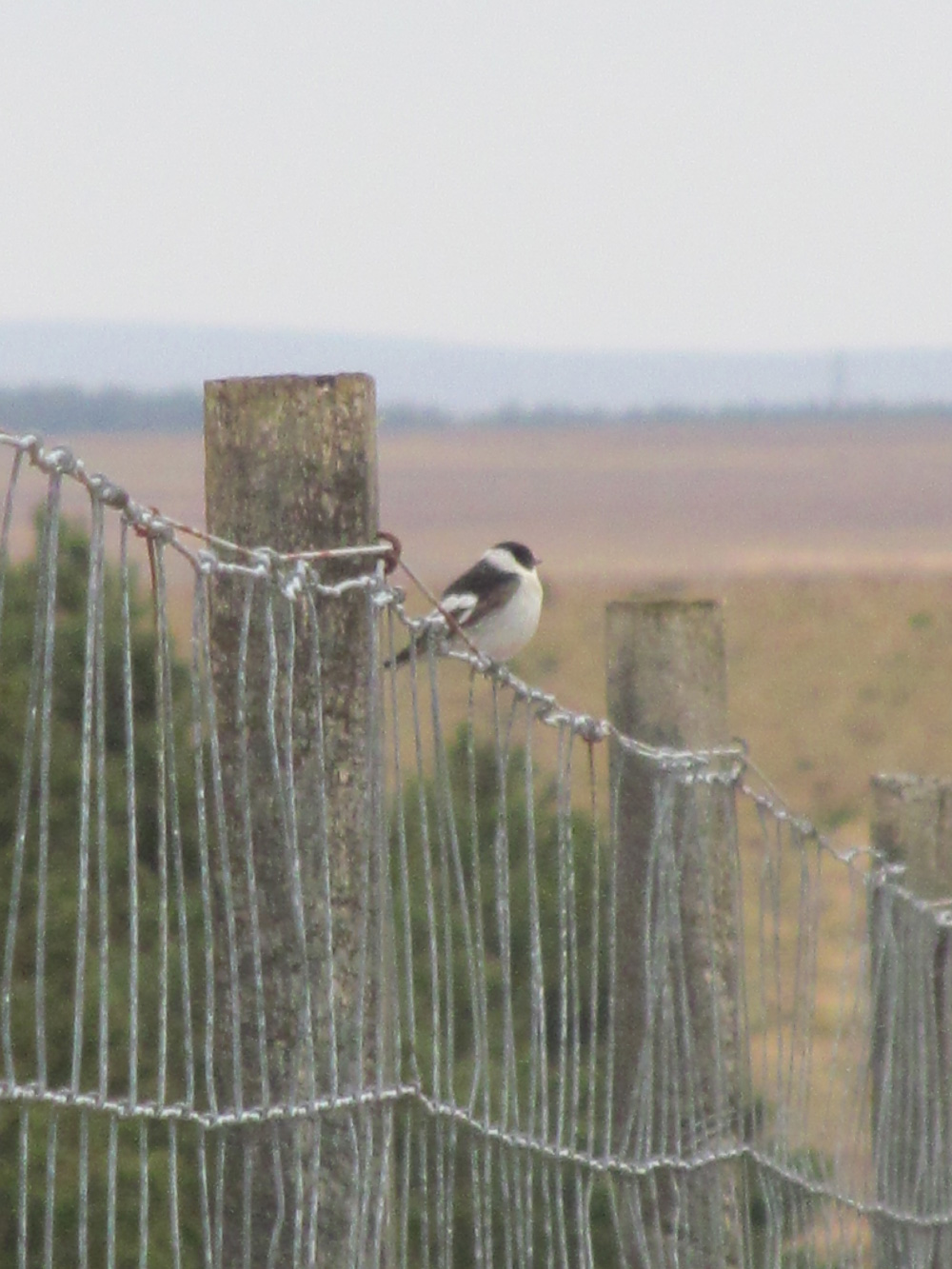 Collared Flycatcher, near Camster, Highland, 9 May 2018. The remiges appear extensively brown, aging this as a second-calendar-year male (Alex Dodds).
This represents the first record of Collared Flycatcher for the Caithness area and the second for Highland, following a male at Stoer Head on 12 June 2013. If accepted, it will become the 48th British record.