Fair Isle has a bizarre ability to attract Calandra Larks. Of the now 24 British records, nine have occurred on the isle. Despite this remarkable ratio they retain near-mythical status, as this great bruiser of a lark is often hard to approach, easy to lose and rarely stay long enough for hopeful twitchers to connect with them. All that was true at least until this spring when we have been rather spoilt …
This story began on the 8 May – Global Big Day – and we had high hopes for what might be found that morning. Spring had started slowly, with migration occurring at little more than a trickle, but a shift in the wind to a freshening easterly surely meant migrants were on the cards. Census started strongly, with year ticks flowing on the group chat in the first half-hour – birds were moving!
I was covering the south-west of the isle – a good place to be in an easterly wind. I'd stopped to scan the short grass fields above Utra Scrape and noted a couple of birds feeding along a deep ditch that ran up the field. Looking into the sun, they both appeared rather plain brown, with one clearly larger and stockier than the other, and I initially assumed them to be a Eurasian Skylark and a Meadow Pipit.
However, the smaller of the two was a skylark, meaning that the larger bird was going to be something much more interesting! It turned around, revealing a bright, pale beast with distinct dark neck patches, a large, blocky head and a deep, stout bill: Calandra Lark! The next few things that ran through my head are not suitable for printing, but it's safe to say I was ecstatic!

One of the first images taken of the first Calandra Lark (Alex Penn).
Both birds then flushed and flew towards me, landing in the longer grass around the Scrape, calling as they went. Watching the Calandra flying together with a skylark gave a true impression of the sheer size and bulk of this species, along with a clear view of the distinct blackish underwing and pale trailing edge to the wing.
With no visiting birders the resulting twitch was a small one, but islanders and the rest of the team soon started to arrive as the bird took short flights around the area and good views in the short grass. Remarkably for a Calandra, it went on to stay in the area for eight days, remaining faithful to the same corner of a field throughout.
Content continues after advertisements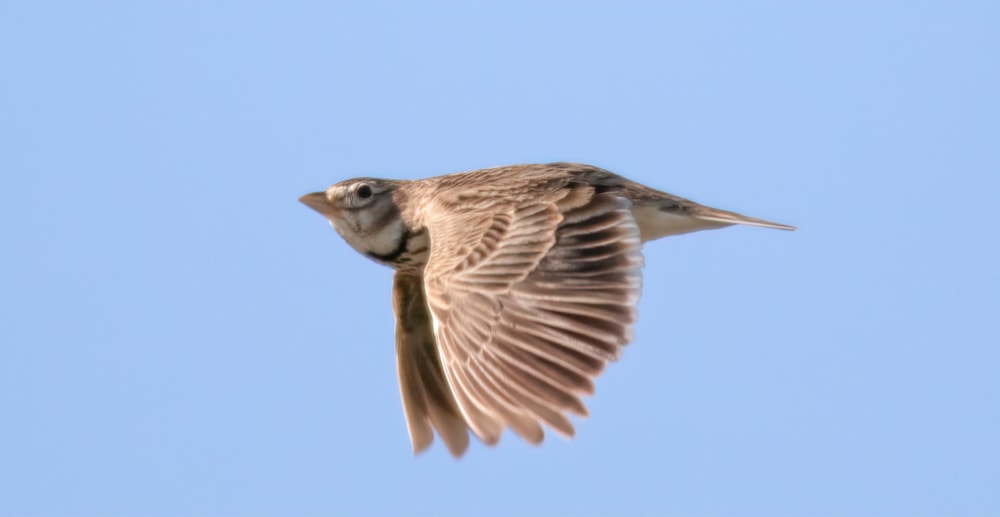 Fair Isle has historic form for this hefty lark species (Alex Penn).
Fast forward to 29 May, and another south-west census for me. This time, an overcast day with a light southerly wind, and early reports of Common Rosefinch and Northern Pintail new-in gave some hope for the morning. With the cliffs likely to be quiet for migrants, I'd started with the crofts, and had just walked Meadow Burn when a lark flew in past me and landed in the next field. It looked big and dark underwings with a pale trailing edge … surely not?!
I raised my bins and sure enough, stood proud and showing off its black neck patches and meaty bill was another Calandra Lark. I lifted my camera to get some record shots, followed quickly by my phone to get news out. This was a good enough sign for a couple of birders by the road who'd been watching to start hot-footing it towards me – a quick burst of photos followed by furious typing only means something good!
Fortunately the bird stayed put long enough for everyone to get reasonable views. Though it was not as showy as the first, it gave good flight views and would feed openly in the fields at distance. At time of writing it remains present for its fourth day, allowing a few more birders to catch up with it.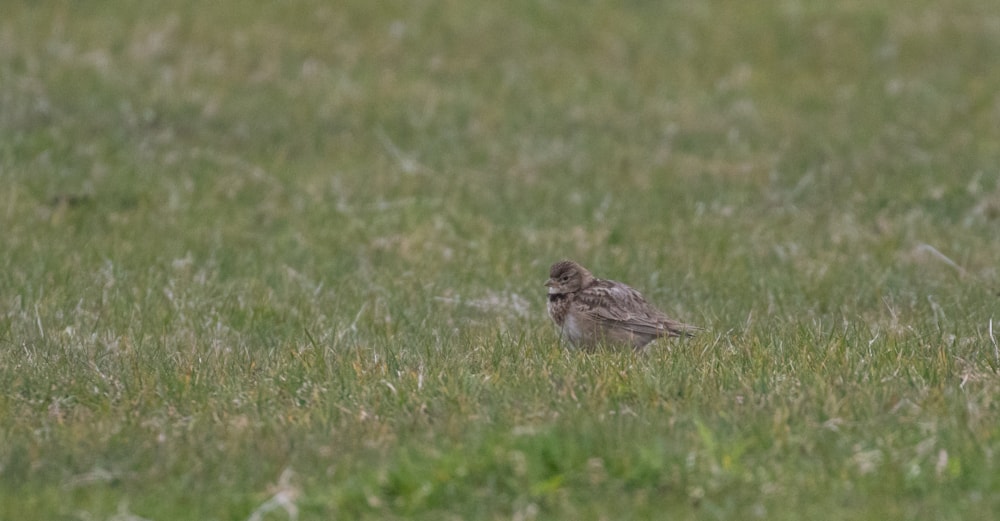 The second Calandra Lark, found on 29th (Daniel Gornall).
This is the first year in Fair Isle history with multiple records of these incredible birds, and with last year's bird arriving in late June, there's time for another yet …