I received a message from Duncan Gaudie, a local farmer, on Saturday 1 November concerning an unusual duck he had seen the day before in Holm, a parish in the south of mainland Orkney. His description of a 'red band' around its neck had puzzled me at first, and I was already thinking about hybrids — he had checked several field guides and could not find anything resembling the bird.
He soon followed this up with an email and attached a photo. On opening the attachment I nearly fell off my chair! It was a photo (and a good photo at that) of an adult drake Bufflehead. The red coloration on the neck was of course the gloss reflecting off the black feathering.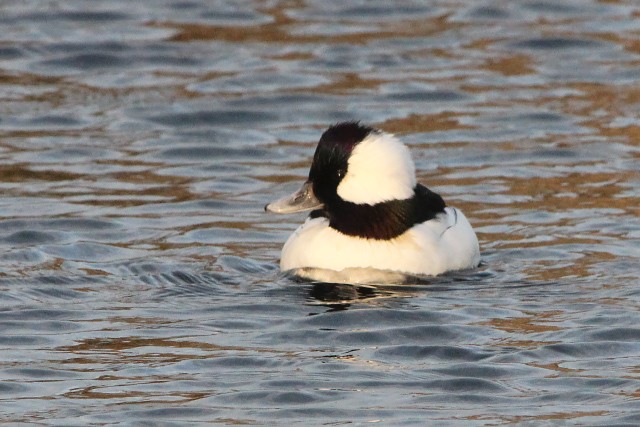 Bufflehead, Holm, Orkney (Photo: Keith Hague)
It took me a few minutes to get to the site — a small flooded quarry about 1.5 km inland. There was a mound of earth at the edge of the quarry which provided convenient cover, although the bird could see me whenever I trained binoculars or camera on it. It showed well at fairly close range for the short time I was there and although looking somewhat nervous (repeatedly moving its head in an alternating forward/backward fashion), it seemed to tolerate my presence. I took several photos, not only to confirm the obvious ID, but also to check for rings. Each leg was seen clearly as it head-scratched. It was not ringed. It then became increasingly agitated, this change in behaviour characterised by erratic swimming movements between dives. The bird then got up suddenly, in the manner of a Teal, and flew off to the south-west. I saw the bird very well in flight and was able to note that it was not carrying any man-made artefacts of any kind.
This must be one of the easiest male ducks to identify; 'once seen, never forgotten'! It was basically a strongly patterned black and white duck at distance, but at close range it revealed striking reddish-purple, green and blue sheen on the black feathering of the head and neck. A large white patch on the rear of the otherwise black head extended forwards to the eyes and rear crown. It also showed mainly black upperparts with a pale grey rump; white underparts; black/white wings (very similar to drake Goldeneye); black/white scapulars; pale blue bill (with black nail) and pink legs. I wasted no time in getting over to the nearby Loch of Ayre which seemed the most likely destination. I failed to find it and put the news out — hoping it could be found again the following day.
Early the following morning (early for me at any rate!), I relocated it not far away on a flooded field. I put the news out on our local Yahoogroup — Orkbird2 — and several local birders managed to see it. One of these, Paul Higson, posted the following on Orkbird2 later that day: "While I was watching the bird this am it was very wary and flushed when it saw a guy out for a walk who was c.100 metres away. Other folk who were lucky enough to see it this morning have made similar comments about its wariness/reaction to noise."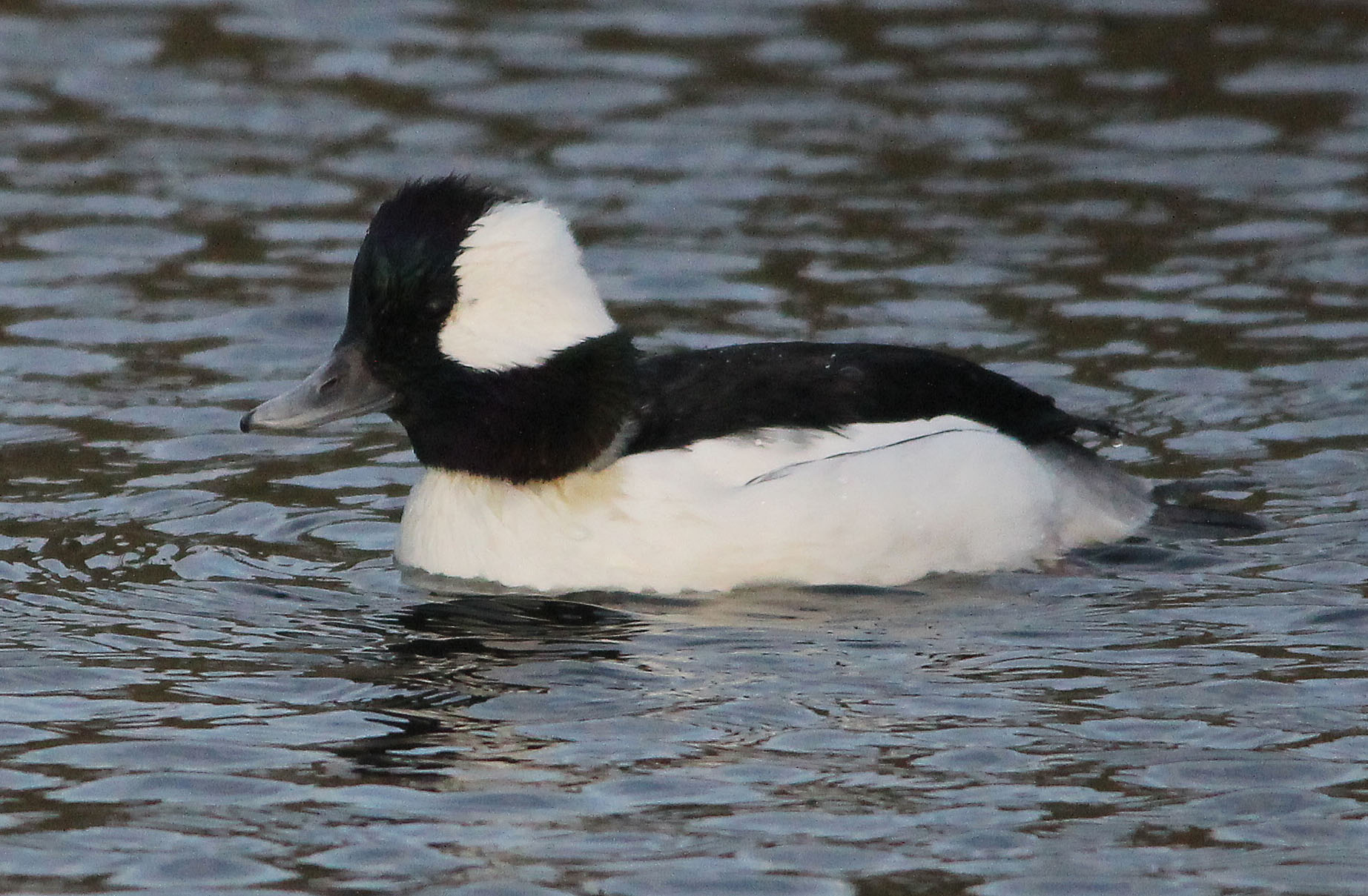 Content continues after advertisements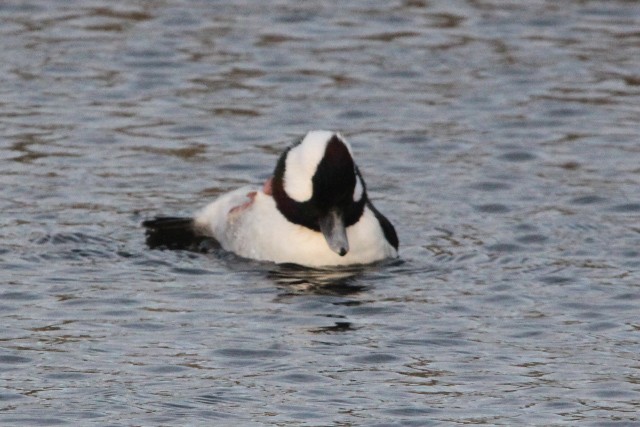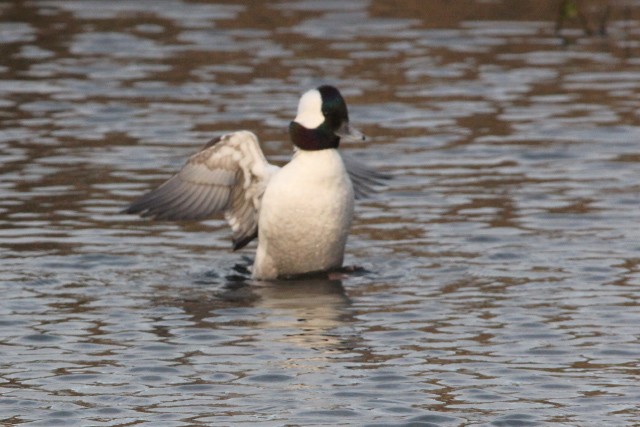 Bufflehead, Holm, Orkney (Photos: Keith Hague)
The bird could not be found the following day. If accepted this will be the first record for Orkney.
Status of Bufflehead in Britain & Ireland
The Holm Bufflehead represents the 17th British occurrence of this North American duck, with two further records coming from Ireland. Despite this relatively low record total, Bufflehead is now widely regarded as an expected vagrant on this side of the Atlantic, and all but three of the previous records have come since a well-watched drake at Colwick Country Park (Nottinghamshire) in March 1994.
This latest individual is the first since a one-day bird at Covenham Reservoir (Lincolnshire) on 27 April 2012, which had earlier been seen in the Netherlands and proved to be a different bird to that which spent that winter around The Lizard (Cornwall) between 26 October 2011 and 4 March 2012. The arrival date of the Holm bird ties closely not only with the Lizard bird but another recent record, an adult drake which arrived on Unst (Shetland) on 12 November 2006 and lingered into 2007. In fact, November appears the best month for vagrant Buffleheads to arrive with four records; having been initially discovered on 31 October, the Orkney bird is just a day off becoming the fifth while a sixth, the Cornish bird, was also discovered in the final days of October.
The second half of October and November is widely viewed as the classic period for vagrant Nearctic widfowl to arrive in Britain and Ireland, and thus the pattern of occurrence for the Orkney bird is entirely consistent with a wild bird. By the time of writing (10 November) it had not been relocated.