Three weeks after the event, news came to light recently of a Brown-headed Cowbird photographed and videoed in a suburban back garden in Seaburn, County Durham.
Photos had filtered through to me as County Recorder via David Parnaby, Warden of RSPB Loch of Strathbeg, who in turn had received details of the sighting from his father, a Seaburn resident. Even with the speed of the Internet and email, sometimes good news can take a while to surface...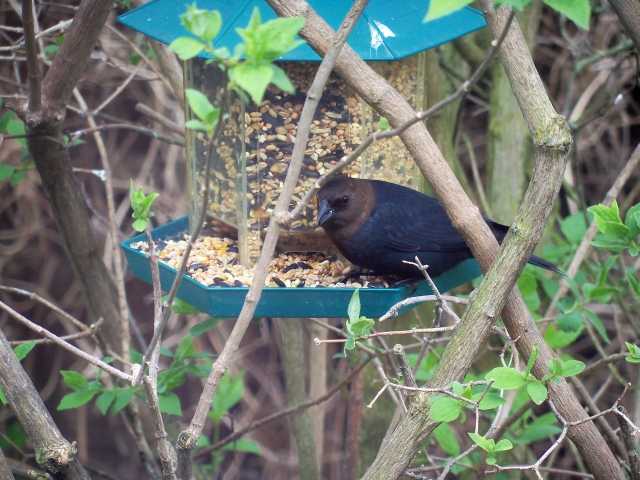 Yet another American vagrant graces a British garden. (Photo: John Pillans)
John Pillans, whose garden the bird frequented for just one day, gives us his account of its finding and subsequent identification:
"Like a lot of people who watch and feed birds, we saw our share of unusual visitors this winter. To have three Redwings visiting the garden for several days was wonderful and catching a quick photo of a Reed Bunting passing through was most unexpected. I'm familiar with the sights and sounds of our regular garden visitors, so, when I heard a high-pitched tinkling call this particular May morning, I knew it wasn't something I'd heard before. Once we caught sight of the bird, took a few photos and checked the books, we still couldn't identify it.

The shape of its bill seemed finch-like and we wondered if it had escaped from an aviary; it wasn't disturbed by my presence in the garden and I was within five feet of it at one point. Lots of Internet searching and a visit to a neighbour with an aviary all proved fruitless. We continued to watch it throughout the day, sometimes feeding on a seed feeder or in the grass, often just sitting quietly in a bush, until, at around 6:15 the mystery bird flew up to the TV aerial, sang briefly and left.

The following night, still none the wiser, I went for a beer with a friend and took my camera along to show him the pictures. He rang me the next day — "I think I've found your bird" — it was in the back of his bird book as an accidental and he'd found it on a website. Some of the pictures looked a good match but once I clicked on the 'typical voice' I knew that was it; we had seen a Brown-headed Cowbird."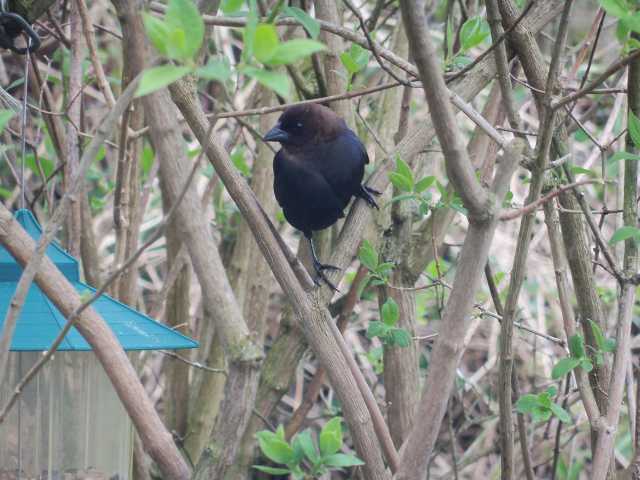 The one-day Brown-headed Cowbird is the sixth for Britain. (Photo: John Pillans)
Subject to BBRC acceptance, this constitutes probably the sixth record of Brown-headed Cowbird for Britain, all but one of which have occurred in the last two years. Early May has now also accounted for four of the records with the Fair Isle, Norfolk and Northumberland birds all first appearing in the first eight days of the month. Indeed, the Seaburn bird was preceeded by a male photographed at Ouzouer-sur-Trezee, France, on 7th May; perhaps the same bird involved as it headed north up the east coast of England?
Although only the Fair Isle bird was available for birders to enjoy (assuming their wallets could withstand it!), the fact that there has been multiple records in the last two years must give hope of an obliging bird being found in an accessible location in the coming years. With a White-throated Sparrow currently in residence in a Suffolk garden and Dark-eyed Junco, White-throated Sparrow (and House Finch!) all being 'garden birds' in early May, how many other quality Yanks are sneaking through suburbia undiscovered?