Scilly saw several days of fresh easterlies through the week leading to Saturday 21 September 2019. Heavy rain moved in from the west overnight and led to a broad optimism among birders present on the islands for the prospect of some good birding on the following day – the only day off work for several local birders, myself included. I decided to go for a mooch around the Garrison before we reconvened at lunchtime.
I spent around an hour and a half watching the trees along the Broome platform, with little more than a Blue Tit and a European Robin, and had lost a degree of concentration by the time I reached Morning Point. Thankfully, I decided to press on and work my way through the small overgrown fields on the coastal side of the Garrison walls.
Roughly halfway to the Woolpack battery, the coastal hedge opens out near the conjunction of a row of tamarisks and provides views of the boulder beach some 10 m below. I noted some Rock Pipits and a White Wagtail, but then noticed a movement some 20 m to my right near the base of the cliff from the corner of my eye.
I lifted my bins to find nothing, but then what first appeared to be a Blackbird suddenly emerged from behind a boulder. I was immediately momentarily confused; the anticipated Blackbird was decidedly weird! It acted in a very agitated manner – bobbing, flicking wings and raising its tail in the manner of an irritated Northern Wheatear! It jumped from one rock to the other in a nervy way and would frequently disappear behind boulders and clumps of Rock Samphire, hiding from view for several seconds at a time.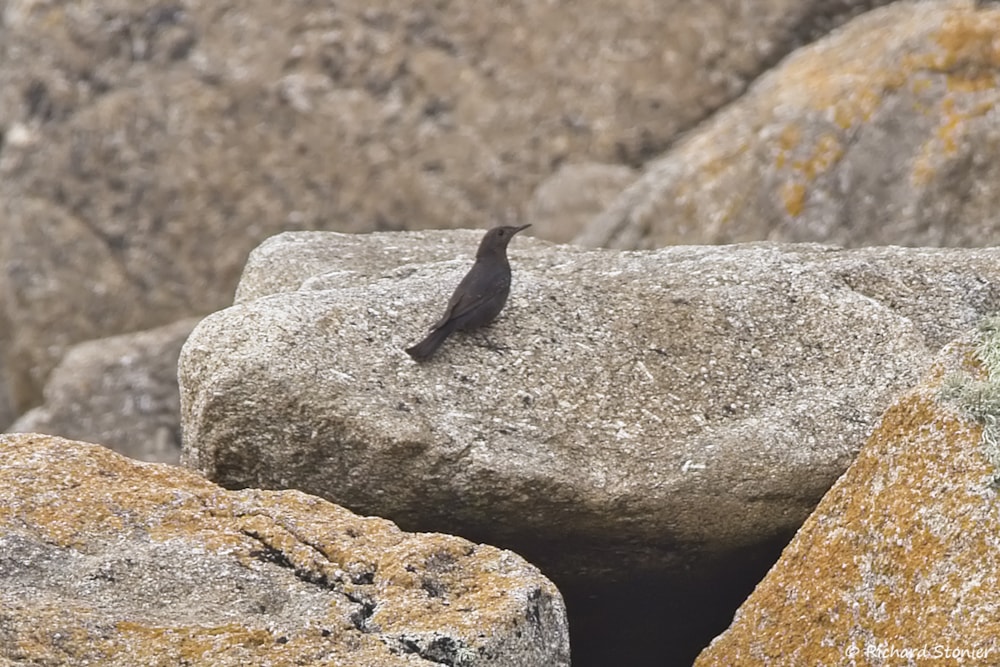 Often bobbing, flicking its wings and raising its tail, the Blue Rock Thrush proved nervous and flighty for the majority of its stay (Richard Stonier).
Although it showed a plain dark charcoal plumage, it was clearly a Blue Rock Thrush and its odd structure added to its weird appearance. The thrush flew metres at a time and so, as it approached the larger rocks towards Woolpack Point, I thought that I'd better try to secure a few record shots. I'm glad I did as, after a couple of images were taken, it promptly disappeared around the point and into the strong north-westerly wind.
No, this can't be right: a Blue Rock Thrush? Surely, I was missing something. I mentally ran through the plausible possibilities in a moment: an aberrant Blackbird? Definitely not. An odd juvenile Ring Ouzel, then. Nope. I kept coming back to Blue Rock Thrush but couldn't allow myself to believe it. That long-bodied, small-headed structure, and that long bill … when in the moment and seen perfectly, even the most obvious features are questioned. It's so easy to look back with hindsight!
Faced with the dilemma of trying to refind the bird and getting the word out, I chose the former, as the area is a mobile blackspot. As I walked carefully around the point, I scanned the boulders of the next bay ahead and there it was at the far north end, approximately 100 m away. Alas, a couple was approaching from the opposite direction, flushing it down into some large rocks. I waited. The pair stopped to look over the beach and I anticipated that it would flush again, but nothing. I gave it another few minutes and then continued walking, but it had simply vanished.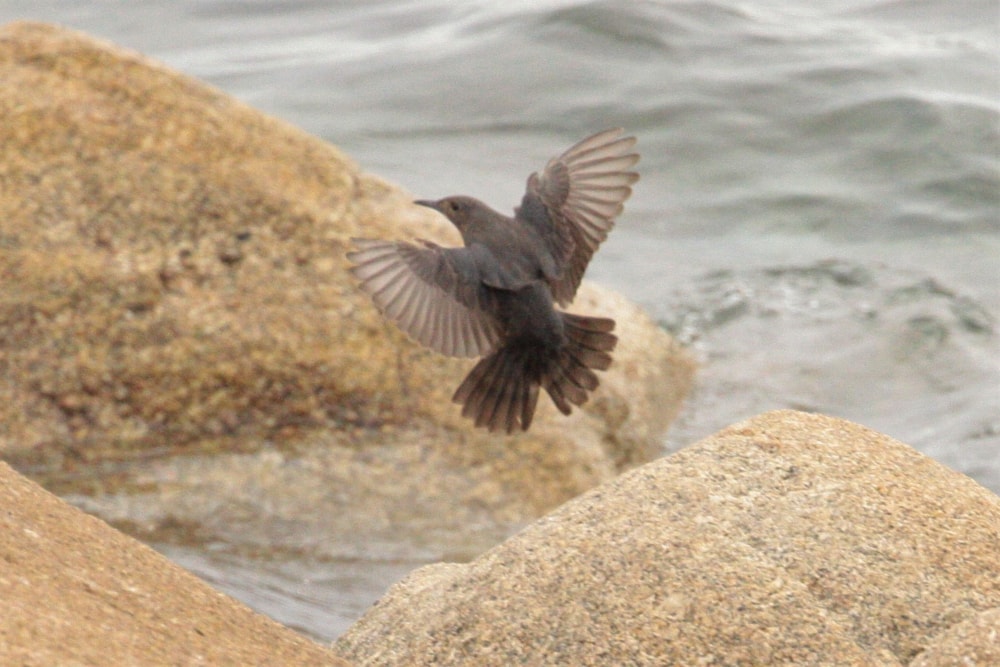 Views of the thrush were often enjoyed in flight only (Paul Freestone).
During this search, I had been attempting to call local birders to get the news out, but I was almost at Steval by the time I got through to Spider and heard his calm voice.
"I've got a Blue Rock Thrush; or rather, I think I have." My confidence was waning. "'Course you have … where?" I jabbered my story out. "Okay, I'll be at Steval House in a minute or two."
I got to the house in time to see Spider ambling down the track like he was out for a Sunday stroll. He saw me and picked up his pace. I then remembered that I'd taken a record shot. "It wasn't my imagination after all!" "Well done mate," he said, followed by a hug.
Spider kindly put out the news and numbers soon gathered, with everyone who visited connecting. Inevitably, lunch was late.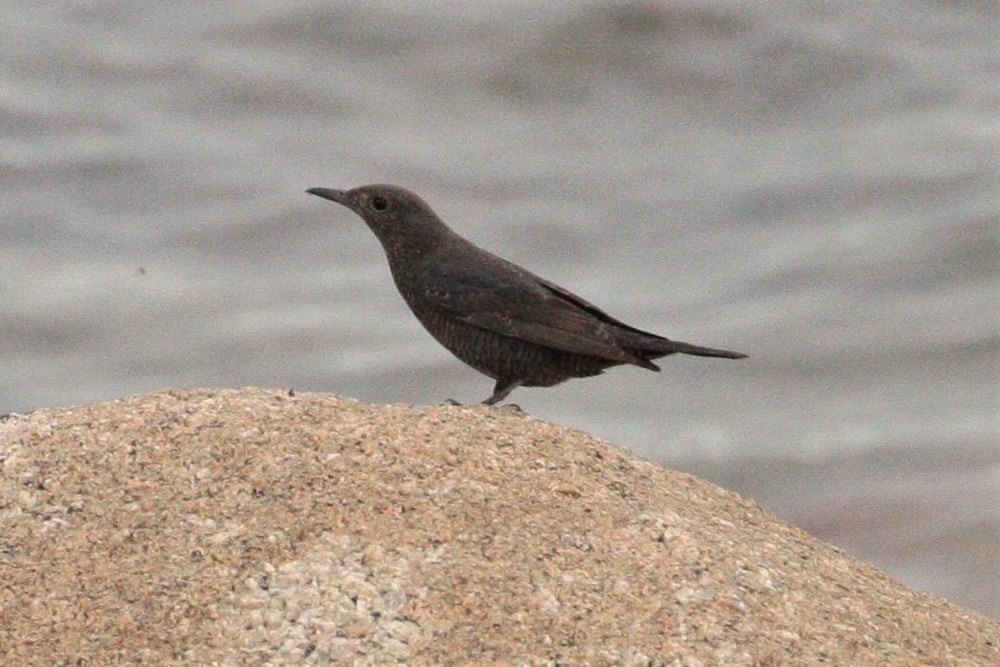 The Blue Rock Thrush went on to stay on St Mary's until 28 October (Paul Freestone).
Stats & facts
The two 'western' subspecies of Blue Rock Thrush breed from the Iberian peninsula and north-west Africa eastwards throughout the Mediterranean Basin to the Caucasus and Central Asia and are partially migratory, with some birds moving altitudinally and others, especially those further east, moving medium to long distances. It remains a very rare vagrant to Britain, with eight previous records involving six different birds. The first came as recently as June 1985, when a bird visited Skerryvore Lighthouse off Tiree, Argyll. Since the Scilly bird, another visited Orkney in November 2019 – the second for Scotland and the tenth for Britain, assuming acceptance of both it and the latest Scilly bird. There are currently no records from Ireland.