| | |
| --- | --- |
| | |
| Blue Rock Thrush: Elan Valley, Powys (photo: Dr Stephen Bridgman with assistance from Master Andrew Bridgman and Mr Richard Spencer). | Blue Rock Thrush: Elan Valley, Powys (photo: Dr Stephen Bridgman with assistance from Master Andrew Bridgman and Mr Richard Spencer). |
On Wednesday 11th April 2007 while on a short break in Rhayader (mid-Wales) I, along with my wife, was on a walk in the Elan Valley. It was about 1:15 pm and we started off at the visitor centre with the intention to walk along the reservoirs. We stopped at the Caban quarry due to a Wheatear flitting about - my first for the year and not a bad start.
I thought I'd take this opportunity to scan the quarry and maybe find a Ring Ouzel. Just as I looked up a 'thrush-like' bird flew across the top of the quarry - was my luck in for a Rouzel? I located the bird straight away as it landed and sat looking down on us. Something wasn't quite right as the bird appeared blue. It flew and landed again but it was this moment that confirmed my initial thoughts that it was indeed a stunning male Blue Rock Thrush.
Typically I didn't have my scope with me as it was in the car at the visitor centre car park. I ran back for my scope, and on my return my wife said that the bird was still there. Out came the scope and 'ooooh my' what a bird. We continued watching it for the next one and a half hours as it flew around the top of the quarry feeding on bumblebees!
Content continues after advertisements
We couldn't get a signal on our mobiles, and we had to tell someone, so at about 3 pm we went back to the visitor centre and asked to see a Ranger - none was there was the reply, but the lady took the details and said she would inform them when they got back. So we went back to the quarry, where the bird was still present and showing superbly. Now the odd person was stopping and asking what I was looking at. At about 4:20 pm a car pulled into the car park at the quarry and three guys got out and asked what I was looking at: "Is it a Peregrine?" "Err, no it's a Blue Rock Thrush." "A what? You're kidding", came their replies. At last someone else had seen it! Around 10 minutes later two Rangers pulled up on the road behind us: they obviously weren't coming to see us about the thrush so I went to tell them what I was looking at. They couldn't get out of the van fast enough and sure enough they saw it too.
One of the Rangers then got in touch with the Head Ranger, who also happened to be the County Recorder; he arrived around 4:45 pm and managed to enjoy the bird as well. Between all of us we managed to get a couple of photos and a bit of video footage - if not the best then it would hopefully aid our sighting for submission purposes. It still continued to be active and seemed to be feeding well, catching the odd bumblebee and even a Common Lizard became a meal. At around 5:15 pm we lost sight of the bird and sadly that was last anyone saw of it.
Many people visited the site after the news had been disseminated via BirdGuides and other news services, but a search of the area the following morning confirmed that the bird had departed. This was one of my most memorable day's bird watching ever and, considering the rarity value, my best find to date.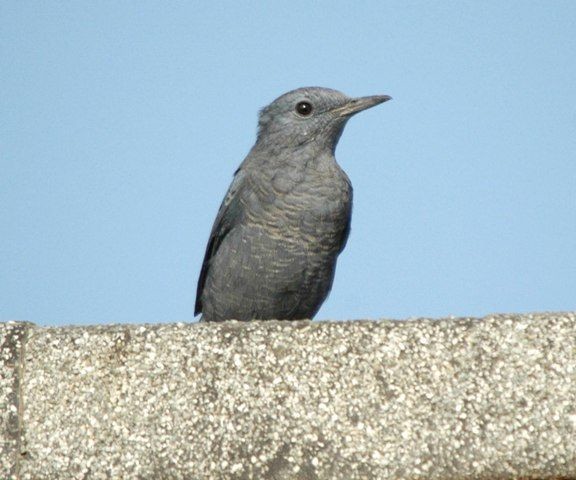 Blue Rock Thrush: Gibraltar (photo: Tony Stewart).
In southern Europe the Blue Rock thrush is patchily distributed with a population put at over 120,000 pairs. The species underwent a large decline between 1970 and 1990 but has been stable since (
Birds in Europe
).
There have been five previous records, though it is possible that the two in 1999 involved just the one bird.
2000 Cornwall: Geevor, Pendeen, first-summer female, 14th to 18th May.
1999 Cornwall: Cot Valley, St Just, male, 25th October.
1999 Scilly: St Mary's, male, 14th to 15th October.
1987 Caernarfonshire: Moel-y-gest, male, 4th June.
1985 Argyll: Skerryvore Lighthouse, SSW of Tiree, first-summer male, 4th to 8th June when found dead.