Friday 8 February was a strange day. I was awake the previous night working on a university assignment due at midday – by 5 am I'd almost finished and so decided to get some sleep and complete it later that morning. I woke up again at 10 am, finished and submitted it before the deadline closed, and went back to sleep; the typical student last-minute panic! I woke again at 2 pm, dreary eyed but determined not to totally waste my day.
Feeling pleased with my assignment, I decided I had time for a few hours' birding before attempting to work more on my dissertation later in the evening, but this never happened. Storm Erik was showing its strength and as a Balearic Shearwater was seen that morning, I thought I'd try seawatching at Lizard Point instead. I had enjoyed a couple of hours seawatching there on Thursday morning with my two university mates – Liam Langley and Matt Doyle – and although there was nothing unusual, there were still plenty of birds to keep us entertained.
We discussed the possibility of a seawatch and Liam declined due an 'important meeting', that he now says, really wasn't important! Matt agreed to join me, so after a very quick breakfast/lunch I picked him up and we arrived at the Lizard with enough time for an hour's seawatch. The wind was very strong from the west, but the sun was out, so tucked in next to the National Trust watchpoint it was actually quite pleasant.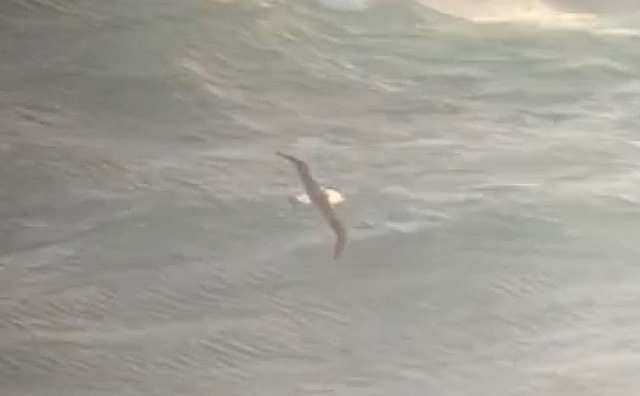 There are nine previous February records of Black-browed Albatross, the last an immature bird 160 nautical miles south-west of Mizen Head, Co Cork, in 2012 (Toby Phelps).
Diversity was low, but there were still plenty of birds passing. Northern Fulmars were quite numerous, so I set out to count the numbers for the hour we were there. Halfway through we scored with a reasonably close immature Pomarine Skua. We had great views and enjoyed the year tick, plus I logged my 100th Northern Fulmar and Matt added two Manx Shearwaters, so we felt our trip was worthwhile – although what was about to happen was to leave us in disbelief and shaking with adrenaline.
Our time seawatching was coming to an end, so we called 10 minutes before we were going to give up and head home. I scanned east to add any additional fulmars to my count. Almost at the end of my scan I picked up a bird just coming around the corner of the rocks and heading towards Lizard Point. The bird remained low over the water, cruising on bent wings, so getting any detail was difficult; all I was able to make out was its large size, against some Northern Fulmars, black upperwings and a white head. Initially, an immature Northern Gannet sprung to mind but I grew increasingly intrigued as it came nearer, still hugging the water's surface.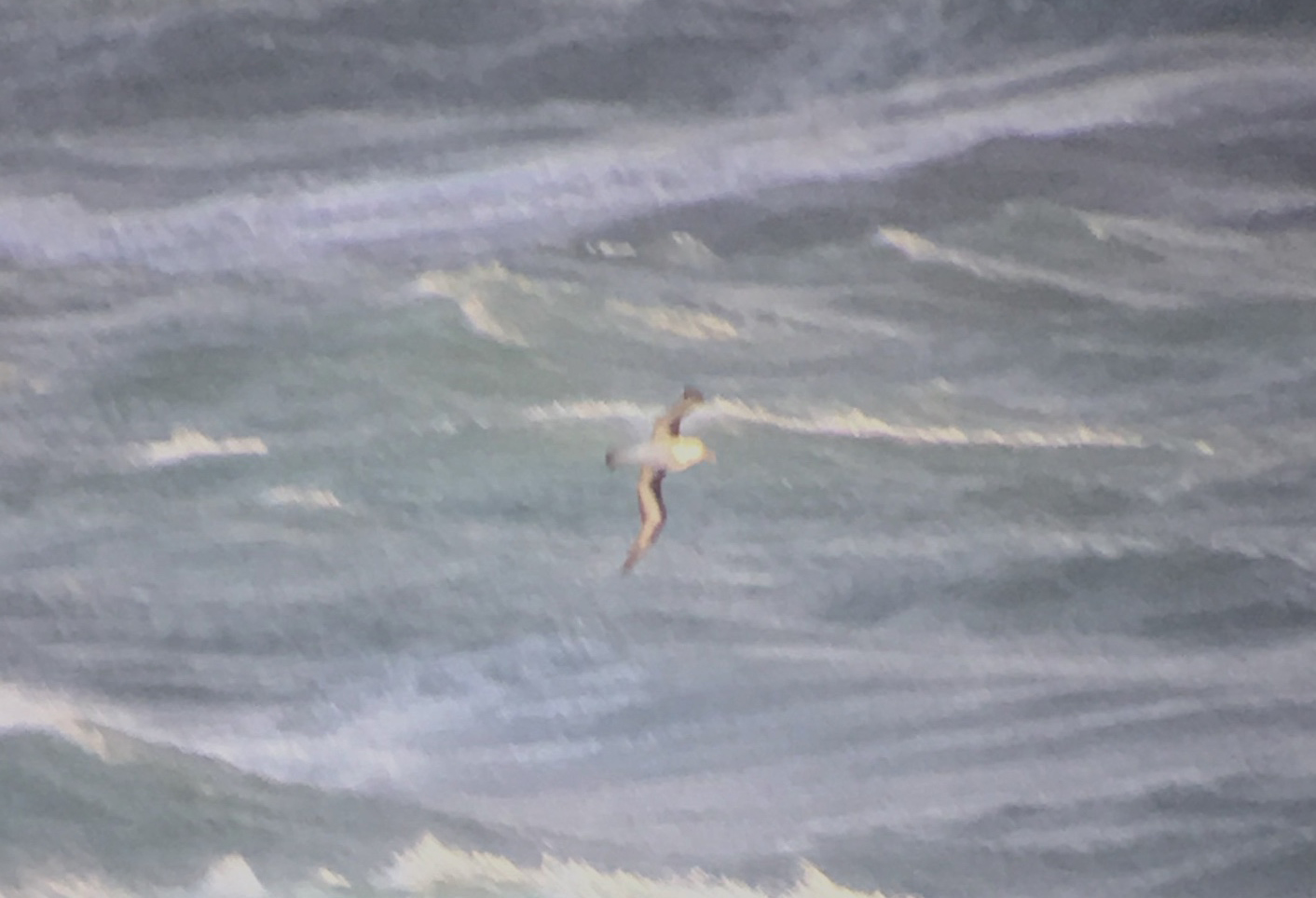 The albatross – somewhat surprisingly – put in an appearance the following day. It was seen flying west early morning before returning east late afternoon (Toby Phelps).
My heart started to race, and I shouted to Matt to get on it. Upon doing so it arced up and for the first time I could see how big the bird actually was. I knew instantly it was an adult Black-browed Albatross! In total disbelief and panic I tried to explain to Matt its position (still a considerable way to the east). I was in so much shock, my words were all jumbled, so I gave up with the directions and let Matt look through my scope – now we were both completely shaking with adrenaline! I checked the time on my phone (4.42 pm) and the disbelief turned to overwhelming excitement.
Panic over, we could enjoy the moment. The albatross was showing more readily now, meandering its way west, in no hurry at all. It was close! Visible with the naked eye, the views through the scope were extraordinary. We cheered and shouted: "is this actually happening?!". We were still unable to comprehend what we were watching!
As it began to approach the east end of the point reef Matt shouted: "we need to get pics!". Overwhelmed by the events, I had totally forgotten about photographs, but luckily the bird was still close and there was time. I only had my phone, but I could phonescope. I was still shaking like a leaf and with the strong wind, phonescoping was tricky. Every time I saw the bird appear on my screen, I would press the shutter button and just hope. Most photos came out black, some had the sea, and some had the sea and an albatross! I attempted some video, and this was a little easier but again strong wind and overwhelming excitement weren't helping! Those photos would have to be good enough because I wanted to go back to watching.
The bird began to head a little further out to pass the furthest rock on the reef. Our hearts were still pounding as we watched it arc over the tip rock and west over the reef, picking up speed, into the setting sun. We lost the albatross to view at 4.48 pm as it dipped into a deep trough and strong sunlight. In total, we had more than six minutes of watching plus a minute or so of intense panic when I first picked it up.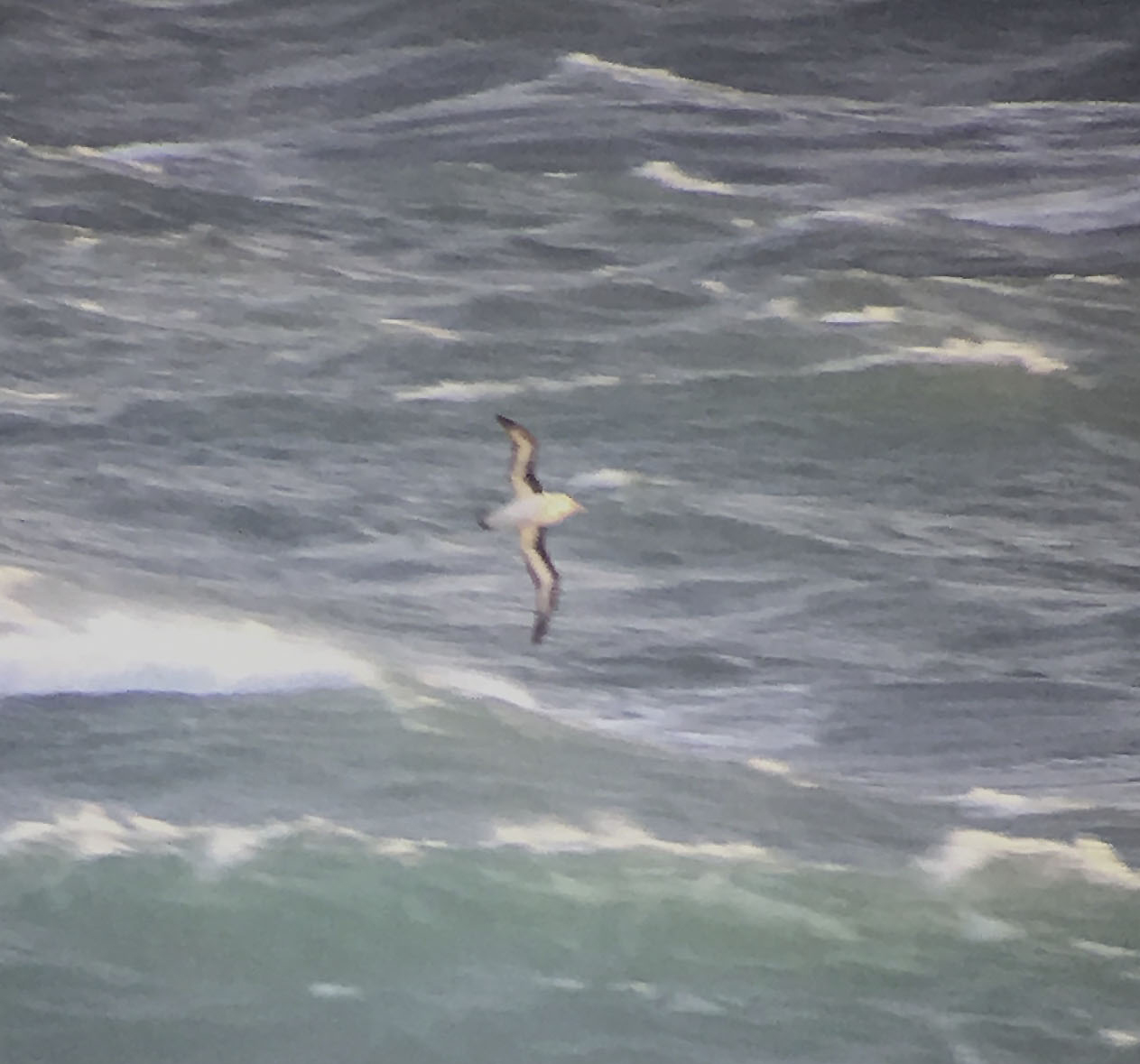 There have been 34 Black-browed Albatross records in Britain, but this will be just the fifth for Cornwall if accepted (Toby Phelps).
We cheered and shouted again, still trying to comprehend what we had just witnessed. We just couldn't believe it: an albatross, off The Lizard … in February. It was the highlight of our birding lives! Eventually, Matt needed to get back, so we packed up our gear and headed home.
As I was driving, Matt was on my phone and looking at the photos. Most were poor, but some were good enough. We had proof! My heart was still racing and the magnitude of this great find began to sink in – we had found a Black-browed Albatross. As soon as we got signal, Matt tweeted the news out on phone. We rode the high all the way back to campus, reliving every single moment. I dropped Matt off and went food shopping, still trying to fathom the remarkable thing that just happened, on an unremarkable day. An incredible, unforgettable experience of a once-in-a-lifetime bird.
Like most birders, I never thought much of winter seawatching, sat in the cold while not usually seeing much. However, over the last few weeks through January, the three of us, Liam, Matt and I have been trying a couple of hours when conditions look good. Liam always suggests we try seawatching in winter and now I know why!