Working in Attercliffe, in Sheffield's former industrial heartland, you wouldn't think there would be too many nearby birding opportunities. Surprisingly, however, there is always something to keep you interested throughout the year. The Five Weirs Walk along the banks of the River Don is only minutes away and provides a green corridor that stretches from central Sheffield to Meadowhall and beyond.
The river was biologically dead until the 1960s due to pollution from heavy industry in the area, but water quality has improved markedly over the years so that today you can see Common Kingfishers on most visits, Sand Martins nest in the riverside walls exposed by flood remediation vegetation clearance, and even Otters have been caught on camera traps close to the city centre. The main birding interest here for me, though, is the opportunity for year-round gull-watching.
The closure of most of the local refuse tips did not bode well for local larophiles, but fortunately the glass-processing plant just downstream from Norfolk Bridge has provided a welcome alternative for both the gulls and their watchers. All the necessary requirements are met: a ready food supply, factory roofs for loafing and fresh water on the river, with the nearby weirs providing perfect opportunities to wash off and drink. The close views of birds on the weirs also allow colour rings to be read with ease, which gives a fascinating insight into the movements of the gulls that use this area at different times of the year. I've had European Herring Gulls in winter that were ringed at Hornøya in Arctic Norway, and several immature Lesser Black-backed Gulls that were ringed in colonies in Norway have summered here, before being seen in winter in Portugal, Morocco and Mauretania.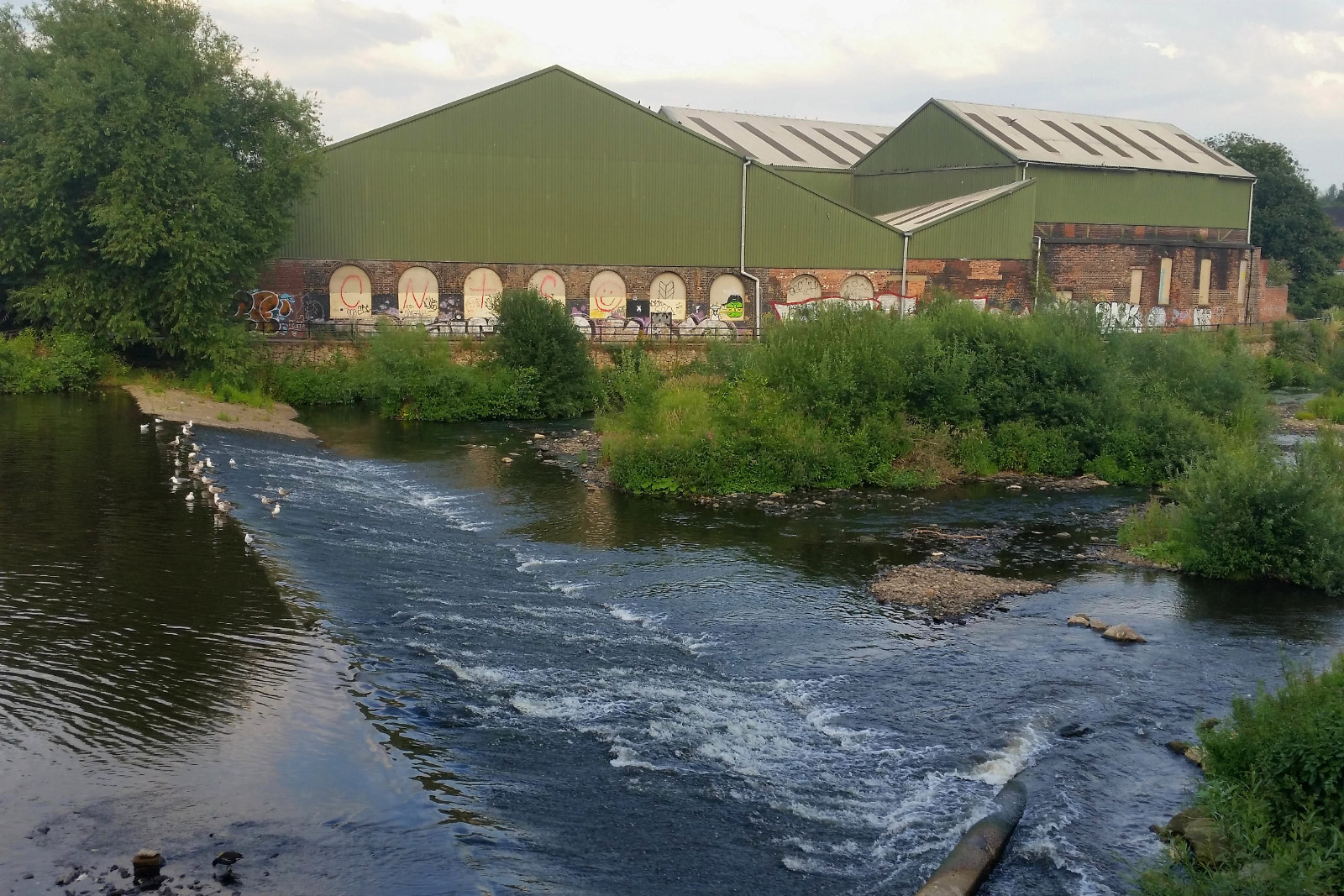 The weir at Norfolk Bridge, Sheffield, has become one of the focal points for Andy's gull-watching efforts (Andy Deighton).
I'd checked the river daily up to Friday 13 July, with the highlights being the first juvenile Lesser Black-backed and Yellow-legged Gulls that appeared bang on cue on 10th, with colour-ringed birds reaching double figures. After work, I'd first checked Effingham Street, to little effect, before setting up on the pavement at Norfolk Bridge, where I was looking down onto around 100 birds washing and loafing on the weir. They were mainly Lesser Black-backed Gulls, with about 30 adult and juvenile Black-headed Gulls, and single fresh juvenile Lesser Black-backed and Yellow-legged Gulls. As these last two were almost side by side, it gave a good opportunity to compare what can be a tricky species pair at this age, while also scanning for any obvious colour rings.
As I photographed the birds, my attention was drawn to a striking-looking gull at the base of the weir at the far end. Initial impressions were of a medium-sized bird, shining white in the strong evening sunshine, and it stood out as something different. Switching to binoculars, it stopped me in my tracks. The main focus initially was drawn to the bill, which was a rich blood-orange colour with a thick black tip. Jizz wise, it was similar to the first-summer Common Gulls seen earlier in the week, looking quite elegant, with a long primary extension, and having bleached pale patches on the worn coverts. But this was no Common Gull: proportions looked intermediate between Common and Lesser Black-backed Gulls, and although it was stood alone at first, the juvenile Lesser Black-backed Gull joined it, looking to be of a similar size.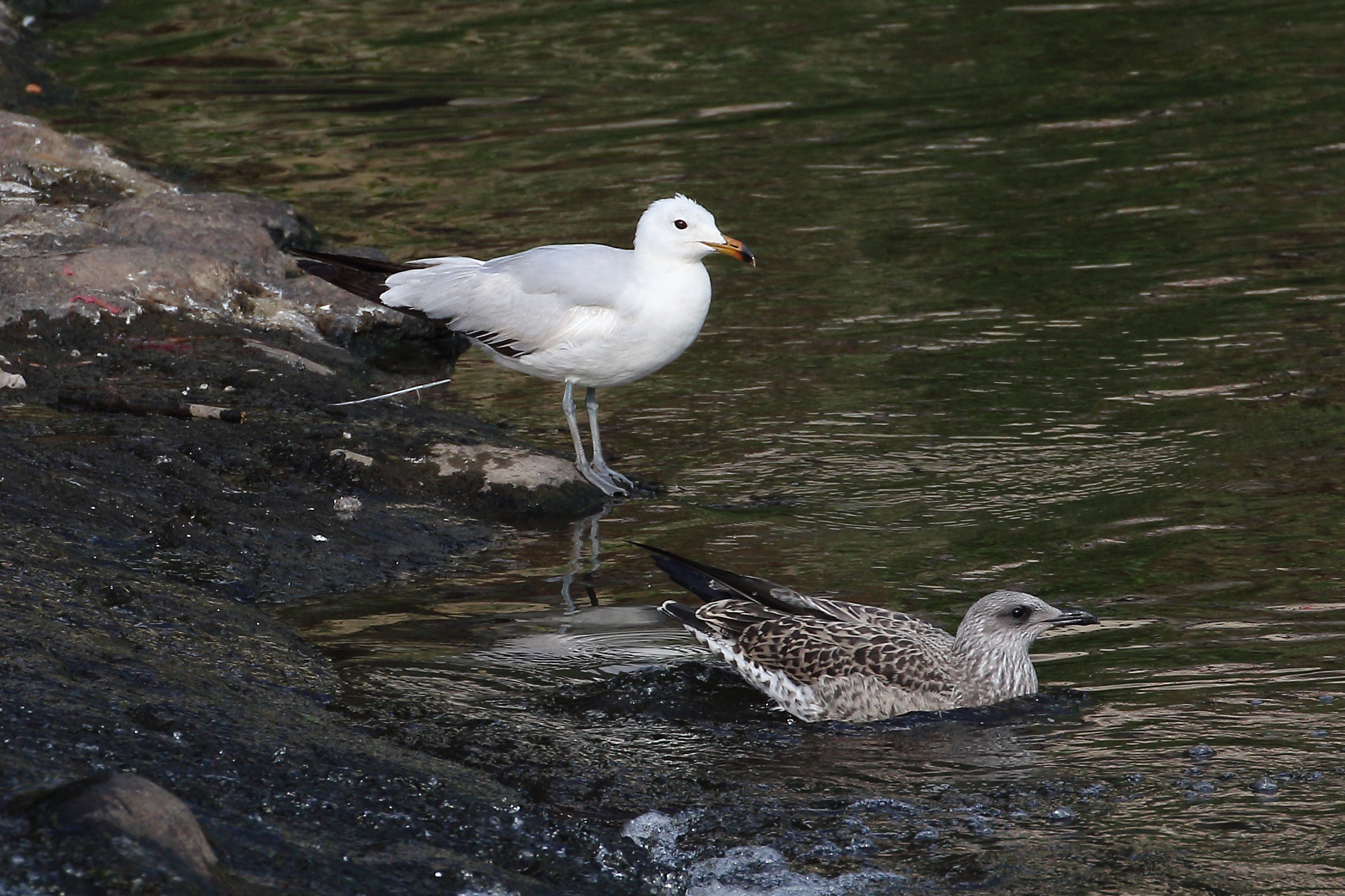 The Audouin's Gull appeared to be of a similar size to an adjacent juvenile Lesser Black-backed Gull (Andy Deighton).
The eye was dark and the mantle solid grey, similar in tone to Black-headed Gull, while the coverts were paler, bleached and worn, suggesting immaturity. The legs were quite thick and very obviously grey. I switched between watching and puzzling over it, and taking photos to make sure the bird was properly documented. My thoughts turned to Audouin's Gull, as I knew that many of the features noted matched this species. The last Audouin's I had seen was the British first at Dungeness back in May 2003. That was of a similar age if I recalled correctly, a second-summer, and had a very obvious red bill. While still confused over what I was watching, all the gulls flushed from the weir, as often happens when people walk on the riverside path, and I didn't manage to get on the bird in flight. A few birds landed on nearby roofs, but there was no sign of 'the' bird.
It seemed I had been watching the gull for ages, but EXIF data from the photos shows the duration of the sighting had been just over a minute, with all images taken at 18:17. A check of the Collins Bird Guide app on my phone was not helpful, as the illustration of second-summer Audouin's also showed a bright red bill, and the bill colour of the bird I had been watching was decidedly orange. I was also aware that more than one previously claimed Audouin's had turned out to be a European Herring Gull with aberrant bare part coloration.
I retired to the car, puzzling over my photos, and choosing one of the better images to tweet out, suggesting it might be some weird hybrid (could a Common x Med Gull have a completely white head?). I just couldn't get past the unexpected bill colour, and the chance of such a mega-rare and strictly coastal and pelagic species turning up in the unfashionable east end of Sheffield, about as inland as you could get, was surely unthinkable.
As most of the gulls seemed to have dispersed, I decided to drive to a nearby derelict area to check on the breeding Ringed and Little Ringed Plovers, still somewhat unsettled by what I had just seen. On pulling up, I checked my phone and my tweet had been picked up by the news services, with the bird correctly identified; the mega-alerted 'Audouin's Gull at Norfolk Bridge, Sheffield' message kicked me firmly out of denial. Also, by that point, my phone and Twitter feed had started going ballistic.
I drove straight back to Norfolk Bridge. About four birders had already arrived and were milling around, having not seen the bird. There was only a handful of gulls on the weir, so I walked along the bridge to view the roofs on Warren Street. One of the first birds I saw was the Audouin's, perched on the apex and preening. I put the other birders on it and set up the scope, digiscoping some images and noting for the first time the neat black tail-band, as more birders arrived with the gull still on view. After about five minutes, at 7.30 pm, it slipped off the roof, and I briefly saw it in flight before losing it behind the raised railway line as it seemed to head towards the Tesco store to the west.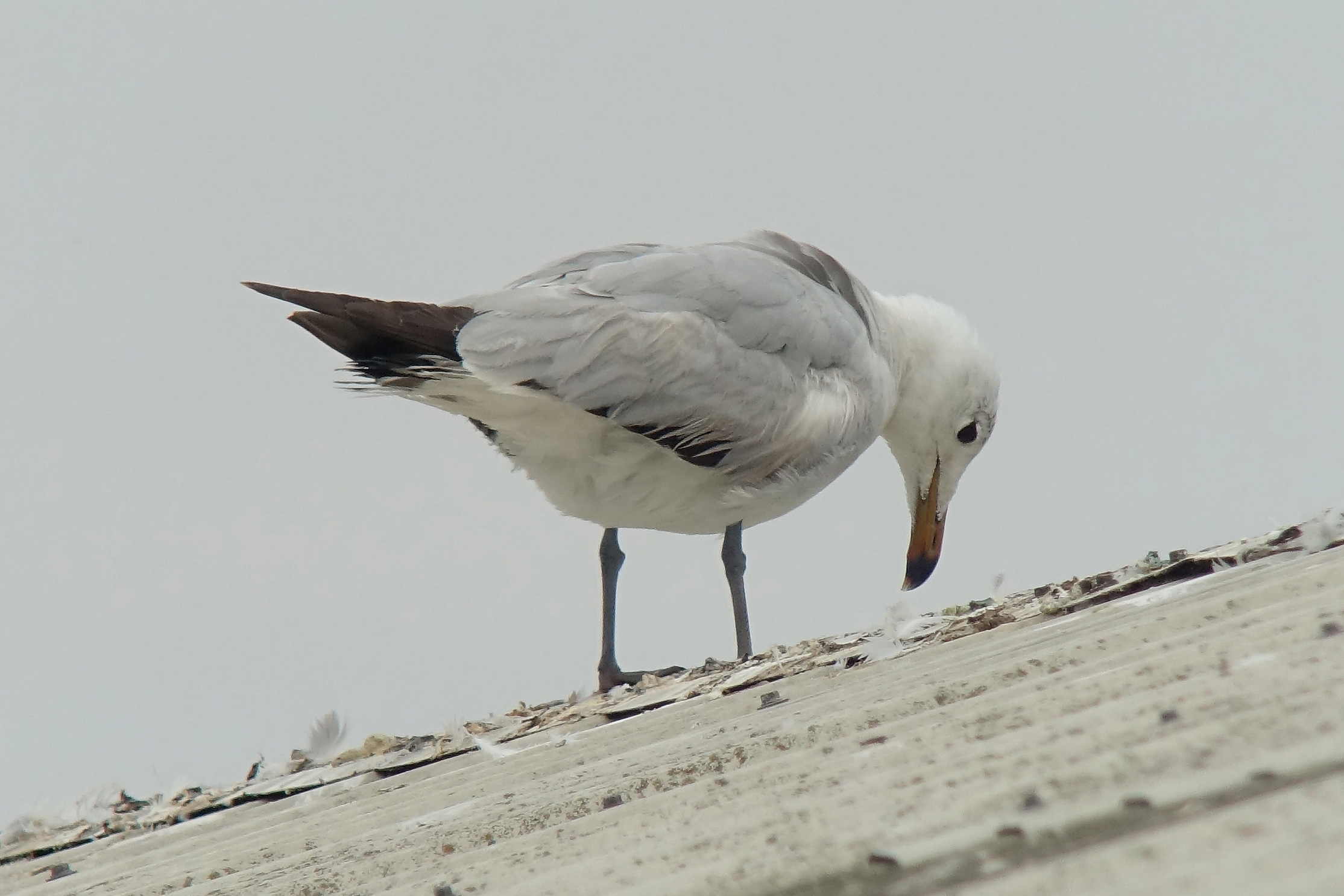 The Audouin's gave great views on roofs by Warren Street for a short time on the Friday evening (Andy Deighton).
With no further sign, I left before the bird was relocated, unbelievably on the roof of my workplace, where it was on view for fewer than 10 minutes before all the birds were flushed by fireworks. The early risers connected on Saturday morning on the weir, but unfortunately there was no sign after 5 am.
So Friday 13th will now always have a special meaning for me. Unlucky for me in that I failed to clinch the identification straight away, but kudos to whoever stuck their neck out to mega alert it, so others who were quick off the mark had the chance to see it.
Lessons learned hopefully, and if it tells you anything, it is that rare birds can turn up in the most unlikely places, giving hope to local patch-workers everywhere, and proves that absolutely anything is possible.
The Audouin's Gull showed for a time at the weir at Norfolk Bridge first thing on Saturday morning, but disappeared before 5 am and wasn't seen again (Steve Clifton).