Living just 45 minutes away from Pagham Harbour and the Selsey peninsula, I've been a regular visitor for more than 30 years, seeing some very good birds but nothing to quite match what was to unfold on the afternoon of 19 June.
I'd spent the day birding nearby Medmerry and a couple of other sites in the area, and had planned to finish up at Church Norton mid-afternoon to catch the last hour or two of the rising tide and watch the activity in the tern colony (in particular the Little Terns). I arrived a little late at 3.25 pm, with most of the harbour already flooded, leaving just a couple of diminishing muddy islands between me and Tern Island out in the harbour.
As I sat down I could see some terns preening on the remaining mud. Without bothering to check through my bins, I trained my scope straight on them. I was astonished to see a large tern with a massive orange bill standing among the Sandwich Terns, positively dwarfing them.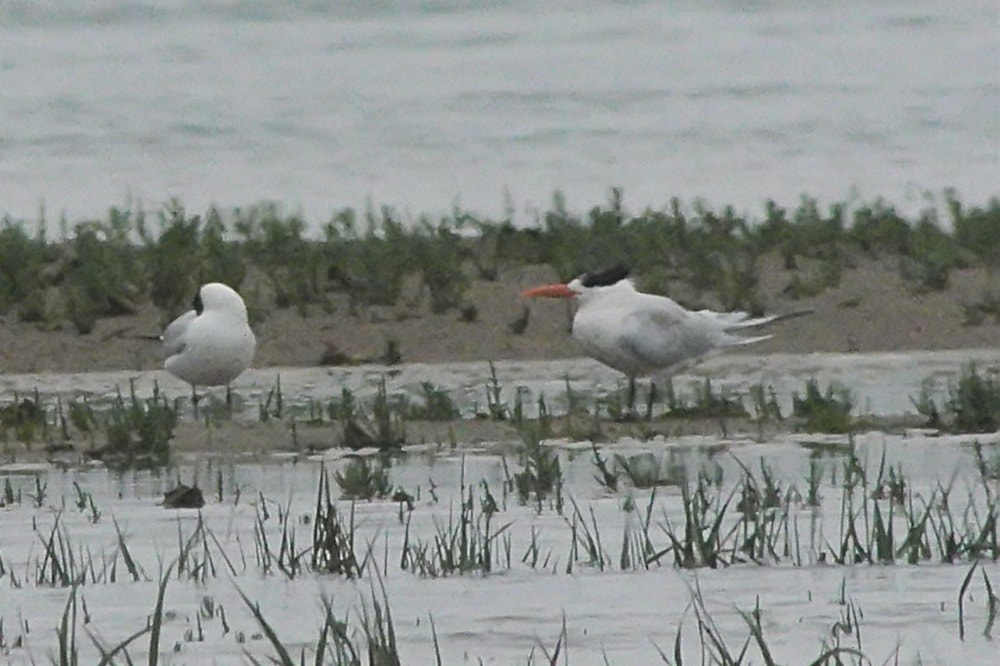 American Royal Tern, Church Norton, West Sussex (Steve Nuttall).
My first thought was it must be last year's Elegant Tern returning, knowing that it was almost exactly a year since that bird had been present in the Tern Island colony for around 10 days. I rattled off a few record shots on my bridge camera and then spent a few moments watching the bird. I noticed that it had a metal ring on its lower right leg and judged the bird to be at least half as big again as the Sandwich Terns. It sported a large black crown with a shaggy crest at the back of its heavy-looking head, and there was a prominent area of white around the base of the bill up towards the eye. The bill was large and very robust, bright orange with a rather deep base. It had dark legs, proportionately longer than the Sandwich Terns, making it stand much taller.
While I watched, it flew, showing pale grey wings and upperparts, and a white rump and tail. There were smudges of darker grey around the primaries, with the whole appearing almost white in the bright sunshine compared to the other terns and gulls. It circled the colony a couple of times, then flew eastwards across the harbour and eventually out of view.
With no other birders about I decided I needed to put out the news (including to the excellent local Selsey Birder blog). Having no experience of orange-billed terns (other than that Elegant), I hadn't conclusively identified it, but it seemed odds on that it was a returning bird; it seemed to me that it would have been too much of a coincidence for it not to be. I plumped for Elegant Tern and put the news out; in retrospect I should perhaps have qualified it as probable or possible.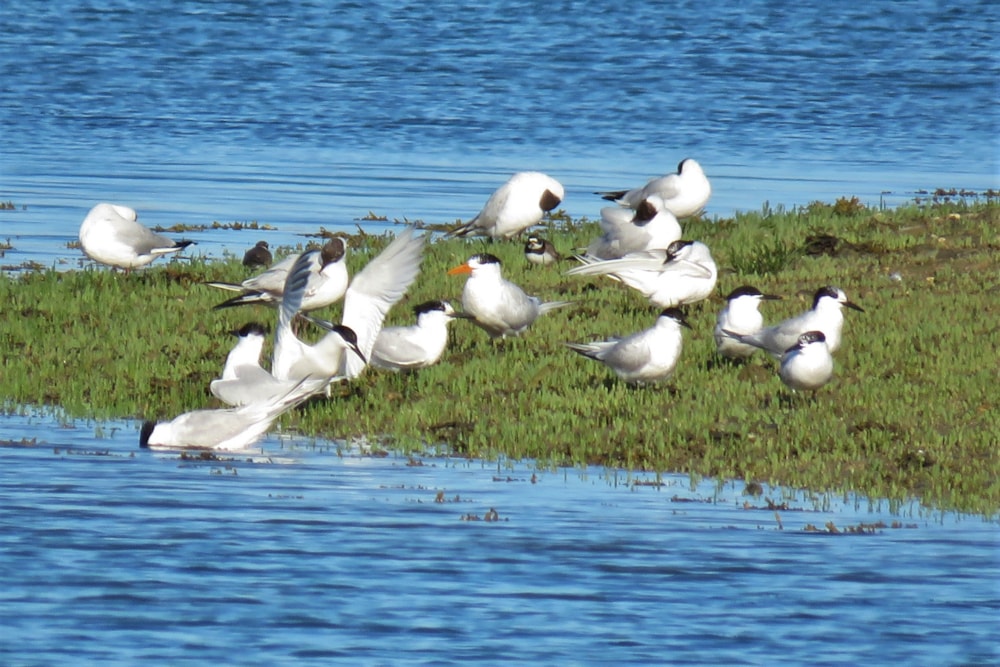 American Royal Tern, Church Norton, West Sussex (Andrew House).
At this point, I had completely forgotten that last year's 'ET' was colour ringed, while this bird just had a single metal ring on its lower right leg.
The bird flew back to the last remaining patch of mud between me and Tern Island. Phew! I'd been in a bit of a panic in case I was going to be the only one to see it. Only a moment or two after refinding it, the whole colony and all the birds on the mud went up in a 'dread'; when they all settled down again, the large shaggy head and huge orange bill could be seen among the Sandwich Terns and gulls behind the new electric fence on the island.
This is where it stayed for the next two hours, apart from one brief fly around – looking very comfortable in the same spot in the colony that the Elegant Tern had frequented in 2017, further suggesting it was the same bird.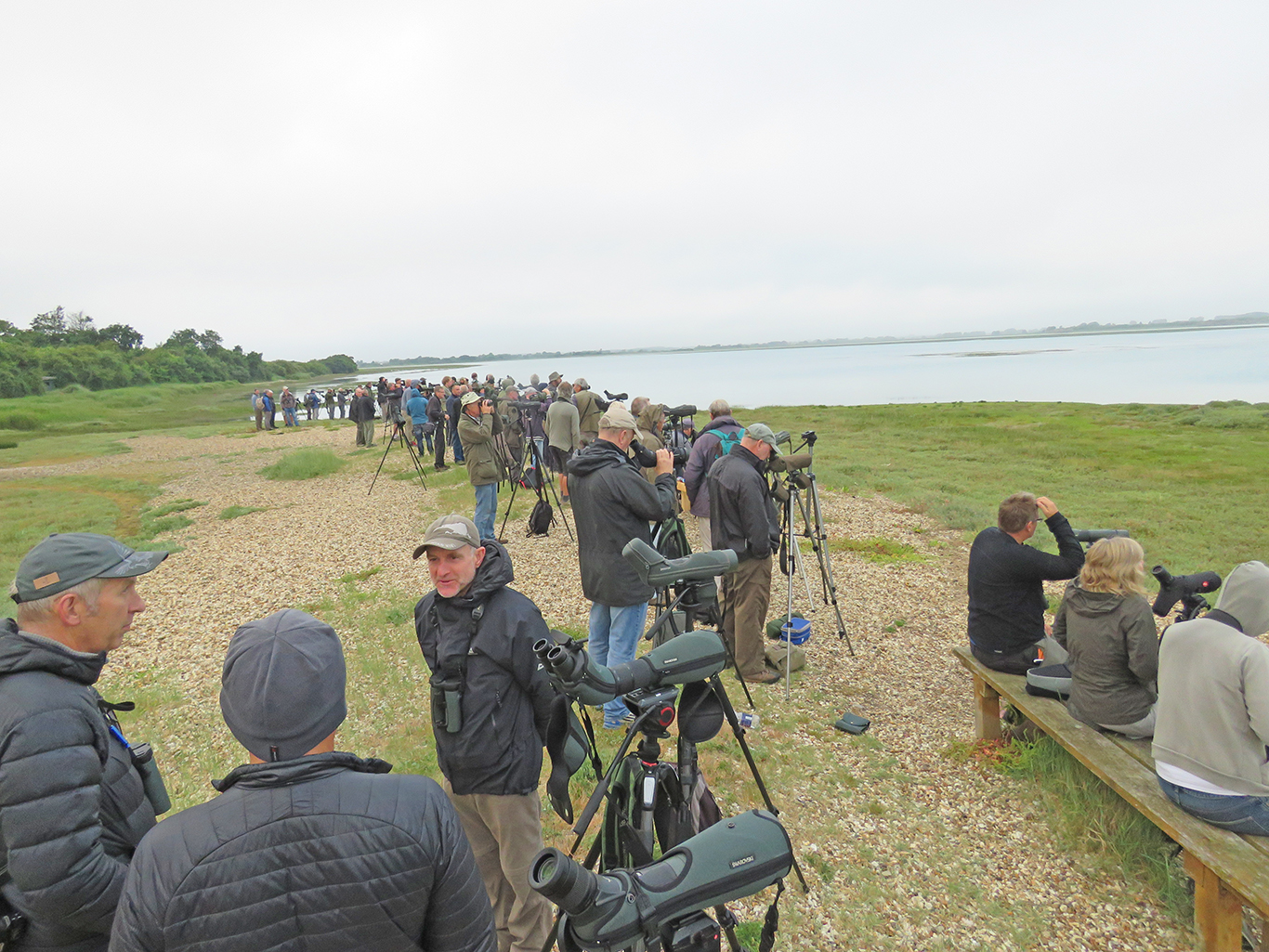 Around 100 lucky twitchers saw the bird at Church Norton at dawn the following morning, but many arrived just minutes too late to see it (Ian Lycett).
A steady trickle of birders was now arriving, including Bart Ives and Andrew House from the Selsey Birder blog. The tern was looking very settled in the colony, but now showing mostly just glimpses of its head, bill and neck behind the other birds. Andrew did raise the possibility of it being something other than the returning ET, but most seemed to agree it was most likely the same bird.
Having been watching for three hours, and with the tide still high, I left at about 6.30 pm, with new birders arriving all the time. I got home around an hour later to discover that the bird had been reidentified by the BirdGuides team as the second-summer American Royal Tern that had been frequenting the Channel Islands and northern France, a fact confirmed by its metal ring.
It was then that I checked records and photos of the ET and remembered that it was colour ringed, excluding the possibility of it being the same bird. I consulted my field guides and came to the conclusion that I had indeed found an American Royal Tern, the clincher for me being the huge, robust bill, (much heavier than Elegant). It was a lifer for me, and a first for Sussex. Fantastic – what a fabulous bird!
The tern remained in the colony all evening and was seen by around 100 observers. It was still present the following morning at first light, though it apparently flew out to sea almost immediately, not to return. It was relocated offshore around Weymouth, Dorset, later that evening.
I was disappointed to have misidentified this bird, but the experience has taught me never to make assumptions in birding, no matter how likely they might seem.