I've always enjoyed doing some birding at New Year to kick off my year list, and 2014 started with a couple of Iceland Gulls on 1st January close to where I live near Nethybridge. Living in Speyside is great, but birding in mid-winter here can be really quiet apart from the specialities like Crested Tit, Capercaillie etc., so when Saturday came round I headed up to the coast in the Inverness area. I started by dipping the long-staying Ring-billed Gull in Dingwall, which I have missed on countless occasions, now then went looking for Golden Eagles up a nearby glen, but I had no luck here either. The day wasn't going great so far.
My main aim for the day was to see the Lesser Scaup at Alturlie, close to Inverness on the Moray Firth, which had been reported several times. But, with the high tide not being until mid-afternoon, I had left this until late in the day to increase my chances of seeing it close up. The Lesser Scaup showed well on very calm seas and I ran down my camera battery trying to take a few digiscoped shots of it. There's some good birding here on the inner firth, and I added Slavonian Grebe, Long-tailed Duck and that great Highland rarity Great Crested Grebe!
With a flat battery and little light left in the short Highland day, I decided to drive along to Loch Flemington — which is only a few miles away — to maybe add few more year ticks before it got dark. Strange as it might sound, this far north and being quite landlocked in Speyside, several species that birders might think of as common are really scarce up here so I was hoping to pick up Moorhen and Coot on the loch, which are both very scarce in Speyside but a bit commoner up here on the coast.
Being shallow and weedy, Loch Flemington is a good site for birds — it's quite different from many of the deeper, barren Scottish Lochs. I've lived in Scotland for over 15 years now and 15 is probably the number of times I've been to this spot over the years: likely I stop here if I'm passing once a year.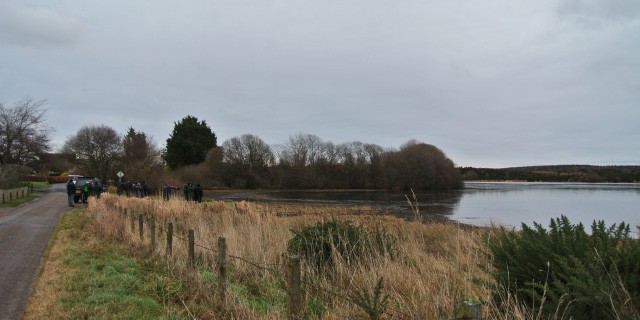 Loch Flemington (Photo: Simon Eaves).
Content continues after advertisements
The best layby is at the far end of the loch so I stopped here. There were loads of Whooper Swans very close to the shore, which was nice, and there were also several Moorhens for my year list — just needed a Coot now! Only 20 metres or so away I noticed something a bit odd: white undertail coverts on a bird swimming directly away from me that looked like a Coot, but I couldn't see its face. When it turned its head to the side and I saw its bill, I could see a bill band and a straight feather edge at the base of the bill. I immediately thought was that it looked very 'American'. I've seen American Coot a couple of times before over in the USA and Canada but, knowing its rarity here, I was still thinking "no, it can't be". The next thing that went through my head was my flat camera battery; however, somehow the camera switched on and I managed to get a couple of record shots in the failing light before the camera shut down again. There was slight niggle of doubt in my mind: I'd had poor views in bad light and wasn't sure what a potential hybrid Coot × Moorhen would look like as I had read that this could happen.
Not being able to review my photos and with the light almost gone I drove home to view the photos and sent them to my friend Dave Pullan. He was in agreement that from the photos it looked like an American Coot. Knowing that twitchers would be travelling a long way for this bird, the two of us drove back the following morning (Sunday) to get sufficient views to be 100% sure and to confirm it was still there before putting the news out. Despite a heavy frost freezing most of the loch and the coot spending a lot of time hidden near some overhanging trees, we eventually had good enough views to see all the identification features and put the news out.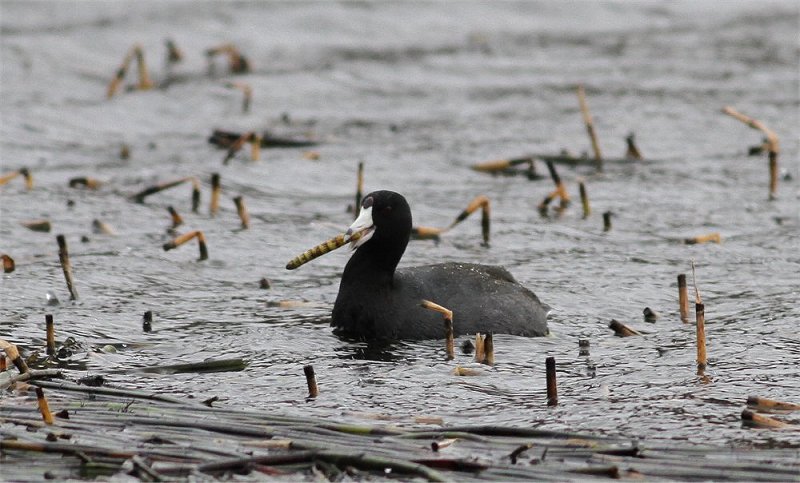 American Coot, Loch Flemington, Highland (Photo: Paul Wetton)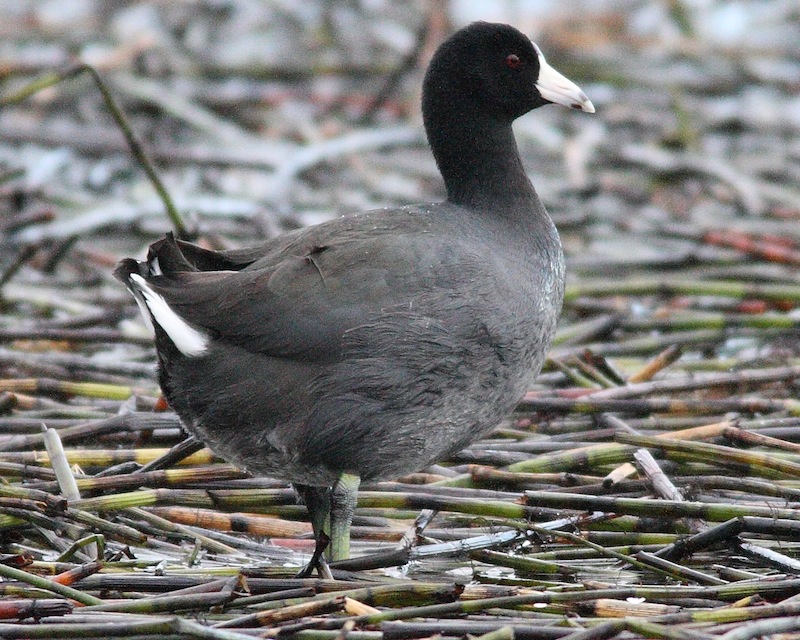 American Coot, Loch Flemington, Highland (Photo: Peter Stronach)
Within half an hour local birders started arriving and several people saw the bird by the end of the afternoon. It was an amazing way to start the year and I even eventually saw a Common Coot for my year list!