I'd booked a long weekend in Llandudno before the arrival of the Royal Tern at Abersoch, but my prospective joy was soon dashed with its prompt departure. I thus erased the bird from the memory bank: perhaps a little too efficiently as events turned out. Saturday morning started with low cloud, intermittent drizzle, and a fresh-to-moderate southwesterly - just the right conditions for a 4.5-mile slog up the Great Orme. On completion of this 'trudge-athon' we retired to a hotel on the seafront for a much-needed injection of caffeine. Replete with stimulant, we opted for a stroll along the promenade towards the Little Orme.
With the precipitation increasing, we beat a retreat to an east-facing sheltered bench. Upon sitting down, I raised my 8x20s towards the Little Orme, when an advancing, foreshortened, c.250m distant, tern appeared. I quietly mused to my wife "mmm...first tern of the day and a solitary one at that!" It was flying in a straight line at about 10 o'clock to our position. With each advancing wingbeat, I noted the solid black cap sitting atop a seemingly yellowy-orange bill. Common Tern with either a 'light affectation', or an aberrantly coloured bill, was my diagnosis until the bird was directly opposite, about 120m out. "But it's bigger than Common...heavens! It's bigger than Sandwich", I cried! I repeated "what am I looking at?" several times before the bird, with quickening wingbeats, and occasional plunge-diving, headed west towards the pier.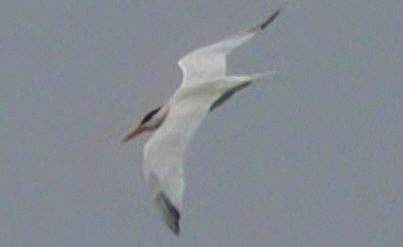 Royal Tern (Grab: Ken Murray)
Content continues after advertisements
At this point, I was convinced that only seconds were between me and it disappearing forever around the Orme and becoming another 'I know not what'. However, the great bird gods in the sky turned everything round, including the tern, and it headed back along the same trajectory. With unbridled joy, I reached for my camcorder which I wear around my neck, like a St. Christopher. [Expletive deleted]...I'd left it in the car on the west side of the Orme! The bird was now advancing to the optimum position, directly opposite. Being aware of 'size illusion', especially on a single, unaccompanied individual, I constantly double-checked the size. I also noted the almost solid black 'hand' of the leading primaries. It was darker than on any other tern that I'd ever seen so, with no reference at hand, I phoned a colleague, Charles Fentiman, with a 'Mayday, Mayday' alert. He quickly confirmed the size as being intermediate between Caspian and Sandwich. Then Michael O'Keefe's brilliant image of the Cork bird suddenly screened itself into my mind's eye and the penny dropped...putative 'orange-billed tern' had became an almost certain Royal!


Royal Tern (Grab: Ken Murray)
I promptly phoned BirdGuides, and stayed with the bird until the first birders arrived. By this time the bird had flown over the seafront to West Shore, southwest of the Great Orme, and was to all intents and purposes...gone! I briefed the first arrivals and they opted to search West Shore, where the bird was relocated briefly before it returned to the east side where, with camcorder at hand, I was able to take some footage, from which these grabs were taken. More than 50 birders connected with the bird, prompting a lot of air-punching and smiley faces. Unfortunately, true to form, the tern was last seen at 18:00 and, despite a lot of searching, was not reliably seen by the faithful the following day.