Flashback to late 2005: England's cricket team had reclaimed the Ashes for the first time in nearly 20 years, the original Punkbirder was blistering his way to a record county year-list and, more significantly, Western Palearctic (WP) listing was witnessing an important paradigm shift.
Pioneers were blazing trails across the region. From the Armenian mountains where Caucasian specials had given themselves up and were now yielding to all-comers, to Morocco, where a metamodern circuit sprang up in response to the loss of Dark Chanting Goshawk, Tawny Eagle and Slender-billed Curlew, with precise schedules and gen, even including the construction of semi-permanent stone signage aimed at the roosts of tricky owls! However, the week that really sent shockwaves through this reinvigorated listing community was the week Peter Alfrey saw a boatload (literally?) of Nearctic birds on the Azorean island on Corvo. This was huge. Like many of the best ideas, why hadn't anyone tried it before?! This was Portugal after all, not the war-torn Tibesti Mountains in northern Chad, which just about poke their peaks into the southern fringes of the WP. We needed to be part of this avant garde, and Western Sahara was surely there for the taking?
We found two trip reports, of sorts, both from 1995: a short piece by two Dutch gents about Dakhla Bay in Birding World, and a few months later, Annika Forsten also reported back. Of course, there was a lot of talk was about the potential for vagrants to Dakhla Bay. This was obvious; the place holds up to 36,000 waders as well as stacks of gulls and terns each winter. This was all very exciting but I was just as keen to explore the desert. Fortunately, my companion for our inaugural trip in March 2006, Alex Lees, was similarly enthused.
We returned with tales of displaying Black-crowned Sparrow-larks and nesting African Dunn's Larks among a multitude of fantastic desert birding. The birding community took note: suddenly the Aousserd Road was awash with WP listers and during the following years many other excellent discoveries took place including breeding Cricket Longtail, sporadic Sudan Golden Sparrows, and regular megas (for example White-throated Bee-eater and African Crake). In our 2010 trip report we discussed the potential for vagrants, including Golden Nightjar, suggesting it was perhaps even a migrant breeder!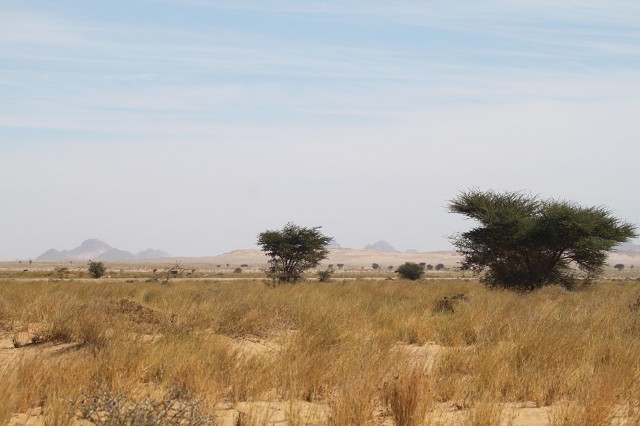 Golden Nightjar habitat, Western Sahara (Photo: Richard Moores)
Fast forward six years, and we may have found our answer. Our recent BiOME research expedition (my fifth trip here) found a cluster of three territorial males near Oued Jenna with an additional fly-by further north. Following our return to the UK further records came in, from Aousserd (21 March) and two in the Adrar Soutouff (separated by 100 km) on 23 and 27 March respectively. Following last autumn's record rains, excessive early spring heat was cooking the desert and it was crawling with invertebrates. It appears likely that the Golden Nightjars were responding to the feast and had shifted or expanded north. Of course, there is always the possibility that this is a regular phenomenon, with birds going north each year; birders just might not have been witness to it previously as the vast majority of trips taken here are typically from January–March. Remember, the first Golden Nightjar for the Western Palearctic was 'collected' in May (2015). Perhaps conditions in 2016 persuaded birds to head north earlier? It's a distinct possibility. Future trips should hopefully reveal the answer not to mention uncover some secrets of this desert denizen of which, ecologically, we still know very little.