The Black Bush Robin is a charismatic species found across the Sahel region of sub-Saharan Africa from Senegal east to the Red Sea coast of Sudan and Eritrea, and also across much of southern and western Arabia. It is said to be common or very common across the majority of its range. Within this range it is generally considered resident, although short-distance migratory movements evidently occur, as the species is documented as a regular winter visitor south to Ethiopia and Somalia, as well as a vagrant to neighbouring regions both north and south of its documented range.
It is presumably this potential for vagrancy that makes Black Bush Robin one of the Western Palearctic's more regular sub-Saharan visitors. As both observer awareness and coverage intensity have increased in recent decades, the species has been transformed from an extremely rare vagrant to an expected annual visitor within the region. It's no coincidence that almost all records of this species in recent years have come from the honeypot destination of southern Israel during the early spring period (primarily March and early April), when the area is typically crawling with birders eager to experience spring migration.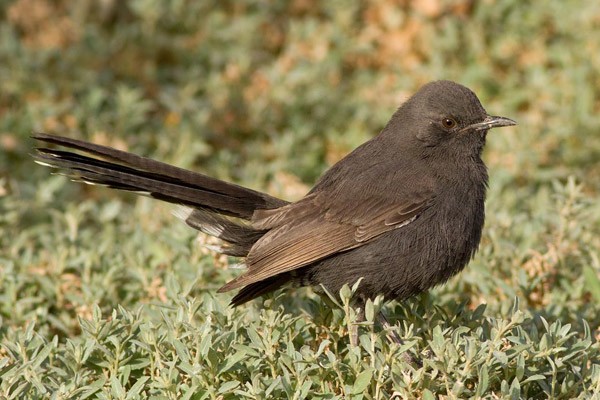 Black Bush Robin at Ne'ot Smadar, Israel, March 2013 (Photo: Josh Jones)
That said, there have been a number of records away from early spring — Israel can boast both autumn and overwintering occurrences — and Egypt's Red Sea coast has also claimed several birds in recent times, the upturn again no doubt attributable to intensified birding efforts there. Indeed, it's possible that, if southern Egypt were as well watched as many of the sites in southern Israel, the species might prove a habitual visitor to the region. The acute paucity of vegetation along the Red Sea coast south of Marsa Alam tends to concentrate northbound migrants in the few green areas, with hotel grounds particularly attractive. Among the often impressive densities of common Palearctic migrants, Black Bush Robin has been found by birders at the Shams Alam Beach Resort (N24°41'29", E35°04'58") — visit the hotel, buy a drink, and walk round the gardens at your leisure — and also as far south as Shalatein. In early April 2012, I spent a couple of days searching the well-watered (and consequently very lush!) gardens at the Lahami Bay Hotel (N24°12'21", E35°25'39") and was overawed by the number and variety of migrants using the spot as a stopover — though I saw no Bush Robins, this site seems primed for an occurrence, with Goliath Heron, Swift Tern and Sooty Falcon some of the possibilities on offer nearby.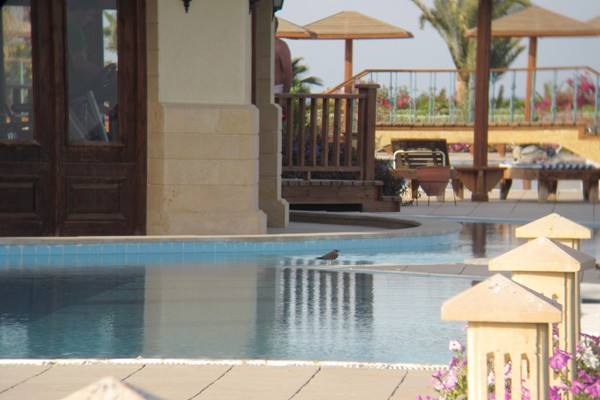 A Collared Pratincole takes a drink from the 'oasis' at Lahami Bay, Egypt — the hotel swimming pool. Surely it won't be long before Black Bush Robin is found here? (Photo: Josh Jones).
Content continues after advertisements
Israel, though, has become the place to which keen Western Palearctic birders travel in the hope of connecting with Black Bush Robin, and in most springs one or two birds usually oblige the crowds by arriving and lingering at the southern migrant hotspots. They tend to arrive during March, but their occurrence is unpredictable and far from guaranteed. In the recent past, a considerable proportion of records have come from the various birdwatching sites around Eilat: these include Holland Park (entrance at N29°34'19", E34°57'35"); the Israel Bird Ringing Centre Eilat (IBRCE), northeast of the main town at N29°34'20", E34°58'21"; and also around the various date plantations. Further north along the Arava Valley, records have come from the KM19–20 area (accessed east off Route 90 at N29°37'36", E34°59'16") and Kibbutz Lotan (N29°59'17", E35°05'11"), while the Yotvata area has produced records in several springs — the sewage works, pivot fields and Hai Bar reserve have all held birds.

Black Bush Robin at Yotvata in early April 2013 (Video: lironziv)
Behaviourally, Black Bush Robins tend to favour comparitively well-vegetated areas — patches of dense scrub (such as acacia) give them places to skulk, though they can be extremely showy if good fieldcraft and patience is applied. A number of the Israeli birds have been seen displaying — an act that generally involves fanning their boldly-marked tail and spreading their wings, revealing the rufous wash to the latter. Though the species has become a near-expected annual visitor to southern Israel, arrivals of several birds are nevertheless significant. As it turned out, the spring of 2013 proved to be an excellent year, with an impressive showing of at least 14 records in a month from 8th March, several of which came from 'traditional' sites:
| Number | Date | Location |
| --- | --- | --- |
| 1 | 8th March | Hazerim |
| 2–3 | 16th March | Ne'ot Smadar |
| 4–5 | 16th March | KM19 canal |
| 6 | 22nd March | IBRCE |
| 7 | 26th March | Yotvata ruins |
| 8 | 3rd April | IBRCE [new bird] |
| 9 | 3rd April | Ketura sewage works |
| 10 | 7th April | KM19 canal [new bird] |
| 11–13 | 7th April | Yotvata sewage works |
| 14 | 7th April | Yotvata fields |
Though the number and timing of records evidently fluctuates on an annual basis, it does appear that a well-timed trip to Israel in the final fortnight of March — particularly during the Eilat Bird Festival week — gives any visiting birders their best chance of connecting with Black Bush Robin in the Western Palearctic. Israeli birding websites such as IsraBirdNet are great places to look for latest sightings, while networking with other birders (both visiting and local) during your trip to Israel tends to pay dividends for keeping as up-to-date as possible.
Resources & Acknowledgements
Dave Gosney's Finding Birds in Israel covers most of the sites mentioned in the above text.
Yoav Perlman for details on Black Bush Robin records in Israel in 2013.