At 7.30 am on 12 June 2019, I was in the kitchen with my six-year-old daughter, Evie, and our dog. From the dog's bed one can look over the Oa reserve on Islay, across lochs and moors, with the Atlantic Ocean beyond.
As I sat on her bed, a bird landed on the picnic table outside the door. It came in at speed and, having seen us the other side of the glass, took a quick backward swerve – the bright white head stood out strongly and I immediately thought White-crowned Sparrow. I'm often told by my bird-loving husband that I always jump to the more exciting conclusion, so I tried to think what else it could be.
When we lived in Norfolk 11 years ago, we saw the White-crowed Sparrow at Cley. I have a clear recollection of that bird, and what I'd just seen looked similar. "Rare bird – really rare" I said to my daughter, before calling my husband. It went to answerphone, so I sent a couple of messages. I tried calling again. Still no answer. I started to panic – Dave isn't here. I had to get a photo.
Thankfully, on the table was a camera. However, it was dead. Muttering words I really shouldn't in front of a six-year-old, I raced upstairs to find a battery or another camera. My old SLR was also dead, as was a spare battery I found. I discovered the charger for the camera that was downstairs. It was on charge within seconds.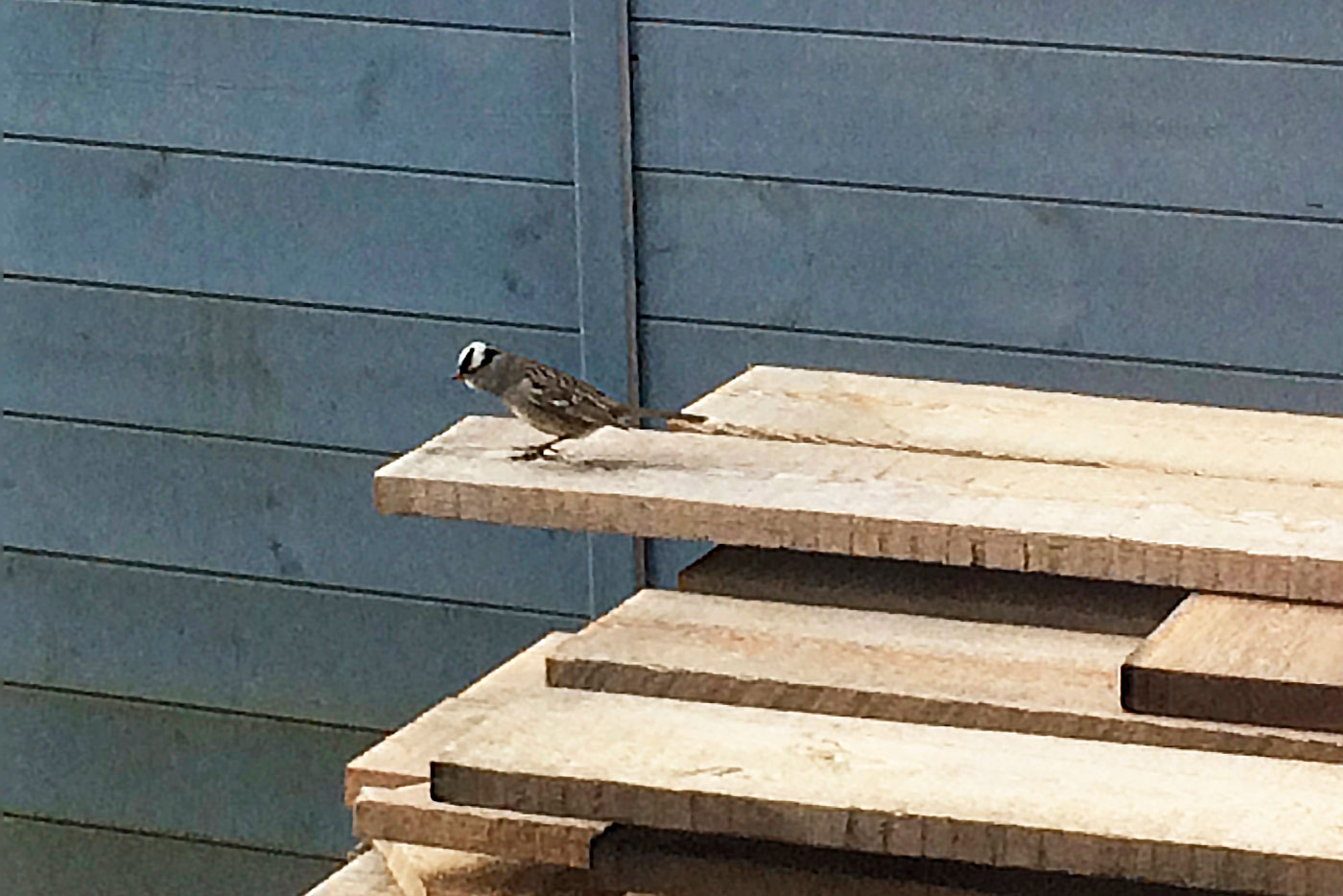 The White-crowned Sparrow fortunately hung around long enough for Bonnie to manage a few record shots (Bonnie Wood).
"Right, where's the bird, darling?" It was still outside, some 3 m the other side of the window, too close for binoculars. In a flap, I started taking photos on my phone. The bird was a mere speck within the image, though I could make out the white head. As it moved a little further away, I grabbed the binoculars, and noticed the pink bill, but soon the bird flew around a corner.
I moved into the boot room as the bird took an interest in my car. "It's coming your way Mum," said Evie, who at this point was finishing her breakfast at the table. I was taking photos like crazy, switching viewing windows, before the bird came closer, hopping onto a pile of larch stacked outside. I fired off a reel of shots as it walked along the wood, before eventually flying off.
I then realised I hadn't consulted any field guides, so I grabbed a couple off the shelf. "Right in the back, Mummy, that's ultra-rare," said my daughter, who clearly knows her stuff. We studied the picture of the White-crowned Sparrow intently.
Pleased that I got it right, there was no time to keep looking for the bird – the school taxi was going to arrive soon and we were still in our pyjamas, ringing my husband every few minutes with the phone still going to answerphone. I finally heard from him an hour after we saw the bird. I raced to pick him up from the reserve and we came home to search, but there was no sign, despite scattering seed on the drive.
It was a morning of highs and lows; excitement over finding and identifying the bird, but sadness (I have to say that – truly I'm slightly amused) that my husband missed it. "High fives to us, Mum," said Evie, as we discussed seeing this sixth record for Scotland when she got home and worked on her personal topic for school: Echo Parakeet and Mauritius Kestrel. A birder in the making I think.