This is my 22nd year of walking St Mary's Airfield during the evenings of April and May hoping to find a Calandra Lark. On 26 April, at 6.30 pm after dinner, I set off on the well-trodden route around the perimeter, scanning as I went. By 6.50 pm I'd reached near to the end of the southern runway by the turning circle at the coast. There was a handful of Northern Wheatears on the runway and a continual stream of Manx Shearwaters passing close inshore.
At that moment, I saw a thrush-like bird flying straight toward me from beyond the turning circle and land in some brambles. I lifted my binoculars and focused them on the bird and as I did the blur turned into a pin-sharp image of a female Common Rock Thrush. It was an awesome moment. I watched it for 30 seconds, looking at details of the plumage and structure, as far as possible. The remiges and all greater coverts looked particularly brown and I suspected a second-calendar-year bird. The photo on page 274 (bottom left) in Shirihai & Svensson's Handbook of Western Palearctic Birds: volume 1, of a 2CY female taken in May, with all juvenile greater and primary coverts and remiges, is a dead ringer for the Scilly bird.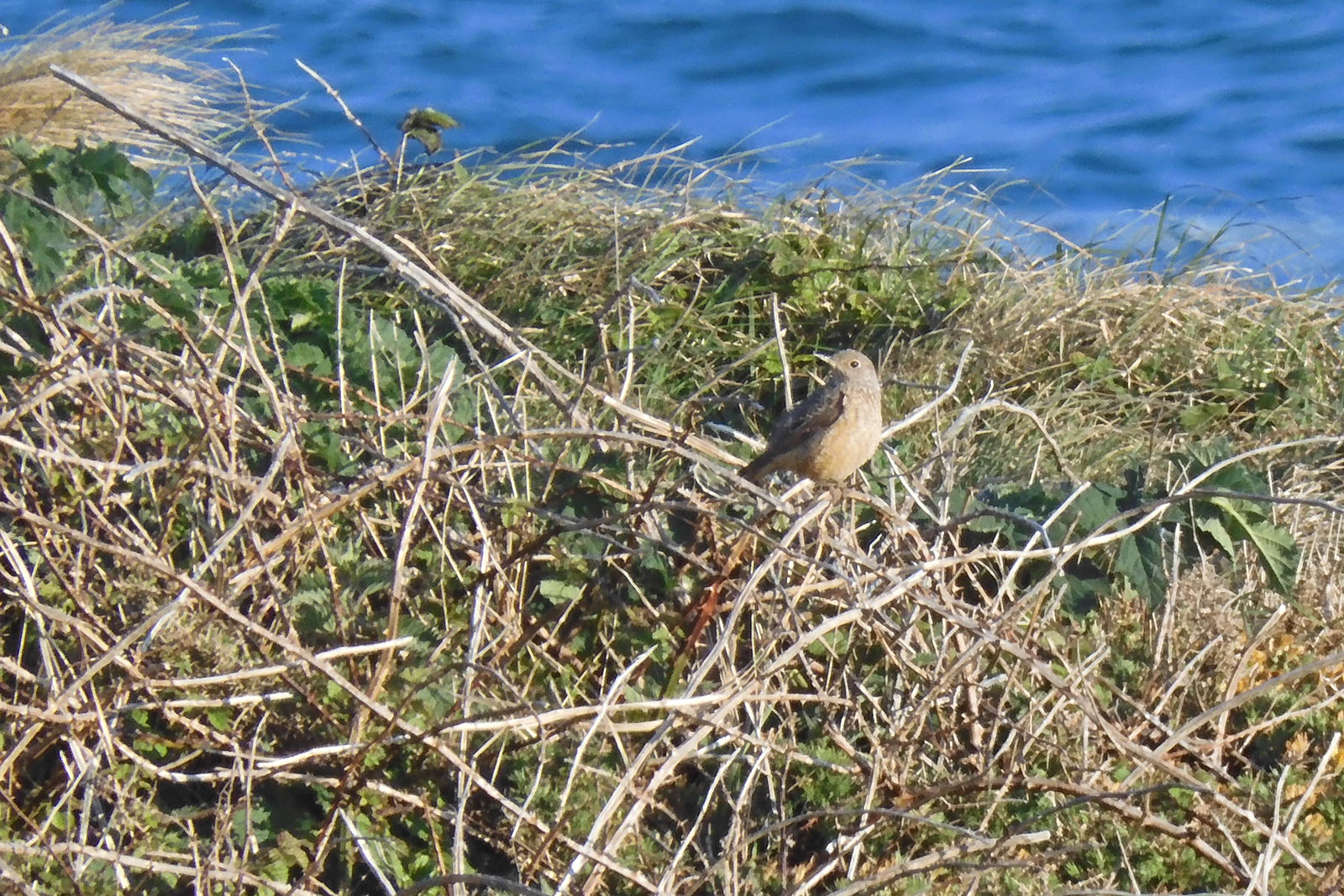 Bob's first view of the Common Rock Thrush saw it flying towards him and land in some brambles on St Mary's Airfield (Bob Flood).
I then hastily turned to my new investment, a matchbox-sized Nikon Coolpix camera, and snapped a few shots. It's a tool for record shots. The rock thrush sat motionless for a while, flipped onto a yellow airport light where it stayed for several minutes, and then dropped onto the side of the runway where it stood motionless for some time. I got the impression that the bird was very tired.
It was urgent to spread the news. The local network system in Scilly has been brilliantly designed to create blackspots at the main rarity-finding sites and this includes the turning circle. So, I hastened up the inclined runway searching for a signal, while trying to keep an eye on the thrush. The signal wouldn't click in and my excitement turned to frenetic frustration. I reached the windsock at the crossroads of the runways when, finally, the mobile registered a signal and I rang my pal Ashley Fisher, but the signal dropped out again! This part of story goes on a bit so I'll fast forward …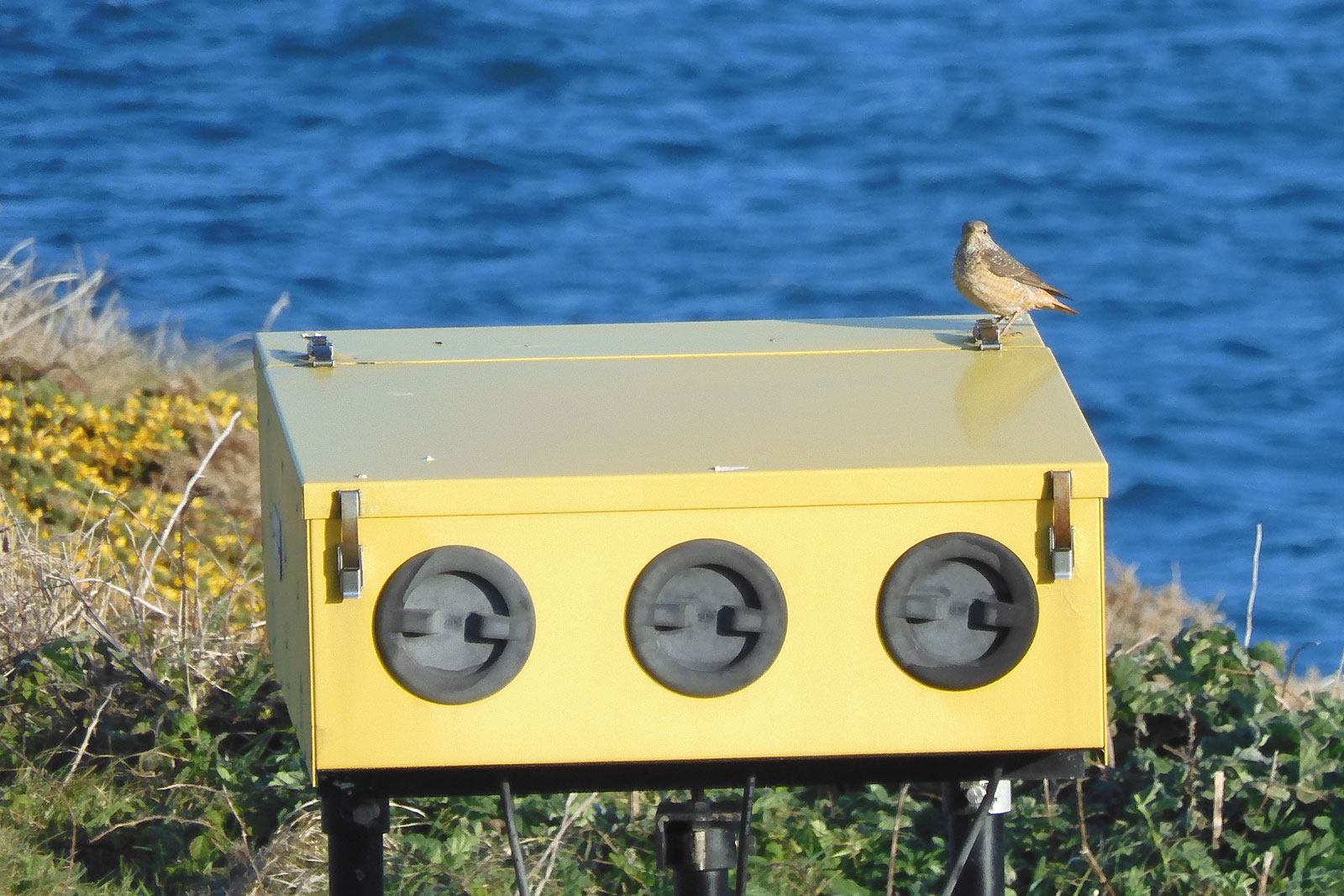 The bird also spent some time sat on a yellow airport light before temporarily disappearing. Fortunately, it was relocated later at Blue Carn and all those on the island wanting to see it managed to connect (Bob Flood).
Ashley answered and instantly went into turbo drive as he needed rock thrush 'bad', having missed two previous birds. Rob Lambert jumped in Ashley's car and others raced to the turning circle with only 90 minutes of good light left. Scott Reid was first on the scene with Andy Holden, Joe Pender and John Higginson not far behind. About 20 birders arrived in total. Just one problem, the bird had vanished.
A frantic search ensued with the sun sinking ever lower. No sign and time was running out. Ashley went into bird-brain mode and said: "If I were a rock thrush, I would be sunning on rocks like Blue Carn."
So, we headed that way and 'bang!' – there it was, sitting near the top of Blue Carn. No signal again and so hand waves alerted Lucy McRobert, who hand-waved to people further along the coastal track, who in turn hand waved to the remainder by the turning circle, completing the chain wave. Thankfully, everyone was alerted and arrived in time to get decent views.
Next morning, birders searched early doors from 6.30 am but there was no sighting. The only consolation was a Common Nightingale that had been around for several days.
I remember a few years ago reading with great envy Adam Hutt's gripping finders account of a rock thrush at Spurn. As I read through it, I dreamt that one day I might share a similar experience. Lady Luck took care of that.
Well, now on to the next 22 years of walking the Airfield for a Calandra Lark …