When I posted on the Next Generation Birders Facebook group that I was heading to Malaysia for two weeks birding and listed a couple of my top targets, one particular species caused the biggest reaction. Rail-babbler is by no means the most beautiful bird in the world, nor the most impressive, but it has to be a candidate for one of the weirdest. Its taxonomy is a source of constant debate and it has been placed with babblers, quail-thrushes, picathartes and rockjumpers, among others. In my copy of A Field Guide to the Birds of South-East Asia by Craig Robson it is treated awkwardly on the same page as shrikes and Asian Fairy-bluebird. Most authorities now place it in its own family and this is surely the correct treatment. This confusion is probably also one of the reasons why this chestnut-brown bird, with a bold white supercilium, is quite so keenly sought.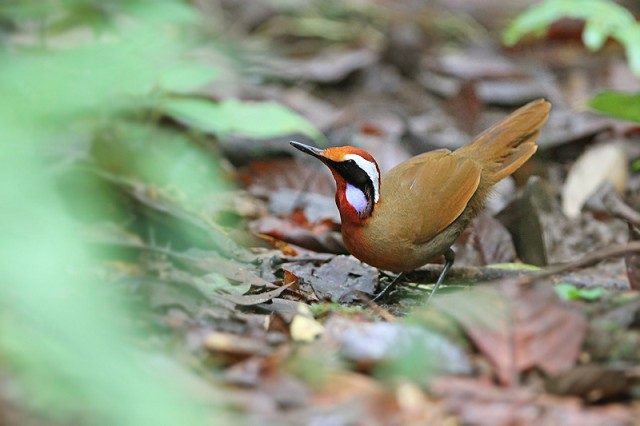 Rail-babbler, Malaysia (Photo: James Eaton/Birdtour Asia)
After some discussion about the species, the conversation moved to scepticism over whether I would actually find one. One person commented: "You're trying to find Rail-babbler on your own?!", while another was blunter, stating: "You won't find Rail-babbler without a guide." That is exactly what I was trying to do and, to be honest, I had not even considered how likely it was that I would be able to find one alone. After reading a few tour reports, it became clear that the views of my fellow NGBs were not unfounded as, although Rail-babbler is not particularly rare or even localised, it is notoriously elusive. A conversation with a local bird guide confirmed my concerns as he categorically told me I would not find one without his help and he refused to tell me the site. However, I could not afford the rates he was quoting and anyway I prefer to try and find birds myself, as ultimately it is more rewarding.
Fast-forward to the actual quest itself. By Day 9 in Peninsular Malaysia, I was spending my second full day in Taman Negara. This site, whose name literally translates as National Park, claims to be the world's oldest rainforest and is renowned as one of the premier birding sites in South-East Asia. I had agreed with David Eades, an Australian birder I had met a couple of days earlier, to go looking for one of the most prized inhabitants of the forest, a Garnet Pitta, that he had heard at Jenut Muda. This is considered one of the best spots in Taman Negara and one of the most accessible, under an hour's walk from the Mutiara Resort at the main entrance. The day started well enough as, despite the heat and humidity, we found new birds such as a superb Black-and-yellow Broadbill and a Scaly-crowned Babbler, but there was not even a sound of the Garnet Pitta. After a couple of hours of walking, David then suddenly stopped and exclaimed "Did you hear that?" The penny then dropped for both of us: it was the bizarre high-pitched whistle of a Rail-babbler, and it was close! I had read numerous trip reports but not one had mentioned seeing Rail-babbler at Jenut Muda, although the habitat of thick forest surrounding a muddy river gully seemed perfect.
I used playback for a short while and it came closer and closer. Something then jumped across the path behind David, the subsequent calling confirming my suspicions that it was the Rail-babbler. This was certainly not a view on which I could happily tick it off, and the bird had stopped reacting to the tape, moving a fair way off. We tried to go in after it but the bushes were thick and we had both read many dire stories about people getting lost in Taman Negara. Luckily, we could walk down the river gully and get close again; luckier still the bird had restarted responding to the tape. The call of the Rail-babbler is such that it is not easy to work out where it is coming from, and the two of us did not always agree on where the bird was likely to be.
Then I saw movement and excitedly exclaimed: "There it is!" Somehow, from those unhelpful instructions, David managed to get on to it immediately and we both enjoyed reasonable views, seeing the whole bird. The views lasted for all of 30 seconds, coming almost an hour after we first heard the call — but there was no doubting that the effort had been worth it.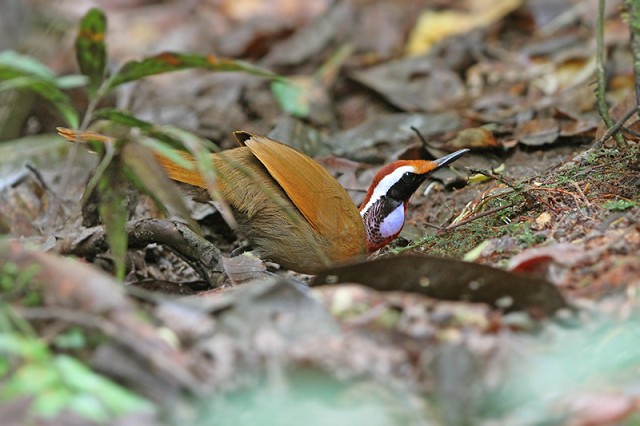 Rail-babbler, Malaysia (Photo: James Eaton/Birdtour Asia)
We looked for a bit longer but the bird had moved off again — not that we were too disappointed. We had successfully managed to find Rail-babbler without the help of a guide, and I had proved my doubters wrong back home! During the rest of my stay I found other elusive gems such as Garnet Pitta (together with David) and Great Argus among the 218 species seen, as well as hearing Rail-babbler on several further occasions. I am sure that if I had put the time in, I could have seen a handful. It just goes to show that, while guides can be a great help, it is still possible for first-time visitors to a region to find some of its most elusive and sought-after birds.