One of the real pleasures of birding the bay in winter is not knowing which species will take centre stage over the course of the darkest months, and the season that is slipping away quietly as I write was thankfully no exception. Plenty of the main players over these last few months were pleasingly unexpected, and many even had the good grace to stick around for a while; add a dash of glamour from a flurry of Arctic beauties in the coastal fields, and it was a far from close season here in Filey.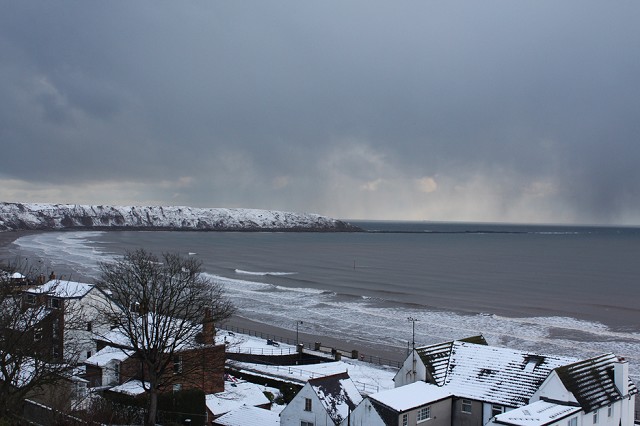 The bay corner and Brigg from the town's seafront (All photos: Mark James Pearson).
Divers — an unpredictable presence in the bay, and in some years much harder to come by than others — have been particularly numerous, with all three of the UK's regular wintering species finding local waters very much to their liking (presumably reflecting a continuingly attractive inshore food supply). As might be expected, Red-throats were by far the commonest, with a regular and very healthy presence of between 50 and 100 birds (and, on occasion, more than 200) scattered over the bay's expanse; processions of birds entering and exiting the bay in long, untidy lines made for an impressive spectacle on many a midwinter day.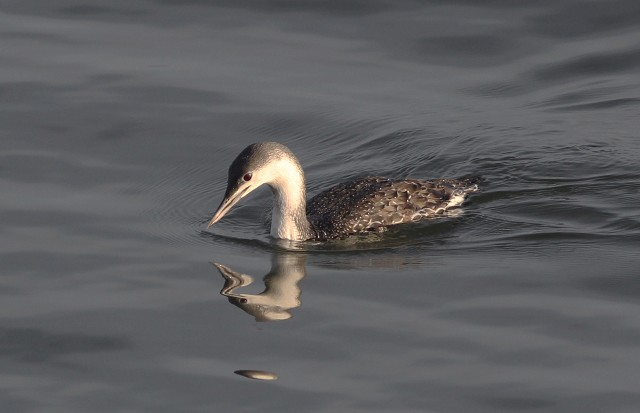 Red-throated Divers often come very close inshore on calm high tides.
Although not entirely unexpected (at least, with the requisite patience and persistence), Great Northern Divers are always a notable find, and this winter they've been easier to come by than usual. Easily the rarest of the three, Black-throated Divers are usually like gold dust locally, as illustrated by my strike rate over the previous winter — a grand total of two brief sightings, in countless hours of sea-watching and bay-scanning (and I was luckier than most). Not so this winter, however.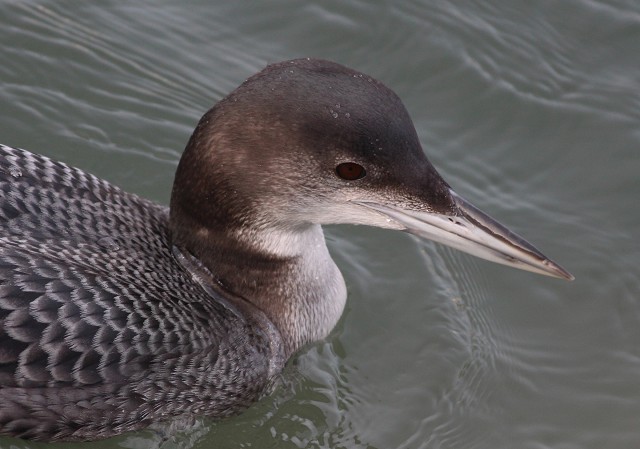 A frequent presence in Filey Bay, this Great Northern Diver just up the road at Scarborough illustrated the benefits of a harbour for winter birding.
After a much improved showing during the late autumn migration window, I've bumped into Black-throats on a surprisingly regular basis here over the course of the last few months, with birds ranging from the bay corner in the north to Speeton in the south; doubtless indicative of a bona fide wintering presence, and as of last week, we finally managed to clock two individuals simultaneously, confirming a much-suspected multiple presence.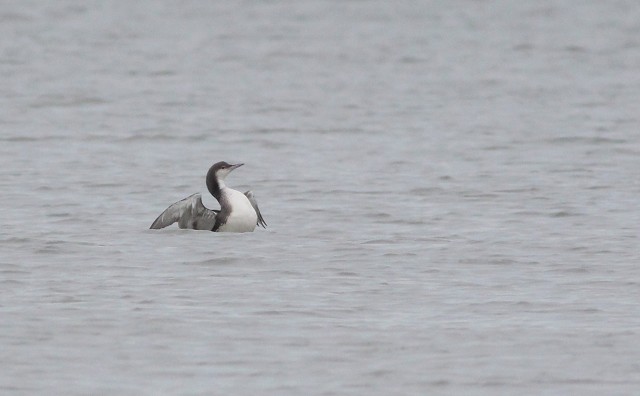 Black-throated Divers were unusually regular and surprisingly showy in the bay this winter.
While scraping into the pages of the Filey Bird Report on a just-about-annual basis, Grey Phalarope is an unpredictable and much-sought-after species locally, often as a fly-by or a very brief visitor at best. It was a pleasure, then, to host one individual over the course of several stormy days in January, encouraged inshore by howling gales and the resultant washing-machine churning of the Brigg's tideline.

With patience and time, this stunning Grey Phalarope was approached to within a few metres along the Brigg in January.
Sometimes known for their accommodating disposition and a vaguely absurd choice of inland stopover venue (boating lakes, paddling pools and the like), this particular bird selected a wilder, much less convenient and somehow more appropriate backdrop. Reached only by clambouring over slippery, seaweed-covered boulders and then requiring plenty of patience (and salt tolerance) to get even reasonably close, its company had to be earned, and was all the more enjoyable for it.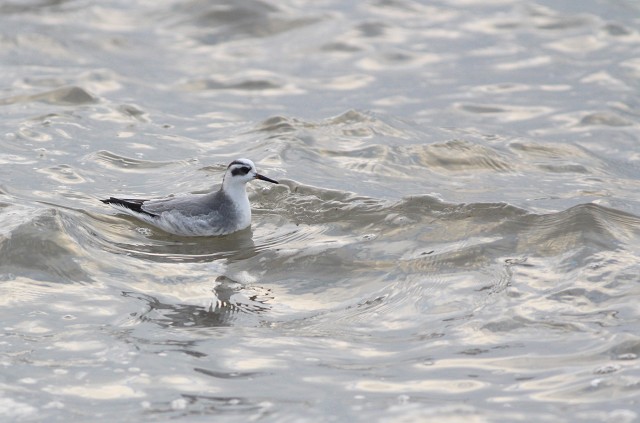 Among other headliners, a squabbling gang of up to 11 Velvet Scoters took up residence in the south of bay, remaining in situ for several months and maintaining a suitably snobbish distance from an often hundreds-strong flock of their Common cousins loitering nearby. Additionally, a particularly slippery Slavonian Grebe played hide and seek (and invariably won) for a week or so, along the shoreline from Hunmanby Gap to the Coble Landing and back. The most enjoyable spectacle of all, however, was this winter's sustained influx of Little Gulls.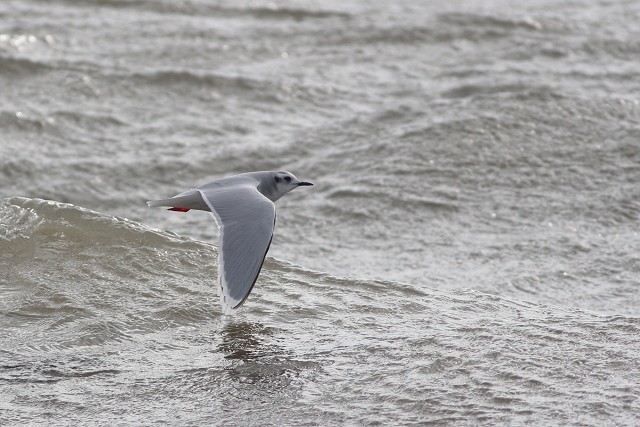 Discounting occasionally notable movements when conditions and timing conspire (every few years at best), Little Gulls are a rare treat locally. Most records involve odd birds slipping by within distant lines of Kittiwakes on stormy sea-watches. In one of many such anomalies that will inevitably balance out over time (but are fun to contemplate until then), up until the beginning of this year, I'd actually seen as many Sabine's Gulls from the sea-watching hide.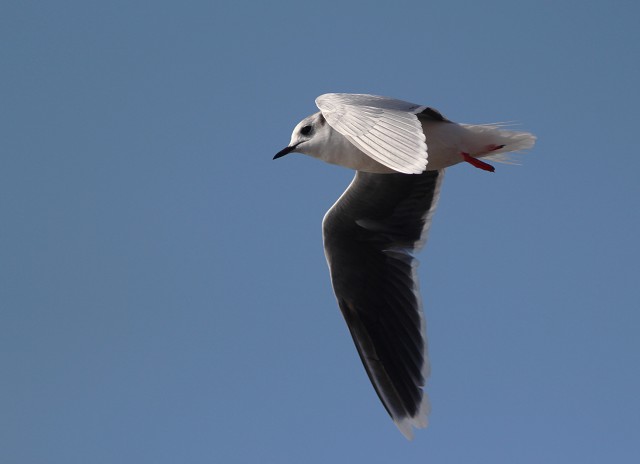 As of early January, however, a handful of Little Gulls arrived in the north of the bay, and to our surprise, lingered beyond their usual brief drop-in. By February, counts were into double figures, and at their peak, up to 30 were scattered along the length of the bay. An extraordinary sight on a local level and reason enough to be cheerful, but the real thrill came from being able to enjoy their presence at such close quarters.
Wandering widely across the bay, they could be seen with relative ease from a variety of vantage points, but usually at least some way beyond the tideline (and often well out over the waves). Befitting their contrary nature, they were prone to sudden mass disappearances in the relentless pursuit of more bountiful feeding areas, and gaining reasonable views often required more than a few token scans of the open water.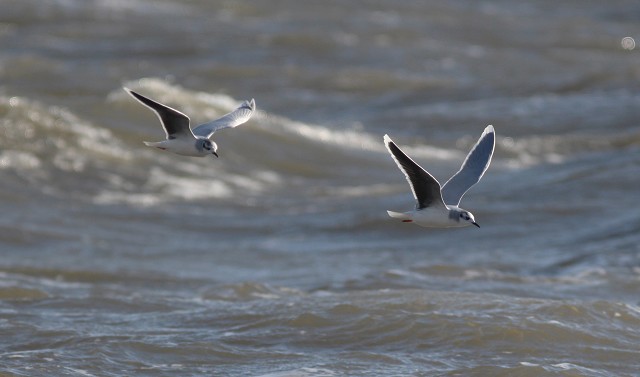 In common with the aforementioned phalarope experience, however, patience and opportunity eventually paid off beautifully — coincidentally in exactly the same exposed spot on the southern flank of the Brigg. When the onshore wind strengthened, the birds were tempted incredibly close in by the tideline feeding opportunities, patrolling the surf just metres from where we sat, wedged between boulders and coated in spray.
Enjoying these most delicate and enigmatic of our gulls, often at breathtakingly close quarters while they hovered, dipped and plunged into the crests of the waves breaking almost at our feet, was one of a rapidly growing list of unforgettable experiences from the Brigg and the bay over our first two years here.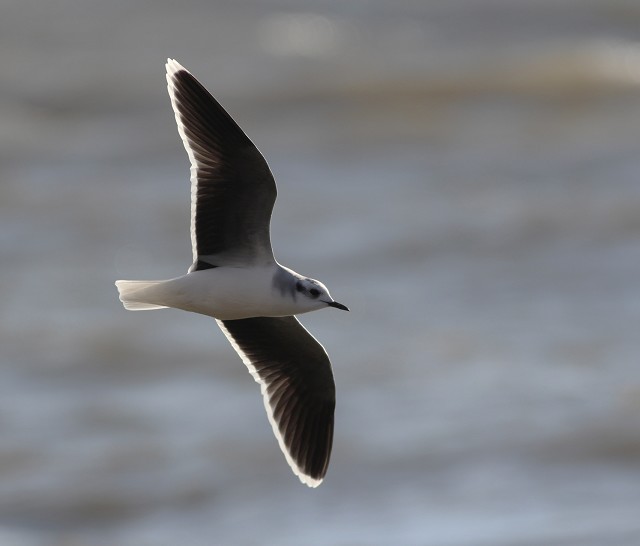 Of course, the bay can also be very quiet. A few Great Crested Grebes, Red-throated Divers and Common Scoters, as well as a scattering of the more expected shoreline waders and gulls, can sometimes be as good as it gets, and in such situations it's easy to assume that movements have ground to a midwinter standstill. Rarely does this scenario last more than a few days, however (and it's perhaps worth mentioning this was the exact state of play when the Brünnich's decided to put in its recent cameo…), and before long, a new page of arrivals and departures soon rekindles interest.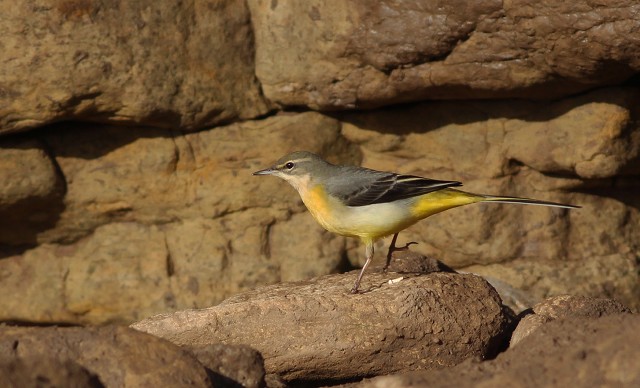 Often absent at other times of the year, Grey Wagtails can sometimes be found in the bay corner in the depths of winter.
And while the bay undoubtedly has its own particular dynamics and strengths, whether it's actually significantly any better than any number of similar areas around our coast is another matter. As is so often the case with patch birding, success breeds success, and it's all about regular, consistent coverage. Theoretically, any of the highlights described would've been just as likely  — though probably unseen and unappreciated — at various other less spotlighted locations nearby or further afield.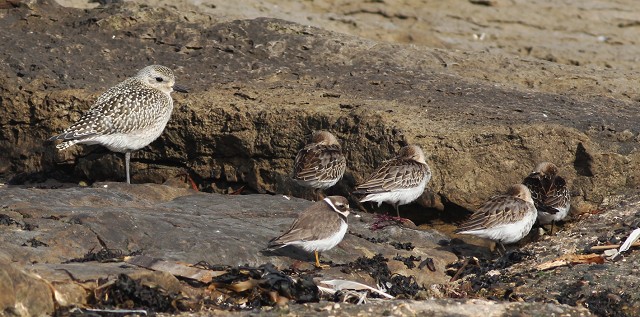 A range of waders can be found on the Brigg, occasionally including Grey Plovers and other less common visitors.
For those fortunate enough to live within striking distance of the coast, untapped bay-watching possibilities are a mouth-watering prospect for the more pioneeringly minded observer, both close to home and beyond. Just a few miles to the north, for example, several smaller bays go effectively unwatched throughout the year, and yet their geographical and environmental features clearly signpost their potential for attracting a comparably rich and varied range of birdlife.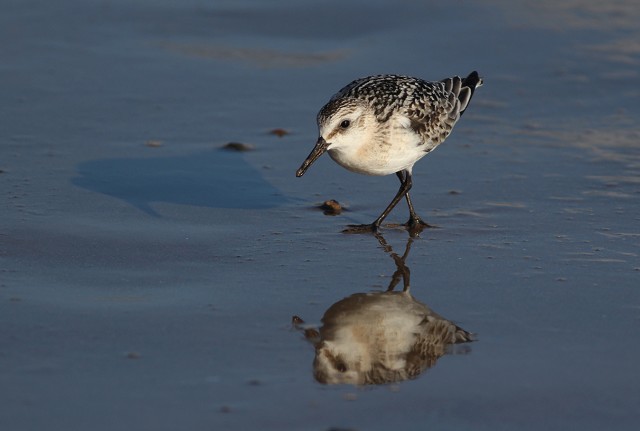 Sanderlings are a fixture of the sandy shoreline, from the town's seafront to the southern end of the beach at Reighton Sands.
Similarly, Bridlington Bay — a large, sweeping bay on the opposite side of Flamborough Headland and home to its eponymous seaside town (and thus easily accessed at various points) — is seriously underwatched along much of its length, despite a track record of attracting gulls, divers and seaducks, as well as various quality scarcities. It even comes complete with that near-mythical bonus, the working harbour — which, as any birder blessed with access to one knows, provides rich and easy pickings, especially in winter.
As mentioned in part one, the land can be very hard work during the winter, and the myriad paths determinedly pounded day-in, day-out during migration seasons can go entirely untrodden for weeks on end in the off season. Clifftop arable fields and other open ground untouched by the autumn plough are however worthy of more attention, and it's here where the other stars of the season here at Filey could be found.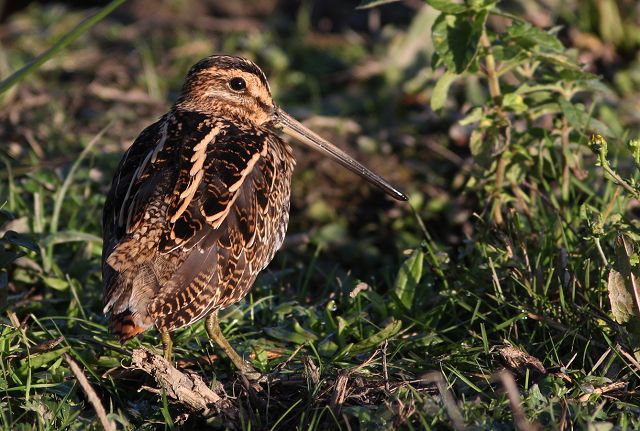 One of the few reliable wader species on dry land in the winter, Snipe are often flushed from marshy coastal fields.
Regularly patrolling a fairly extensive plot along the north cliff (part stubble, part sacrificial crop, part rough grassland) has provided many an enjoyable hour over recent months in the company of those iconic and always entertaining doyens of the east coast winter, Snow Buntings. This was another case of a species essentially very unpredictable and often difficult to catch up with proving not only supremely accommodating but also uncommonly numerous this winter. Following their fortunes over recent months has been a joy, with numbers rising from a dozen or so in the autumn to 30, then 50 and ultimately more than 70 during the festive period.
Since then the flock has slowly but surely thinned out, and as of this week, we're down about 15 birds, although within their number a fascinating range of moult and variation is now on display (including a few males obtaining the tell-tale but contextually unfamiliar signs of their summer dress). Ongoing personal attempts to photograph and ideally age, sex and racially attribute as many of the flock as possible (not everyone's bag perhaps, but there are worse ways to pass the time out here in the provinces, believe me) resulted a surprise find last week.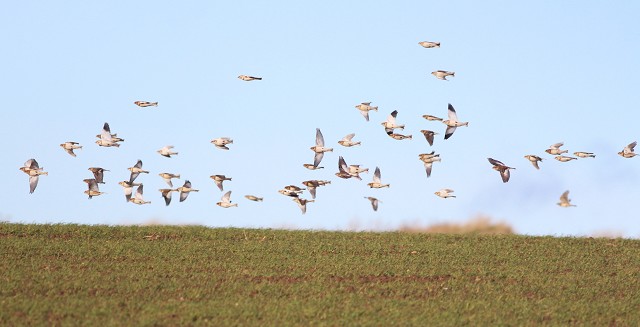 The wintering flock of Snow Buntings in the top fields reached an impressive peak of 73 over the holiday period.
With the flock settled and the sun shining, they allowed approach down to a few metres; always a treat in any circumstances, but more so with the unexpected bonus of discovering a colour-ringed bird within their ranks. After firing off a few shots and subsequently submitting the details, within a day or so, we were surprised to learn that it — or rather, she: an adult female of the nominate subspecies — had been ringed less than three weeks previously near Calais, France.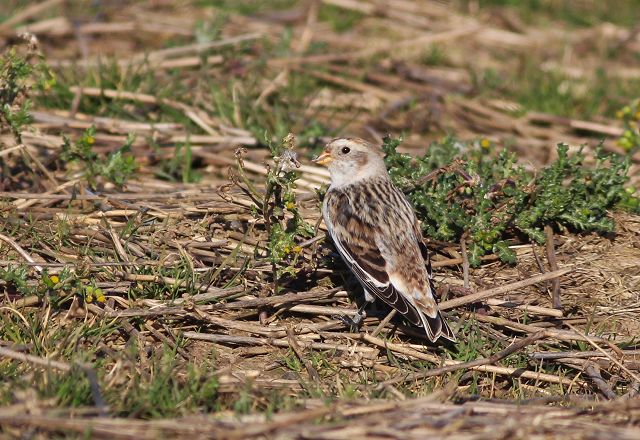 One of about 15 Snow Buntings happily still frequenting the top fields as we go to press ...
Thus any assumption of 'our' birds arriving, staying in situ and then returning to their respective breeding grounds was swiftly dispatched. The flock was evidently far from static, with other sight records of birds from the same ringing programme reported in Kent and Northumberland; meanwhile, a return migration along the British east coast (with suitable stopovers where their brethren were already in place) was clearly underway.
So, a full winter passes by with no hints of those conditions that, in theory, are essential in providing the kind of movements and influxes that lift us out of the seasonal doldrums; no plunging temperatures (either the continent or inland), no gales from the far north, no unusual weather patterns. And yet, never has a winter passed so quickly, painlessly, and entertainingly, and suddenly spring is already upon us. See you on the other side.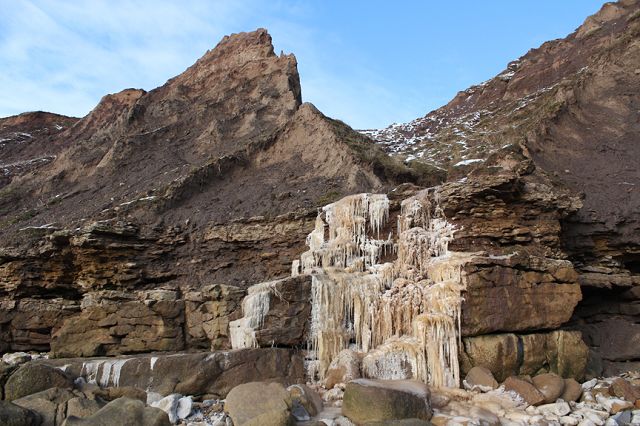 Frozen streams and Badlands topography can create sci-fi scenes in the bay corner!