Of all the ways to spend the summer, there are a great many worse than being ensconced upon Carr Naze, the grassy plateau that crowns Filey Brigg, overlooking the epic panorama of the North Yorkshire coastline; throw in an unprecedented, wholly unexpected and often breath-taking inshore cetacean invasion, however, and for ten unforgettable days in July at least, it was the best seat in the house.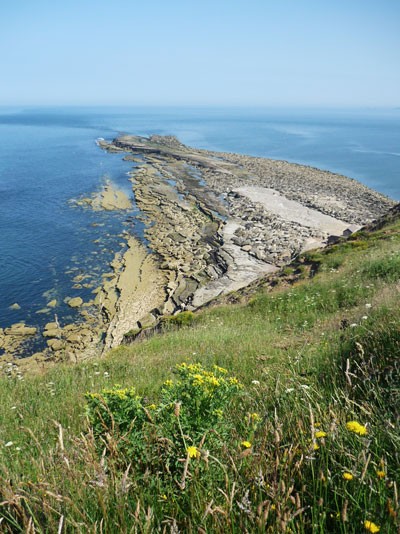 Looking east along Filey Brigg and out to sea (Photo: Mark Pearson).
For the second summer running, my colleague Dan and I have been monitoring the movements of breeding seabirds in our local area, luckily combining the luxury of getting our natural history kicks with the necessity of bread-winning. During last year's surveying, extra-curricular birding bonuses were understandably scant given the time of year, but we still enjoyed plenty of distractions, including summer-plumaged Long-tailed Duck, Little Gulls and Great Northern Divers, Sooty Shearwaters, Little Terns and Velvet Scoters among others. Cetaceans, meanwhile, were limited to regular Harbour Porpoise sightings, invariably as good as it gets around here and always a pleasure to see.
Going into this year's study period, we'd have been entirely happy with more of the same, but unbeknown to us, a rather more memorable summer was about to unfold. June, so often the very definition of anticlimactic, could hardly have worked out better; amongst many highlights, before the month was out we'd scored county rares in the shape of Marsh Warbler and Surf Scoter as bonus collateral on our watch. Thus, with the sun shining and temperatures climbing, we began July's surveying more than satisfied with our returns.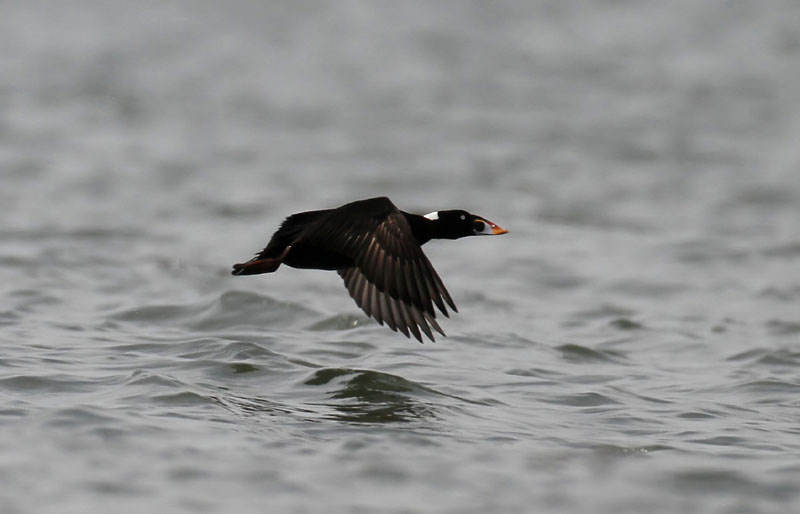 Surf Scoter, Filey, North Yorkshire (Photo: Dave Mansell)
Fast forward to the 6th and to the picturesque seaside town of Whitby, some 25 miles north along the coast. Two Minke Whales were reported at some distance from land the day before and, with hopes duly raised, thanks to our good friends Keith and Claire we were boarding the Eske Belle III the following morning. We had barely left the harbour when perfect conditions and good fortune saw us almost immediately connect with two very accommodating Minkes, complete with the ruined abbey as a suitably dramatic backdrop.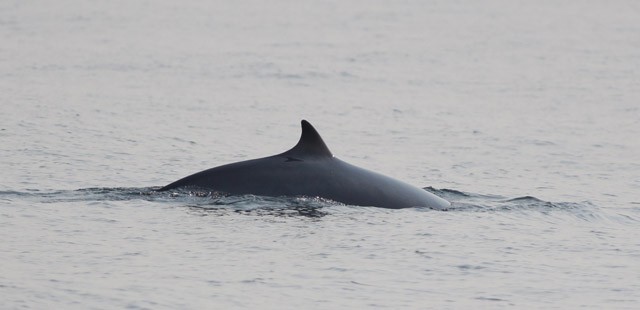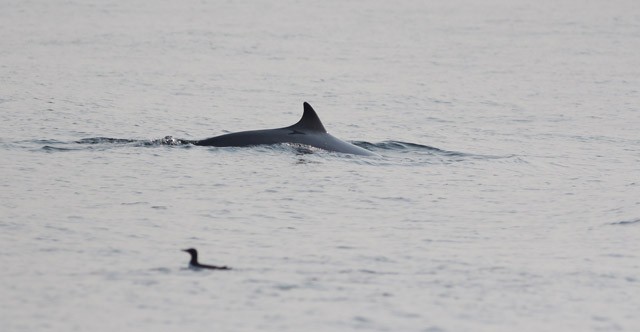 Minke Whale (with Guillemot, bottom) from the Eske Belle III, 6th July 2013 (Photo: Mark Pearson).
While they are relatively frequent in some years several miles out during the key period (late summer/early autumn), to see them so close inshore and so early in the season was evidently both fortunate and unusual; but little did we know that our seemingly isolated stroke of luck was in fact the precursor to a cetacean bounty extending (and indeed centred) much closer to home.
Content continues after advertisements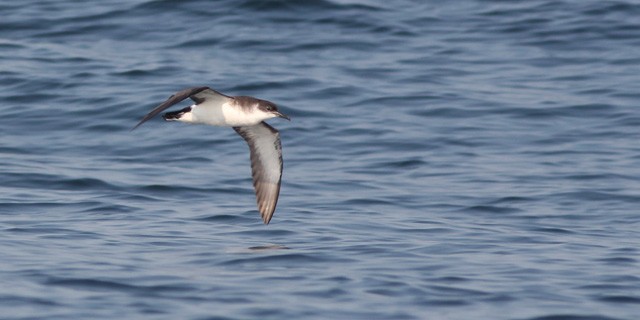 Concentrations of Manx Shearwaters often provided a good indication for where the whales might surface (Photo: Mark Pearson).
A couple of days later, and back at Filey a report of a single suspected Minke distantly off the Brigg came through. Unlike Whitby and a few other select sites further north, our manor hosts Minkes very rarely, indeed somewhat less than annually (and even then, it's usually a brief glimpse on a windswept seawatch at best). So we embarked on a session from the clifftop on the off chance, and luckily for us, before long we were enjoying extended views on a beautiful sunny evening. At the time, chalking up a patch rare cetacean on the already cluttered summer scoreboard was more than enough of an antidote to the traditionally quiet mid-year lull.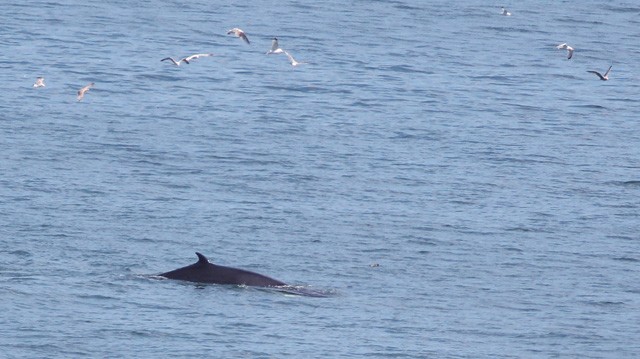 Minke Whale off Filey, July 2013 (Photo: Mark Pearson).
With ideal conditions persisting, over the course of the next few days we had the pleasure of watching at least one animal off the Brigg on multiple occasions while monitoring. Other nearby watchpoints to the north of us also began to register sightings, and unfortunately, an otherwise healthy adult washed up a few miles up the coast at Scarborough, having drowned after becoming trapped in ropes attached to the countless lobster pots offshore. A tragic and pointless end, but despite local fears that the victim was 'our' whale, we were hopeful that, in all likelihood, multiple individuals were in fact patrolling our stretch of the coast.
The afternoon of the 15th saw us expectantly kicking back amongst the wildflowers overlooking a perfectly calm millpond of an ocean. Before long, we had a Minke showing beautifully, not too far offshore and steaming powerfully south past a local coble; wonderful. Then, a second, somewhat closer and cruising gently among flocks of auks; better still. Then two more, further out and heading north together; then another, heading towards us and approaching fast. Amazingly, we had a bare minimum of six individuals in view simultaneously. A breath-taking sight from our humble promontory, at that point a seemingly unbeatable spectacle, and likely an underestimate of the true numbers present.

Minke Whale and gulls off Filey, July 2013 (Photo: Mark Pearson).
Such a rare experience is always worth savouring, and with whales now (almost absurdly) omnipresent, we subconsciously found ourselves on a steep and highly enjoyable learning curve. Before long we were becoming accustomed to certain behavioural traits, size variation between individuals, differing dives (and how long they were likely to last), and so on; the stuff of fantasy for land-bound sea-watchers in the southern North Sea.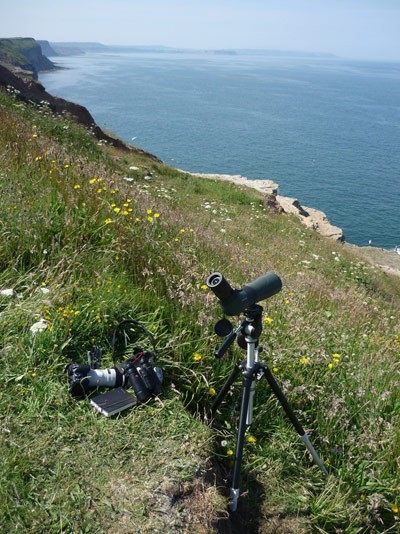 Looking north along the Yorkshire coast from the vantage point (Photo: Mark Pearson).
So when a tantalisingly brief view of what appeared to be a much larger dorsal fin flashed up in the corner of the 'scope, it seemed almost over-indulgent to suspect the presence of another, even more majestic species. Surely events weren't about to take further dramatic turns for the better?
Part II continues next week.