Red-footed Falcon by Tim White
A lovely capture of a hunting female Red-footed Falcon by Tim White wins this week's award.
It's not easy to frame a bird actively feeding on the wing, even when compared to taking a 'standard' flight shot. Despite being a pale bird against a dark background (this green arguably working even better than blue sky), Tim has exposed this image perfectly, which shows all the underwing and tail detail, while the falcon is transfixed on its meal.
Congratulations to Tim on his winning shot, which was taken with a 600 mm lens on ISO2000, shot at 1/1000 th second at f4. Tim becomes the 22nd winner of 2018, all of which have involved different species, with only one photographer winning twice.
Other notable images

European Herring Gull, Isle of May, Fife (Gordon Speirs).

Swallow, Bawdsey, Suffolk (Les Cater).

Common Quail, Hartlepool, Cleveland (Stephen McDonnell).

Eurasian Nuthatch, Hawick, Borders (Ron Mccombe).

Great Spotted Woodpecker, Kildary, Highland (Toby Houlton).

Lesser Redpoll, Dartmoor, Devon (Charlie Fleming).

Red-rumped Swallow, Trigrad, Bulgaria (Dennis Morrison).

Slavonian Grebe, Farmoor Reservoir, Oxfordshire (Tony Hovell).

Black Guillemot, Oban, Argyll (Chris Barlow).

Guillemot, Bempton Cliffs RSPB, East Yorkshire (Mike Robinson).

Eurasian Sparrowhawk, Kirkby in Ashfield, Nottinghamshire (Simon Richardson).

Avocet, Frampton Marsh RSPB, Lincolnshire (Oliver Woodman).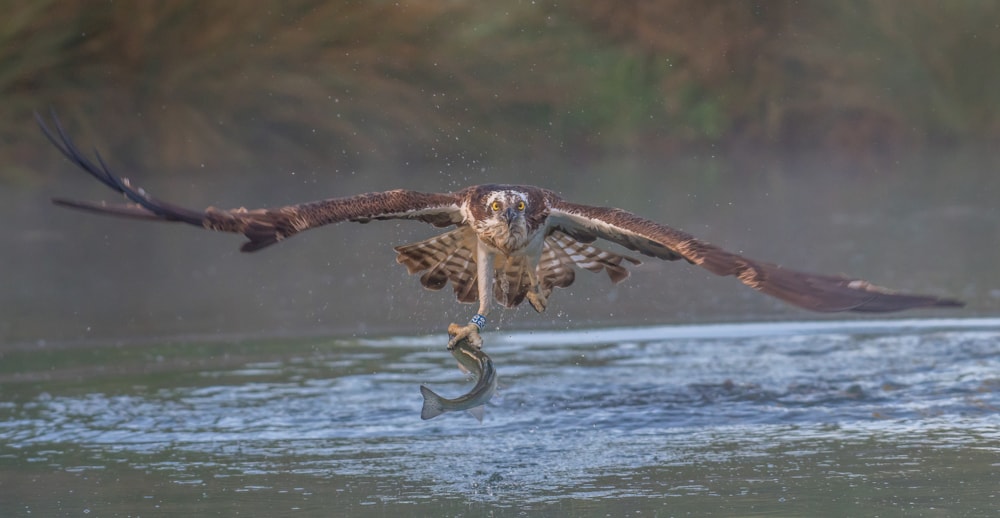 Western Osprey, Rutland Water, Leicestershire and Rutland (Jeff Lack).

Pied Wagtail, Sculthorpe, Norfolk (Andy Thompson).

Yellowhammer, Broadwoodwidger, Devon (Adrian Davey).