What a month it has been! September is always an exciting time and opens up a debate for many: stay on patch or hit the coast? Do you tear yourself away from potentially great patching for the more guaranteed rewards at coastal hot-spots?
Find of the month goes to the Swainson's Thrush located by John Bowler on Tiree. Although elusive, three other fortunate birders managed to twitch this American visitor. Other superb finds in September included a Tawny Pipit at Titchwell, Arctic Warbler at Landguard, Blyth's Reed Warbler on Bardsey, Short-toed Lark on Guernsey and an inland Ortolan at Wanstead Flats. Another of the month's rarest birds 'on patch' was the Pallas's Grasshopper Warbler at Kilnsea, just the second record for Yorkshire. While not a find for Paul French, he was lucky enough to see the bird before it was released, after which it was not seen again.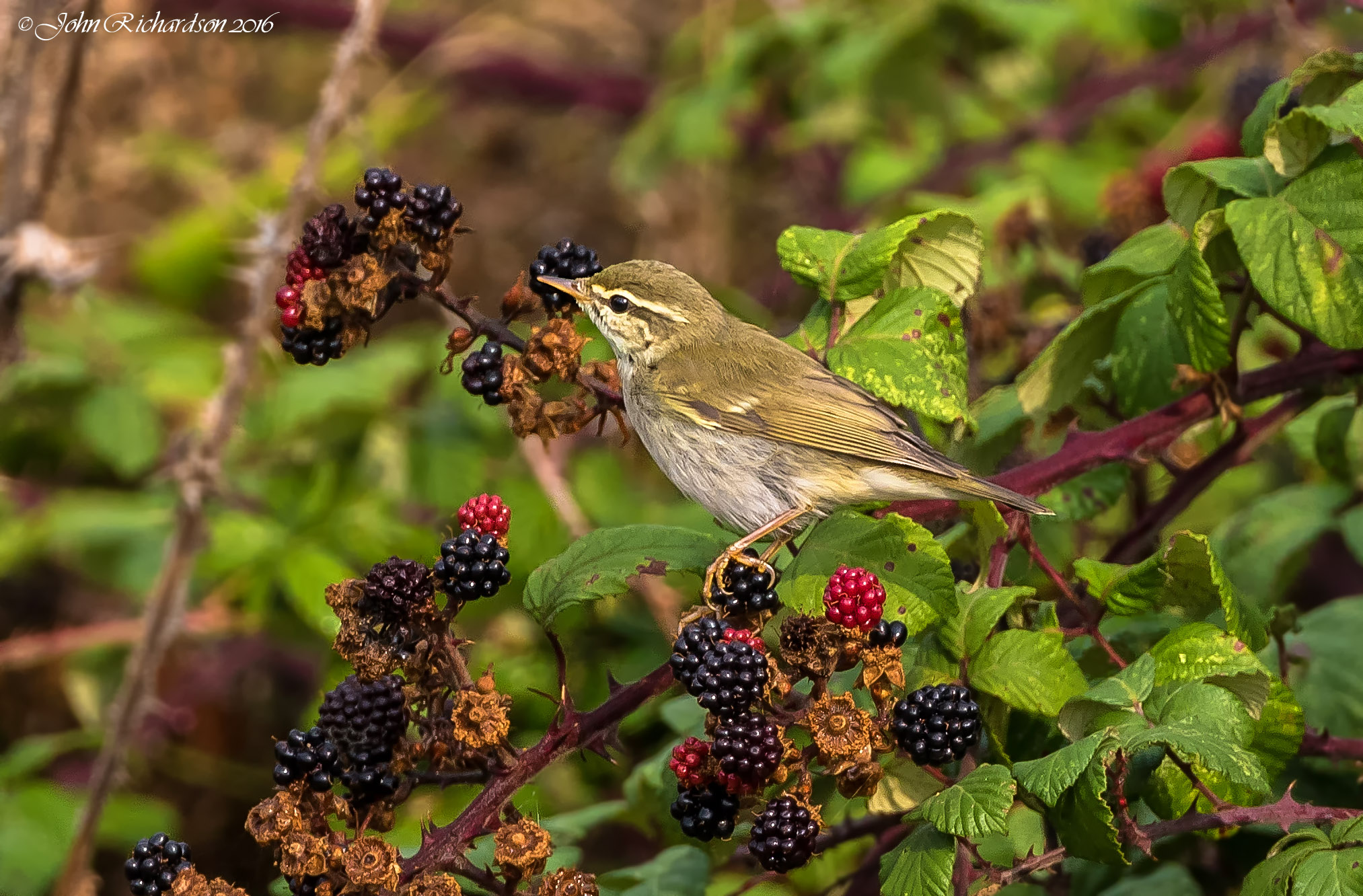 Arctic Warbler, Landguard NR, Suffolk (Photo: John Richardson)
Scarce waders featured in many highlights lists this September. A number of Lesser Yellowlegs and an American Golden Plover gave a distinct Nearctic flavour, while assorted sandpipers included ten patches recording Pectoral, four Baird's, three Buff-breasted, two Semipalmated and a solitary Solitary. Meanwhile those prepared to look out to sea were rewarded with the likes of Cory's Shearwater, Leach's Storm-petrel, Long-tailed Skua and Sabine's Gull.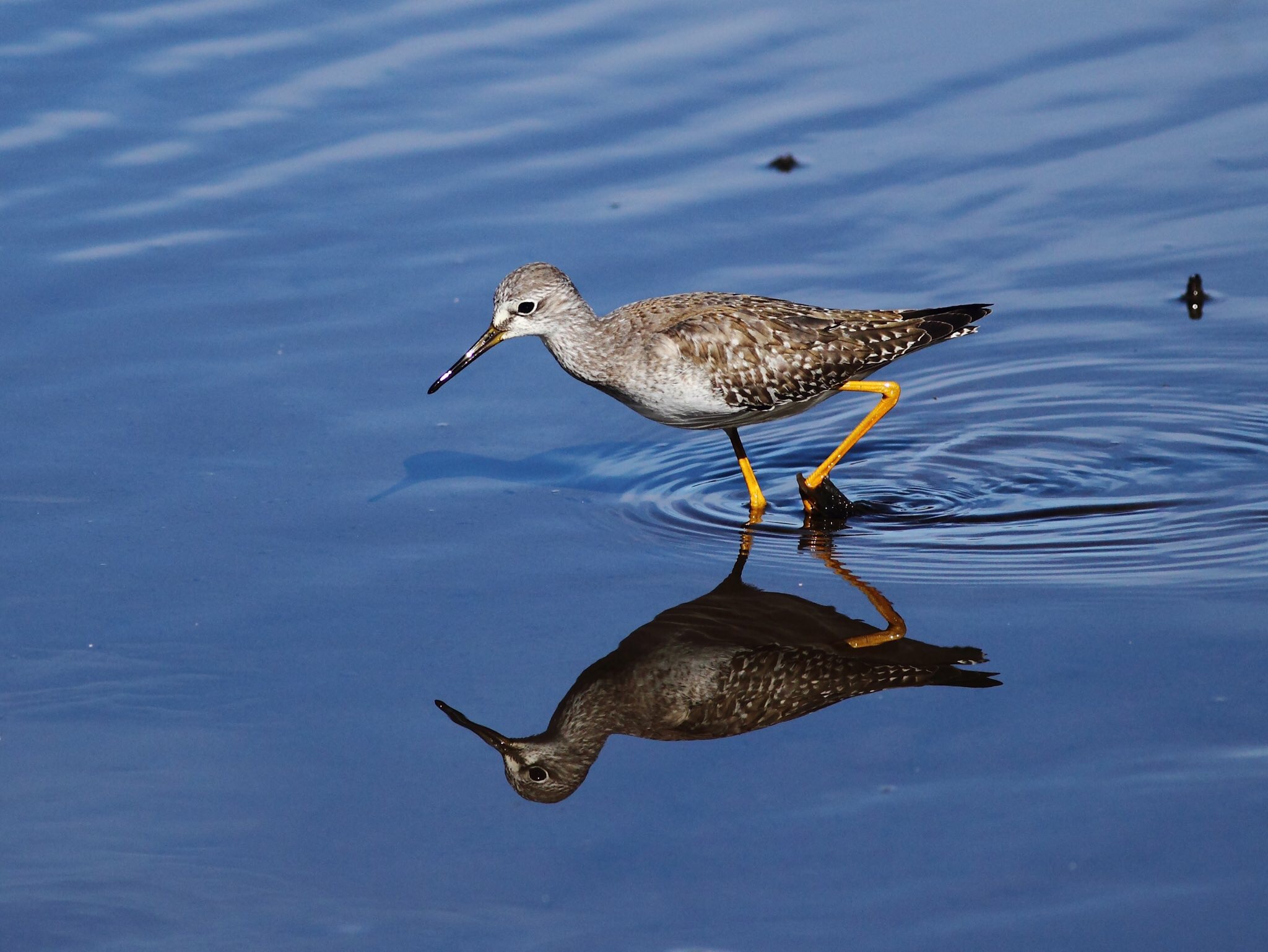 Lesser Yellowlegs (Photo: Mark Rayment)
One of the highlights of September was the spectacular fall of Yellow-browed Warblers on the east coast and Northern Isles. This diminutive sprite will be downgraded to a two-pointer next year as it becomes an ever-more regular feature of autumn; birds were reported from twenty patches including four inland sites. Other regular autumn fare included Wrynecks, Red-breasted Flycatchers and Common Rosefinch plus Melodious, Barred and Icterine Warblers. Steve Minton had a Little Bunting at Scatness and two patchers bagged the finder's points for Greenish Warbler.
Despite no additions this month, Adam Nicholls retains top spot in the comparative league, but his lead has been cut to just one per cent by Amy Robjohns who added Semipalmated Sandpiper at her Titchfield Haven patch. October may well be critical in what looks to be a two-horse race for the top spot. David Franklin retains third place despite drawing a blank in September, but the pack remains hot on his heels. At the end of September 66 patchers have beaten their comparative, which is great going.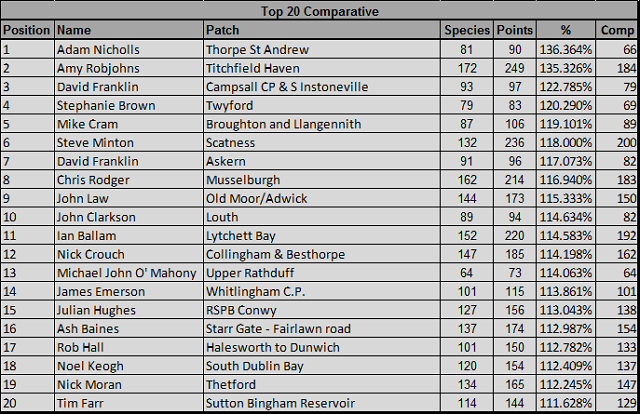 As expected, perhaps, September has seen a bit of a shake-up in the points table. A couple of the heavyweight patches such as Spurn and Easington did not submit scores this month. Consequently the two JBs climbed up the table into the podium spots but neither could displace Bardsey at the top — Steve Stansfield's run of scarce birds this year continued with Blyth's Reed and Melodious Warblers as well as Red-breasted Flycatcher. John Bowler lies in second place following a sensational month on Tiree. John added 56 points in total in September, including the Swainson's Thrush. While James Brown might not have had a mega on his patch, useful points were racked up with Long-tailed Skua and Yellow-browed Warbler adding bonus points to take third. It's getting tight at the top, but with the easterlies in October we suspect the east-coast sites will ratchet up the competition another level.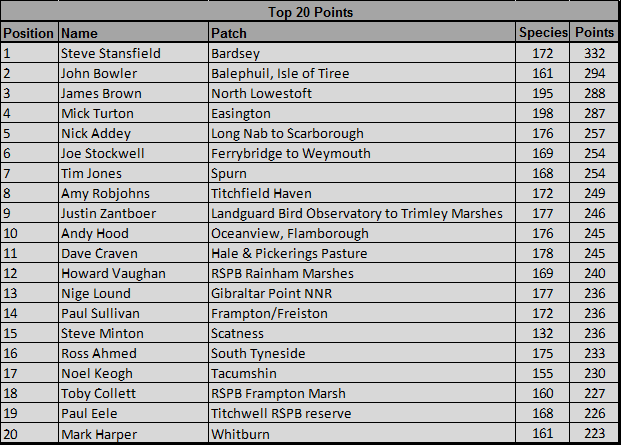 After September the Rutland duo have taken the two top spots in the inland mini-league, Eric Ansell still retaining the lead while Rod Baker takes second with Pectoral Sandpiper among both their highlights. Steve Nuttall had a decent month too, with Great White Egret, Curlew Sandpiper, Cetti's Warbler and Grey Plover at Belvide Reservoir. All three have now hit 200 points, with just eight between them. All to play for still in the very competitive inland league.
Content continues after advertisements
Steve Stansfield's amazing year at Bardsey continues and he currently has a fantastic score of 1.93 points per bird at the top of the table. John Bowler's terrific month means that he is continuing to put the pressure on. All about quality and bonus points, John's points haul in September put him on a score of 1.826 with October still to come. Steve Minton at Scatness has also been finding scarcities this September, many also being garden ticks! His finds this month include Barred and Yellow-browed Warblers, Little Bunting and Red-breasted Flycatcher. A bountiful October could really open up the competition and with the first half of the month already having produced Black-browed Albatross, American Golden Plover and Pied Wheatear for the top three respectively it looks like an exciting update next month — two points per bird this year looks doable!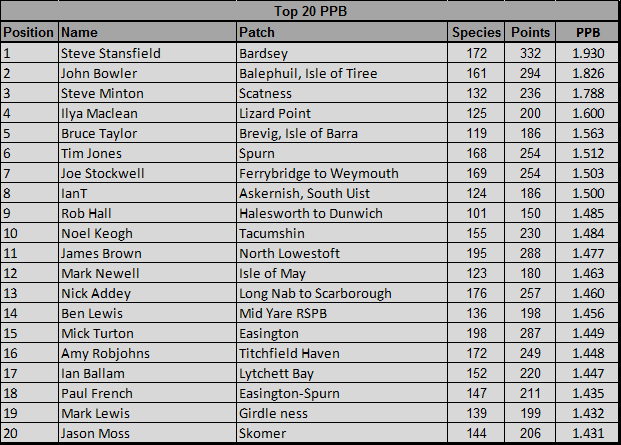 Steve Stansfield has pretty much sealed first place in the green mini-league, though competition for the remaining podium spots is fierce. Andy Hood still retains second place with a Sabine's Gull and patch-tick Willow Tit at Flamborough. Steve Minton's good month has brought him level with Nige Lound in third.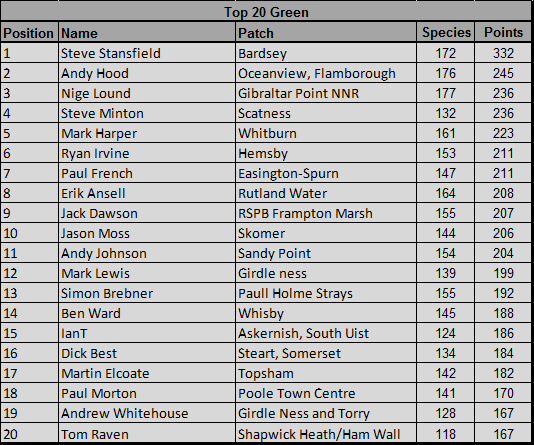 Joe Stockwell has taken top spot this month in the under–25 league with no update forthcoming from Tim Jones. They are on equal points at the top, but Joe is ahead on number of species by just one with Woodchat Shrike the highlight from his Ferrybridge to Weymouth patch. Amy Robjohns continues to apply the pressure, five points adrift of the leading pair but with more species in the year.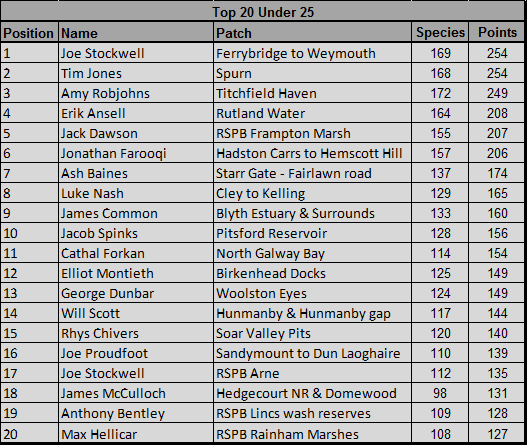 Celtic domination continues in the BirdTrack mini-league with the top two unlikely to be rivalled during the remainder of the year. The number of lists in the table below really highlights the amount of effort going into patchwork this year. Ceri Jones leads the way, with fellow compatriot Alastair Flannagan in second. Julian Wyllie at Baltimore completes the top three.