After mopping up the last of the winter visitors and getting started on racking up spring migrants during April, birding in the month of May brings great promise for the patch birder. Passage migrants such as Garganey, Black-necked Grebe, Sanderling, Wood Sandpiper, Little Tern and Wood Warbler were frequently listed highlights for PWC contestants during the month, while notable species back on territory and exercising their vocal cords included Nightjar, Nightingale and Turtle Dove. These are just some examples of the kind of rewards that effort, determination and pure luck can deliver at the height of spring.
Reports of Glossy Ibis were widespread, with at least nine patches connecting with them. Patch birders at Lytchett Bay were treated to the second record for the site, the first relating to two birds shot in 1847! In addition there was the usual scattering of Great White Egrets and Spoonbills as well as several Cattle Egrets and Common Cranes. Other rare waterbirds came in the form of three Purple Herons (one each at Snettisham, Topsham and Grimston) and a Squacco Heron at Ogmore Estuary, a great record for Wales.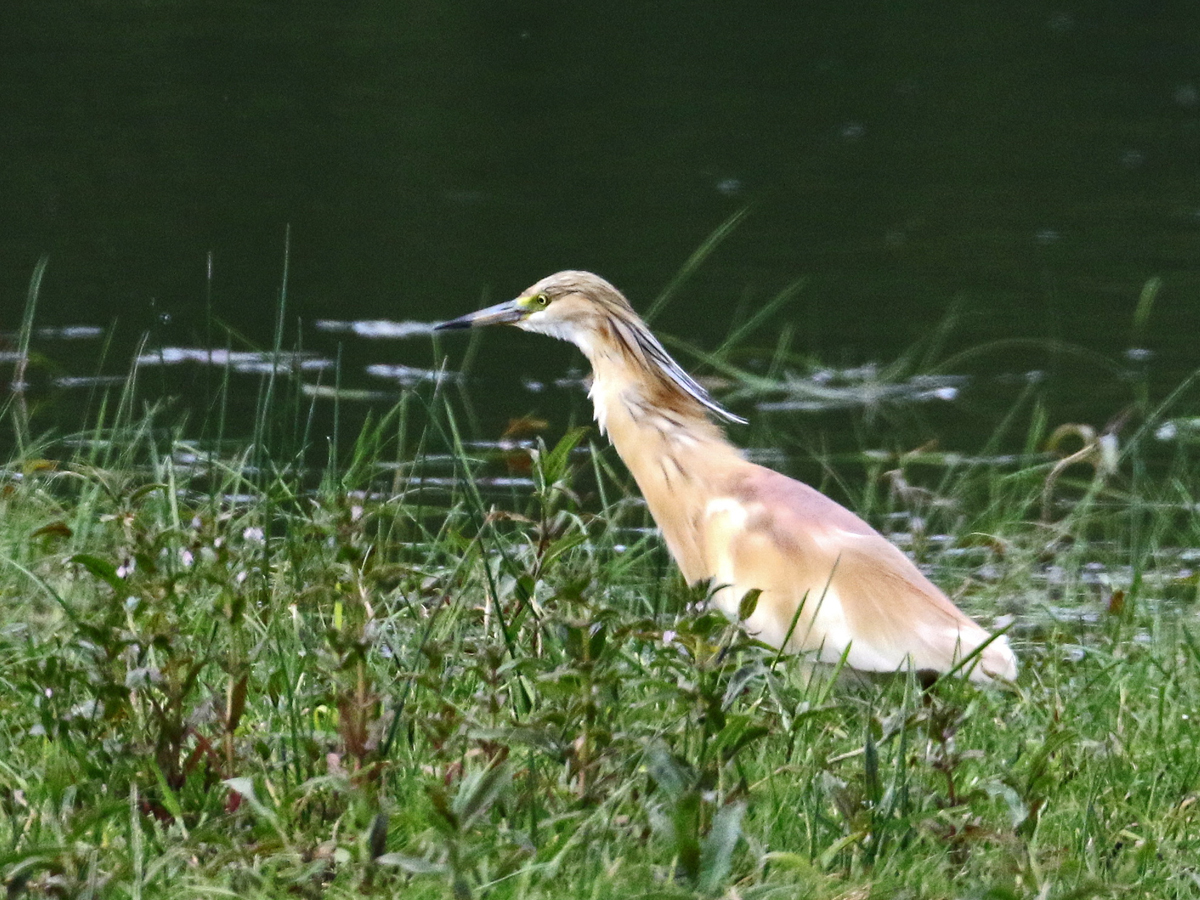 Squacco Heron, Ogmore Estuary, Glamorgan (Photo: Cliff Woodhead)
There was a good showing of Temminck's Stints, with 12 birds recorded across no fewer than ten PWC sites. What a delight it must be to see one of these gems on the patch. Another classic May wader, Broad-billed Sandpiper, was seen at Hale & Pickerings Pasture, Druridge Pools and at the RSPB Lincs Wash Reserves. The latter site also hosted a Black-winged Stilt, as did Lytchett Bay. Kentish Plovers are a real treat these days, with welcome sightings at North Selsey & Church Norton and on Guernsey, where Mark Lawlor's find represents the first island record since 2003. Red-necked Phalarope was recorded at Rutland Water and also at Grindon Lough, an excellent find there by Paul Massey. Nearctic waders were thin on the ground but represented by single Pectoral Sandpipers at Balephuil, Tiree and South Tyneside.
Tern passage was reported frequently on bird news services during May and featured as a highlightsby many patch birders during the month. At least 15 patches saw Black Terns pop in for a day or so and nice day totals of migrating Arctic Terns were noted at inland sites, including 104 at Brockholes NR on 11th (the previous highest day total since 1999 was of 12). As expected, a small number of Whiskered Terns also showed up, three patches (Whisby, Saltholme and Oldbury Power Station) recording this continental stunner. The Whiskered at Whisby was part of a movement involving five species of tern that day for Ben Ward. South Wales got in on the action with a well-received Gull-billed Tern found by Barry Stewart that toured the Burry Inlet area and was backed up by a Bonaparte's Gull at WWT Llanelli.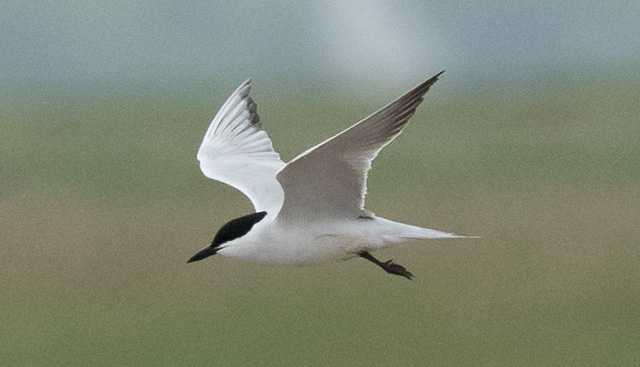 Gull-billed Tern, Loughor, Glamorgan (Photo: Peter Howlett)
It was a case of quality over quantity when it came to raptors during May, highlights including a Black Kite that drifted over Bardsey, flyover Honey Buzzards at Hale & Pickerings Pastures and Blackbushe Airfield and a trio of Red-footed Falcons, one each at Paxton Pits, East Verwood and Goole Fields. Raptor of the month was undoubtedly a Pallid Harrier at Brockholes NR, which will represent the first record for Lancs if accepted.
May 2016 will go down in PWC history as a month that produced a fantastic array of rare and scarce passerines. Alpine Accentor is a species high on the wishlist for many birders. A lot of folk still have yet to catch up with it for their national list let alone patch list, so Nige Lound was very lucky indeed when one showed up at Gibraltar Point NNR! What's more, less than 12 hours later he added Western Bonelli's Warbler to the tally! On Bardsey, a Blyth's Pipit found by Steve Stansfield was a cracking spring record, while the last thing Amy Robjohns expected to find at Titchfield Haven was a male Caspian Stonechat, especially while out counting snails — an outstanding find on the mainland and a good example of why it is important check and double-check the patch during May. Well to the north, Steve Minton's garden at Scatness delivered the goods in the form of an Eastern Olivaceous Warbler, representing the first national record in spring since 2008. Subalpine Warblers were recorded at Red Rocks and The Oa, while an Eastern Subalp on Bardsey added to the rarity haul during a super month for the island. Great Reed Warbler put in a very good showing, with Saltholme, Paxton Pits, St. Mary's and Willington GPs all hosting this beast of an Acro.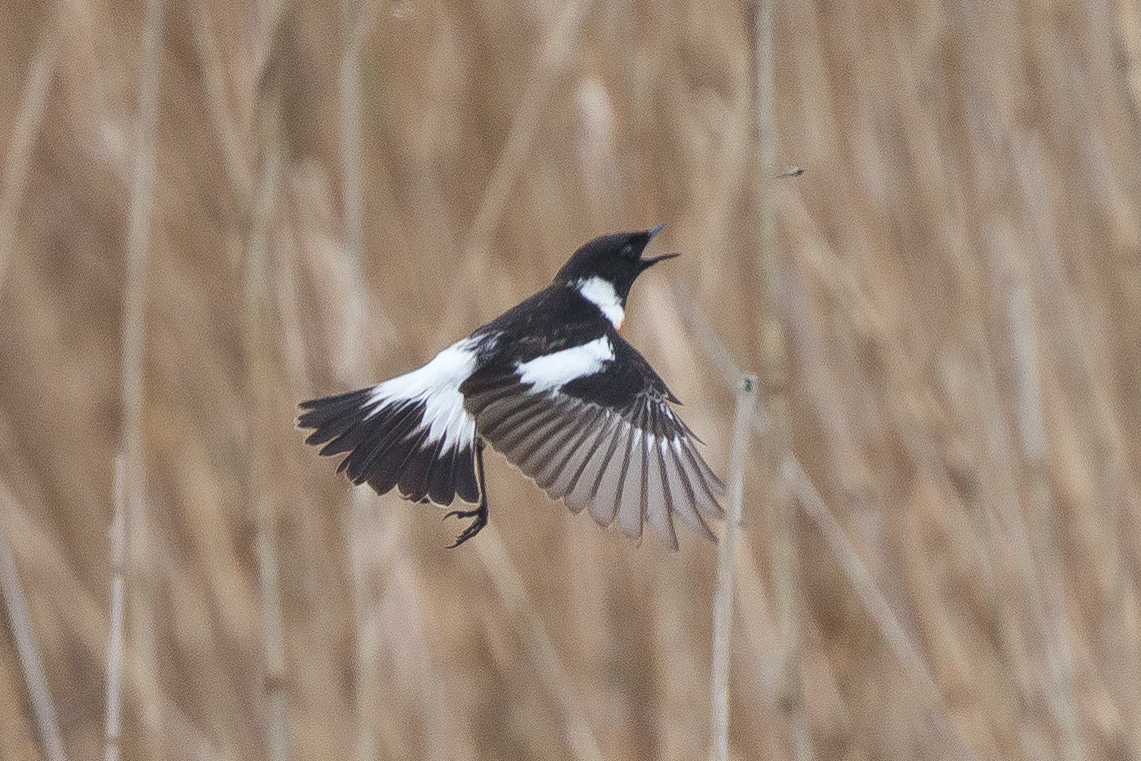 Caspian Stonechat, Titchfield Haven NNR, Hampshire (Photo: Simon Colenutt)
A Great Spotted Cuckoo that turned up at Portland hung around for quite some time, attracting a large number of admirers, and eventually showed up on Sean Foote's patch. After only recently being added to the British list, a good candidate for Spanish Yellow Wagtail turned up on Skomer, while some Black-headed Wagtail lookalikes (albeit showing some odd features) were seen at Musselburgh and the River Clwyd estuary. Adding to the list of Yellow Wagtail subspecies seen, a Grey-headed Wagtail showed up at South Tyneside, while Blue-headed Wagtails were recorded at RSPB Conwy and Easington. For the third year in a row a Black-headed Bunting put in an appearance on Skomer, and for the best of the rest tallies were as follows: one Bee-eater, one Citrine Wagtail, two Woodchat Shrikes, two Golden Orioles, two Bluethroats, two Hoopoe, three Wrynecks, three Greenish Warblers, three Red-breasted Flycatchers and four Red-backed Shrikes.
Despite all these fantastic scarce and rare species, a shout-out must be given to the top #patchgold finds during May, namely a flock of three Mute Swans on Bardsey (eighth island record), a Rook at Balephuil, Tiree (less than annual), a Nuthatch at Flamborough and patch ticks in the form of that old PWC favourite, Coot, at Dersingham Bog, North Portland and Quoyangry.
The battle for first place in the Comparative Top 20 is being fought by inland sites patched by Adam Nicholls and David Franklin. Adam takes the lead in May at Thorpe St Andrew, where a singing Cuckoo which he heard while putting out the bins helped bring him to 124 per cent. Stephanie Brown and Amy Robjohns are climbing the ranks, with close scores around 118 per cent. Their patches could not be more different in terms of species and points but it is the percentage which counts here!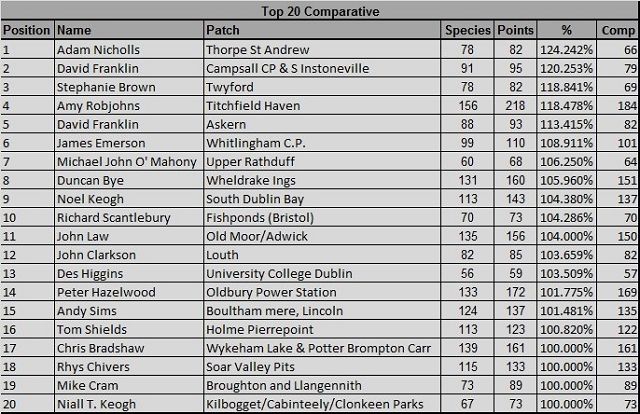 Mick Turton gets back into his familiar first-place position in the Points Top 20 at Easington where he saw Thrush Nightingale, Montagu's Harrier and Blue-headed Wagtail during the month. His other notable highlight was of course meeting the PWC team during the AGM to Spurn! James Brown and Dave Craven both slip down a place on the table due to Mick's success but are now well into the 200 points range and over 170 species each.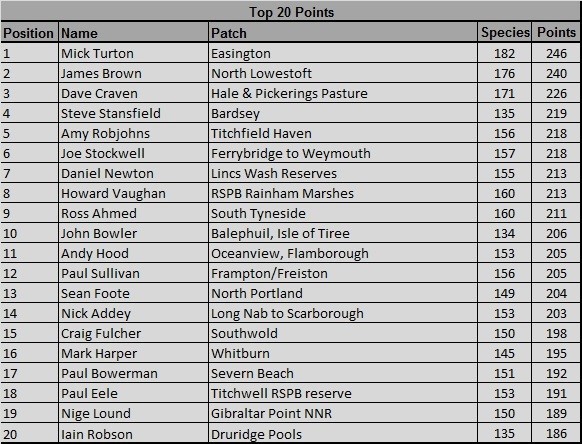 Mick's patch is not only the highest ranking in terms of points but also species, the two going somewhat hand in hand. With 182 species by the end of May, it is likely he will make it past 200 before long but there are those in the 160 and 170 species categories who may well yet take a run at this. Howard Vaughan's patch at RSPB Rainham Marshes now features on the table with 160 species exactly, a fine tally for an estuarine site with no true coastline.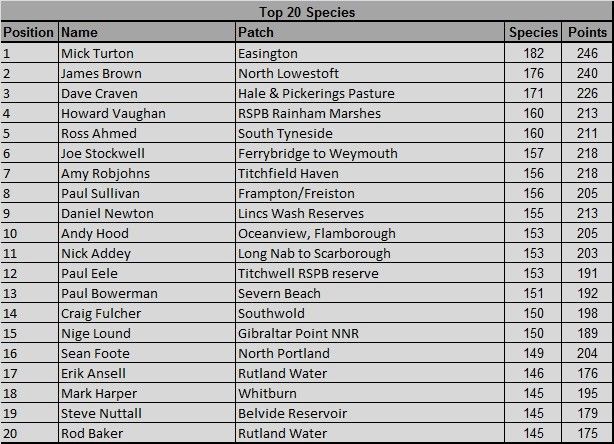 The reward for those who find their own birds is the glory of taking up high ranking positions on the Points Per Bird Table. This is where the islands excel, the top three in the table hailing from Bardsey, Tiree and Shetland. Steve Stansfield's update from Bardsey puts him in the lead with the first score over 1.6 PPB of the year, with Blyth's Pipit, Eastern Subalpine Warbler, Black Kite and two Greenish Warblers clocked up in May.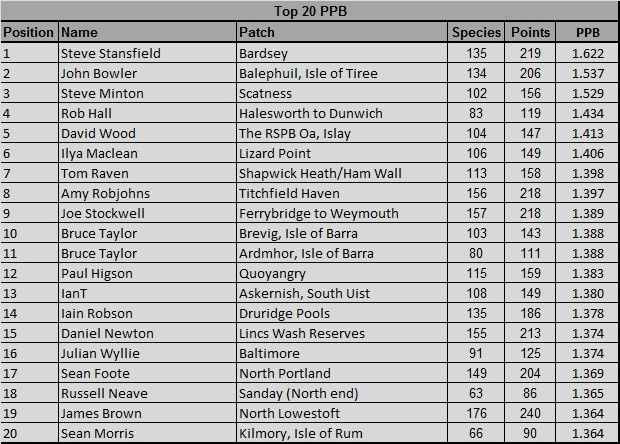 May is a fantastic month for inland patch birders. Squalls of rain and easterly winds are magic for dropping in migrant waders, terns, wagtails, etc. and many of the PWC contestants got in on this action, resulting in some dramatic changes on the Top 20 Inland table. Steve Nuttall shoots up from sixth to first after an excellent month at Belvide Reservoir where his highlights included Temminck's Stint, Little Stint, Roseate Tern, Little Tern, Black Tern, Garganey, Red Kite and Marsh Harrier! Erik and Rod continue to do Rutland Water proud, holding on at the top end of the table in second and third place respectively.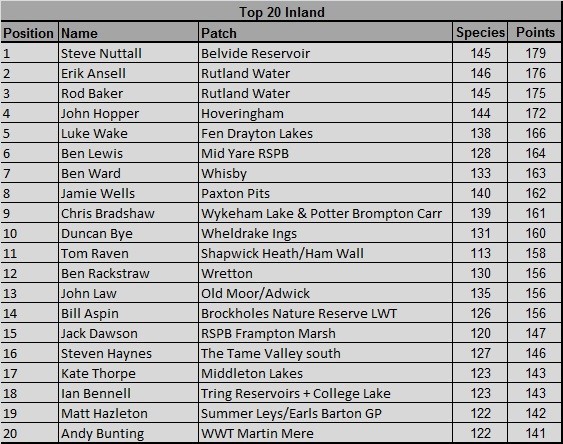 There are familiar names and familiar ranking positions on the Under 25s Top 20 table, which is dominated by the south-coast double act who got in with some fantastic finds this month: a Temminck's Stint for Joe Stockwell and a sensational male Caspian Stonechat for Amy Robjohns! Both are now neck-and-neck in terms of points, but Joe slips ahead by a matter of one extra species. There's a busy summer ahead for these two if they wish to keep up with each other!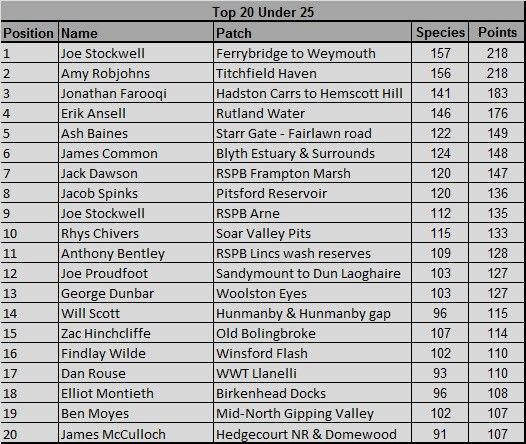 Living on your patch is a massive advantage and while you're there you might as well take part in the Green minileague! Many of the Green patch birders are situated on islands or headlands so are in a great position to do well here. Steve Stansfield is now leading by a solid 14 points on Bardsey, but former head of the table Andy Hood is still in a good place to make a challenge from Flamborough, where he got Surf Scoter, Glaucous Gull, Hoopoe and a patch mega Nuthatch during May.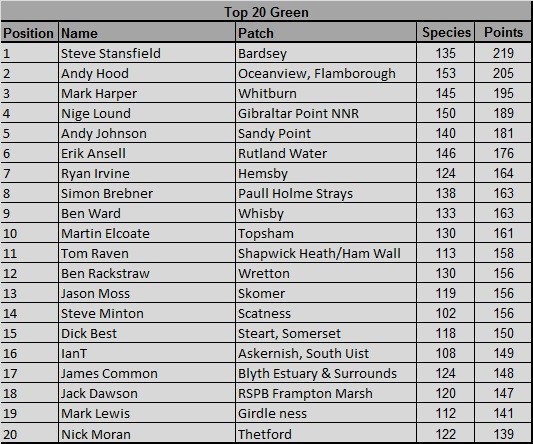 Ceri Jones and Alastair Flannagan are now well ahead of the rest on the Top 20 BirdTrack Lists league table but Ceri is the first to break 400 lists from Comeston, Sully and Lavernock and charges ahead in the lead by a matter of nearly 30 lists. That is some effort! The PWC contribution to BirdTrack is now up to 7,644 complete lists and 213,003 records. The quarter of a million target will no doubt be reached in the coming months.