May-hem!
Last month we described how April announced itself with a bit of a bang. If that was the case, then May certainly witnessed one or two booms across challengers' patches!
In terms of quality, May has surpassed the preceding months with ease — as you'd expect it to. The highlights column on our scoring spreadsheet was positively awash with rare and scarce birds, and the numbers of bonus points scored doesn't even bear thinking about! Instead of thinking about it, we'll just speculate — and with a quick look at the highlights, in the region of 150 bonus points were scored. What's that going to do to the league tables? Read on...
Much of what could happen in May is predictable to some extent. Headline passage waders such as Wood Sandpipers and Temminck's Stints made it onto many lists, and seabirds such as Pomarine Skua and European Storm-petrel scored welcome points too. However, it was the numbers that some species were recorded in that surprised us the most.
Long-tailed Skuas were recorded on at least ten patches — most were western, Scottish or a combination of the two. In contrast, the east coast dominated records for two species that would brighten many a birder's day in the field: both Red-backed Shrike and Common Rosefinch appeared in good numbers, with at least eight of the former and five of the latter — two lucky patchers even managed find bonuses for both. Sliding a little further along the rarity scale, we had four different Woodchat Shrikes and multiples of Red-breasted Flycatcher, Golden Oriole and Short-toed Lark as well as a single Subalpine Warbler. Mouth-watering stuff! A couple of species were perhaps conspicuous by their absence while all of this was going on, though: it's early days for the species, but we're still to score a Patchwork Challenge Marsh Warbler (as far as we know — there's a good chance that June will deliver one of course), and there was only one Bluethroat reported. The big east-coast influxes of this species are perhaps a thing of the past, which makes the fact that Mark likely walked within 30 yards of one on the morning of 10th all the more galling. He did manage to spend some quality time with it over my lunch break, which rather softened the blow of not scoring the finds bonus for this handsome little chap!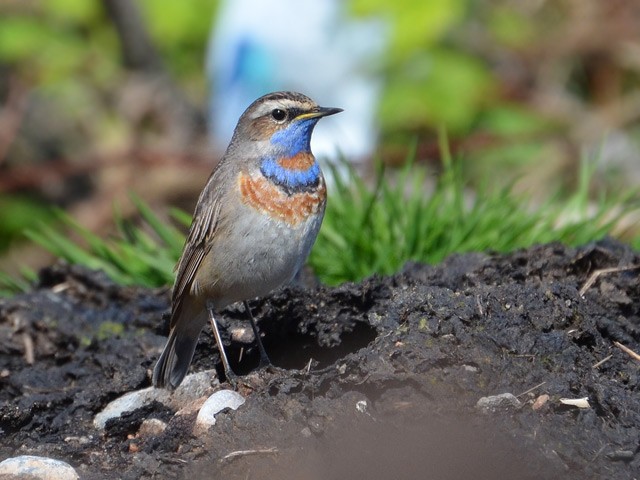 Male Red-spotted Bluethroat at Girdle Ness on May 10th — how could anyone not notice that?! (Photo: Mark Lewis).
All of that reads like a period of classic May birding, but there's nothing there to trouble a rarities committee or make its way onto the shortlist for the Meopta and Forest Optics best find shortlist. BB rarities turned up across the country, although perhaps surprisingly the south dominated the Northern Isles here. A Bonaparte's Gull at Dawlish (Devon) for Kev Rylands, a Spotted Sandpiper on the Camel Estuary (Cornwall) for Derek Julian and a popular Black-winged Stilt was enjoyed by many at Maldon (Essex). In reply, the Northern Isles offered a Thrush Nightingale in Shetland for Rob Fray. If the Patchwork Challenge offered a 'Patch of the Month' award (one for next year perhaps?), then Rob would have won this hands down! May saw him picking up, among others, Grey-headed Wagtail, Red-backed Shrike, Common Rosefinch and Buff-breasted Sandpiper in addition to his Sprosser.
It's likely that these species were recorded in May, but for the first time this year neither White-tailed Eagle or Green-winged Teal were mentioned among the highlights — perhaps a reflection of how good a month people had had. That leaves only two six-pointers that have been given an honourable mention every month — Crane and Great White Egret.
For every bonus-scoring bird, there's "patch gold" — those species that you wouldn't cross a road to see, but which on your patch take on a whole new value. Jane Turner, vis-migging at Red Rocks, had a Grey Partridge; this will surely prove one of the most bizarre records for Patchwork Challenge! A Coot was at Runham, Rathlin Island recorded its first-ever Black Redstart, and Gary Bell listed Goldfinch among highlights that included Long-tailed Skua, Red-backed Shrike, Red-breasted Flycatcher and Short-toed Lark up on Shetland. That said, few will match the disappointment that Gary must have encountered when he missed a patch Pacific Diver by ten minutes.
So before June is out, let's have a look at the May scores. Jonathan Gibbs has been there or thereabouts from the beginning of the competition, so it's not unusual to see him at the top of the top 20s for both points and species. You can't score points without species of course, but it's rather strange to see the top three identical in these two leagues — and it confirms East Anglia's dominance:
Content continues after advertisements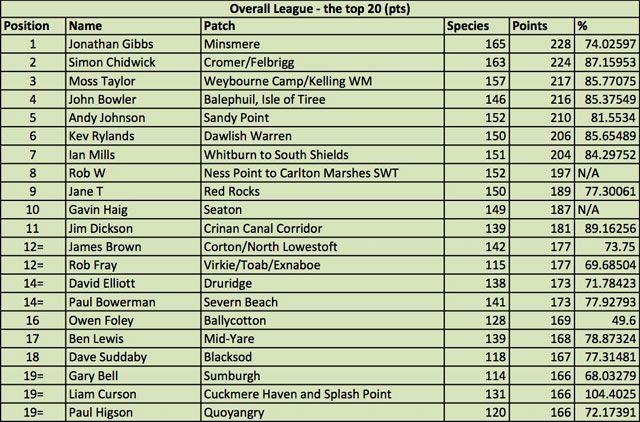 Above: top 20 by points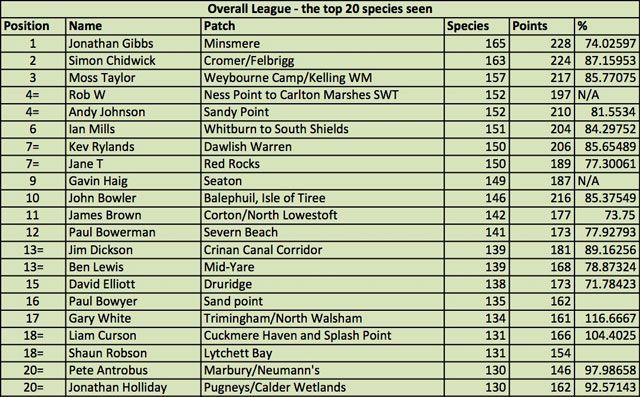 Above: top 20 by species
Things are not the same at the top of the comparative and non-comparative tables. There are no appreciable patterns here, other than that the non-comparative scores average a fair bit higher than the patching 'old heads'. It's not supposed to be like that!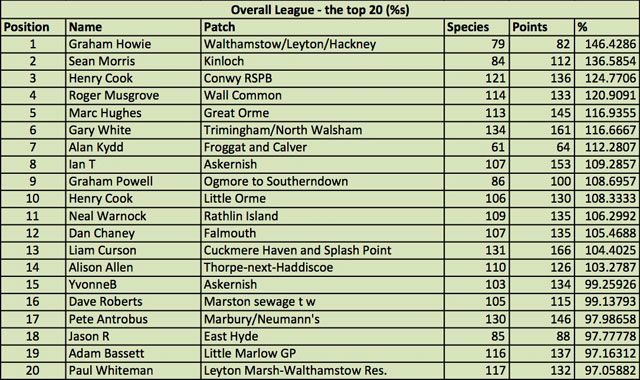 Above: top 20 by comparative scores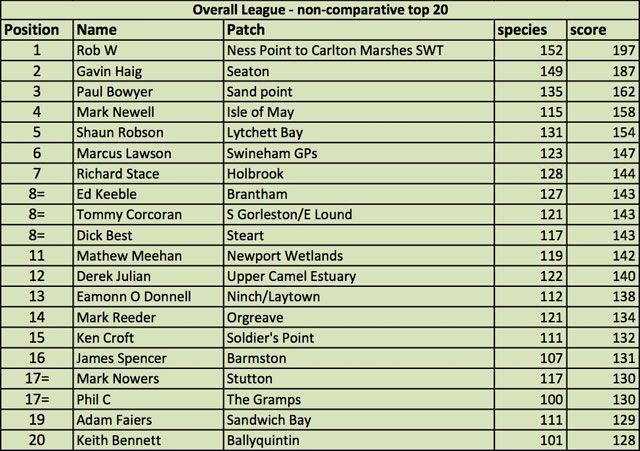 Above: top 20 by non-comparative scores
And, finally, perhaps the most telling of the lot — the points-per-bird table. Not a single inland patch among the top 20, and only seven English patches. No doubt Rob Fray's excellent May will make him difficult to shift from the top.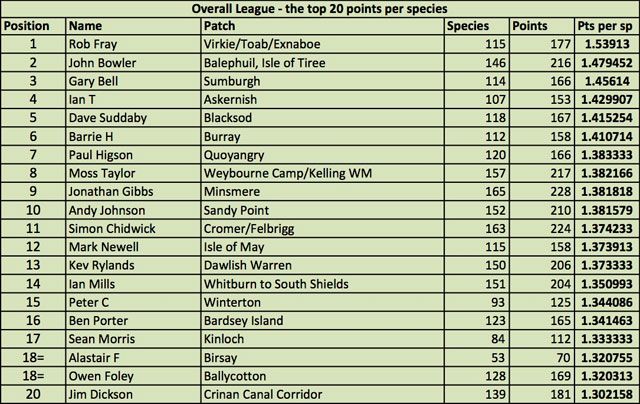 Above: top 20 by points-per-bird.
So, after such a productive month, the species total is at 262 — and, between us, we think that a total around 290 is likely. If the autumn turns out to be as productive as the spring, though, the big 300 could be on the cards!