Traditionally, as June progresses, we see the start of the brief, slow summer season. Most of the spring migrants have gone on their way, many breeding birds have fallen silent, and the 'autumn' birds haven't yet started to return in any numbers. A time when, as a birder, you turn your hand to dragonflies and butterflies, or the contents of the moth trap. However, there are no points for any other winged creatures, so how has the month gone for our intrepid Patchwork Challenge contestants?
Well, unfortunately, it's been pretty grim for quite a few of us, with over a dozen patchers reporting no new birds for June, and over 40 patchers leaving the highlights and best find columns in our scoresheet blank. Chin up, you lot!
There are always a lucky few, though. Joe Stockwell managed to get a 12-pointer with his Pallid Swift at Portland, while Dan Chaney's White-billed Diver off Falmouth must have been a pretty pleasant surprise. Citrine Wagtails at both ends of the country were enjoyed by Peter Stronach at Balnakeil and Ben Porter on Bardsey; Peter's bird was "a scorching breeding-plumage male" as he put it. Another species present in two places was Blyth's Reed Warbler: Steve Minton on Shetland had an individual in his garden for a couple of days while Ben Porter scored again on Bardsey, rounding off what has been an excellent spring for this species in the UK, and for the PWC, with six birds now recorded on PWC patches so far.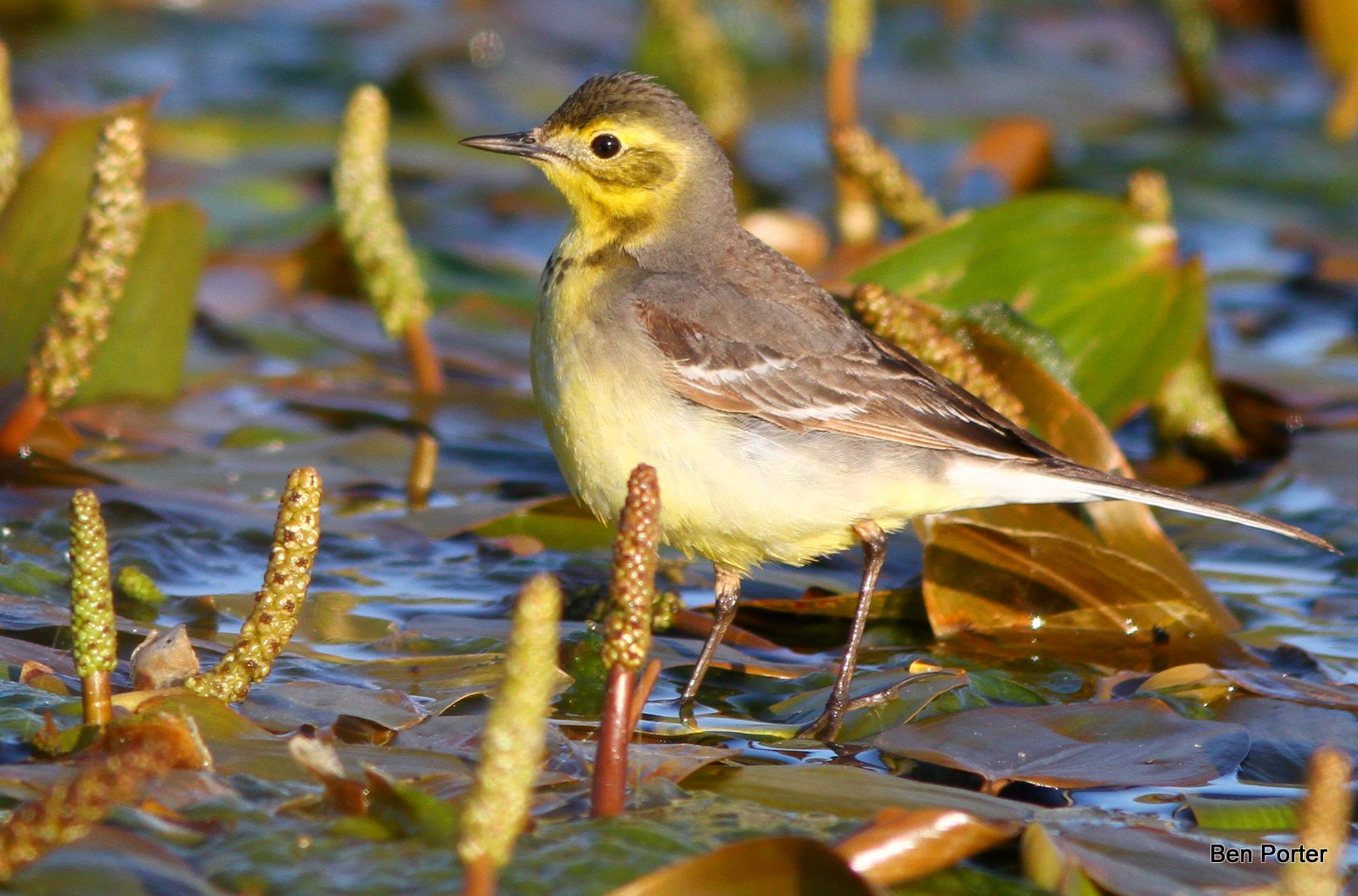 Citrine Wagtail, Bardsey Island, Gwynedd (Photo: Ben Porter)
Raritywise it's hard to top Joe's Pallid Swift, but Paul Bowyer deserves a special mention as he recorded a county first with his Greenish Warbler at Sand Point, Avon; well done that man! More detail on the best finds of the month can be found here, and a summary of the best finds of the year so far, including some that may go on to be contenders in the Bresser and Forest Optic best find competition can be found here.
The not-so-rare birds were also in there, with multiple sightings of Tawny Owl (3), Grasshopper Warbler (3), Little Ringed Plover (4), Red Kite (3) and Roseate Tern (2). Red Kite is one of the most popular species to be reported to us here at PWC, but the others are interesting — Perhaps the Little Ringed Plovers were failed breeders or dispersing juveniles? Perhaps the Grasshopper Warblers were going for second broods (or were possibly just late arrivals?), and maybe the Tawny Owls were noisy or dispersing juveniles. Whatever the reasons, it goes to show that, no matter how quiet it seems, there's always something to look out for.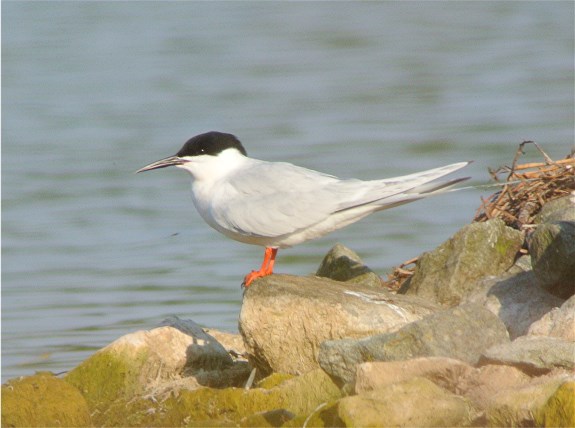 Roseate Tern, Belvide Reservoir (PERMIT ONLY), Staffordshire (Photo: Steve Nuttall)
Every patch is different, of course, which opens up the door for people to report birds that might seem commonplace to the rest of us. Barry Stewart showed more enthusiasm for a Kestrel in June than he did for his Franklin's Gull earlier in the year, while James Commons' first Coot on patch in five years is an excellent little nugget of patch gold.
Moving on to the league tables, and Tim Hodge maintains his place at the top; while he might not have scored as highly as some, his Purple Heron and Red-backed Shrike would have added to his score nicely. John Bowler is second, having caught Tim up by one point, ensuring he's still well placed to make an autumnal assault on the top spot. Tim Jones is in third, and there are two points (and about 1000 km!) between Peter Donnelly on North Ron and Joe Stockwell at Portland. Just 18 points separate the top 5 places — who is best set to find the biggie that could change everything?
The species table is interesting; Tim Hodge has extended his lead by a single point while Tim Jones and James Brown have swapped places immediately behind him. However thundering into the top ten in both 5th and 9th places thanks to his two-patch strategy comes Darren Starkey; it's nice to see St Aidan's doing so well for him.
The inland league has a new leader in the shape of the aforementioned Mr Starkey at Fairburn Ings this time giving him the honours, while his St Aidan's patch holds on to third spot. Wayne Gillatt must be wondering what he has to do to grab that top slot, having spent 2 months in second place. The inland league top spot is one of the most coveted, and it's notable that some of its more competitive entrants such as Pete Antrobus and Bill Aspin are not currently in the top 20. Plenty of points to acquire yet though!
Well done to Alison C for going from 18th in May to first place in June with her 127% total; there are now 7 patch-workers who have surpassed last year's totals. Michael O'Donnell also leapt up the ratings from 17th to 9th but couldn't quite break through the 100%.
Steve Stansfield on Bardsey had a great month, adding 25 points and climbing the points-per-bird league to second place. John Bowler's position at the top is unthreatened, although there is now only just over 0.1 between them. Also moving up the league is Ben Porter, also on Bardsey, whose 20 points were enough to earn him 4th place.
Zac Hinchcliffe stays at the top of both the Birdtrack Records league and the Birdtrack Lists league, there being no change in the top 3 with either league, which of course sees the previous leader Andy Bunting hold on to second place from Tim Hodge — who seems to be doing well in every league he's involved in!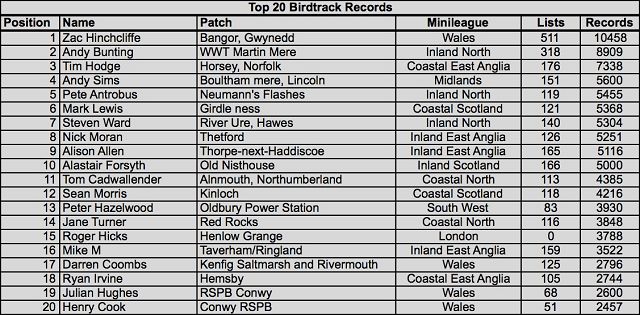 Heading up the green league is Ben Porter, but Steve Minton has moved up the table to take second place. PWC are not doing too well as Ryan has slipped from 3rd to 5th, although Mark holding onto 4th place is to be welcomed.
Last but not least we come to the Next Generation Birders, where there has been a little shuffle around. Joe Stockwell and Tim Jones have swapped places at the top of the table. This has all the makings of a great contest as there are only 7 points separating them: one really good bird and it could be all change. Further down the table Ash Baines has leapfrogged James and Francis to claim eighth place, but there are only 3 points between Ash and Francis so again plenty of room for change here.
There is more to play for for the NGBers than just top spot, though, as Steve Stansfield at Bardsey Bird Observatory has offered a stunning prize of one week on Bardsey, staying at the Obs, for the NGB's 'most valuable player'. Of course, species, points and finds come into this — but will Zac Hinchcliffe's massive BirdTrack effort clinch him this title? Position in the green league will also be considered. I'm not sure how Ben Porter would feel about winning this busman's holiday!
So, that was June. Now, summer is officially over and autumn is here. Patch hard, and good luck!