After a couple of months of Patchwork Challenge hype and posting graphs on our blog, January 1st eventually rolled around and the competition could start off in earnest! The time for talking was over — it was now time to get out into the field.
From the 1st onward, birders hit their 3km² patches hard and entered their lists onto our scoring spreadsheet. This assigns a score per bird (defined using the BirdGuides rarity categories), with bonuses for good finds, and calculates a total points scored. These are the scores by which the patches will be judged. With people entering their scores using the form on the blog, it was easy to keep up with patchers' progress through the month. At the end of the month the scores were collated into several league tables, showing the highest-scoring competitors with comparative scores, non-comparative scores, and also, to encourage a more local level of competition, regional mini-leagues. We will report on the progress of the mini-leagues on the blog, but for a great example of what's going on at a regional level, take a look at the blog set up by the Irish contingent.
Those all-important scores are:
Overall League — the top 10 by %
| Position | Name | Patch | Points | % |
| --- | --- | --- | --- | --- |
| 1 | Graham Howie | Walthamstow/Leyton/Hackney | 50 | 89.28571 |
| 2 | Dan Chaney | Falmouth | 98 | 76.5625 |
| 3 | Jason R | East Hyde | 68 | 75.55556 |
| 4 | Alison Allen | Thorpe-next-Haddiscoe | 91 | 74.59016 |
| 5 | Alan Kydd | Froggat and Calver | 41 | 71.92982 |
| 6 | Roger Musgrove | Wall Common | 79 | 71.81818 |
| 7 | Sean Morris | Kinloch | 58 | 70.73171 |
| 8 | Chris Pendlebury | Dunblane area | 76 | 69.72477 |
| 9 | Alastair Irvine | Whiteford | 62 | 68.88889 |
| 10 | Gary White | Trimingham/North Walsham | 94 | 68.11594 |
Overall League — the top 10 (pts)
| Position | Name | Patch | Species | Points |
| --- | --- | --- | --- | --- |
| 1 | Jonathan Gibbs | Minsmere | 108 | 131 |
| 2= | Simon C | Cromer/Felbrigg | 110 | 128 |
| 2= | Kev Rylands | Dawlish Warren | 102 | 128 |
| 4 | Rob W | Ness Point to Carlton Marshes SWT | 103 | 123 |
| 5 | Marcus L | Swineham GPs | 102 | 119 |
| 6 | Owen Foley | Ballycotton | 92 | 117 |
| 7 | Richard Stace | Holbrook | 103 | 115 |
| 8 | David Elliott | Druridge | 98 | 113 |
| 9 | Dave Suddaby | Blacksod | 86 | 111 |
| 10 | Gavin Haig | Seaton | 92 | 108 |
It's very early in the competition so far, but at the moment hearty congratulations are due to Graham Howie and Jonathon Gibbs and to everyone else who has made it onto the leader boards. And to see them broken down at mini-league level, see here.
With 230 birders looking at 234 patches the length and breadth of Britain and Ireland, there were bound to be lots of birds seen, with the odd pleasant surprise thrown in as well. Iceland Gulls, Caspian Gulls and Little Auks, among others, added a touch of spice to many people's lists. 'Three-pointers' (i.e. birds that are rated as 'scarce' by BirdGuides) appeared from day one, with a Serin putting in an appearance at Dawlish Warren, and through the month, multiple Green-winged Teal appeared in Ireland, and Ring-billed Gull, Great White Egret, Common Crane and White-tailed Eagle were discovered by lucky patchers. All of these birds were 'finds' and, as such, score double points, landing the finders with a hefty 6-point boost to their score.
Naturally, 'four-pointers' (birds classed as 'rare' by BirdGuides) were much more difficult to come by. A Bonaparte's Gull scored four points on the Ogmore estuary in Glamorgan, frustratingly found by another observer, and depriving Graham Powell of what would likely have been a very handy 8-point bonus! Luck was with the north, though, with a White-billed Diver scoring 12 points for Paul Higson's Quoyangry patch in Orkney (and another scoring 4 points off the Isle of May).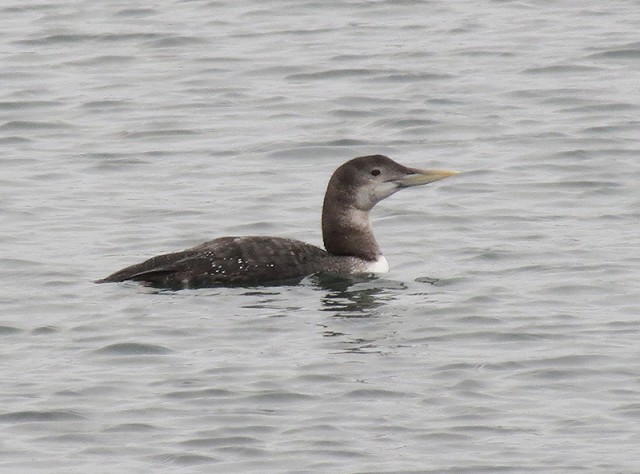 White-billed Diver (Paul Higson).
Undoubtedly, though, the bird of the month was in the far northwest. Imagine Yvonne Benting's delight when her other half Ian rushed her out of the loo with a message about a white-phase Gyr Falcon perching on a nearby roof! An incredible bird for any patch list and a highlight that will be tough to beat. Unfortunately for Yvonne, she and Ian are working the same patch independently and only Ian can claim the find bonus for this cracking bird. Let's hope it's not the beginning of the first Patchwork Challenge break-up!

Gyr Falcon (Yvonne Benting).
It's going to be a tough find to beat, but there are now two great incentives to try. We are delighted to be able to announce a new element to the Patchwork Challenge: 'The Meopta & Forest Optics Best Patch Find'. To inspire you, Meopta & Forest Optics have offered a winner's prize of a pair of Meopta Meostar B1 10x42 HD binoculars (RRP £799). The winner will be voted for by Patch Challenge contestants at the end of the year from a list selected by ourselves and a representative of Meopta & Forest Optics.
In addition, Meopta & Forest Optics have agreed to donate £1 for every species seen during the Patchwork Challenge to a charity of our choice; we've selected the BTO's Out of Africa appeal, specifically to sponsor the tracking of Cuckoos. With over 300 species of birds a likely target, that would amount to a very handy £300+ going to this worthwhile and fascinating project! Even more reason to get out onto that patch! And of course, remember to keep entering your sightings into BirdTrack.
Ryan has undertaken the massive job of keeping tabs on the total number of species recorded over the course of the year, and so far, to the end of January, a total of 187 species have been recorded! This was a few more than I anticipated so perhaps the target of 300 species is within reach; I guess we'll have a better idea by the end of October! As it stands, though, that's £187 raised for a good cause.
That sums up January. So far, February has been quiet — but you never know which day is going to be your lucky day, so get out there, and get those points on the board. You can input scores for February (i.e. a total number of points scored so far this year) using the 'February scores' form on the blog, which will be available until the end of the first week in March.
Good Patching!