Following a spell of post-graduate study at the University of Aberdeen, I moved to Ullapool in January 1997. From a birding perspective I had little prior experience of the terrain, weather and remoteness of the north-west Highlands. It was all very new and exciting – if somewhat challenging.
My new life was initially hectic, with work taking up most of my time, and there was little opportunity for dedicated birding. Although busy, as a compulsive, life-long birder, I couldn't help myself from noticing a few feathered delights over the first couple of weeks in the village. A stunning Black Guillemot on the sea loch, an Iceland Gull in the harbour and three Snow Buntings on the shingle shore were a good start considering I was not actively birding.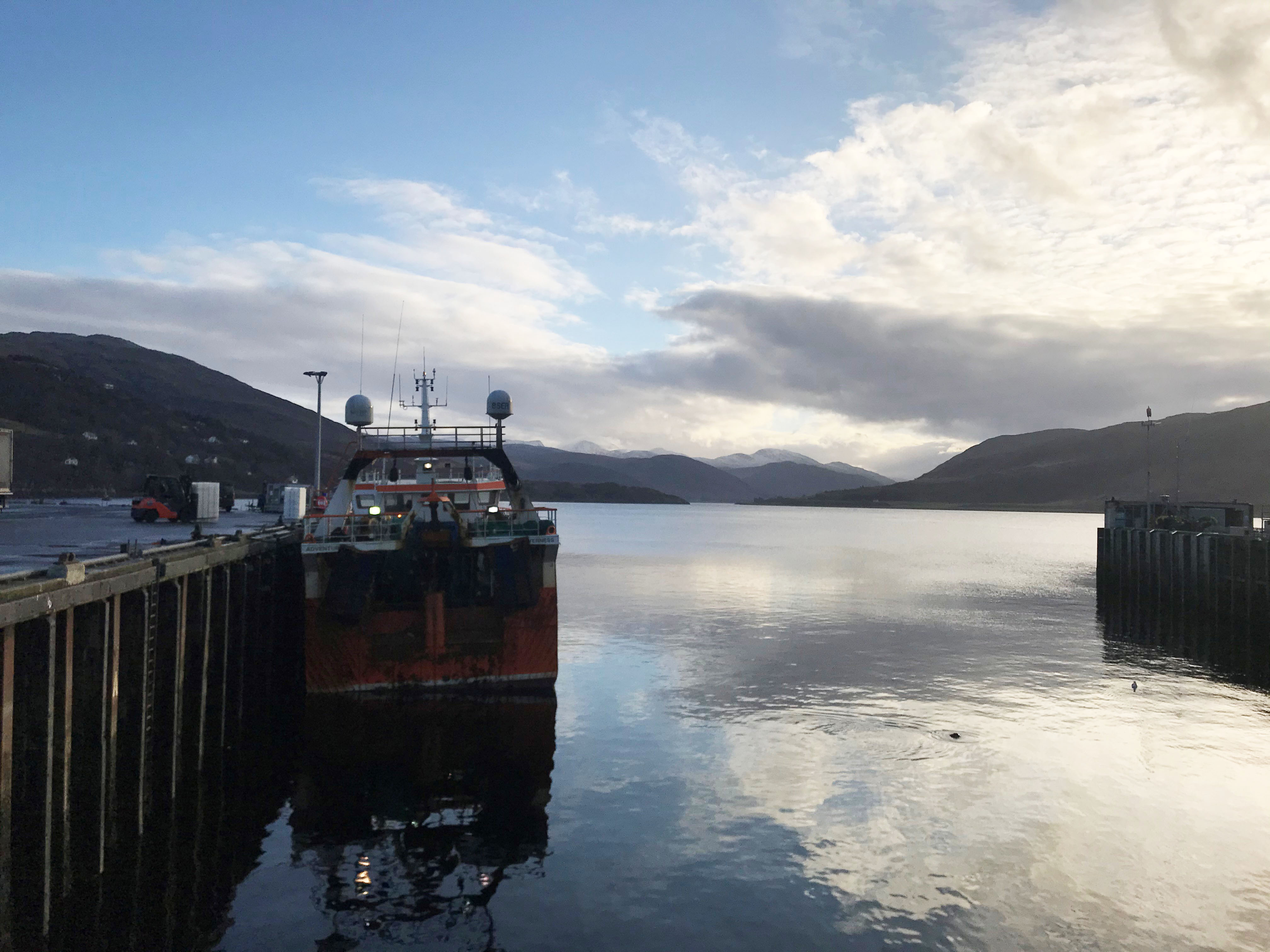 Ullapool Harbour and Loch Broom are good in the winter, when gulls sometimes include white-wingers (Andy Williams).
Over the following months I began wondering about the potential of my new location and started to consider my options for choosing a workable patch. Having previously birded patches in Somerset, Devon and west Cornwall, I was used to working fairly busy areas that were often shared with other birders. For me, the most exciting aspect of birding is finding my own birds and now that I was in a new location, I was determined to choose a patch that was not over-watched.
This turned out to be far easier than I had anticipated, as there were no other active resident birders in the Ullapool area – at least I had not met or seen anyone in the field with a pair of binoculars! In those early days I didn't have a car and public transport in the Highlands was (and still is) practically non-existent, with no regular buses except those that serve as connections to the ferry link for the Outer Hebrides.
In the winter, on the days with no ferry, there were no buses. This obviously limited my potential for exploring the area and I walked everywhere. There was a lot of new habitat to cover and as the months headed into summer and the daylight hours lengthened, I spent evenings and days off doing more and more birding. Eventually I moved to permanent accommodation on the north side of the village – just a 20-minute stroll from the harbour.
From this starting point it was easy to cover a range of habitats and I eventually settled into a routine. I had several options, but eventually worked out a route that covered as much of the varied habitat as possible and also gave me options to avoid the very busy areas during the tourist season. Depending on which route I follow, I can cover the patch in approximately two hours. I vary my precise coverage, subject to the season and my anticipated target species.
The first section is two minutes from my front door and comprises a network of woodland trails that follow the Ullapool River through a small, relatively sheltered and lightly wooded glen. Although there are residential properties on either side, this area can feel wonderfully isolated – especially when there is good leaf cover obscuring the houses from view.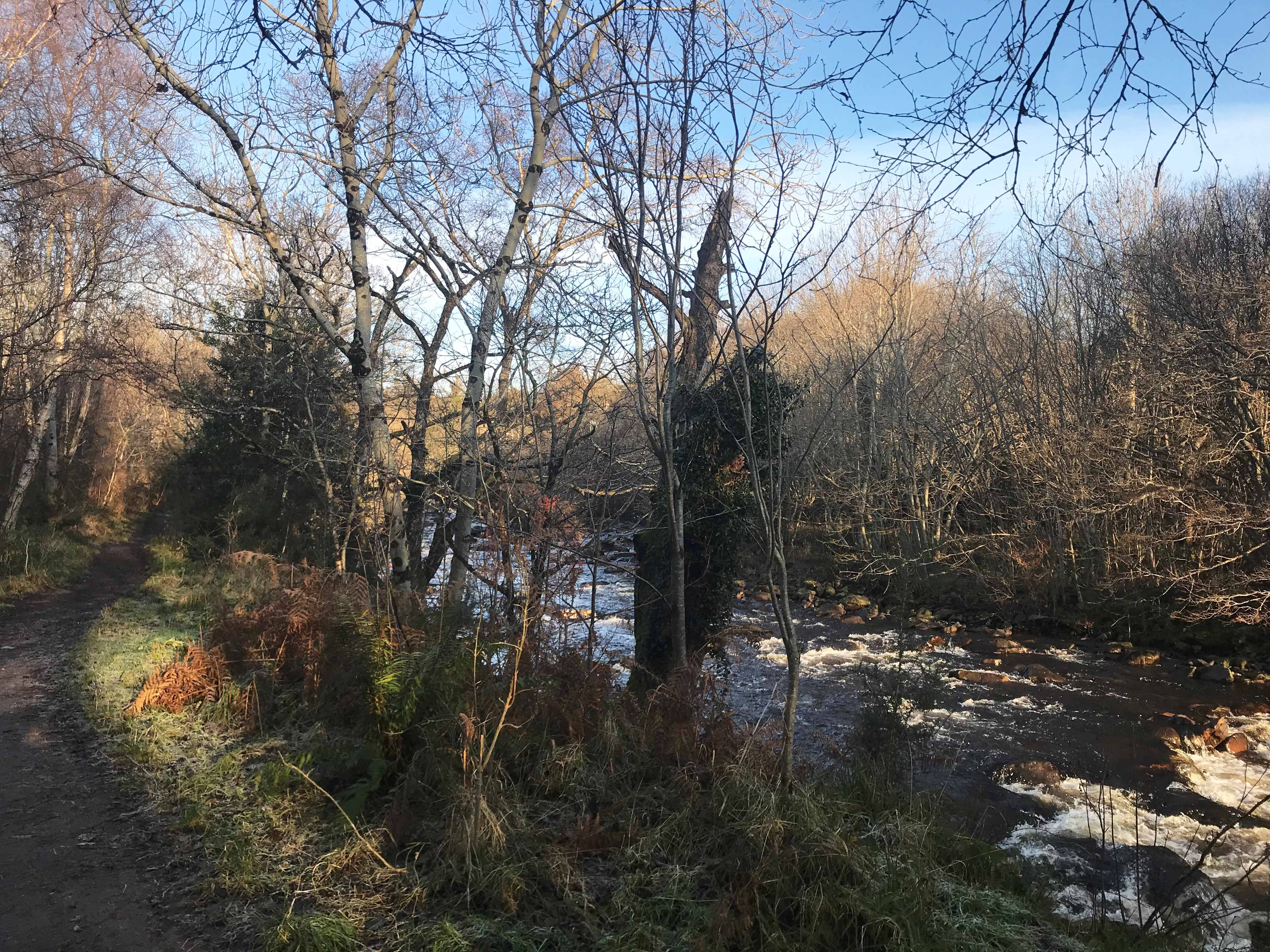 The woodland habitat by Ullapool River holds common warblers in spring and summer, with Dipper sometimes seen (Andy Williams).
This area holds common woodland birds year round and in spring, migrants include Willow Warbler, Common Chiffchaff and Blackcap. The more interesting residents include Great Spotted Woodpecker and Eurasian Treecreeper, although these only occur in low densities. To give a sense of context, a Wood Warbler would be a very good find. If I am lucky, I encounter the occasional Dipper or Grey Wagtail on the river.
My next patch section involves a stroll through the village, where I check gardens and small stands of trees and shrubs. In winter, there is usually a good crop of rowan berries and fallen fruit, so winter thrushes have to be scoured carefully just in case! There is often a heavy passage of Redwings and Fieldfares in the autumn, but these drift further south as the berry crops are depleted and by midwinter both species are usually absent.
During good influx years, Waxwings may reside for some time around the village and are often a highlight on a dull winter's day. During a particularly good year for the species I photographed a flock of some 600 birds – they were often seen bathing and drinking and were very approachable – a wonderful visual feast that was augmented by a cacophony of trilling calls. In summer, small numbers of House Martins breed at a few restricted locations around the village and there is an impressive rookery. Sadly, breeding Swifts are absent this far into the north-west with only occasional, less than annual, autumn migrants being recorded.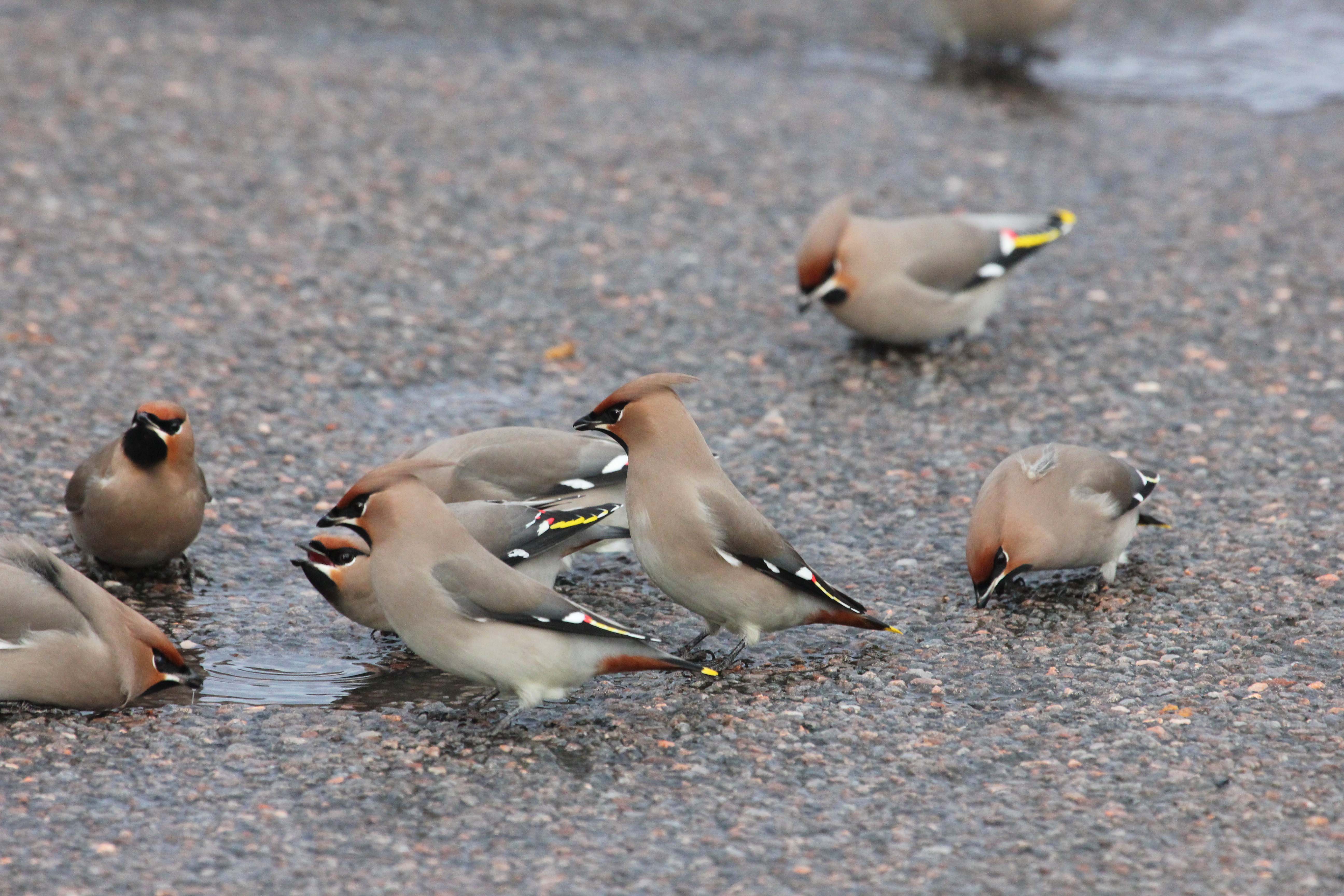 Andy once had an incredible flock of some 600 Waxwings, with the group proving especially tame (Andy Williams).
On reaching the shores of Loch Broom, I routinely check the harbour and sea loch. Gull numbers build from October and there is often an Iceland or Glaucous Gull that winters with the resident European Herring and Great Black-backed Gulls. I have yet to find either a Little or Mediterranean Gull – both are extremely scarce on the north-west coast.
The sea loch holds small numbers of Guillemot, Razorbill, Common Eider and, rarely, Common Scoter. The less than annual Little Auk is always welcome. The shingle and foreshore may host the occasional Snow Bunting and small flocks of Twite – especially in hard weather. Loch Broom, with its south-east to north-west orientation, acts as a natural flyway for migrating Pink-footed Geese in the spring and autumn.
Content continues after advertisements
From the west point, I work my way back to the north-west along the coast path and adjacent to a campsite, and then through scrubby habitat towards the river mouth. Small numbers of Ringed Plover and Eurasian Oystercatcher are routinely encountered, with the odd Eurasian Curlew, Common Redshank, Dunlin and occasional Sanderling occurring in the winter. A Northern Lapwing, Purple Sandpiper, Red Knot or Bar-tailed Godwit would be notable. Regular coastal passerines include European Stonechat, Eurasian Skylark, Rock Pipit and Reed Bunting. In some years, there maybe a couple of pairs of breeding Common Whitethroats in the scrub, but this is another scarce species on the patch.
There is a small estuary at the river mouth that often holds gull flocks. Birds from the harbour often use this area to bathe, and flocks of the larger species are usually augmented with small numbers of Black-headed and Common Gulls. Some Eurasian Teal and Eurasian Wigeon winter, as do a few pairs of Goosander and Red-breasted Merganser. A winter Peregrine Falcon is an occasional highlight and a small passage flock of Pale-bellied Brent Geese would be a local delight.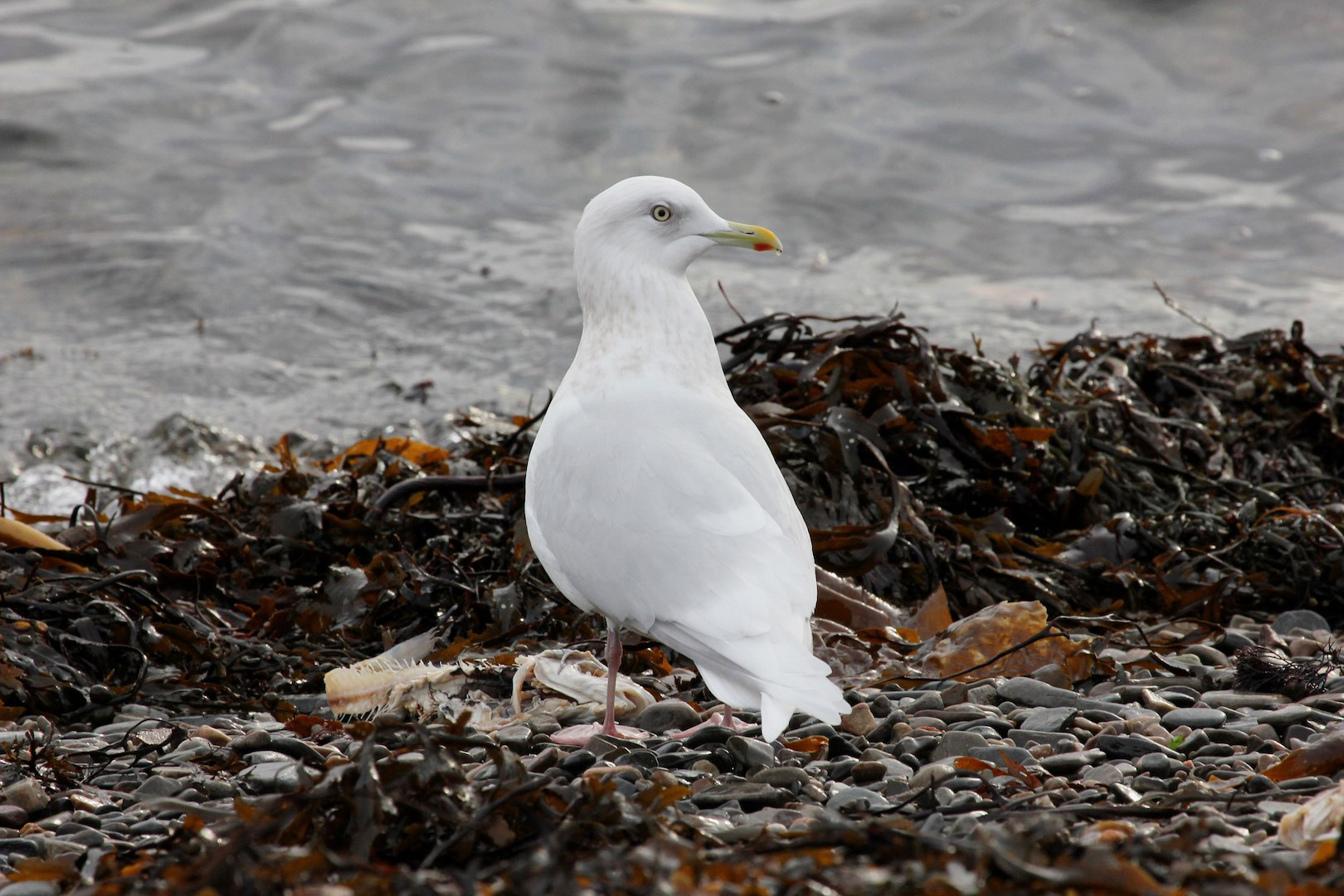 Both Iceland (pictured) and Glaucous Gulls can be found in the harbour (Andy Williams).
North of the river, I tend to continue along the coast path and around the golf course. This is best in spring, when the first arrival of Northern Wheatears, Meadow Pipits and White Wagtails takes place. Common Linnets and Sedge Warblers breed in small numbers, as do common waders such as Eurasian Oystercatcher and Ringed Plover. Sadly, the historical breeding population of Northern Lapwing is now gone. Although the habitat looks suitable, I have only ever recorded one Whinchat and one Yellowhammer in 20 years of watching this section of the patch. My long-anticipated passage Wryneck has yet to give itself up.
My patch is challenging, in that it is not a notable migration hot-spot and as such it does not often produce scarce migrants, with the bulk of the more interesting, scarcer species, moving along the east coast of mainland Scotland or through the Outer Hebrides. The area can have an aura of predictability and I often cover it with a feeling of resignation – a feeling undoubtedly shared by many patchwatchers!
Plenty of species that I took for granted 'down south' are absent or, at the very least, occur at low densities, as they are at the north-western limit of their distributions. Birds like Common Redstart, Common Whitethroat and Spotted Flycatcher only occur in very small numbers. Eurasian Magpie, Eurasian Jay, Stock Doves, Tree Sparrow and Eurasian Nuthatch are absent. There is a lack of standing freshwater nearby and so I rarely get to see significant flocks of wildfowl and there is no suitable habitat to hold big flocks of feeding waders. Mute Swan, Eurasian Coot and Common Moorhen are other common species that do not occur.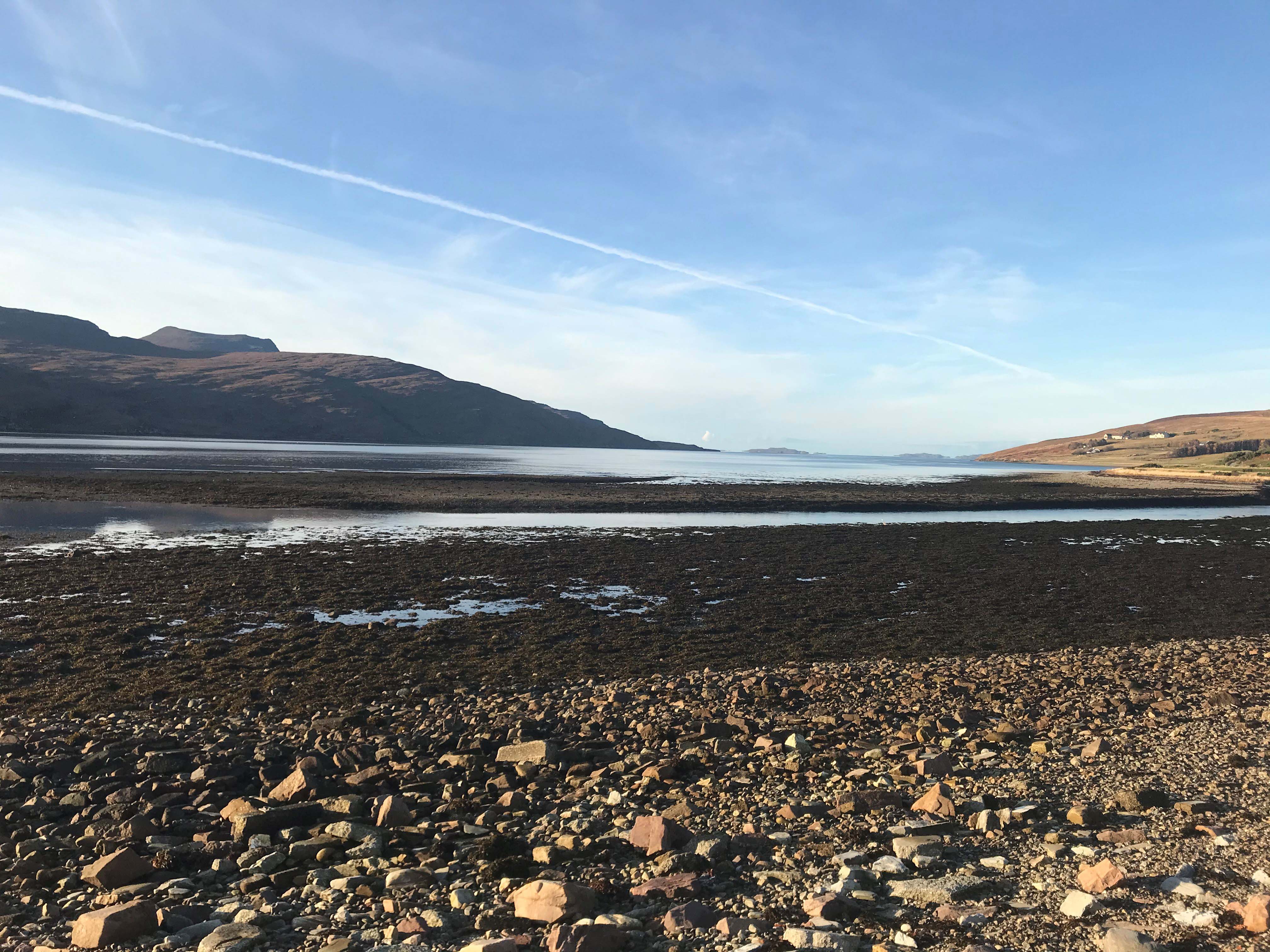 The Ullapool River mouth and estuary can be good for waders, with Ringed Plover and Eurasian Oystercatcher commonly encountered (Andy Williams).
On the upside, I regularly see all three species of diver. During the winter, these can be seen on the sea loch and in late spring and summer, Black-throated and Red-throated Divers fly over my patch as they transit to their breeding sites, away in the surrounding hills. Additionally, both species of eagle – Golden and White-tailed Eagle – pass over the village on a regular basis and I have seen them from my kitchen window.
My personal patch highlights, in more than 20 years of scrutiny, include self-found individuals of Grey Phalarope, Hawfinch and Lapland Bunting, two Firecrests and a handful of Yellow-browed Warblers. Other notable finds include Lesser Whitethroat and Siberian Chiffchaff. None of these species are particularly rare in a national context, but from the perspective of dedicated patchwatching they have been extremely satisfying and made the effort worthwhile. I cover my patch in hope!
Visiting birders to the area have found Little Egret and Ring-billed Gull, although my biggest patch miss was a splendid Ivory Gull that turned up during one of my extended overseas working trips. Many visiting birders and lots of village residents saw this long-staying bird, and I still occasionally get asked if I have seen one in Scotland yet. I smile politely and reply through slightly gritted teeth: "No, not yet."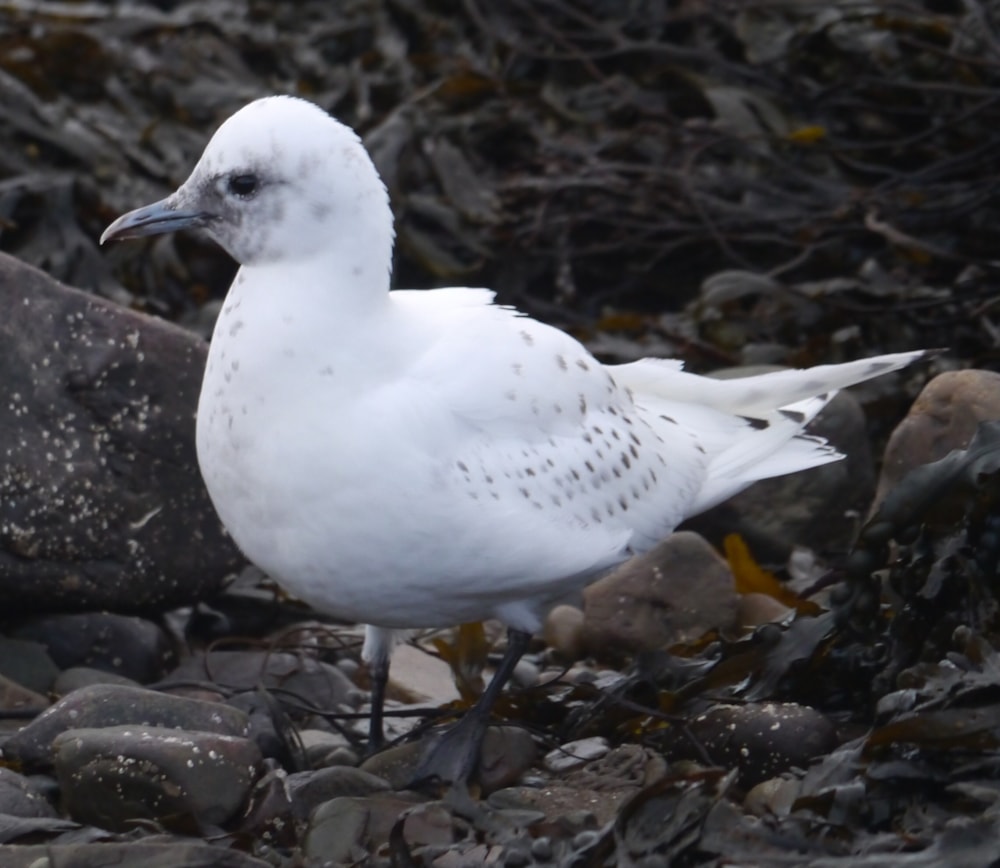 Andy remains gripped by this juvenile Ivory Gull, which turned up in the harbour when he was away in mid-January 2015 (Peter Stronach).
As all patchwatchers will appreciate, seeing the same species day in, day out can start to feel tedious. But I always try to check it with a sense of anticipation. My current patch list stands at 144 species, but I hope to add to that over the coming years – a passage Reed Warbler or Pied Flycatcher would be wonderful, but if I am really honest, the outside chance of finding a Ross's Gull is what keeps me going through the long, dark winters.
Whether you love or loathe it, patchwatching is an important aspect of birding for many and I for one have become thoroughly addicted to keeping an eye on my patch.