Having left school in 2013 and taken up a full-time job in a local supermarket, I found myself utterly disenchanted with my lot in life – it was time for a change. A quick search on Twitter found that North Ronaldsay Bird Observatory was looking for volunteers for the following spring. The rest is history!
In truth, before I'd seen the tweet asking for volunteers, I honestly couldn't have told you where North Ronaldsay was. I arrived on the island the following April. Now, some six years on, I'm proud to say I'm the warden of North Ronaldsay Bird Observatory.

Sunset over North Ronaldsay, with the bird observatory in the right of the picture (George Gay).
North Ronaldsay sits at the northernmost part of the Orkney archipelago, with Fair Isle some 45 km to the north-east and Foula viewable on cool and clear days a further 80 km to the north. As a result, it's ideally situated to hoover up migrants that miss Shetland – and some that have reached us have been immense.
Unlike Fair Isle, North Ronaldsay boasts a wider a variety of habitats, from the windswept sycamores in the famous Holland House gardens, to large and unforgiving iris beds that surround most of the island's six lochs. This makes the birding challenging but highly rewarding at the same time.
The island sits at a very low 16 m above sea level at his highest point. This often means we're somewhat dependant on weather to drop migrants in, lacking obvious height. It also allows the prevailing wind to whip across the island during the long and dark winter nights.

This aerial shot shows the extensive gardens of Holland House (Rob Burke / geograph.org.uk).
Winter
Birding in the colder months can often be a challenge with the aforementioned winds, short daylight hours and plenty of rain. Despite this it's one of my favourite times of the year, filled with wintering wildfowl on the lochs and sea and large gull flocks feeding in the waves, kicked up by winter storms which can be beyond wild.
Good numbers of Long-tailed Duck, Red-throated and Great Northern Divers and Red-breasted Merganser can be seen in various bays around the island. On the lochs, Eurasian Wigeon, Eurasian Teal, Northern Pintail, Tufted Duck, Northern Shoveler and Common Goldeneye are present. These are occasionally joined by rarer wildfowl; in recent years Smew, Common Pochard and Green-winged Teal have all graced the waters around the island. The fields will often fill with large Greylag Goose flocks that can sometimes hold the odd Pink-footed, Barnacle or Russian White-fronted Goose.
Gull numbers begin to increase in the latter part of the autumn, eventually building into large flocks often seen feeding or sheltering from the wind. These mainly consist of Great Black-backed, European Herring and Common Gulls. Of course, though, more often than not there's a Glaucous or Iceland Gull in the mix and in more recent years we've seen Kumlien's Gull, too. There's always potential for a rarer species as well.

Common Goldeneye is a regular among the wintering wildfowl (George Gay).

Green-winged Teal is rare, but this drake spent last winter on Gretchen Loch (Dante Shepherd).
On the land we're left with wintering flocks Twite, Meadow Pipit, Eurasian Skylark and Snow Bunting, with scarcer wintering migrants often include European Robin, Black Redstart and, very occasionally, Dunnock. Of course, rare migrants are at a premium, but a Short-billed Dowitcher in the winter of 2013 and a flock of seven Common Cranes in January 2018 mean that relaxing is never an option.
Spring
Spring is one of the most exciting times of the year anywhere and North Ron is no exception. Things start a little later and more slowly up here but it's often worth the wait. Early migrants commence with European Robins, Dunnocks, Chaffinches and Redwing, with the occasional Woodpigeon or Collared Dove for good measure. Early spring goodies are limited but can include the odd stray White-tailed Eagle and – even more occasionally – Northern Goshawk.
As spring continues the quality of the migrants improves. Towards the end of April we begin to see the birds that any location in Britain would associate with spring: Northern Wheatear, Ring Ouzel, Sand Martin, Swallow, Willow Warbler and Lesser Whitethroat being examples. The end of April has been known to turn up transatlantic megas and, in recent years, appearances of the first Red-winged Blackbird for the Western Palearctic and a Mourning Dove (in 2019) have been superb additions to the island list.

The Western Palearctic's first Red-winged Blackbird from 2017 is one of North Ronaldsay's most famous spring records (Vincent Legrand).
Easterlies in May often produce Pied Flycatcher, Wood and Grasshopper Warblers, Tree Pipit and Long-eared Owl. Garganey will often arrive at a similar time to Eurasian Dotterel. May is always a good time to look for White-billed Diver off the north end of the island; at the same time, Puffins begin to pass by on their way to breeding grounds.

Garganey can be expected in May, with pairs sometimes lingering throughout the summer (George Gay).
Waders on the move this time year tend to include Curlew Sandpiper, Little Stint, Green, Common and Wood Sandpipers, along with Greenshank and Grey Plover. Scarcer migrants also arrive: Bluethroat, Common Rosefinch, Icterine Warbler, Red-backed Shrike and occasionally Subalpine Warbler make the billing. Rarer spring migrants in recent years have consisted of Veery, Green Warbler, Rustic Bunting, Savi's Warbler, Collared Flycatcher and Red-flanked Bluetail.

Red-spotted Bluethroat is an anticipated spring migrant. This male was present in May this year (George Gay).
Away from the migrants, it's also time for the breeding birds to begin setting up their territories. Black Guillemots spend their time doing funny little dances, while Eurasian Skylark and Meadow Pipits can be seen song flighting over the silage fields that are used by the Northern Lapwings, Eurasian Oystercatchers and Northern Eiders as breeding grounds.
Content continues after advertisements
Summer
As spring moves into the summer period, migration slows to a halt and attentions turn to breeding birds. By early July, various areas are taken up by colonies of Arctic Tern. These long-distance migrants have a few favoured spots and although the birds look good from a distance it's best to not get too close! Other parts of the shoreline are filled with Tysties (Black Guillemots), bringing fish back to hungry chicks. Arctic Skua is another breeding bird although in very small numbers in secluded corners. While Fair Isle is famous for its Great Skuas, we can only boast two pairs as of 2020, although with more birds hanging around we are hopeful that more will take up residence.
In summer, the iris beds play host to an array of breeding birds: Black-headed Gull and Greylag Goose take up the main spots, but are interspersed with Mallard, Eurasian Teal, Northern Shoveler, Gadwall, Tufted Duck, Mute Swan and occasionally Garganey. Reed Buntings and Sedge Warblers also use the reedier parts of the lochs to set up their summer residencies. In recent years we've seen the return of Corncrake, with breeding confirmed in 2019, but we've had males holding territory in small numbers since 2016. Common Quail bred in 2019 for the first time.

Long-tailed Skuas were a surprise summer visitor to the island this year (Dante Shepherd).
We do happen across occasional midsummer migrants. For instance, this year [2020] we were treated 14 Long-tailed Skuas, an adult Little Gull, a Great Egret and a displaying Pectoral Sandpiper. Previous years have served up such goodies as Pacific Golden Plover – indeed, North Ron is the premier site in the UK for this species with 11 records.
Observatory duties often mean ringing a lot of the chicks raised on the island and nighttime (if you can call it night) ringing of European Storm Petrels is always an enthralling activity for observatory staff and guests. On top of the usual Euro Stormies, we occasionally catch Leach's Storm Petrel – and we're always praying for something without a white rump!
The back end of the summer sees the gears of migration begin to start turning again, with the first arrivals often being Willow Warbler and Crossbill. This has to be juggled with other tasks, such as the ringing of around 200 Northern Fulmar chicks that are dotted around the island. The cute fluffballs that appear in late June become smaller versions of their parents and offer the same fishy surprises when you get too close!

Crossbill is among the first species to hint at autumn's arrival (Dante Shepherd).
Autumn
Autumn is the main event for us. Migration at this time of year in the Northern Isles is famous for the mega birds it can produce, and this has certainly been the case on North Ron. The early part is often a waiting game, hoping for that first little spell of easterlies to get the ball rolling. When they do inevitably arrive their contents are enough to whet the appetite: Willow Warbler, Eurasian Blackcap, Garden Warbler and Lesser and Common Whitethroat are more often than not accompanied by Barred and Icterine Warblers and Red-backed Shrike. And, if you strike gold (as we have this year), birds like Subalpine and Greenish Warblers and – as far as 2020 goes – Turkestan Shrike can appear.

This Turkestan Shrike was a mega early autumn find on North Ron this year (Dante Shepherd).
The early part of September can be a great time for seawatching. Sooty and Manx Shearwaters can be seen passing in good numbers throughout the autumn months and it also seems that Cory's and Great Shearwaters are near enough annual in our waters. So too, seemingly, is Fea's-type Petrel, with nearly 10 records in the last five years, making North Ronaldsay one of Scotland's premier seawatching locations.
As autumn winds on you begin to expect other bits and bobs and, from September onwards, the real fun begins. In westerlies you have to hold out hope for Buff-breasted, White-rumped or Baird's Sandpipers, along with that very slight possibility of an early transatlantic vagrant. With easterly winds the likelihood of Yellow-browed and Arctic Warblers, Red-breasted Flycatcher and Ortolan Bunting begin making their way to the front of your mind.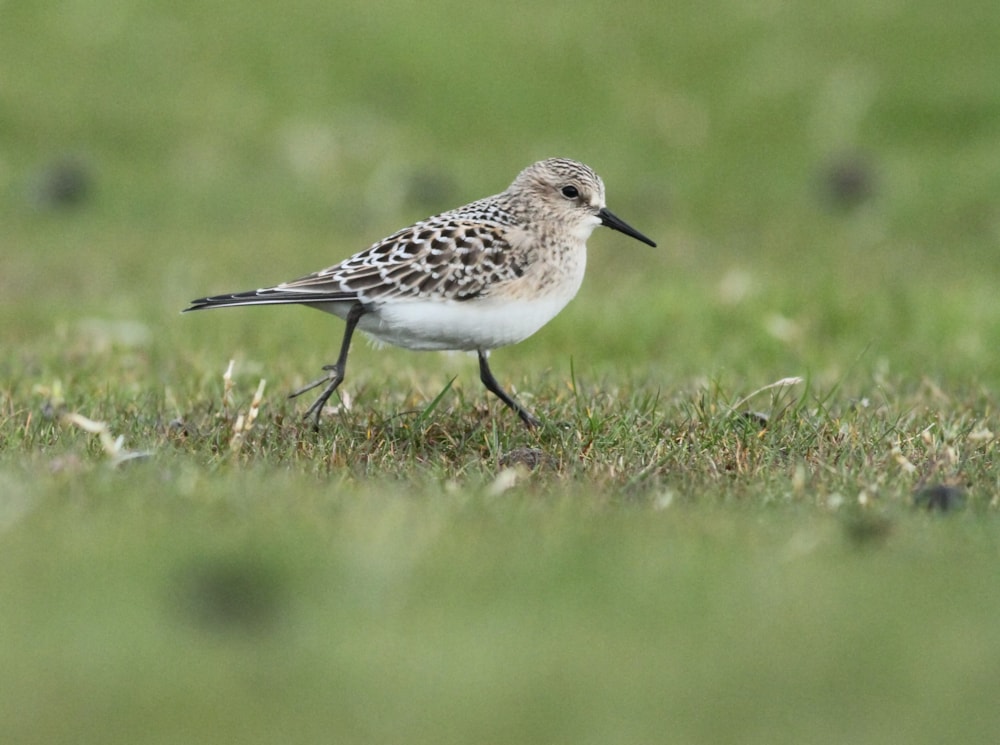 Nearctic waders, such as Baird's Sandpiper, come into play from September (Dante Shepherd).
Time seems to slide by quickly at this time of year and I'm often left wondering how it's gottten to the end of September already. From this period on, things only tend to get rarer as the commoner migrants dry out and you get into the realms of Olive-backed Pipit, Little and Rustic Buntings, Blyth's Reed Warbler and Siberian Stonechat. In an October with the right winds, the birding can be fantastic and recent years have produced some outrageous birds. The common migrants in this part of the autumn tend to be species like Redwing, Song Thrush, Fieldfare, Brambling, Chaffinch and Eurasian Woodcock, with dribbles of previously mentioned passerines.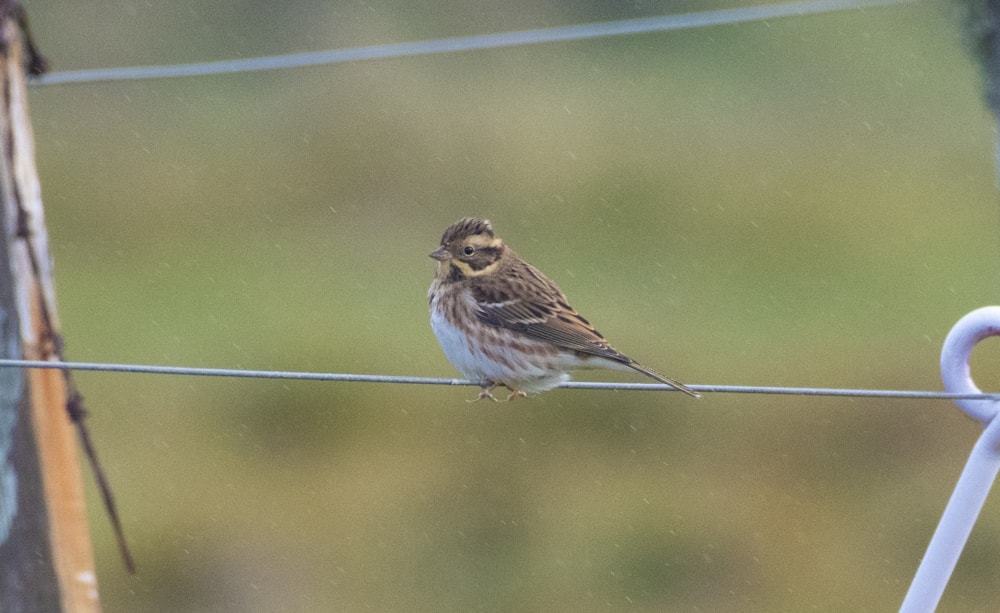 Rustic Bunting has good autumn form on North Ronaldsay. This bird arrived at the end of September 2019 during drizzly easterlies (Ed Stubbs).
The rarer birds tend to be exactly that, but this period has nonetheless been rewarded with such finds as Hornemann's Arctic Redpoll, Dusky Warbler, Pechora Pipit, Black-eared Wheatear and the famous Siberian Blue Robin from 2017. The middle and latter half of October, in the correct weather, can be filled with wildfowl. Previous years have seen counts of Whooper Swans leaving Iceland and heading south, along with Pink-footed and Barnacle Geese and the odd Brent or Tundra Bean Goose.
The last week of October is often the most hit and miss. If you hit it's usually a six; if you miss you're out for the year. Hits often refer to just one or two birds: these latter stages of the month have produced Black-billed Cuckoo, Grey-cheeked Thrush, Northern Harrier, Eastern Yellow Wagtail and Pallas's Warbler along with a few island rarities like Little Egret, Black-throated Diver and Yellowhammer (granted not as exciting to most as the former birds!). Late October can be a good time for Great Grey Shrike, too. They seem to be later each year with birds now wintering as far north as the Scottish Highlands.

This Northern Harrier is one of many outstanding rarities to grace North Ronaldsay in recent years (George Gay).
The island can be unforgiving, frustrating and difficult at times, especially with the rather noisy neighbours we have to the north! But these factors aside, it really is one of the best birding sites in the UK. For an island smaller than most villages we punch well above our weight and history shows it. Megas in years gone by that haven't previously beeen mentioned include Lesser Kestrel, Yellow-billed Cuckoo, Eurasian Scops Owl, Siberian Rubythroat, Rufous-tailed Robin, Siberian and Eyebrowed Thrushes, Brown and Daurian Shrikes, Pallas's Rosefinch (not accepted by the BOU), Grey-cheeked Thrush and Myrtle and American Yellow Warblers, all making for a frankly outstanding list of eyewatering birds.
North Ronaldsay Bird Observatory is still taking bookings for stays this autumn. The observatory website can be visited here, where information on prices, availabilty and further details on the island's incredible birdlife can be found. By becoming a Friend of NRBO, for just £20, you will receive the annual North Ronaldsay Bird Report, newsletters and discount on accomodation. You can download a Friend of NRBO form here.