I relocated to the western outskirts of Eastbourne, East Sussex, in late 2013, placing myself upon on the rising slopes of Beachy Head. It was a move that fulfilled two commitments I'd made to myself: to leave London before turning 40 and to position myself somewhere I could indulge birding on a daily basis.
As one of the most southerly points along the Sussex coast, Beachy Head stands as a 160-m sheer chalk cliff, which on a clear day affords spectacular views east towards Dungeness and west along the South Downs National Park towards Selsey Bill. It's mostly ancient sheep-grazed downland interspersed with sparse areas of cover. The name is derived from the French name Beauchef which translates as 'beautiful headland'.

Sunset at Beachy Head, East Sussex. This is Shooter's Bottom, looking west towards Belle Tout lighthouse (Laurence Pitcher).
From a birding perspective, the area first came to prominence in the 1960s with the establishment of the ringing station (now run by Robert Edgar) and concerted daily coverage from a determined group of birders. These included Barry Cooper, John and Doreen Cooper, Roger and Liz Charlwood, Tony Quinn and Pete Clement to name a few. It's doubtful the area's potential would have been quite so apparent without their enthusiasm and perseverance. An aspiration to establish a bird observatory here during that period sadly didn't come to fruition.
Jutting out into the English Channel, Beachy Head provides an exciting venue for bird migration. Falls of passerines, seabird movements and raptor passage all feature (sometimes on the same day!). It also holds a truly stellar list of scarce and rare birds comparable with some established bird observatories. The recording area is large, starting from Holywell on its eastern flank, west to Birling Gap, then north from the cliffs towards Black Robin and Cornish Farms. The area is regularly covered by a handful of dedicated patch workers and a few transient watchers but is mostly underwatched. Birds have been found all over the headland, but productive areas include Cow Gap, the garden of the Beachy Head pub, a stand of hawthorns on the chicane bends known locally as "the old trapping area", Shooters' Bottom and of course the Belle Tout and Birling Gap areas. You could spend an entire day working all the sites on foot or condense a visit into a few hours by car just hitting a few of the hot-spots.

The impressive chalk cliffs are a feature of this stretch of coastline. This is Birling Gap, which is where most seawatching is done (Laurence Pitcher).
Like all coastal headlands it has its good and bad days, poor autumns, great springs – I'm happy to be in it for the long haul. The year 2018 – where I found a Black Kite, Little Bunting and Alpine Swift in the spring, then went on to add Melodious Warbler and Pallas's Warbler in the autumn – will age well in the memory; less so the October morning in 2015 when I walked through the old trapping area, seeing nothing, only for a Short-toed Treecreeper to be found there shortly after! Despite all the ups and downs there's an enjoyable familiarity in watching the same site day after day. Understanding its relationship with weather & knowing where the pinch points are on mornings when birds are passing rapidly through the site. Birding Beachy Head has rewarded me with many exciting finds as well as deepening my knowledge of birds, migration and weather.

This Little Bunting was part of an excellent 24-hour hat-trick in April 2018 that also included Alpine Swift and Black Kite (Laurence Pitcher).
Winter
We start with the toughest season for the birder here, so I'll keep it short! Occasionally one or two wintering Dartford Warblers linger into the New Year which, along with a small number of wintering European Stonechats, make up most of the passerine interest among the gorse. A large set-aside field at Birling Gap can sustain large numbers of Eurasian Skylark and, to a much lesser extent, Corn Bunting and Common Linnet – all occasionally harassed by the odd Merlin. Late winter seawatching can produce decent numbers of auks and divers moving up channel.
Spring
Beachy Head can be temperamental in spring; the right meteorological alchemy is a must. Often light winds with poor visibility or clear conditions with a slight northerly seem most productive. Things start slowly in the first week of March as small numbers of Common Chiffchaff, Firecrest and Black Redstart hail the change of season. Eastbound Dark-bellied Brent Goose passage can be quite spectacular in late March – 5,200 passing east on 22 March 2000 being an example of a big day.
As the month rolls on and the expected appearances of Willow Warbler and Northern Wheatear pass, we move into April, a month which can produce some excellent and diverse falls of birds. On a good day this can include Common Redstart, Ring Ouzel, Pied Flycatcher, Grasshopper Warbler and Common Nightingale, all accompanied by decent numbers of Willow Warbler. If you are exceptionally lucky, a Wood Warbler may appear – but these have become very scarce here now.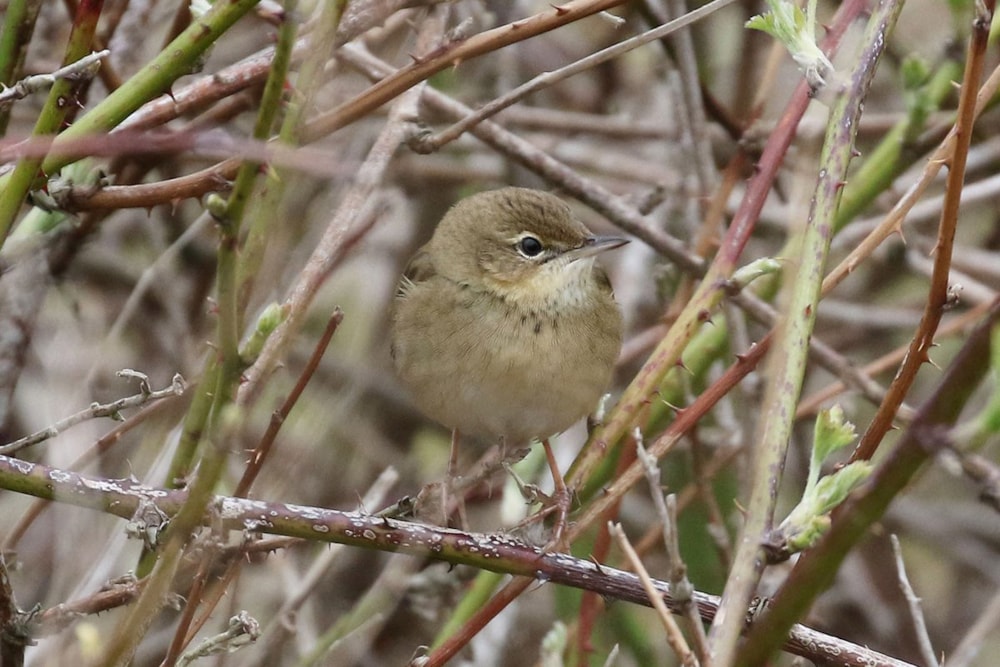 Grasshopper Warbler is often encountered on April visits to Beachy Head (Laurence Pitcher).
Seawatching from Birling Gap also begins to yield dividends with eastbound diver, wildfowl, wader, skua, and tern passage building throughout the month. Within the first few days of May we hit the peak dates for Pomarine Skua passage. Light south-easterly winds and fine weather can be great for this speciality species – such a day produced 125 on 5 May 2014.
It's also the time for imagination turns toward rare possibilities. Recent spring highlights have included a White-billed Diver in 2014, Blue Rock Thrush in April 2017, Eurasian Crag Martin in May 2019, both Alpine Swift and Little Bunting in April 2018, Black Kites in 2018 and 2020, a duo of Red-rumped Swallows in May 2016, a singing Blyth's Reed Warbler in June 2020, plus multiple European Bee-eaters – this species is virtually annual here. Going back much further, headliners like a singing River Warbler in May 2008, an out-of-place Little Crake in April 1968 (which apparently shared the lawn at Hodcombe Farm with a Hoopoe!), a male Desert Wheatear in April 1966 and a passing Lesser Crested Tern in May 1989 have all have added their names to the spring roll-call.

European Bee-eater is almost annual at Beachy Head. This bird dropped in on 15 May 2015 (Laurence Pitcher).
Content continues after advertisements
Summer
By mid to late May the headland can begin to feel very static. With spring passage waning, most of the activity is centred upon breeding birds such as Common Whitethroat, European Stonechat and Common Linnet. It's not out of the question of to see the first departing Common Cuckoo around the solstice. While by no means annual, I have heard the odd Common Quail singing at this time of year. As we progress into July, Willow Warblers begin to appear as Sand Martins start to move overhead. However, the odd juvenile Yellow-legged Gull circling above is often all there is to sustain the patch worker in high summer. August sees summer transition into autumn and with it Reed, Sedge and Grasshopper Warbler begin to appear with greater frequency. Willow Warbler numbers are at their highest during this month, too.
Autumn
Late August is by far my favourite time of the year here. Autumn migration seems more protracted and less delicately entwined with the weather than spring. Often fine days and nights with little wind produce spectacular birding. Large movements of hirundines begin to feature with breath-taking flights of Swallows and martins (such spectacles also occur in September). Day totals are hard to estimate, but numbers can be in to the tens of thousands.
While searching for the more regular Pied Flycatchers and Common Redstarts, the occasional Wryneck is not unusual in late August. It's also the time to be looking for Melodious Warbler, with eight records since I started watching here in 2013. Of late, Ortolan Buntings seem to favour this period, too. This month has also seen both Sykes's and Sardinian Warblers recorded on the headland.

While always a nice suprise, Wryneck is somewhat frequent as a late August and early September migrant (Laurence Pitcher).
It's at this time raptor passage begins to feature, with annual appearances of Western Osprey and European Honey Buzzard backed up by Western Marsh Harrier, Eurasian Hobby and Merlin. September 2019 saw the headland host both Montagu's and Pallid Harriers within days of each other – they were the headline raptors of an autumn supported by six European Honey Buzzards and three ospreys.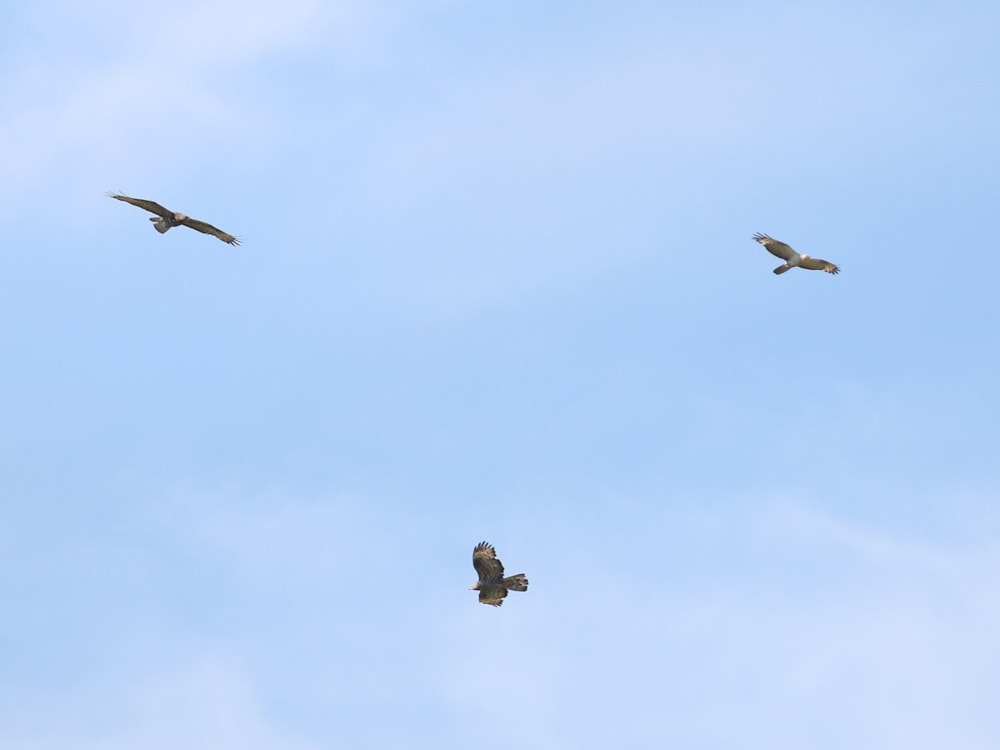 European Honey Buzzard migration is an annual event at Beachy Head in August, sometimes involving multiple birds (Laurence Pitcher).

In September 2019, this Pallid Harrier frequented the area days after a Montagu's Harrier had been present (Laurence Pitcher).
However, this was nothing compared to the spectacular European Honey Buzzard movement of 2000, with 153 individuals being recorded here during that influx including 63 on 30 September. On the subject of raptor invasions, 19 Rough-legged Buzzards arrived in off the sea on the afternoon of 22 October 1974, which was part of a huge influx that autumn.
As autumn wears on, Willow Warbler hands over the baton to Common Chiffchaff in terms of most populous 'phyllosc' and, in recent years, the first Yellow-browed Warblers have been recorded by the third week of September. If the weather allows, a late-autumn Pallas's Warbler is a real possibility, with Beachy Head being the best location in Sussex to find one.
Recent autumn highlights have included a show-stopping male Red-breasted Flycatcher in October 2014, Short-toed Treecreeper in October 2015 and a beautiful Isabelline Shrike in November 2018. The historical list of other autumn visitors includes Isabelline Wheatear in October 2011, White-throated Sparrow in October 1968, Black-and-white Warbler in October 1996 and Baltimore Oriole in October 1962 – certainly enough to keep you out looking on a dull day.

This Isabelline Shrike put in an appearance in November 2018 (Laurence Pitcher).

In late October 2014, this male Red-breasted Flycatcher stayed for several days and was enjoyed by many (Laurence Pitcher).
Overhead pipit, finch and wagtail passage build through the autumn. The Goldfinch flights of late autumn can rival that of hirundines with many thousands tracking into the headwind of the morning. Large finch flights can still occur in early November, mostly Goldfinch but also pulling in numbers of Common Linnet, Chaffinch and Greenfinch but, as late autumn fades into early winter, the headland slowly slips into something of an ornithological slumber. The increasing frequency of winter storms that batter the cliffs here sometimes make it a challenge just to stand up. A wintering Dartford Warbler may give itself up on a still December day but, like most migration meccas, Beachy Head remains dormant until spring, when the cycle starts once again.