As the nights grow colder and catches get smaller, October can be a month that tests the resolve of even the most resolute recorders, wondering whether it is still worth lighting up, or whether to consign the MV to a dusty corner of the garage until next spring. But for those that persist, the rewards can be worth the effort, with ample opportunity for migrants in the right conditions, and away from the traps, plenty of under-recorded leaf-mines to add to the interest.
In an autumn where many recorders have reported rather poor catches, the main headline was indeed provided by a good influx of migrants mid-month. Warm winds sweeping up from Spain and North Africa around 19th brought good numbers of arrivals to the far south-west in difficult conditions for trapping, thanks to persistent rain and wind. The main headliner in this period was Crimson Speckled, with a nice arrival in Cornwall and on Scilly, and reports between 19th and 23rd accounting for almost 20 individuals. The Lizard, Cornwall, took the first record, with one to light on 19th followed by an impressive count of six around the peninsula by day on 22nd. Scilly also garnered at least five, with at least the same amount in Cornwall away from the Lizard. Only one appeared to make it further west, reported at St Margaret's Bay, Kent, on 22nd. Interestingly, many of these were found by day, though perhaps this was not surprising given the challenging weather conditions for trapping.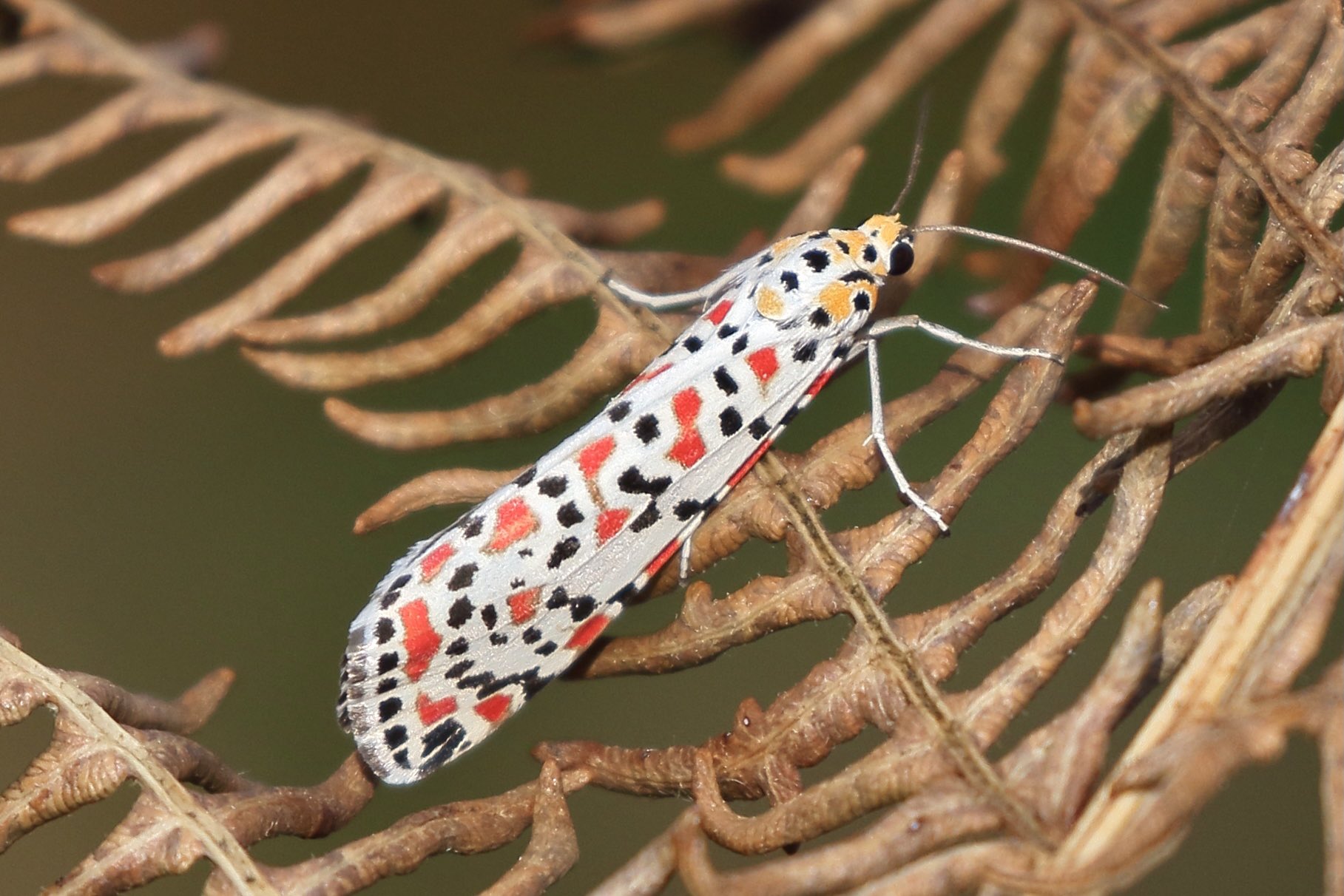 Crimson Speckled, St Agnes, Scilly (Scott Reid).
Away from Crimson Speckled, this period also bought an increase in the numbers of commoner migrant species, particularly to the west, many of which had been recorded in small numbers throughout the month. There were plenty of records of the gauzy Palpita vitrealis and some good counts, including 11 at Bridport and 13 at Lyme Regis, Dorset, on 21st, while Rusty Dot Pearl also turned up in numbers at some sites, with 165 at Portland, Dorset, on 19th, and 64 at Longstone on St Mary's, Scilly, on 21st. Alongside these came smaller numbers of Cosmopolitan, Gem, Small Mottled Willow, Scarce Bordered Straw and White-speck. These species also featured during smaller pushes of migrants around 9th, and again towards the end of the month around 30th. Unfortunately, in both cases trappers were again hampered by wet and windy conditions.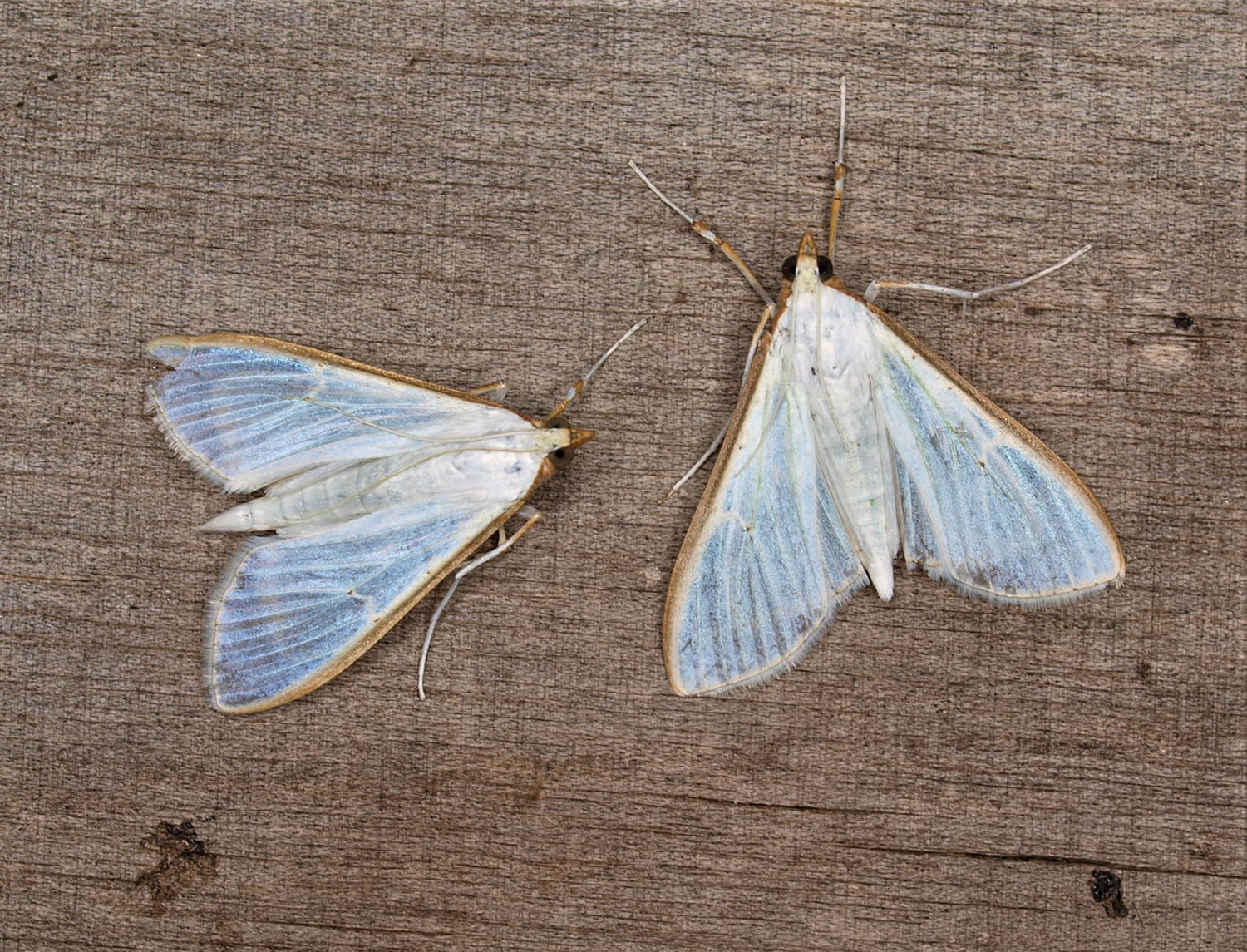 Palpita vitrealis, Upton, Norfolk (Graham Stocker).
There were also plenty of records of Radford's Flame Shoulder along the south coast in this period, many presumably migrants of a species that is certainly on the rise, but some also from newly established colonies, including Portland, Dorset – where an impressive 24 came to the bird observatory traps overnight on 23rd (with 71 over the course of the month). Other good counts of likely immigrants included three at Dover, Kent, on 24th, seven at Beachy Head, East Sussex, and three at Ferring, West Sussex, on 22nd, while a total of eight were recorded in the last two weeks of the month at Ovingdean, East Sussex. Two pioneering individuals were also county firsts inland in Berkshire (near Wantage on 22nd) and Hertfordshire (Welywn Garden City on 24th).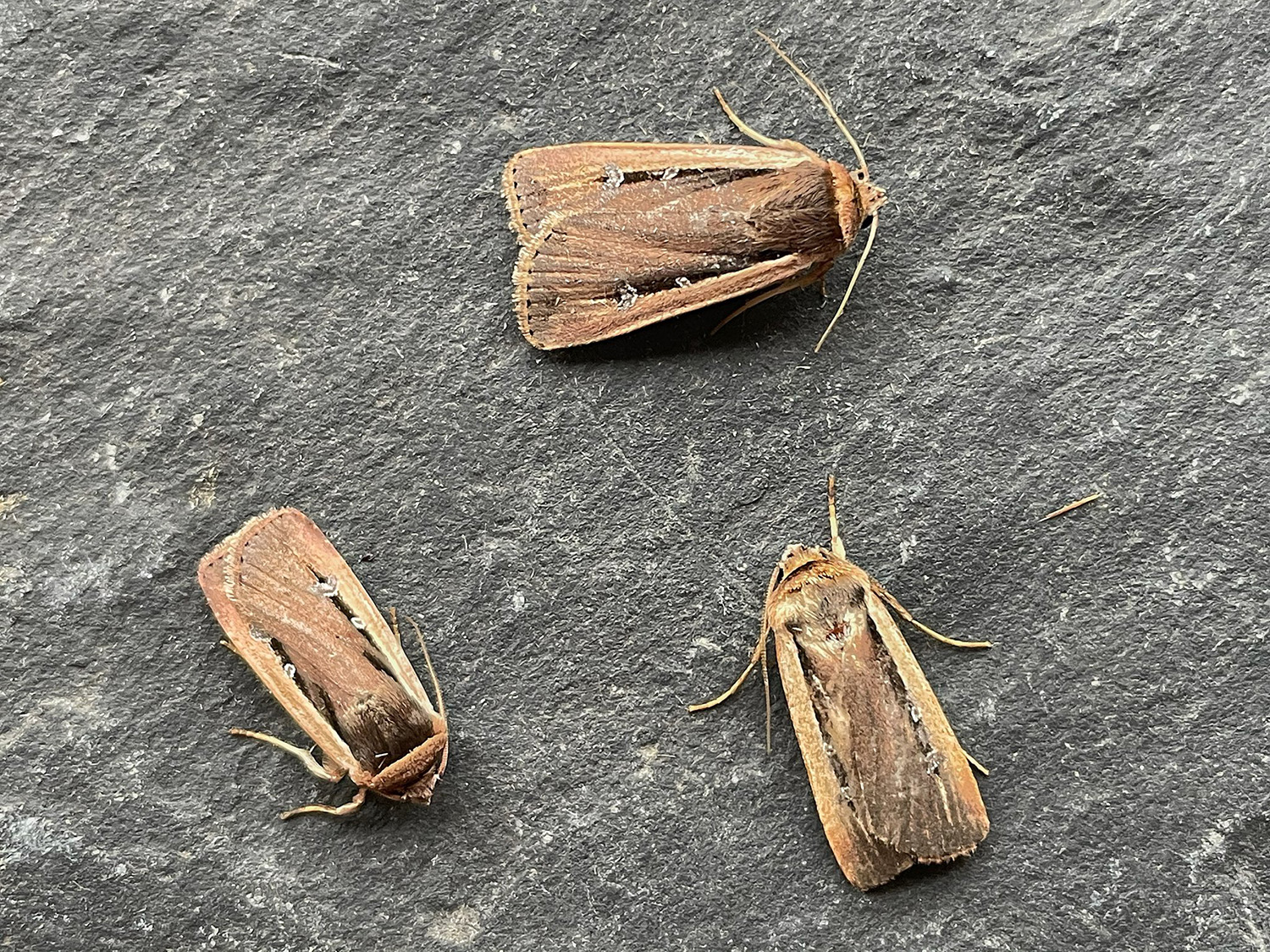 Radford's Flame Shoulder, Ovingdean, East Sussex (Ian Barnard).
Another species now establishing itself on the south coast, Flame Brocade, also featured during the mid-month spell of immigration, with records from Pagham Harbour, West Sussex, on 24th, and Dorset at Swanage (17th), Portesham (21st), Weymouth (two on 21st) and Upwey (24th). It is becoming increasingly difficult to distinguish primary immigrants from residents in the latter county, where it now seems to be well-established, with 58 in the traps at Portland over the course of the month and 18 on one night at Durlston CP mid-month. Similarly, a few presumably migrant Blair's Mocha were also recorded away from newly established colonies mid-month, including at Portland, Dorset, and Maenporth, Cornwall, on 21st.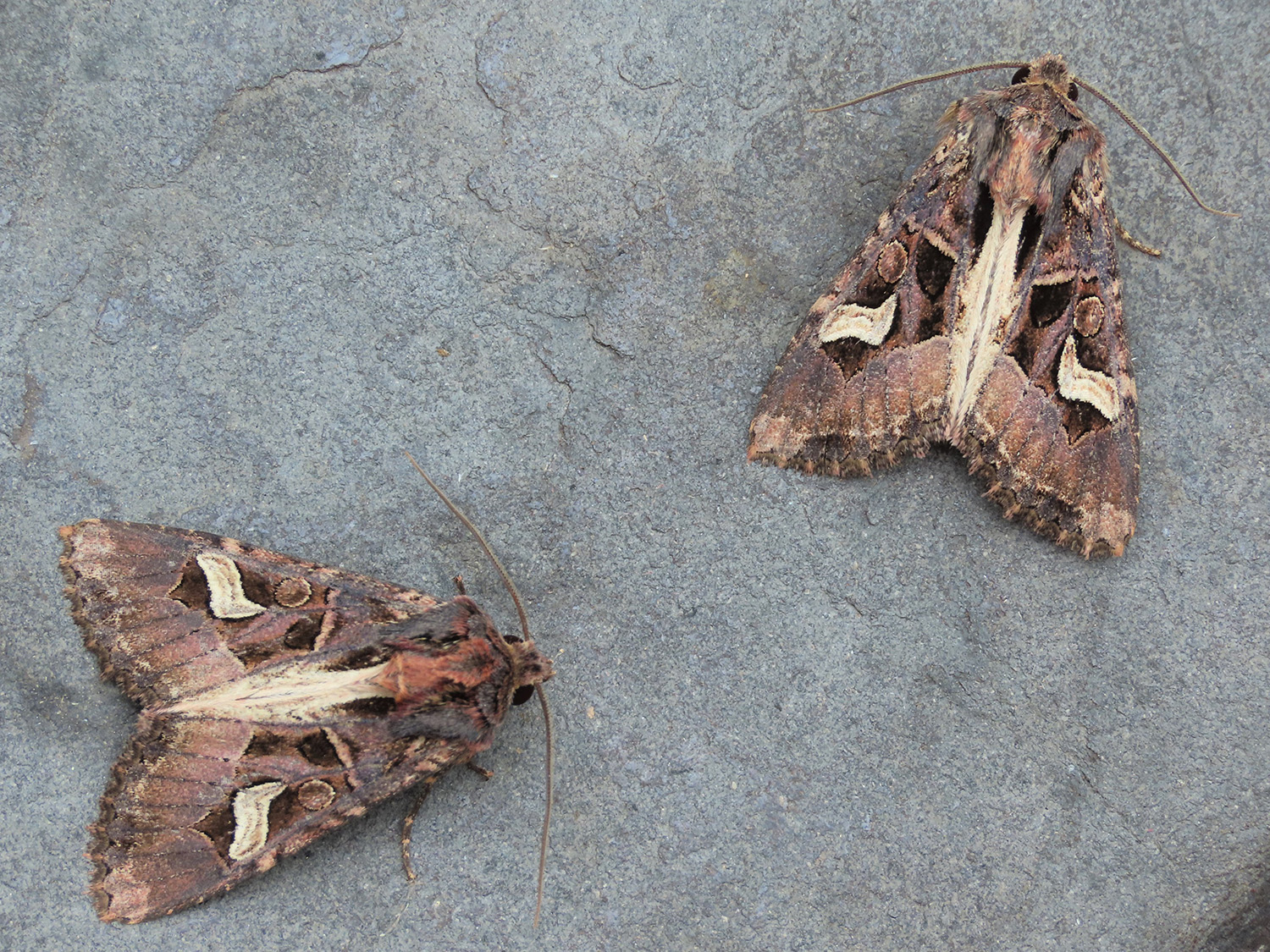 Flame Brocade, Weymouth, Dorset (Paul Harris).
Other rarer migrant interest came in the form of a Red-headed Chestnut on the Isle of Grain, Kent, on 17th, and two good pyralids, with Antigastra catalaunalis in Bridport, Dorset, on 21st and a stunning Spoladea recurvalis at Bodenham, Herefordshire on 22nd. The latter was unsurprisingly the first county record in a catch that also included Palpita vitrealis and Gem, an amazing haul so far north and inland.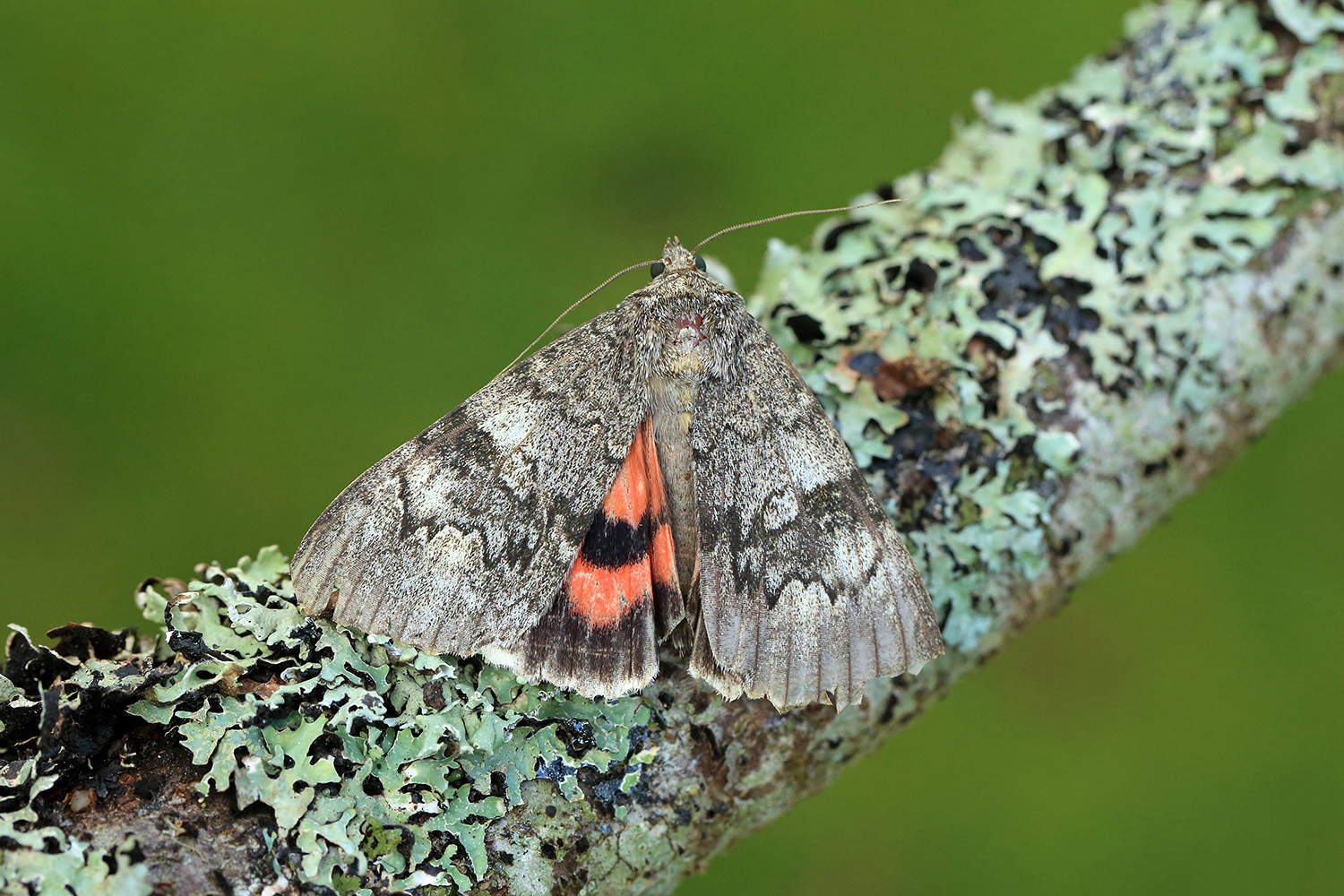 Red Underwing, undisclosed site, Fife, (Nigel Voaden).
At the other end of the size scale, Convolvulus Hawk-moths continued to be recorded in the first couple of weeks of the month, with one as far north as Fife on 9th. This arrived alongside a Red Underwing, a new moth for Fife, and perhaps a migrant, well north of its advancing UK range. Death's Head Hawk-moths were recorded throughout the month and continued to demonstrate the large hawk-moth flare for turning up in strange places, with one in the chip shop at Westray, Orkney, on 8th, one at Margate Football Club, Kent, on 7th, and another killed by a cat at Wath upon Dearne, South Yorkshire, on 10th. More typical were two found in beehives in Kent on 7th and 9th.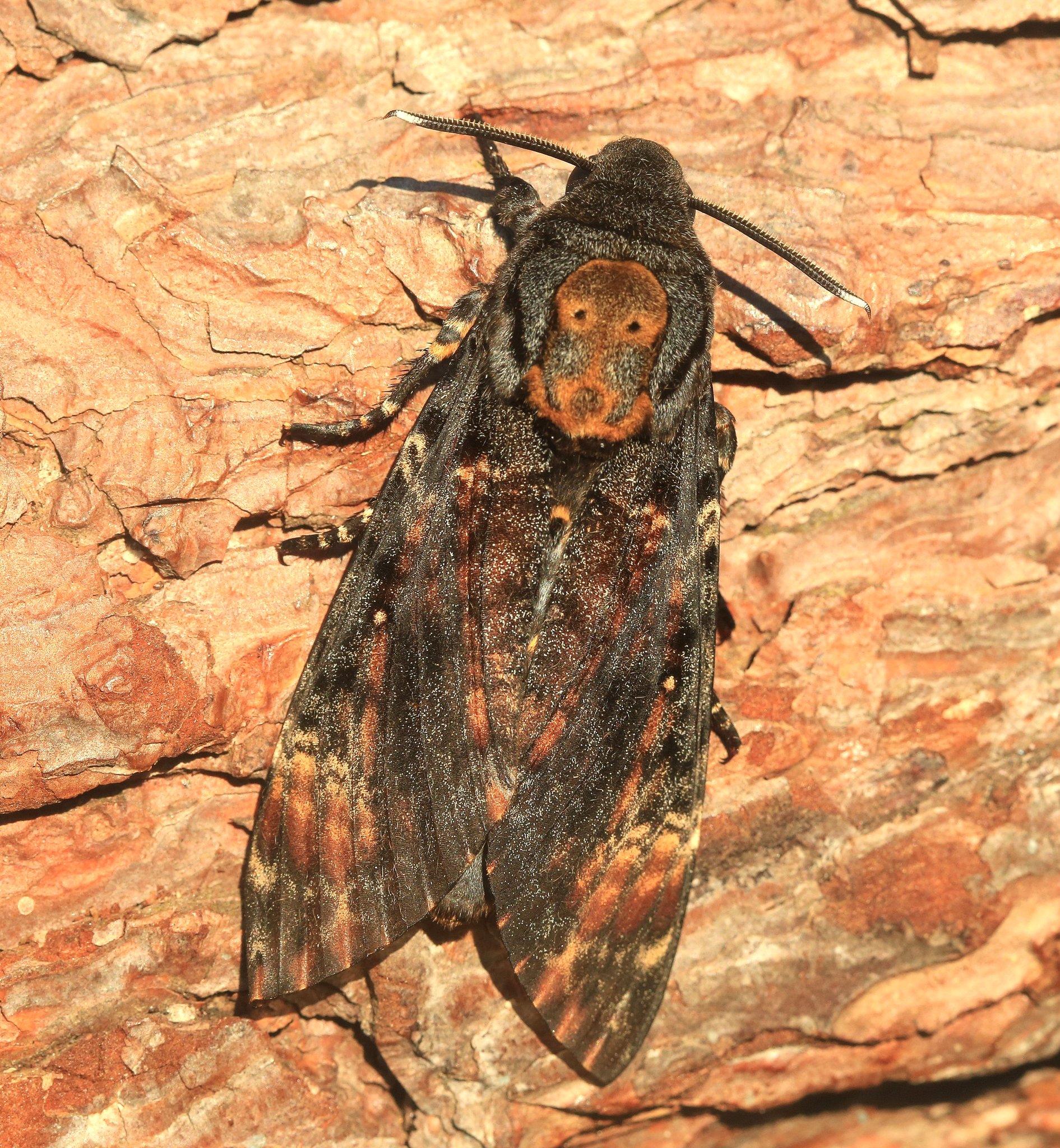 Death's Head Hawk-moth, Scarborough, North Yorkshire (Dan Lombard).
Colonists and residents
As variety decreases and temperatures drop, October can be a quiet month for resident moth species away from the well-loved cast of autumn classics. Still, several recent colonists provided added interest by continuing their spread north and into the traps of recorders inland. Oak Rustic has crept up the east coast as far as Lowestoft and continues to penetrate inland, seemingly now well-established as far north as Oxford, while the fourth Bedfordshire record was at Ickwell on 27th, too. After arriving in Kent in 2011, Black-spotted Chestnut has also marched northward, as far inland as Buckinghamshire in 2019. The first of this autumn's generation were seen at its original point of arrival at Dartford, Kent, on 24th, while one was also trapped at Lackford, Suffolk, on 31st, suggesting it is now established in the area following one there in January of this year (the first for VC26).
Further north, in Norfolk, two recorders on 30th enjoyed the simultaneous captures of the county's first Cosmopterix pulchrimella at Hellesdon (VC27) and Ingoldisthorpe (VC28). This stunning micro also appeared for the second time in north Somerset (VC6) at Weston-Super-Mare on 23rd, and is another species that has been gradually been spreading north since its discovery on the south coast in 2001, with records in Hertfordshire and Cambridgeshire this year also. Feeding on Pellitory-of-the-wall, it's a moth that is well worth looking for in warm urban areas, as high densities of adults and mines can often be found around the foodplant where it's breeding.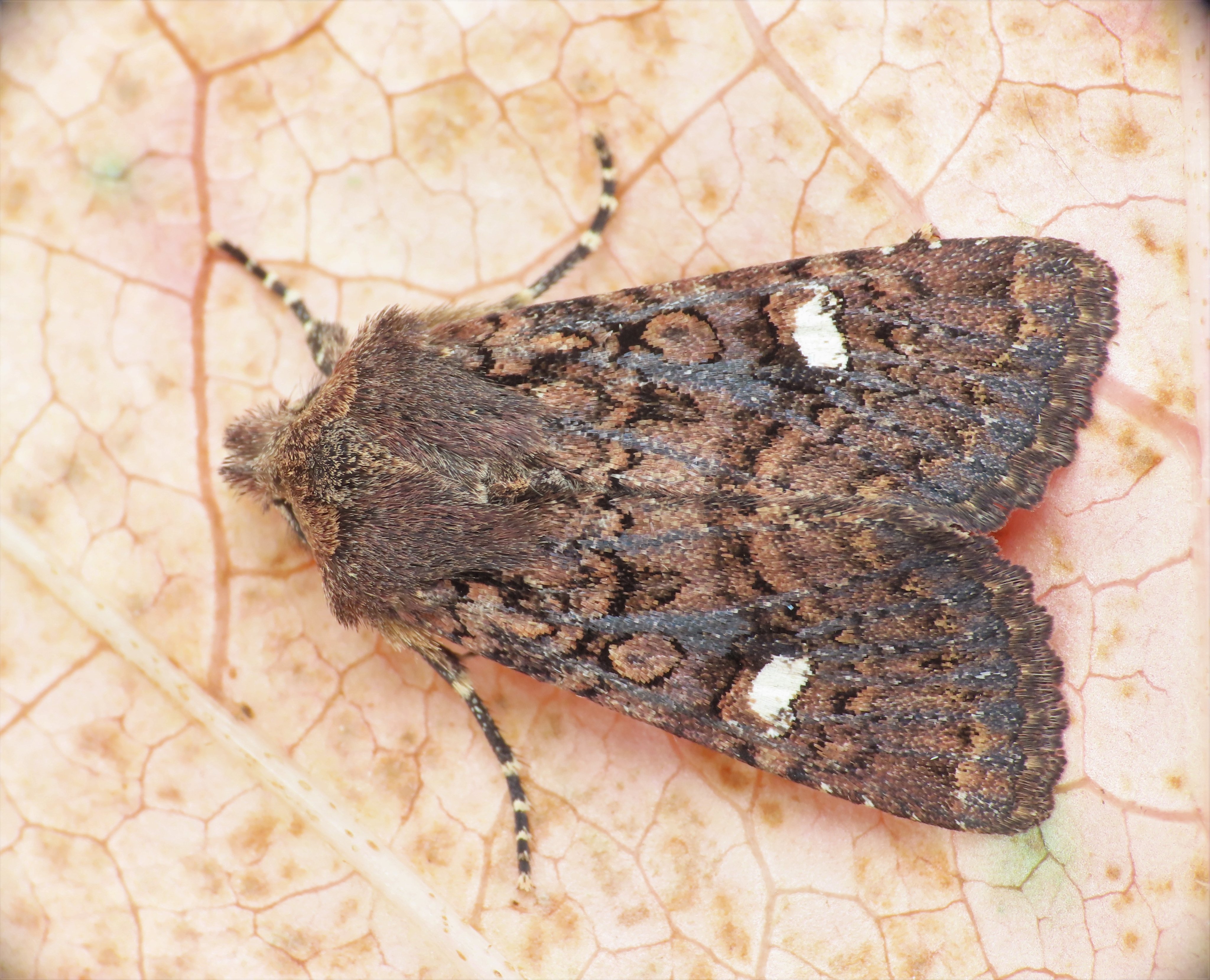 Oak Rustic, Weymouth, Dorset (Paul Harris).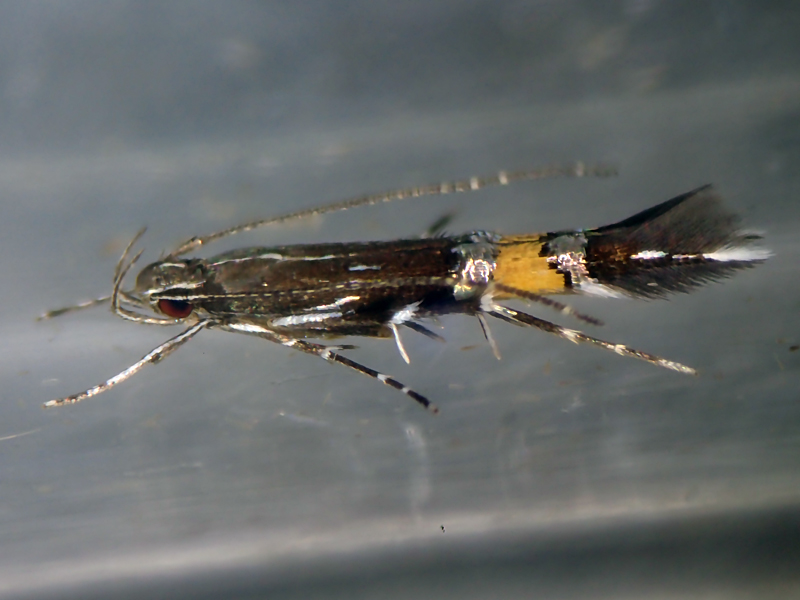 Cosmopterix pulchrimella, Weston-super-Mare, Somerset (Paul Bowyer).
Indeed, at this time of year, mines can be a great way of recording a number of the smaller and more mysterious micro groups that generally require dissection when encountered as adults in traps. In Yorkshire, targeted leaf-mining efforts have charted the recent expansion of a number of micro species through the county – Stigmella basiguttella (on oak) and Stigmella catharticella (on buckthorn) were new to VC64 this month, as was Phyllocnistis saligna (on Narrow-leaved Willow) at Fairburn Ings on 28th (now recorded in all Yorkshire VCs bar 65). Stigmella sakhalinella (on birch) was also new to VC65 (completing all the Yorkshire VCs after discovery in VC62 in 2010), while Stigmella viscerella (on elm) was new to VC61. Other good leaf-mine records were the blackthorn miner, Stigmella prunetorum, at Gait Barrows, Lancashire, on 12th – just the second record for VC60 – while Phyllonorycter froelichiella was new to Gwent at Lasgarn Wood on 4th. Generally, leafmines are an easier way to record most of these species than adults, but some species are almost as cryptic in their larval stage. Coleophora artemisicolella lives on Mugwort seed heads, in a case that is also made of Mugwort seed heads. It is best detected by searching for the tiny holes left by feeding – as was done in Cheltenham on 18th (after much careful searching), where it was new to Gloucestershire.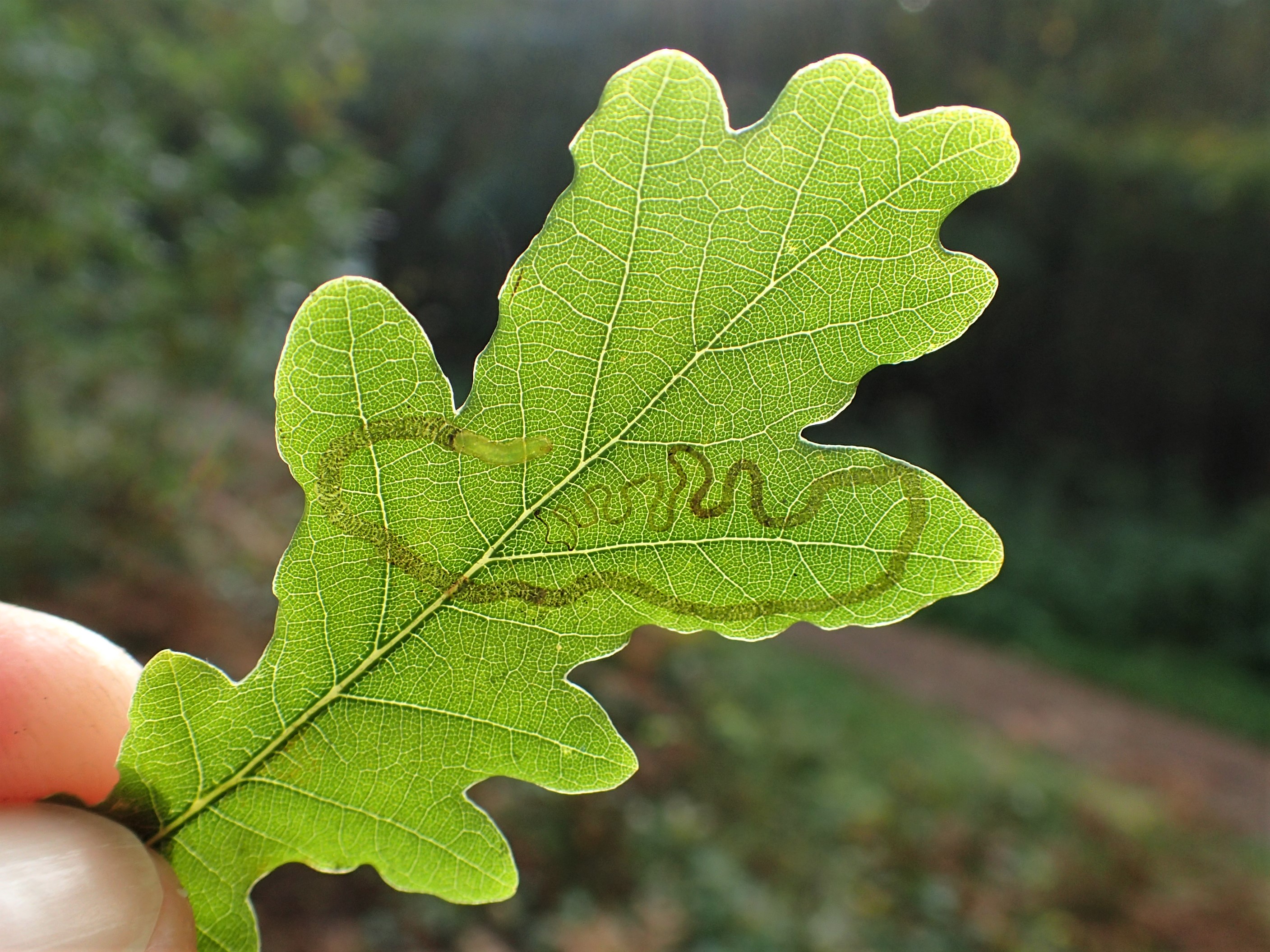 Stigmella basiguttella mine, undisclosed site, West Yorkshire (Andy Nunn).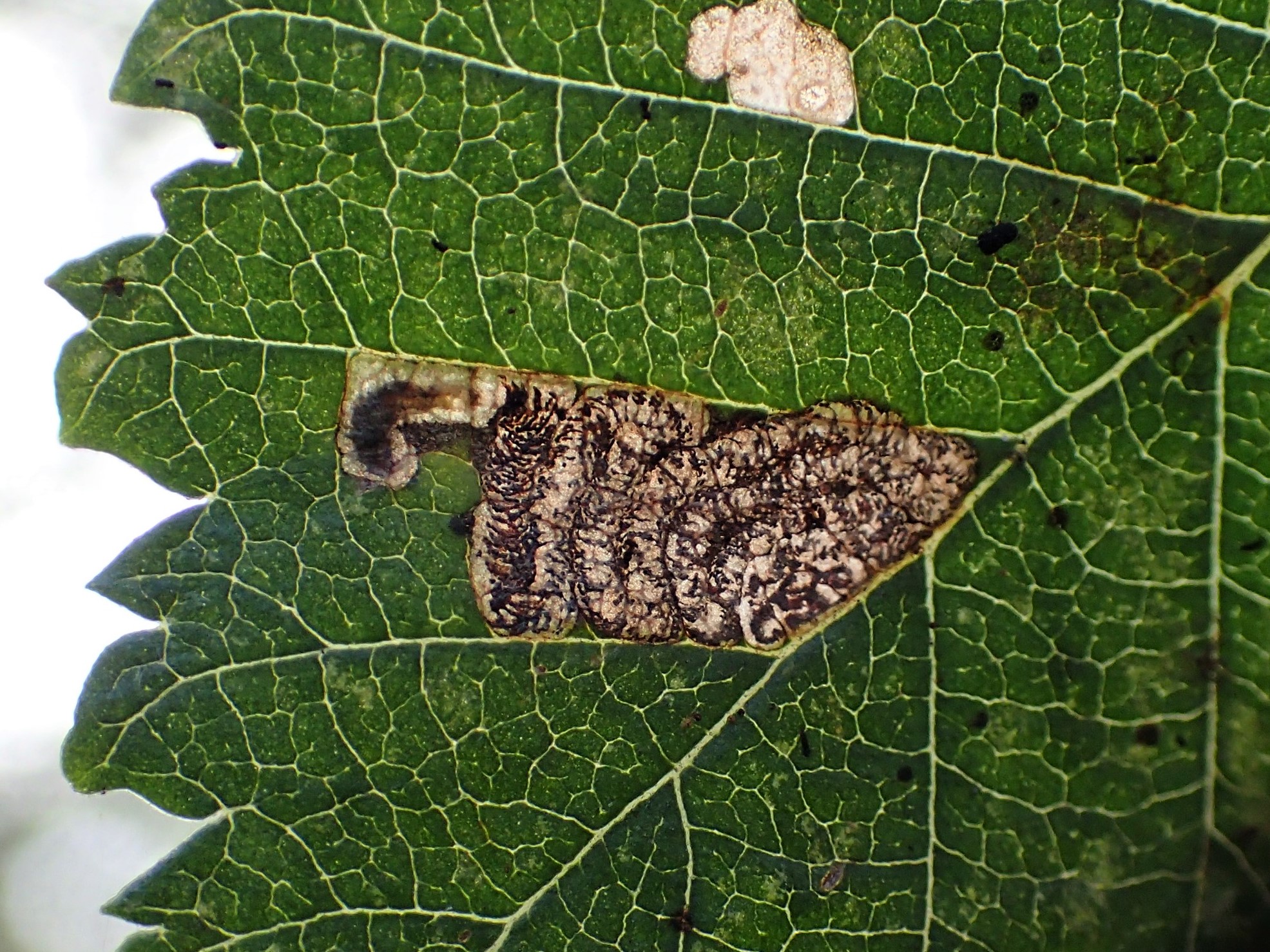 Stigmella viscerella mine, undisclosed site, South Yorkshire (Andy Nunn).
Other micro interest was provided by a string of adventive species continuing their expansions, with the third Cambridgeshire record of Prays peregrina at Cambridge Botanic Gardens on 23rd. Musotima nitidalis was also recorded again in Norfolk in a garden at Horsford, the second county record after one in nearby woods in May. Similarly, Cydia interscindana was recorded at Thames Ditton, Surrey, on 21st, the location of the third British record in 2017. Here, the moth came to a trap set alongside a Codling Moth lure that is known to be attractive to it, and may prove a useful way to chart its continued expansion.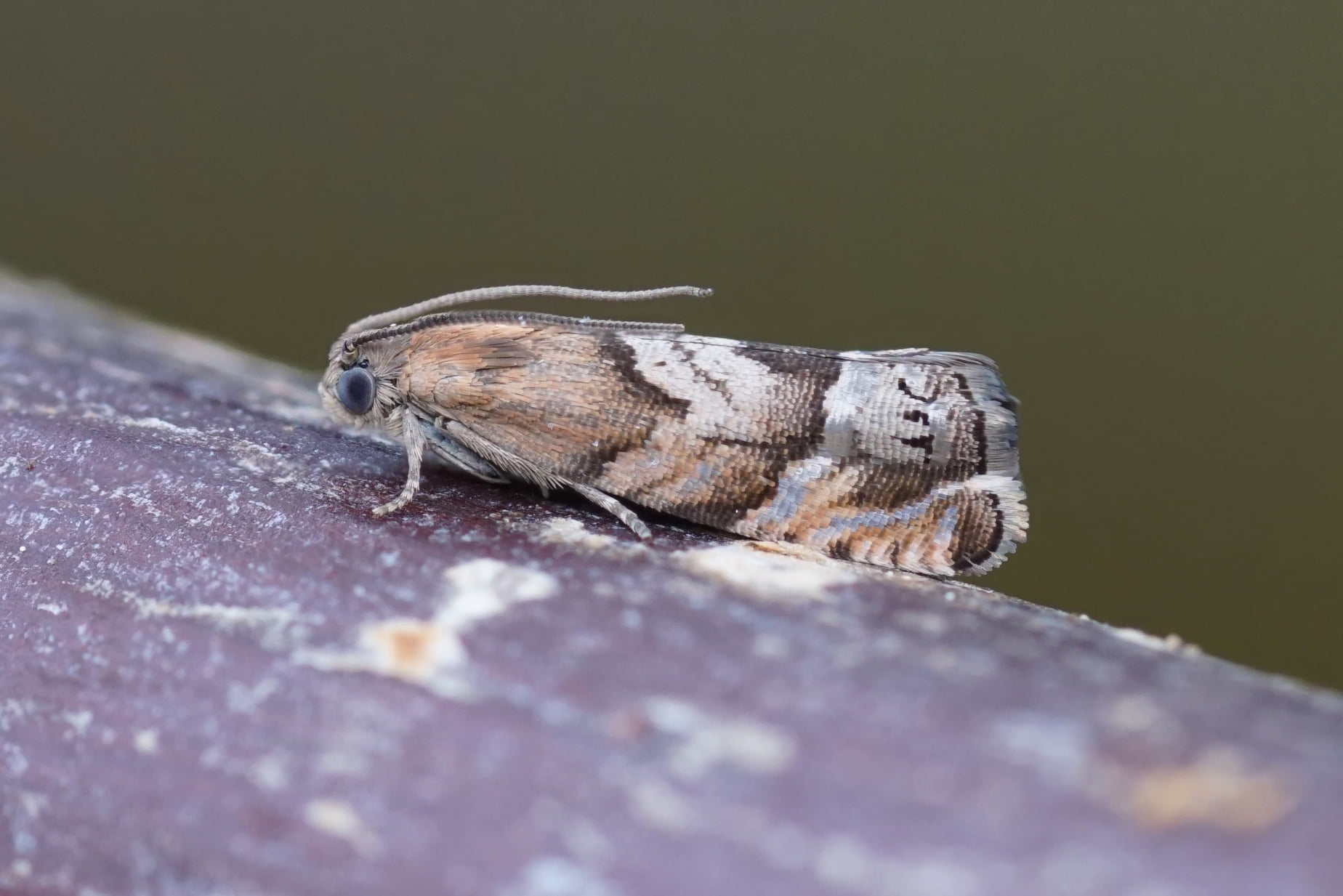 Cydia interscindana, Thames Ditton, Surrey (Billy Dykes).
Dedicated searching also turned up an excellent moth in Berkshire, in the form of a Southern Chestnut at Snelsmore Common on 6th. The moth was first recorded here in 2018, nearly 70 km north of any known sites, and with another in 2019, this seems to confirm that this enigmatic species is breeding at the site, and suggests that searches in the suitable habitat between the Berkshire heaths and its nearest sites in Sussex, Hampshire and Dorset may well be worthwhile. Interestingly, this specimen was found feeding on blackberries at 23:30, far later than it is usually recorded, flying or coming to light at dusk.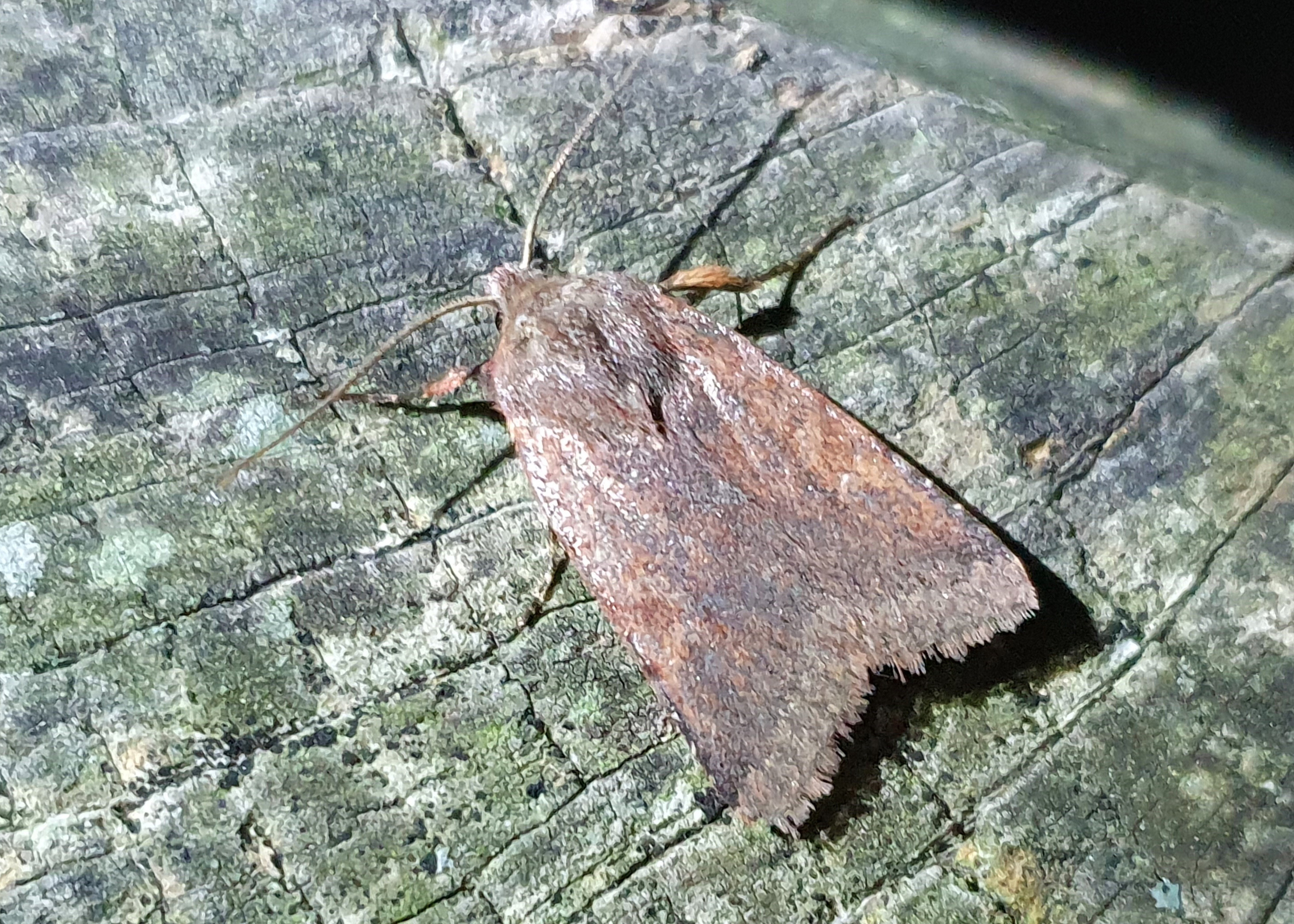 Southern Chestnut, Snelsmore Common, Berkshire (Marc Botham).
Butterflies
For butterflies, October is generally a quiet month, a time for enjoying the last Red Admirals on ivy and fallen fruit, and looking ahead to Brown Hairstreak eggs and next season. However, many recorders commented on the dearth of late-season Red Admirals, which failed to appear in numbers in a season that seems to have been quite poor for them and that other wandering Nymphalid, Painted Lady. Clouded Yellows seemed to have a good late season, though, being recorded in most southern counties, and as far north as Warwickshire. Indeed, good numbers were still being reported at some sites relatively late in the month, with up to 40 along the undercliffs at Southborne, Dorset, on 16th, where egg-laying was reported right into November.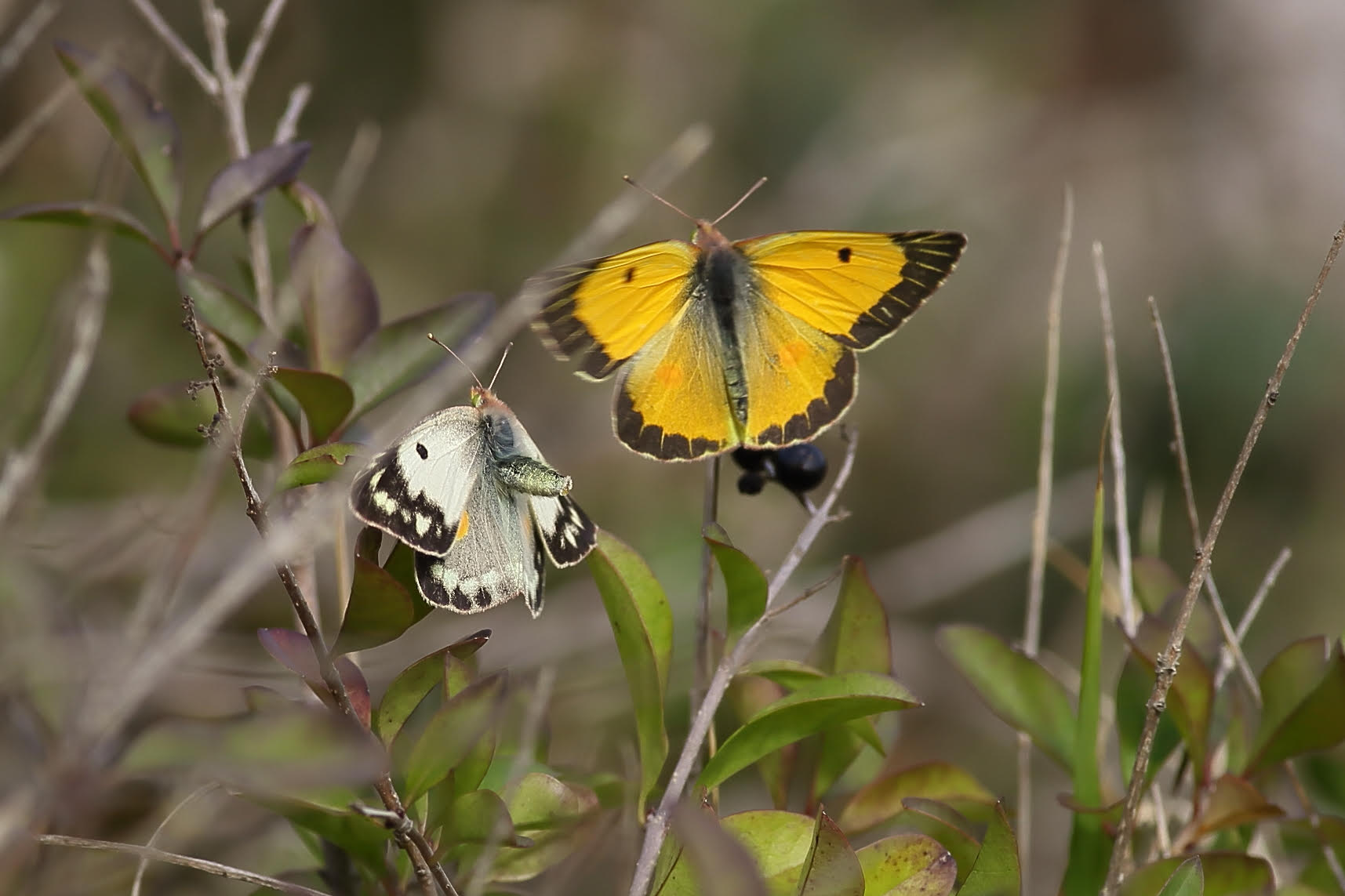 Clouded Yellow, Portland, Dorset (James Phillips).
Stragglers from this year's home-grown generation of Long-tailed Blues also continued into October, with the last record from the spectacular emergence at Whitehawk Hill, East Sussex, on 1st and another in the same county at Birling Gap on 7th. Others were recorded at Berry Head, Devon, on 22nd, Porlock, Somerset, on 3rd, and Roseland, Cornwall, in the second week of the month. Otherwise, it was a quiet month for migrant butterflies, seemingly without any autumn Monarchs in the west, or late Queen of Spain Fritillaries.
Away from the migrants, relatively mild temperatures enabled a few late summer species to soldier on into October. Perhaps most surprising was a Small Pearl-bordered Fritillary in Devon on 7th, while Meadow Brown was recorded in Sussex on 19th, Brown Argus in Gloucestershire on 25th and Brown Hairstreak in Surrey on 18th. The eggs of the latter species, overwintering on young blackthorn growth, are often easier to find than the adults themselves and provide a great way to keep the butterfly season alive over the winter months and add to the knowledge of this enigmatic species' distribution.
For those further north, another useful winter activity to get involved in is Butterfly Conservation's Hibernating Heralds project, attempting to map the distribution of this moth (which can be shy about coming to light) in Scotland at its over-wintering sites. The project is already yielding fascinating results, but is always keen for more volunteers and more records, which can be submitted with a handy iRecord form. So while the nights might be getting colder and the days shorter, there are still plenty of moths to look out for in the coming weeks – a number of under-recorded leaf-miners and micro larvae can still be found over the winter, and for the really committed, colonists like Oak Rustic (flying into November) and Black-spotted Chestnut (all through the winter) provide good reasons to keep the traps going on warm nights. Indeed, late season influxes of migrants are not out of the question either, and in recent years have brought spectacular catches of North African species to the south coast as late as December. Early indications are that we could well be in for some of the same in November.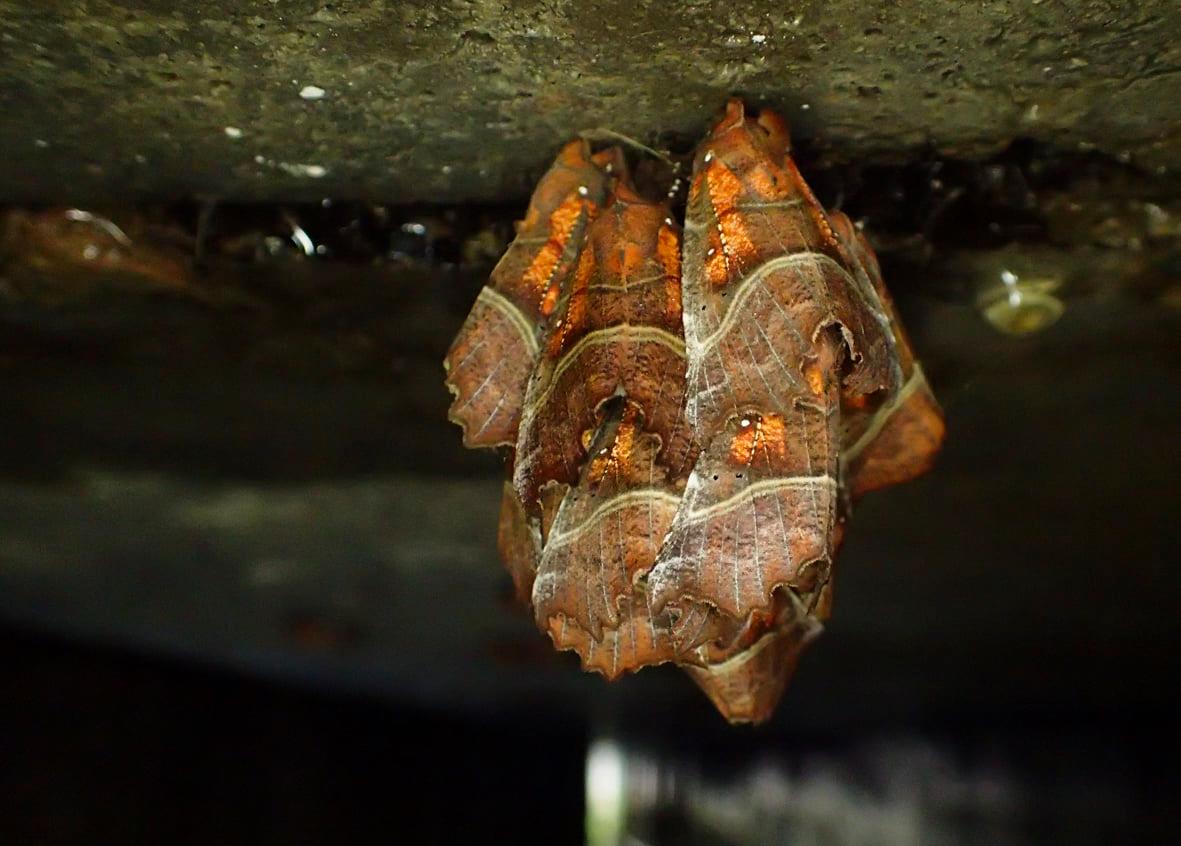 Herald, Lammermuir Hills, Lothian (Katty Baird).