On the western periphery of mainland Europe, with the vast Atlantic Ocean stretching away to the west, Britain and Ireland are fortunately placed to receive vagrants from all points of the compass.
It is this westerly placement which ensures they are among the best places in Europe to find North American birds – particularly in the autumn, when the position of the jet stream and corresponding transatlantic weather systems tend to produce optimal conditions for some of the more eye-opening examples of vagrancy witnessed anywhere on the planet to play out.
North American landbirds are, by definition, much rarer on this side of the Atlantic than the waterbirds and shorebirds that live alongside them. The reason for this lies with science – small and delicate, they are not as hardy as their larger cousins and are simply not as well built for long and uninterrupted sea crossings, particularly when caught up in adverse weather.
As such, they constitute a much greater prize for birders. Be it a vireo, thrush, oriole, tanager or hirundine, a discovery from across the Atlantic in the aftermath of an autumn storm is sure to make any birder's year. However, as irresistible as the aforementioned examples are, there are few families that conjure up as much emotion as the New World warblers.

Blackpoll Warbler is the most familiar of the New World warblers on this side of the Atlantic, but its combination of streaky upperparts, a yellow-green head and body and double white wingbars nonetheless make it an extremely eye-catching discovery (Steve Young).
Not only are they generally extremely rare, but they ooze class. Elegant, busy and irresistibly plumaged, few birders forget an encounter with any member of the family on this side of the Atlantic. Each species is an event in itself – sharing some common characteristics, such as the high-pitched chip or tsip call which dominates the family, but generally possessing its own unmistakable image – more often than not flushed with vivid yellows or greens, or flashy white wingbars or tail spots. Ask any birder about their most memorable rare bird encounters and it's likely that an American wood warbler will feature more often than not. Speak to any European rarity finder about their dream discovery and it's a fair bet that a good proportion would reply with a "Yank warbler".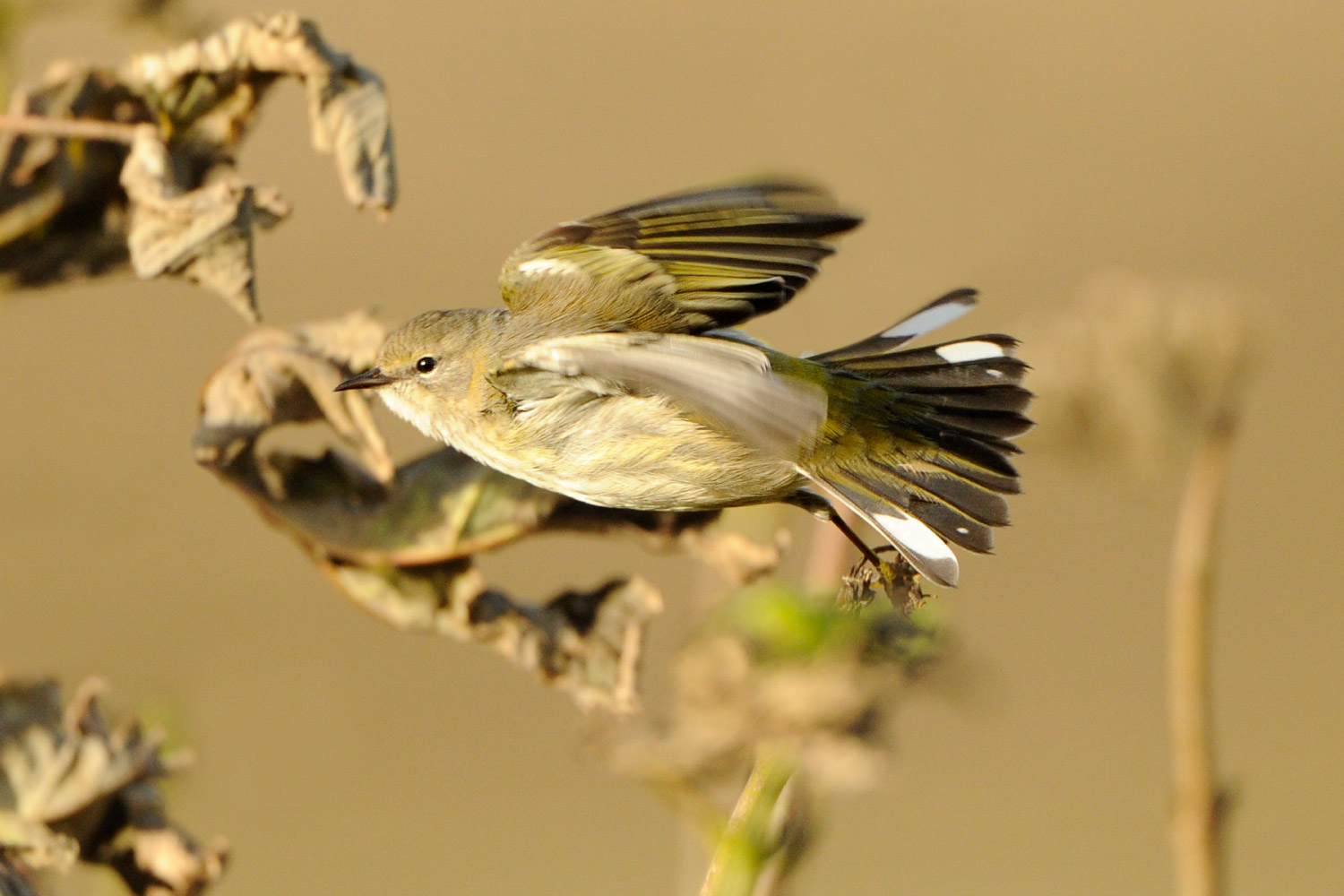 Each New World warbler has its own combination of flashy white tail spots or wingbars, with varying shades of yellow or green thrown in for good measure. This Cape May Warbler sparked a major twitch on Shetland in late October 2013 (Rebecca Nason).
When and where to look
While there have been infrequent discoveries in late spring and even the odd overwintering record, by far and away the best time to locate New World warblers is during the autumn months. The timing of these largely depends on storm activity in the North Atlantic, but finds have come as early as the second half of August and as late as mid-November.
October is traditionally viewed as the optimum time to search, but this is largely due to more conducive, stormy conditions prevailing in this month – in reality it is September, when the greatest number of warblers will be on the move in North America, that offers the peak time for both species diversity and numbers. However, big storms tend to be few and far between at this earlier point in the season, meaning there are fewer suitable opportunities to deliver them here.
That said, a glance at the statistics shows that the period from 10-30 September is arguably the hottest time for records of some of the rarer species. Both British Hooded Warblers were found in this period, as were both Magnolia Warblers, the most recent Blackburnian Warbler and the Irish Wilson's Warbler. And that's before mentioning that all four of Britain's Tennessee Warblers were September birds …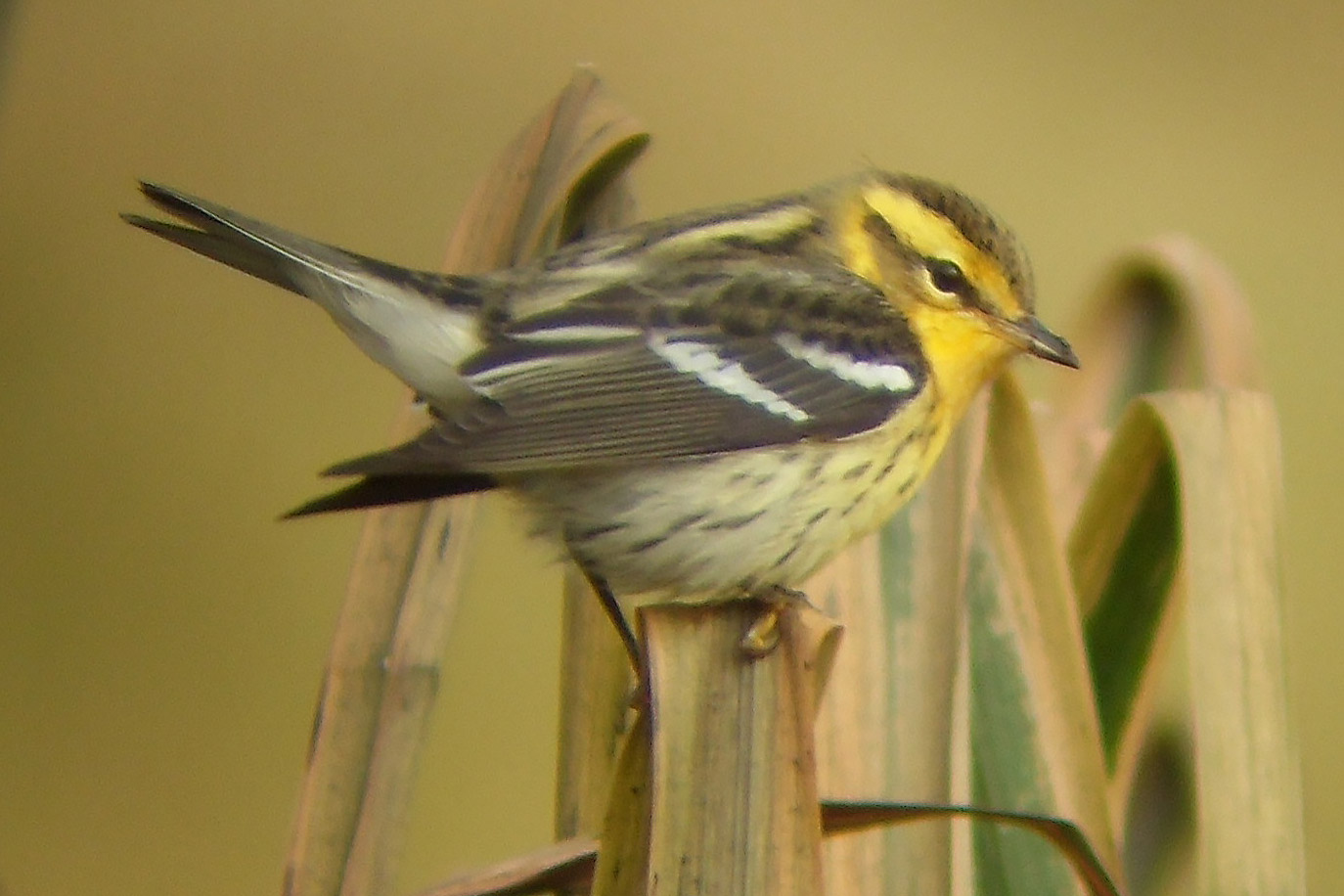 This Blackburnian Warbler was seen on St Kilda from 12-14 September 2009 and is one of several extremely rare members of its family to appear in the mid-September period (Will Miles).
Optimal conditions for finds come in the wake of a deep low-pressure system peeling off the Eastern Seaboard of North America, rapidly tracking eastwards across the Atlantic and 'crashing' into Britain and Ireland. Predicting exactly when and where birds might make landfall is something of an inexact science and fraught with uncertainty – sometimes, fantastic-looking systems fail to produce at all, yet average-looking weather events can catch birders by surprise and deliver a veritable fall of American landbirds. A lot of this is presumably down to where the system originated, how quickly it moved across the Atlantic and if it coincided with a movement of birds in North America – and, as those systems which fail to deliver show, a lot of the ambiguity stems from the fact that, above all else, American landbirds are genuinely rare in mainland Europe and should certainly not be expected, even off the back of promising conditions. However, there does seem to be a correlation between birds being found and a passing warm front, associated with such a weather system – though our understanding of the drivers of these vagrancy events remains very much in its infancy.
Unsurprisingly, west-facing coasts and islands are the best places to look. The Isles of Scilly has always been regarded as a bastion for finding Nearctic vagrants and has produced a long list of stunning examples but, in reality, just about anywhere between there and the Butt of Lewis is optimally positioned to deliver. The nearby Cornish valleys have a long-standing affinity with mega finds – for example, Britain's first American Redstart was at Porthgwarra in October 1967.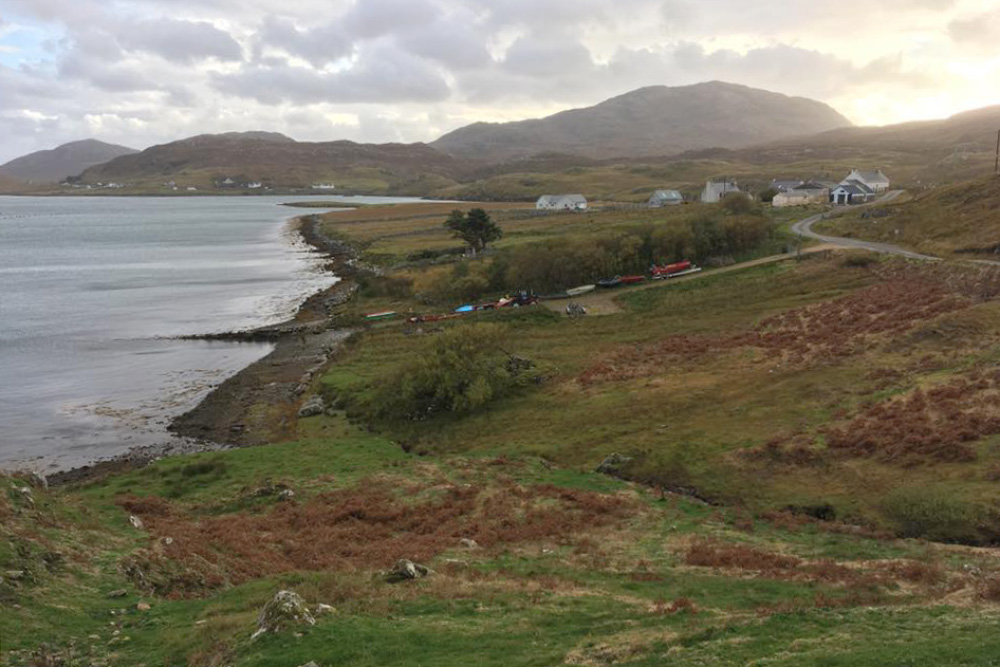 The entire west coast of Britain and Ireland has the potential to produce American vagrants, yet the vast majority of it is barely birded. The intermittent vegetated gardens of the Outer Hebrides must have hosted many undetected megas over the years. This is Bhaltos on the Isle of Lewis (Richard Bonser).
Though the total number of American warblers found in Ireland is relatively low compared to Britain, there is no shortage of legendary sites which have produced over the years: Galley Head, Cape Clear Island, Garinish Point and Mizen Head, Co Cork, and Loop Head, Co Clare, are among the most recognisable names, while in recent times sites such as Inishmore and Inishbofin, Co Galway, have also cemented themselves on the 'Yank'-finding map. The reality is, though, that vast swathes of the Irish coastline, particularly further north, are hugely underwatched and many birds must have been missed here over the years.
The Outer Hebrides is ideally placed to harbour freshly arrived American landbirds, although it is the most remote of all its isles, St Kilda, which has produced some of the very best warblers – including Hooded on 10 September 1992 and Blackburnian from 12-14 September 2009. The Butt of Lewis area, too, has become renowned as a hotspot for arriving Americans, not least for the luminous male Wilson's Warbler in October 2015. However, there are some stunning gardens and valleys right along the west coast of Lewis, particularly around the 'headland' at Aird Uig – an area barely watched by birders and thus, despite its optimal location, having never produced a major landbird from across the Atlantic. Further south, the myriad of gardens, valleys and plantations throughout Harris and the Uists must surely produce with regularity, and the current rate of discoveries can only be the tip of the iceberg. This is somewhat emphasised by the impressive track record of neighbouring Barra over the past 15 years which, with consistent coverage, has produced fantastic vagrants on a near-annual basis – not least the well-watched American Redstart from 7-17 September 2017.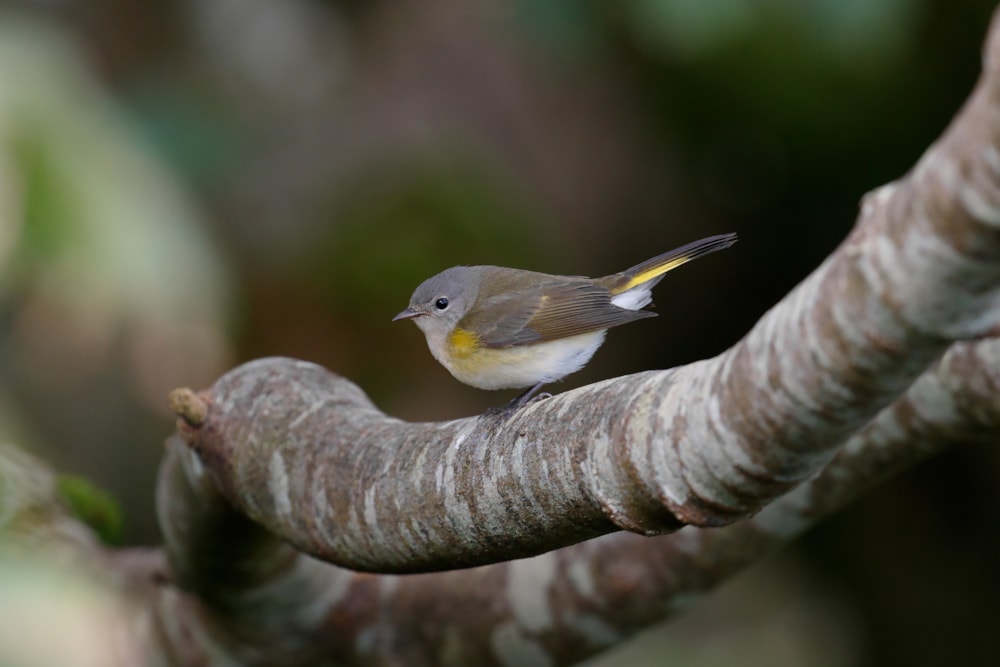 Barra has built up an excellent track record with North American landbirds in recent years. This American Redstart spent 11 days there from 7 September 2017 (Josh Jones).
In terms of habitat preference, the scope is wide. Some more cryptic and elusive species, such as Ovenbird or Northern Waterthrush, skulk among the understory and dense, damp thicket, often proving very hard to pin down. Others, such as Tennessee Warbler and Common Yellowthroat, have a preference for more open, weedy fields or patches of rank vegetation, and are a reminder that even scant areas of cover are not to be ignored. Many of the species are canopy feeders and can readily be found in gardens, plantations or any stands of bushes or trees that supports the necessary insect life to feed. As with all vagrants, particularly attractive trees include sycamores, willows, sallows and, in the Azores especially, junipers.
What to look for
A total of 18 species have been seen in Britain, with seven of these recorded on just one or two occasions and a further seven observed 10 times or fewer. This in itself highlights just how rare the family is as a collective on this side of the Atlantic, and that finding one requires not only persistence and graft, but also a great deal of luck. Ireland, meanwhile, has hosted 12 species – two of which, Canada Warbler and Blue-winged Warbler, are yet to be seen in Britain.
The most regular of the group are Blackpoll and Myrtle Warblers, with 61 and 40 combined British and Irish records respectively. Both are strong fliers and both, particularly Myrtle, are late-season specialities, typically moving later in the autumn than some of the rarer taxa, exposing them to the more inclement weather of October. This is reflected in the temporal distribution of records: just seven Blackpolls have been recorded in September (earliest 18th), with only two Myrtles recorded in that month.
With 15 British and three Irish occurrences, Northern Parula is the next most frequent. However, this tally paints a somewhat rosier picture than the current reality. Just two individuals have occurred since the turn of the century (in Co Waterford in October 2003 and on Tiree, Argyll, in September 2009) – a far cry from the heyday of the Eighties, when 11 birds were found in an eight-year spell, including three each for the Isles of Scilly and Cornwall. Thus, another parula would draw quite a crowd these days …
Content continues after advertisements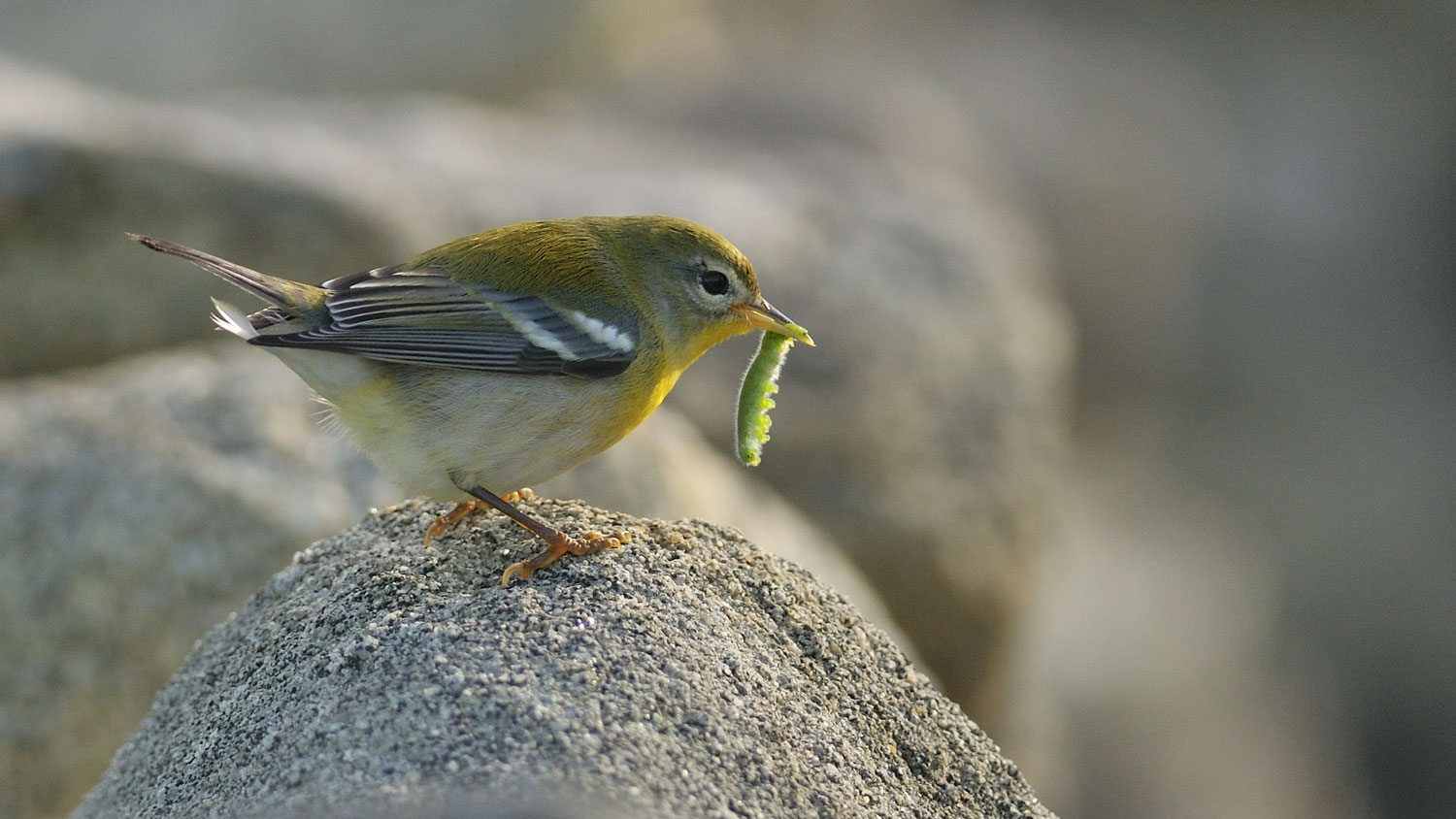 Northern Parula is one of the more frequent New World warblers to make landfall in the Azores, yet it has become curiously rare in Britain and Ireland since the turn of the century. This bird was on Sein Island, France, in October 2009 (Laurent Spanneut).
Black-and-white Warbler is another that has become extremely rare over the same period. Only two of the 16 British and Irish records occurred outside the period of 1975-1996 (there were four in that latter year), with a well-twitched bird on St Mary's, Scilly, from 17-21 September 2011 representing the only find this century.
A significant proportion of the 11 Common Yellowthroats and nine American Redstarts have occurred in October, but the former has occurred once in late September and the latter twice in that month. However, American Yellow Warbler, with 11 records, is very much an early-season speciality – although it has been found as late as November, no fewer than six have been discovered in August, the earliest of which was on 21st.
Nine Northern Waterthrushes include two August appearances and four more in September. Although the eight British and Irish Ovenbirds have averaged later in the autumn, a multitude of September records from Corvo, Azores, shows that the species should be very much expected earlier in the season than the current pattern suggests.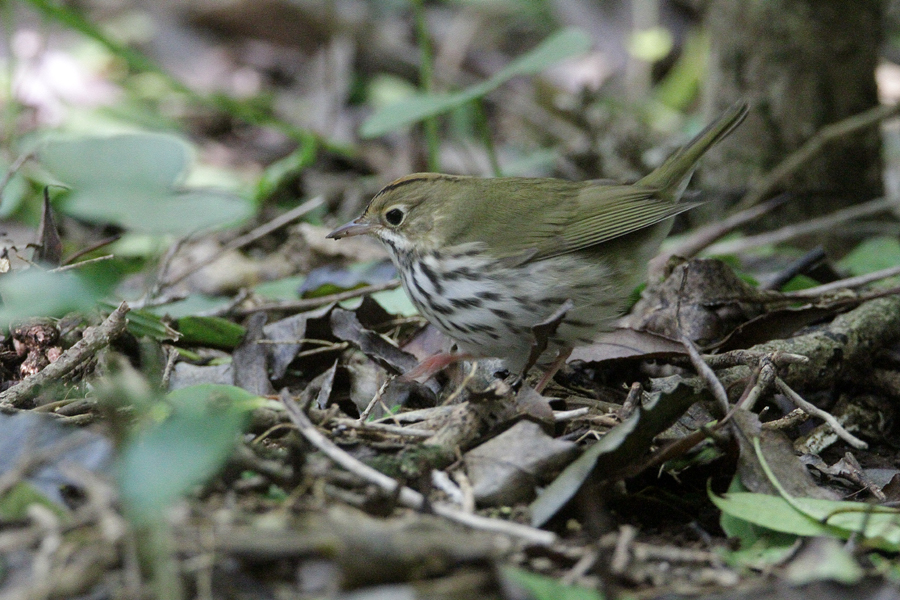 Ovenbird is likely to be found feeding unobtrusively among the leaf litter in a shaded garden (Zbigniew Kajzer).
The remaining 11 species have been recorded in Britain or Ireland four times or fewer. Golden-winged Warbler has appeared just once here, in Kent in the depths of winter 1989, while Blue-winged Warbler's sole showing was on Cape Clear, Co Cork, for a week from 4 October 2000. Given both have occurred in the Azores since then, Blue-winged twice, it is certainly not outlandish to imagine a repeat.
Chestnut-sided Warbler has appeared twice: on Fetlar, Shetland, in September 1985 and in Devon in October 1995. Although just the one has been seen in the Azores, a showy bird on Sein Island in north-west France in October 2010 suggests that another before long is very much a realistic hope.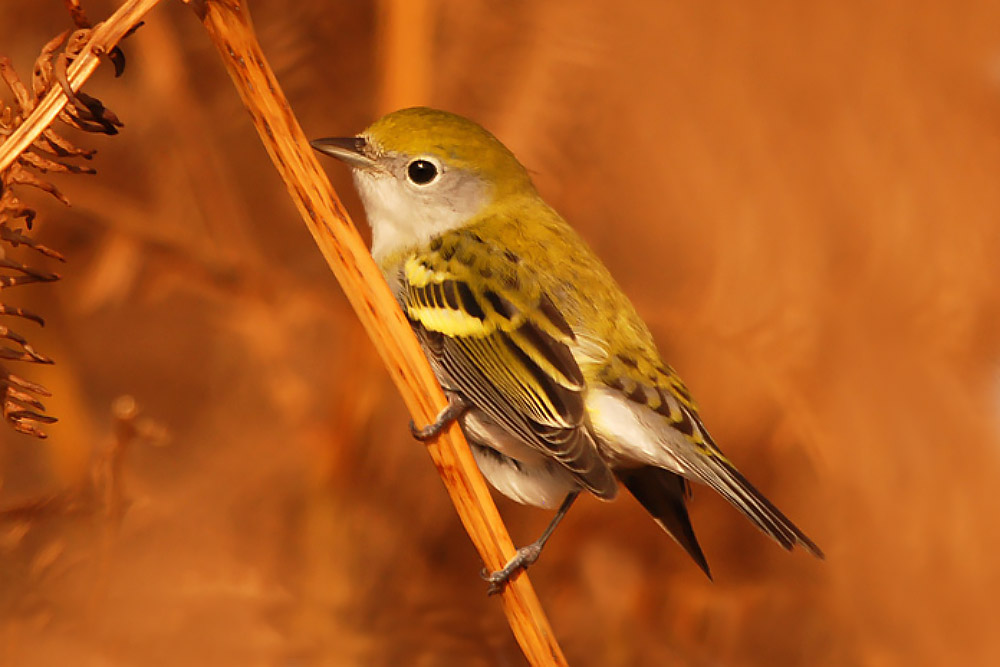 It is difficult to find superlatives to describe the beauty of a first-winter Chestnut-sided Warbler. This one showed well on Sein Island, France, for a few days in October 2010 (Daniel Lopez-Velasco).
Though Tennessee Warbler has not been seen in Britain since 1995, multiple Azores records and a stunning find in Iceland in early September 2019 show that it's another case of when, not if, another makes landfall here. Ireland eagerly awaits its first.

Hot off the press: Iceland's second Tennessee Warbler, pictured above, made landfall in the far south-west of the country on 8 September 2019 (Alex Máni)
The same could be said for Hooded Warbler – seen in Britain in 1970 and 1992 (and never in Ireland), another is overdue, given that Corvo has scored no fewer than four since 2005. September seems high time for a Magnolia Warbler and, after the untwitchable bird on Fair Isle in 2012, a more accessible bird would be a huge story.
Cape May and Wilson's Warblers have occurred twice apiece in Britain, including twitchable examples of both this decade. Ireland, too, has been treated to a recent twitchable Wilson's, but still lacks Cape May from its national list and one flitting about a sycamore stand on a Co Cork headland would no doubt go down very well. An accessible Blackburnian Warbler, which has been seen three times previously in Britain and never before in Ireland, would also be greatly appreciated.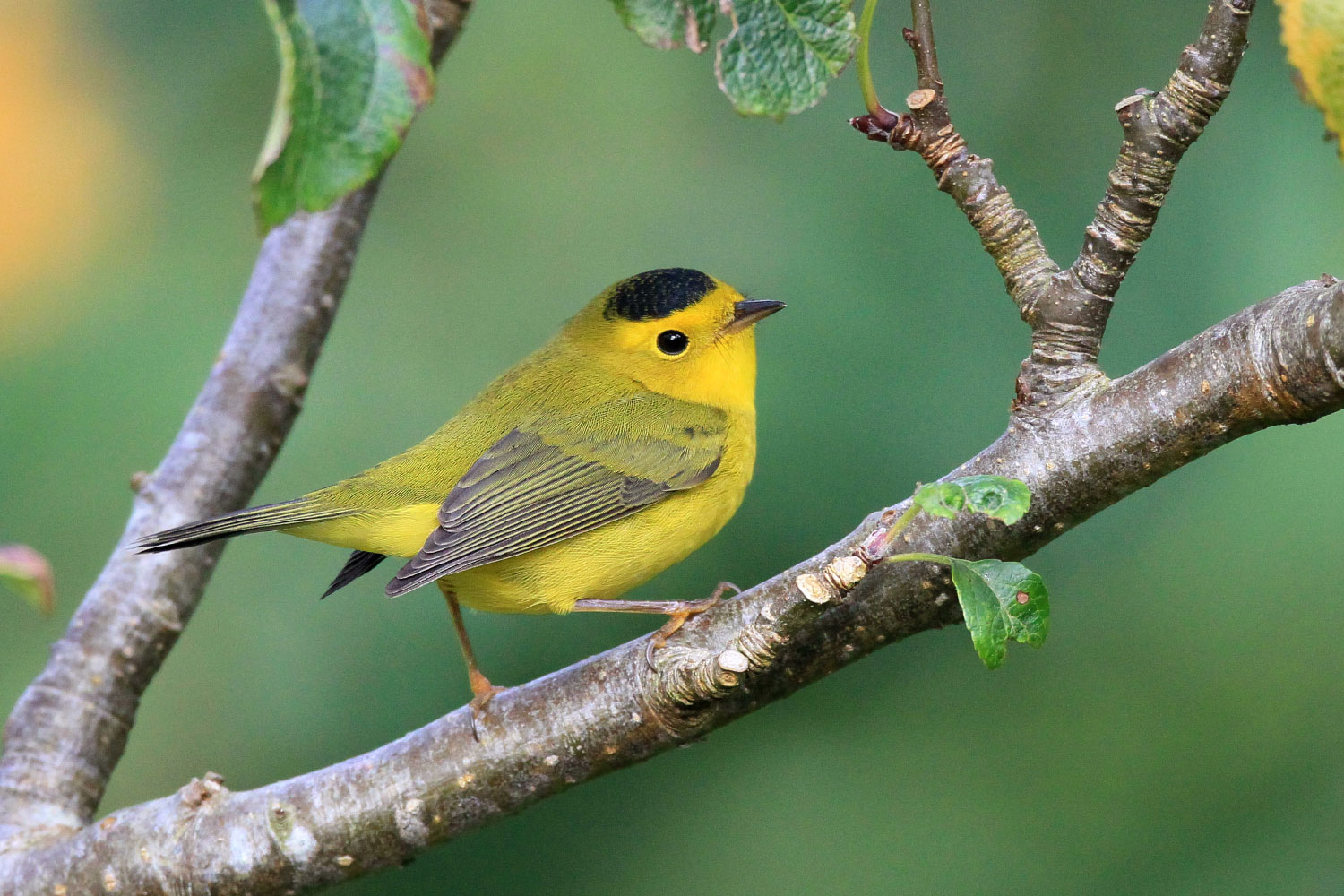 This male Wilson's Warbler at the northern tip of Lewis was one of the most popular birds of autumn 2015, following hot on the heels of another male in Co Cork in September 2013 (Graham Jepson).
One of the most enviable Irish birds of all time was the Kilbaha Canada Warbler in early October 2006. Though twitched by plenty of Brits, this is arguably the most obvious omission from the British list among the list of Nearctic warblers yet to be seen here. Bay-breasted may have been seen in Britain before (in Cornwall on 1 October 1995) but, given that it was seen only by the finder, another would feel as good as a first.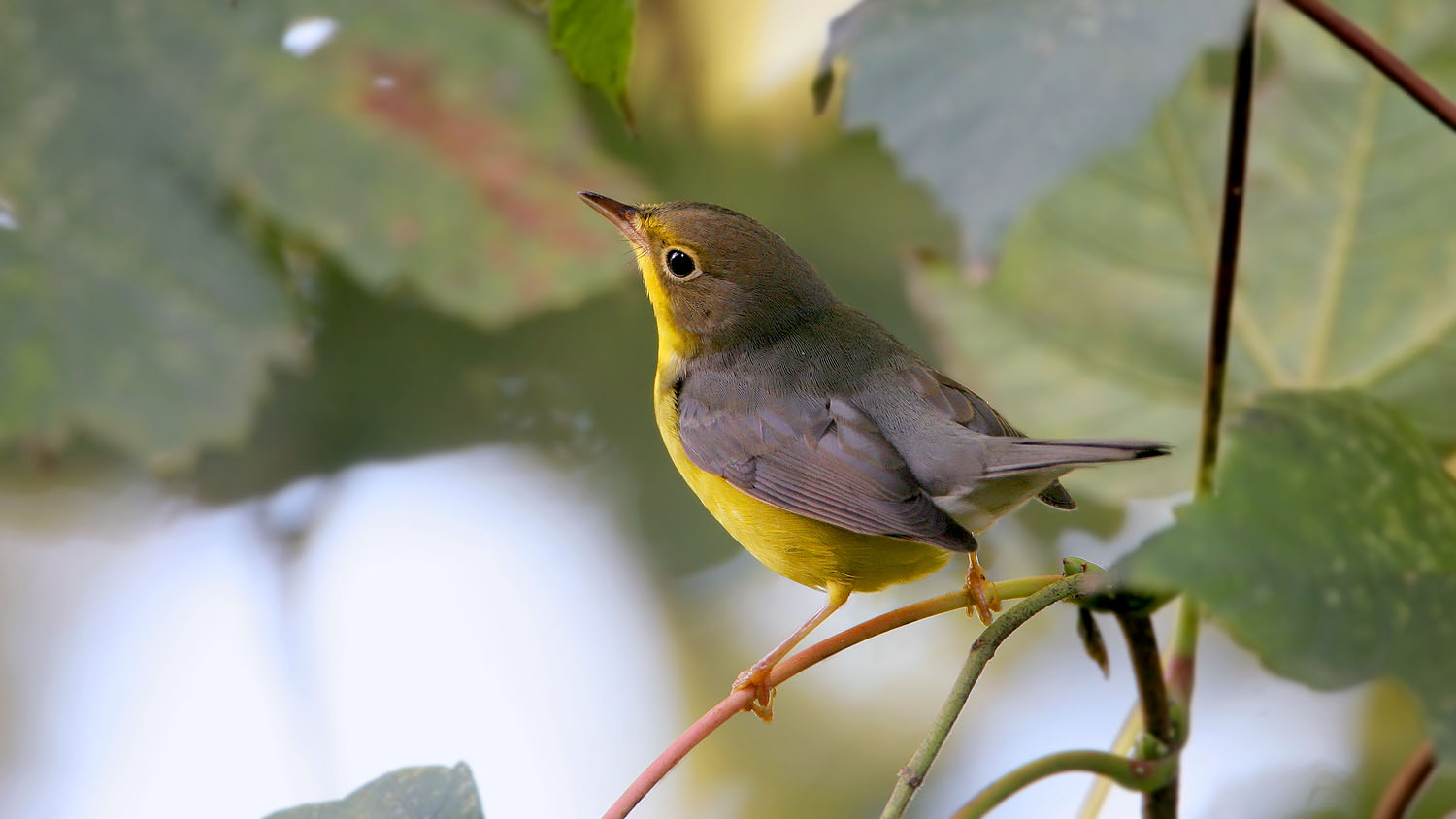 The Canada Warbler at Kilbaha, Co Clare, in October 2006 generated a big twitch, with plenty of British birders making the trip across the Irish Sea to see it (Kit Day)
As for those species yet to be recorded in Britain or Ireland – well, there are plenty. With the number of Western Palearctic records of both Black-throated Blue and Black-throated Green Warblers now well into double figures and stemming from both the Azores and Iceland, either of these stunning species is very much overdue here.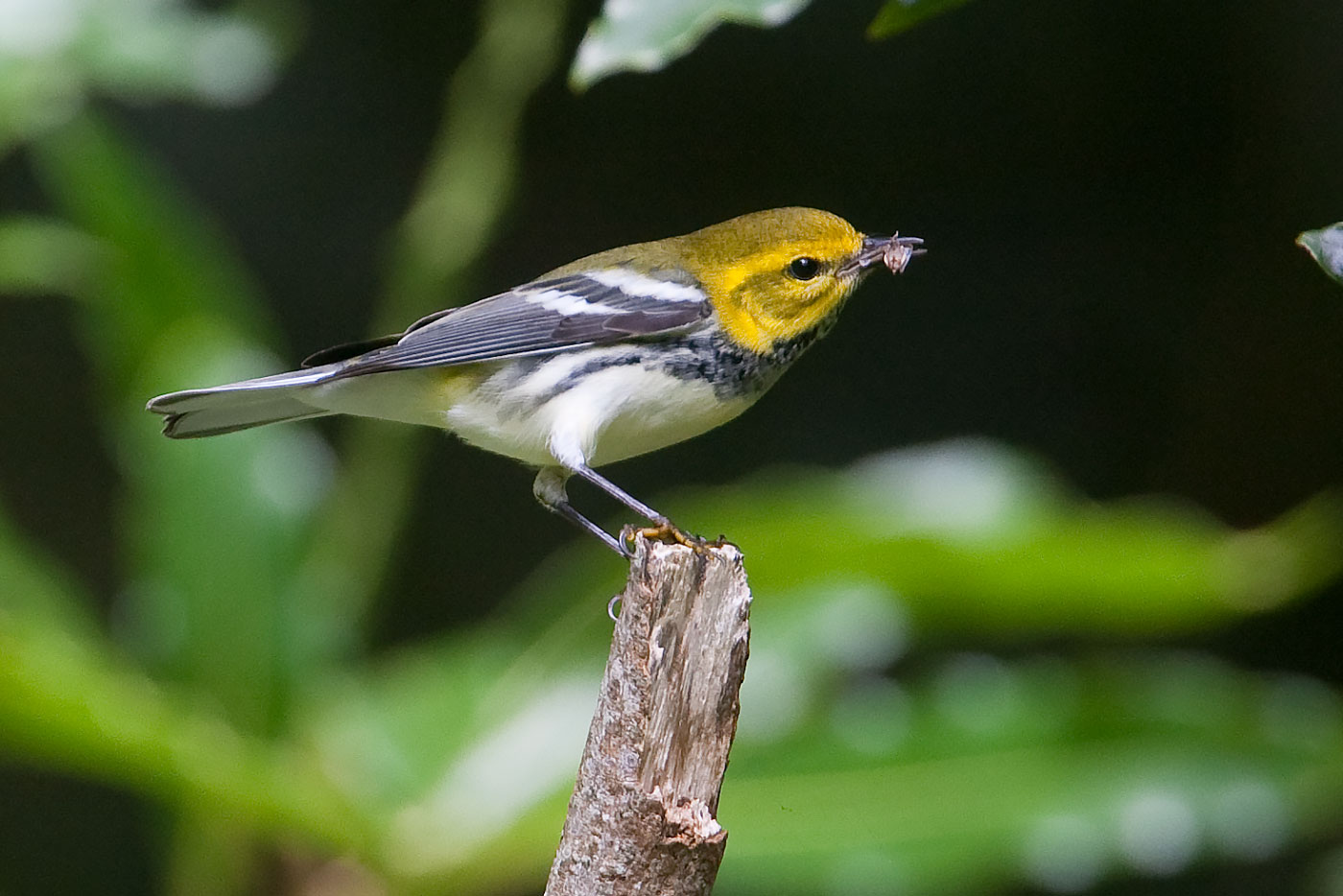 With records from both the Azores and Iceland, Black-throated Green Warbler is one of the most likely future additions to the British or Irish lists (Rafael Armada).
An extraordinary storm that hit Iceland in early October 1997 delivered two Western Palearctic (WP) firsts: a Cerulean Warbler on 1st and then a Palm Warbler on 5th. Neither has been seen anywhere since, but both must be in line for a debut in Britain or Ireland at some point. With just a single WP record from Corvo in October 2012, Prairie Warbler is a perhaps a bit more of a long shot if not an impossibility. The final Nearctic warbler on the WP list is Yellow-throated Warbler, but this is something of an improbability to turn up here.
There are numerous highly migratory species that have yet to be recorded in the WP, and it may well prove that Britain or Ireland produces one of them as a regional first. The more obvious include Orange-crowned, Connecticut and Mourning Warblers, although the latter two can be frighteningly elusive, which doesn't help detection.
With a couple of at sea records on the periphery of the WP region, Prothonotary Warbler may too soon make an appearance, while Louisiana Waterthrush and Kentucky and Nashville Warblers all look feasible vagrants, based on their phenology.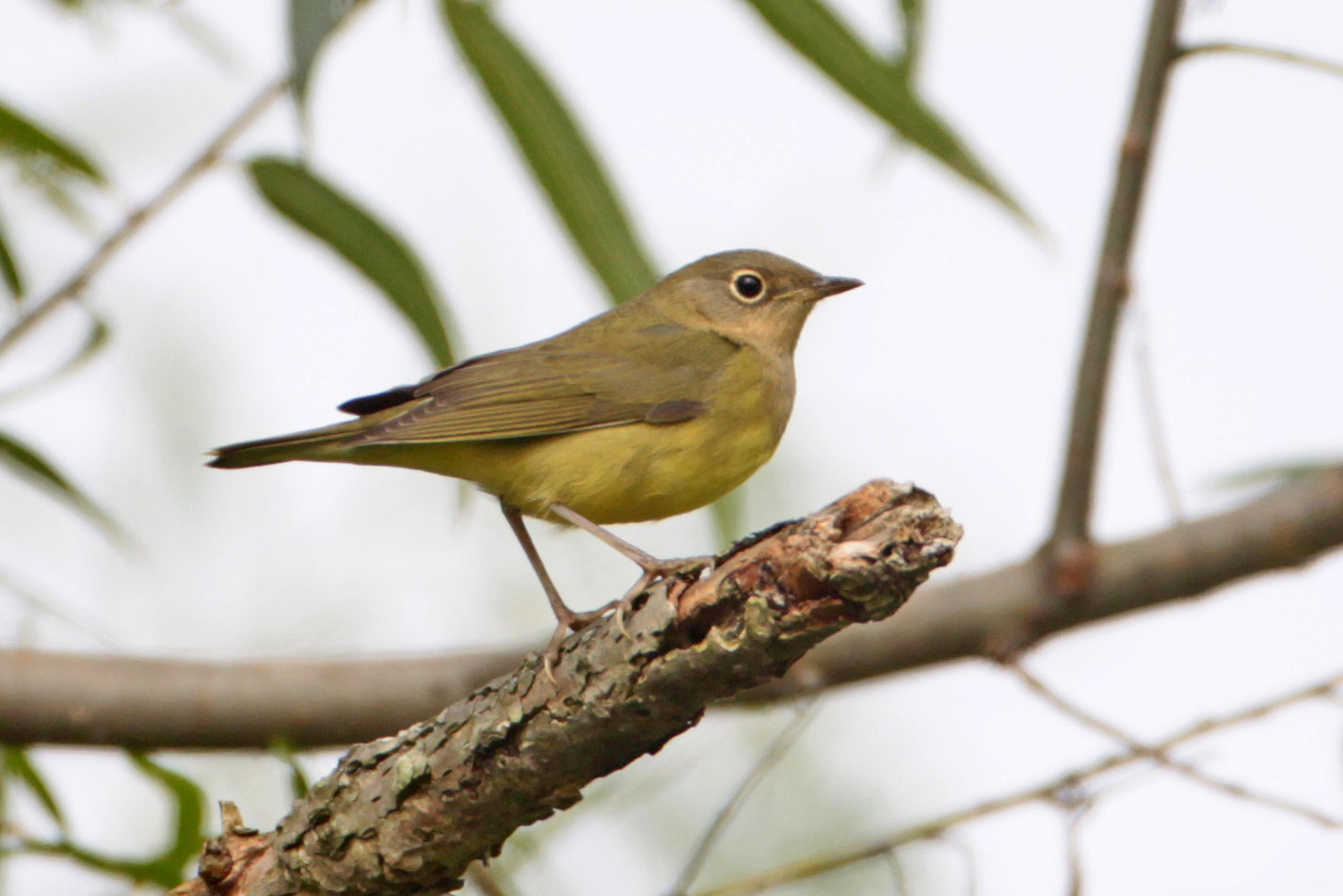 Given that geolocators recently revealed it to make long-distance oversea migrations, Connecticut Warbler seems an obvious future addition to the British, Irish or Western Palearctic lists (Matt Tillett).
There is little doubt that the New World warblers are among the most exciting and most beautiful vagrants to make landfall in Europe, with their collective rarity making the discovery of each one a significant event. With so many highly migratory species in the family, there is wide scope to not only come across a genuine mega, but also add a species to a national, or even regional, list. Ahead of the next transatlantic weather system, why not head out west to chance the find of a lifetime?