News emerged this week of two new 'longevity records' as shown by ringing. The first was a colour-ringed Whimbrel seen on Fetlar (Shetland), followed by the recapture of an Arctic Tern on the Farne Islands (Northumberland).
As long ago as the 1980s, work was carried out by Murray Grant on Fetlar and Unst, involving catching and colour-ringing adult Whimbrels to monitor brood survival and return rates of adults. During 1986–88, Murray colour-ringed 97 Whimbrels, with a return rate of adults of 89%. Sightings of these colour-ringed birds came from Fetlar right up to the mid–1990s, but not since.
It was thus rather surprising when, on 9th May, Allan Perkins — studying the breeding success of Whimbrels on the island — saw one of these colour-ringed birds feeding on the short cliff-top turf of Strandburgh Ness. Frustratingly it wasn't until 31st May that Allan managed to get good enough views of the bird to note the combination of colour rings.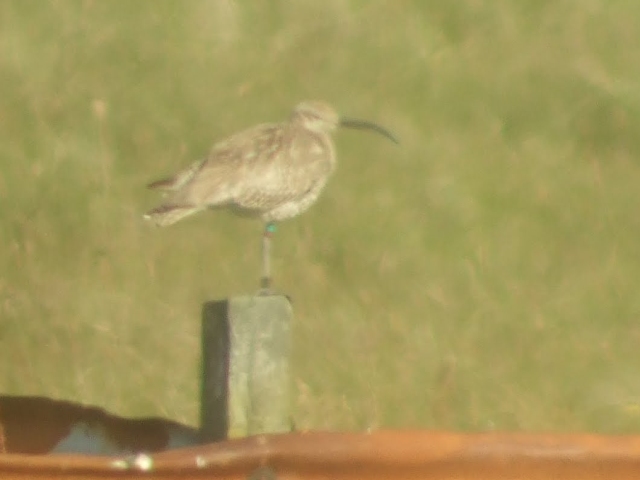 Whimbrel EK92102 on Fetlar, Shetland. (Photo: Allan Perkins)
He could then identify the bird as EK92102, originally ringed as a breeding adult on Fetlar on 1st June 1986 — 24 years previously. This easily surpasses the previous longevity record for this species of just 16 years, held by a bird ringed as a chick on Shetland in June 1979 and shot in France in August 1995. Also, given that Whimbrels don't normally breed until they are two or three years old, this bird may well be over 26 years old.
Content continues after advertisements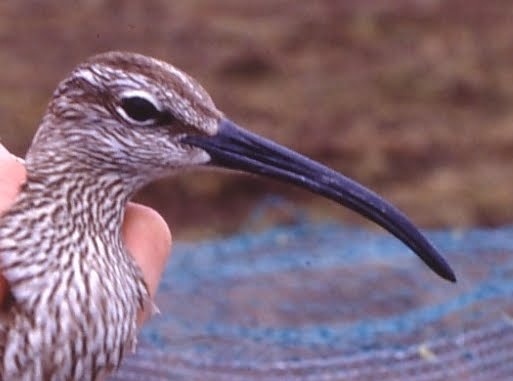 One of the original ringed Whimbrels in the 1980s, Fetlar, Shetland. (Photo: Murray Grant)
The National Trust then released news of an Arctic Tern caught on the Farne Islands that was over 30 years old. CE60645 was originally ringed on the Farne Islands on 28th June 1980, and had been ringed by a team of wardens that included John Walton, who is now the National Trust's property manager for the islands.
John said: "This is a remarkable discovery especially as only one in 50 birds that are ringed is subsequently caught again. Back in 1980 I was in my second year as a seasonal warden and part of my job was ringing tern chicks. When I put ring number CE60645 on the chick's leg and recorded it in the log I thought no more of it. It was one of hundreds that would make the perilous journey down to the Antarctic that winter. When the news broke regarding the tern I was out like a shot to see how CE60645 had fared. This bird will have flown close to one million miles, raised any number of chicks, survived predators and storms and still looks in brilliant shape. In contrast, I have led a relatively sedentary existence and kept adventure to a sensible level, in fact alongside the tern I look knackered."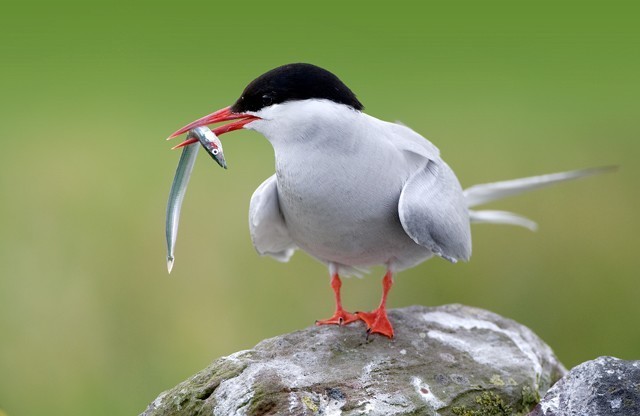 Arctic Tern, Farne Islands, Northumberland (Photo: Nigel Pye)
The previous longevity record was 29 years, 10 months and 11 days, also a Farne Islands bird.
Lee Barber, Recoveries Officer at the BTO, added: "This is a great record but something we wouldn't have known about if this bird hadn't been ringed. Without its uniquely numbered ring, we really would have little knowledge of how long Arctic Terns live. This highlights the importance of ringing as a tool for conservation which allows us to identify birds as individuals. Let's hope Arctic Tern CE60645 returns to the Farne Islands next year and breaks its own record. The oldest known Arctic Tern is a 34-year-old American bird, so it would be nice to see this bird, one day, claim this record."