After the prolonged warm dry spell through April and early May, Mother Nature has since balanced the early-summer meteorological equation with virtually non-stop unsettled weather, with really warm days few and far between. It has been quite windy, which makes looking for insects in general equally difficult both during the day and at night.
Perhaps the most important insect news of all was the confirmation that the Dainty Damselfly colony found on Sheppey (Kent) last summer has again seen adults emerging, albeit so far in small numbers; happily, two pairs were seen 'in tandem' on 15th June. Another interesting odonate record was of a presumed migrant Norfolk Hawker dragonfly at Stodmarsh (Kent) on 4th June.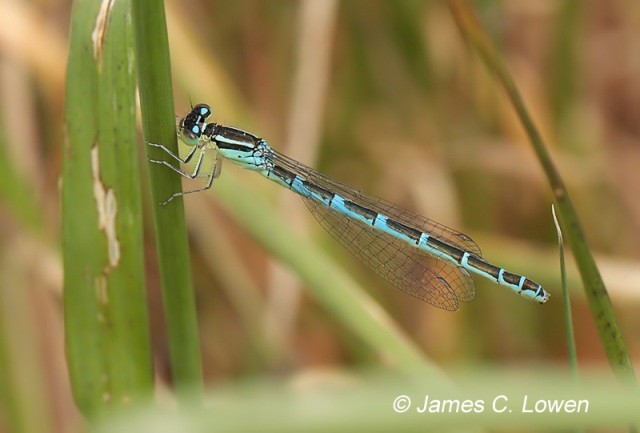 Female Dainty Damselfly on Sheppey (Kent), 1st June 2011 (James Lowen).
Kent has also, for the third year in a row, witnessed the lion's share of a Rannoch Looper moth influx from the near continent. The first couple of days in June saw temperatures rise across western Europe and during the day on the 3rd the wind across the southern North Sea and the English Channel turned to a moderate ENE. The first indication that the invasion was 'happening again' came overnight on the 3rd, when four were reported at St. Margaret's at Cliffe (Kent) followed quickly that day with reports of similar small numbers in Devon, Dorset, Hampshire, the Isle of Wight, East and West Sussex, Suffolk and Surrey. One even made it as far west as Cabilla Woods NR (Cornwall) that first night.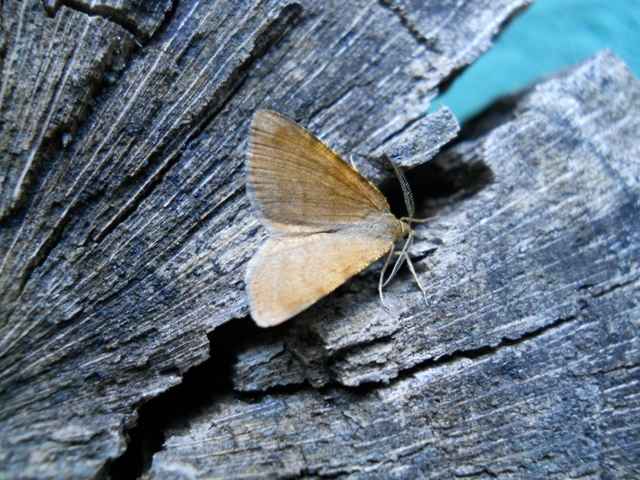 Male Rannoch Looper in typical 'wings half-cocked' position; Sheppey (Kent), 4th June 2011 (Steve Whitehouse).
In the UK the Rannoch Looper is a local resident of the central and northeastern highlands of Scotland, where it breeds in native pine and birch woodland with extensive Bilberry ground cover (Bilberry is the food plant of the larvae). The adult moths are fairly unusual in appearance: both sexes are small and rich cinnamon-brown in colour with rounded wingtips. The lines across the upperwings are more obvious in females, and in males the darker brown 'notches' along the forewing costa (leading edge) are often the first proper fieldmark you see. When at rest, the moth often adopts a 'wings-half-cocked' posture resembling a small butterfly. Once your eye is in, they are quite easy to recognise. The Scottish population is at large in later June and July, and is not known to wander very far from the breeding grounds.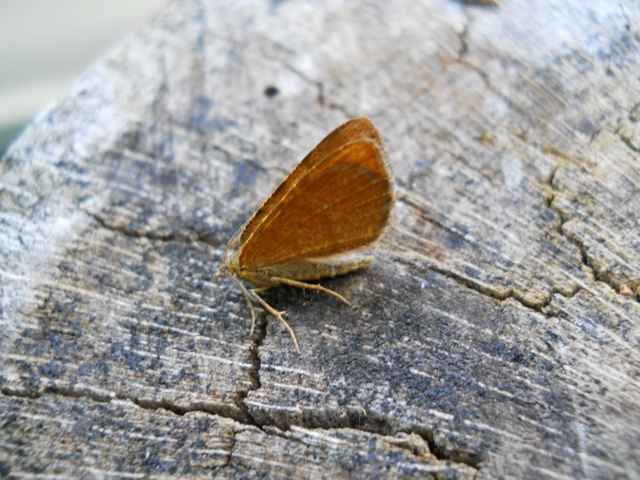 Male Rannoch Looper showing the almost-closed-wing resting position (Steve Whitehouse).
The night of 4th June saw more arrivals on the coast at Sizewell (Suffolk), in Essex, Kent and west across southern England. Five were also recorded inland in woodlands in Somerset that night. One group of Midland moth-ers who had made their way to Orlestone Forest (Kent) to look for a rare local resident moth also got a welcome bonus as the evening progressed. Not only did they attract five Scarce Merveille du Jours and several of the corylaria form of Orange Moth to their MV light-traps positioned under an avenue of mature oaks, but a total of 21 Rannoch Loopers had been counted by 01:20 the next morning! Four Red-necked Footman there were also likely to have been migrants.

Male Orange Moth of form corylaria at Orlestone Forest, Kent (Roger Wasley).

Male Scarce Merveille du Jour at Orlestone Forest, Kent (Roger Wasley).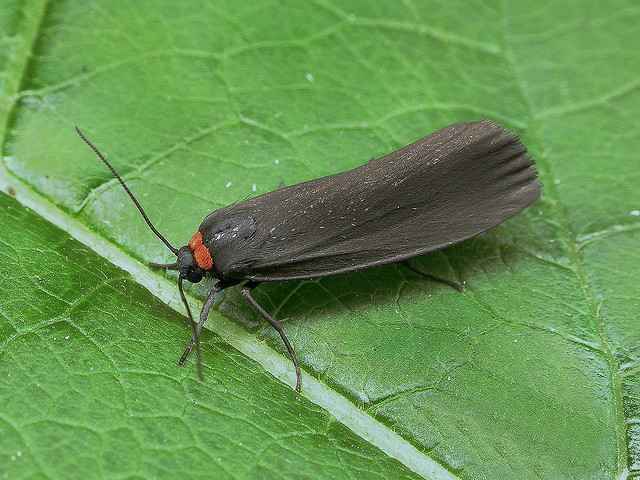 Red-necked Footman (Patrick Clement).
It is thought that these Rannoch Loopers had probably come from the Low Countries, where extensive suitable breeding habitat exists in the Ardennes Forest along the Belgium border. The warm conditions had probably produced a massive emergence, following two good breeding seasons, and the ENE winds then funnelled a proportion of these away and across the English Channel. There have been no obvious records further north than Suffolk, but some moths did make it to the Channel Islands and to Normandy (France).
By mid-June a minimum of 549 Rannoch Loopers had been recorded across southern England and the Channel Islands. The highest count of 57 was at Sissinghurst Castle (Kent) on 6th. Other notable counts included 18 at Wadhurst (East Sussex), up to 46 in woodland near Densole (Kent) and eight in the Surrey Hills. A male that reached Trench Wood NR (Worcs) was not only the furthest northwest of this influx, but a vice-county first as well! It is interesting to note that nearly all the moths inspected closely were males. This may be a result of fresh females staying near ground level by the food plant and being less prone to wind-assisted dispersal. Males of most moth species initially fly higher in their search for virgin females, especially where competition for females is high.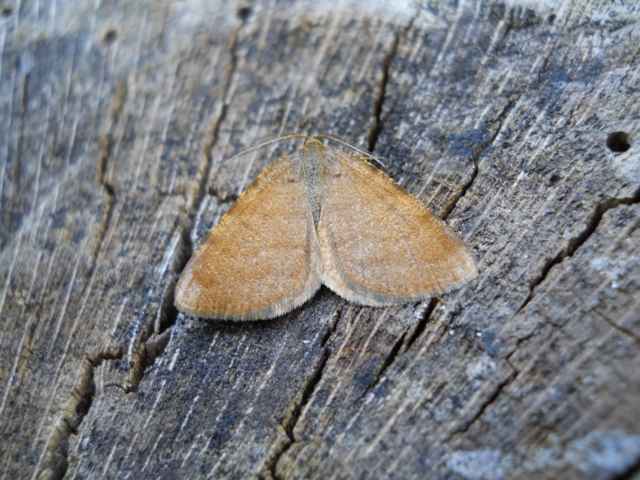 Male Rannoch Looper in more typical 'flat geometrid' pose (Steve Whitehouse).
Not surprisingly, 66% of the grand total were in Kent. Here many of the highest totals were at inland ancient woodland sites where males are thought to have homed in on good-looking habitat, hoping to find good-looking females. Sites supporting areas of Bilberry could support a temporary breeding population if enough females were mated in those areas.
Other migrants coinciding with this influx included a Bedstraw Hawk-moth in the Surrey Hills and a Bordered Gothic at Landguard NR (Suffolk), both on 3rd. Three examples of the pyralid moth Ortholepis betulae were also in Suffolk, a single Pyla fusca was at Greatstone (Kent) and an Antigastra catalaunalis was at Pannel Valley NR (East Sussex), all on 4th. All these could have originated from the same part of western Europe, as suitable habitat for these species is abundant in the Ardennes.
Outside of this Rannoch Looper 'window', other migrant species were rather few and far between. A Convolvulous Hawk-moth was at Newport (Pembrokeshire) on 19th May and the next day a Vestal was near Docking (Norfolk). An Olive Crescent at Westover Down (Isle of Wight) and a Delicate at Portland (Dorset) were both found on 26th. June started well with a Dewick's Plusia at Sandy Point (Hants) on 1st and a Portland Ribbon Wave reaching Mangotsfield (Bristol) on 2nd. There was a quiet lull then until 13th, when a Death's-Head Hawk-moth was a welcome surprise for its finder on The Lizard (Cornwall). On the same night a Cosmopolitan reached Lymington (Hants), a Pearly Underwing was at St. Margaret's at Cliffe (Kent) and the pyrale Evergestis limabata was at Weeley (Essex).

Delicate (Michael Southall).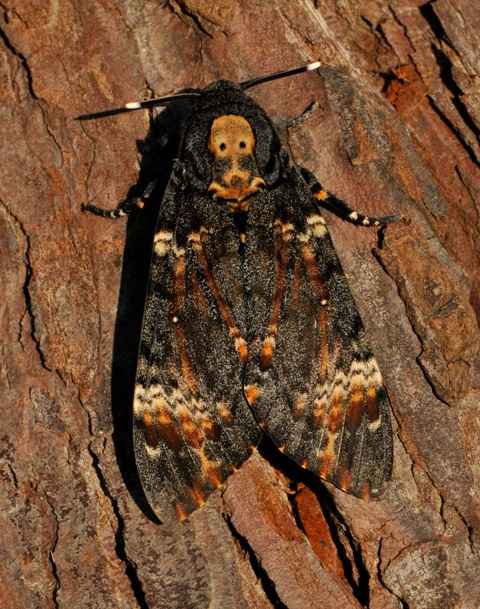 Death's Head Hawk-moth (Peter Withers).
A mini-influx of four Gems mid-month included one well inland, caught by Andy Whitney at Leighton Buzzard (Beds) on 13th June, providing a welcome visual comparison with last month's much rarer but similar Many-lined. These two records show that operating a garden moth trap on a regular basis, even in the middle of the country, can produce the unexpected — especially during or just after winds with an easterly or southerly element.

Gem in Bedfordshire, June 2011 (Melissa Banthorpe).

Many-lined in Bedfordshire, May 2011 (Melissa Banthorpe).
A fine Orache Moth was at Bracklesham Bay (West Sussex) on 15th. Other more regular migrant species included many reports of day-flying Hummingbird Hawk-moths and smaller numbers of Silver Y, Dark Sword-grass, Diamond-back Moths, Rush Veneers and the odd Rusty-dot Pearl. Some of our resident Red-data species such as Fiery Clearwing in Kent and Reddish Buff on the Isle of Wight have had good daytime showings, probably benefiting from the warm spring weather enabling them to breed much earlier than normal. Continuing the theme of abnormal emergence of a Bio-diversity Action Priority (BAP) species, two Silky Wave were at a site in Avon on 25th May. A Water Ermine at Alderholt, Dorset on 14th was the first county record for 73 years. The steady northerly expansion of the Toadflax Brocade continued with a live adult in Cambridgeshire on 16th May.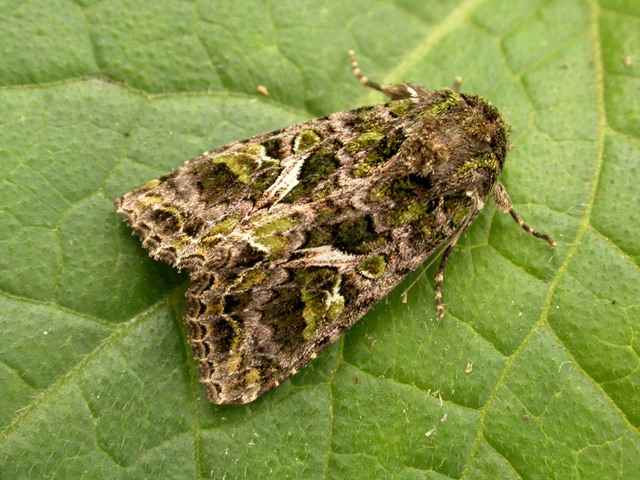 Orache Moth at Bracklesham Bay (West Sussex) on 16th June 2011 (Derek Lee).
References
Waring, Townsend and Lewington. Field Guide to the Moths of Great Britain and Ireland. Revised edition, British Wildlife Publishing, 2009.
UKMoths online photographic guide