The second half of June continued with rather cool and unsettled weather until the 25th, when a mini-heatwave and light southerly winds ensued for several days and brought with it a major influx of near continental moths. The most significant feature of this particular event was the largest ever immigration of
Small Marbled
, a tiny macro-moth, actually smaller in size than some 'Tortrix' moths. Historically Small Marbled has occurred in Britain over 200 times, with previous marked influxes of about 40 individuals in both 1953 and 2006. At the time of writing a total of 86 Small Marbleds have been 'broadcast' across 11 counties of southern England with single outpost records from South Lancashire, Lincolnshire and West Lothian.

Small Marbled in Worcestershire, July 2011 (Pete Withers).
Small Marbled is a very small, pretty, slightly 'tented', two-tone, orange-banded moth that inhabits disturbed and dry open ground. Food-plants include fleabane. It flies from late afternoon and can be found nectaring on wayside flowers as well as coming to light at night. Indeed, once 'the shout was out' about the influx, several keen observers actually successfully targeted the moth at coastal sites on the west Dorset coast on late afternoons, early in July.

Small Marbled nectaring on red valerian in Dorset July 2011, showing just how small this moth is (photo John Chainey).
The first of this year's Small Marbleds was recorded at Bonchurch on the Isle of Wight on the night of the 26th June. The next night, small numbers were reported from Dorset, Hampshire, Kent, Somerset and West Sussex. Dorset actually recorded over a third of the current total, with Dave Foot accounting for a dozen at his Wyke Regis trap. Head of Butterfly Conservation Mark Parsons saw no fewer than seven on three late-afternoon walks along the Jurassic Coast. Well inland in Worcestershire, Gavin Peplow could hardly believe his tired eyes when arriving back home at 02:50, following a nearby grassland moth survey; he found no fewer than three Small Marbleds around his single garden MV trap near Pershore on 3rd July. Another one was later found inside the trap and this quartet represented the first ever records for VC37!
Guy Freeman's stroll through Broadcroft Quarry NR, Portland (Dorset) on 27th June paid bumper rewards with another similar but even rarer migrant, in the form of an astounding Purple Marbled, settled and nectaring on flowers there.

Purple Marbled, Portland, Dorset, 27th June (Guy Freeman).
Prior to the 26th, a few notable records included a few scattered Gems, a White Point in Nottingham and the last Rannoch Looper near Densole (Kent), both on the 21st. The very rare micro-moth Metalampra italica was a Kent 'county first' for Paul Howe at his Saltwood garden on 23rd June.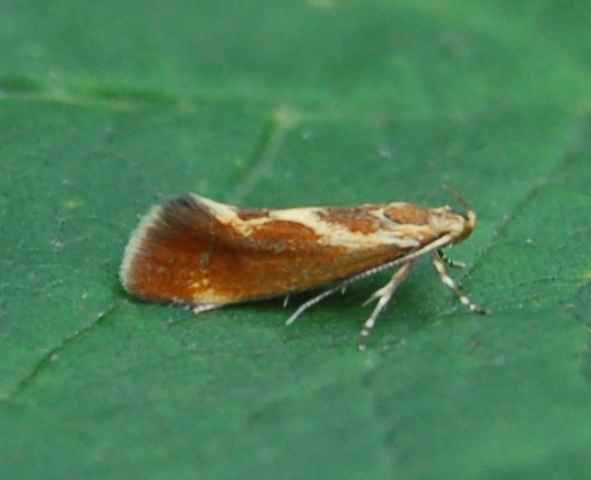 Metalampra italica (Paul Howe).
Elsewhere very good numbers of Hummingbird Hawkmoth, especially at coastal stations, were perhaps a hint of the pending moth immigration. This was truly heralded by Britain's second-only Dusky Marbled Brown since 1853, at Dungeness Bird Observatory (Kent) on the night of the 26th, following the only other recent one at nearby New Romney on 17th June 2003.

Dusky Marbled Brown at Dungeness, June 2011 (David Jackson).
With weather conditions remaining ideal the next night, observatory warden Dave Walker decided on an all-night vigil around his two traps and it was a decision that paid off with great dividends. The night's haul included the arenaria continental form of Speckled Footman, the prasinaria 'green form' of Barred Red, a Scarce Black Arches and a Small Marbled. Dave described the night as his 'best ever' while warden at Dungeness. Other migrants in the area around this time included two Splendid Brocades and at least three Silver Barreds.

arenaria form of Speckled Footman at Dungeness, June 2011 (David Jackson).
Elsewhere other interesting migrants recorded during the last few warm days of June included a Striped Hawkmoth at Preston (Dorset) on 27th, two Concolorous in east Kent, an Olive Crescent at Bracklesham (West Sussex) on 27th and a Blair's Mocha at Great Newton Head (Co Waterford) on 30th. At least seven of the rare plume moth Oxyptilus laetus were recorded between Cornwall and Sussex.
Content continues after advertisements
Seldom-seen Dotted Rustics came to light at Lydd-on Sea (Kent) and Dunwich (Suffolk) on 5th July. The iconic Spurge Hawkmoth was at Landguard NR (Suffolk) on 6th. It arrived on a windy night with few other moths in the trap, which posed the question as to how far it had actually travelled. Paul Howe's luck continued on 10th July with his first 'home' Spurge Hawkmoth at Saltwood (Kent), again in immaculate condition. Could this species be breeding in small numbers in parts of southeastern England?

Dotted Rustic in Kent, July 2011 (David Jackson).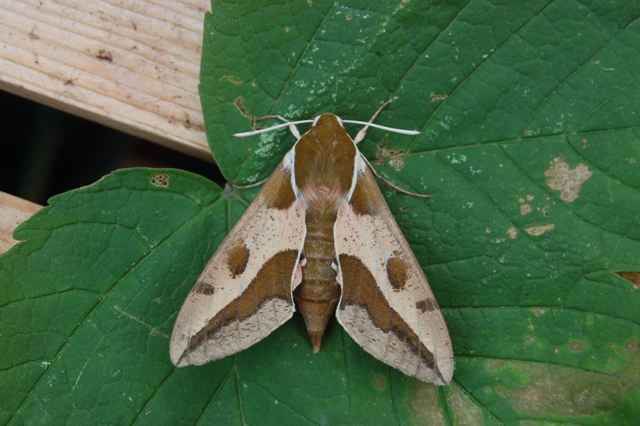 Spurge Hawkmoth in Kent, July 2011 (Paul Howe).
Only the second Bright Wave for Portland (Dorset) was at the Bird Observatory on 5th July and followed one, retrospectively identified from photographs, in Hampshire on 27th June. Two Orache Moths were on the south coast during this period, in addition to two Plumed Fan-foots, a Pearly Underwing and seven Langmaid's Yellow Underwings. A Bloxworth's Snout on St. Mary's (Scilly) on 12th July was only the second record there. Other migrants that, in an average year, could be classed as scarce were recorded in impressive numbers. Grand totals included nine Vestals, over 93 Dark Sword-grass, 163 Small Mottled Willows, 25 Bordered Straws, four Scarce Bordered Straws and 15 Ni Moths. Migrant micro numbers included over 200 Diamond-back Moths, 25 European Corn-borers, seven Evergestis extimalis, 15 Evergestis limbata, two Palpita vitrealis and 346 Rusty-dot Pearls. Finally another Orache Moth at Calverwall (Staffs) on 14th was new to VC39.
Resident moths have had mixed fortunes, no doubt due to the up-and-down weather patterns. The Geometrids appear to be having a poor summer, with the commoner species of carpets being reported in very low numbers. Amongst the garden moths Heart and Dart and Uncertain have been recorded in higher numbers than the last few years. The Lappet, which has declined nationally by about 85% in the last decade, has been recorded from at least six sites in its much-reduced strongholds of Dorset, Hampshire and Somerset. Why this moth has vanished so quickly from many areas is a mystery.

Lappet at Lytchett Matravers, Dorset, July 2011 (Guy Freeman).
The Varied Coronet was not recorded as breeding in Britain until 1948, and since then has spread across southern England but remained a scarce garden moth. I have had two this year in my Worcester garden — the first since 2006!

Varied Coronet at Worcester, June 2011 (Roger Wasley).
The warmer weather from late June has seen many wandering resident species turning up in garden traps and typical of this is the Shark, mainly a grassland species which this summer has found its way into the jaws of several garden 'Skinner' traps!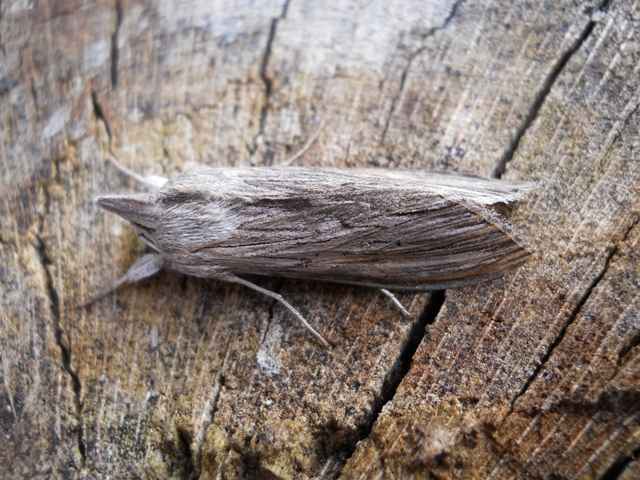 Shark at Worcester, July 2011 (Steve Whitehouse).
Contrastingly, there were only a few migrant butterflies. Large Tortoiseshells were at Coverack (Cornwall) on 28th June and at St. Mary's (Scilly) on 13th July. Only a handful of Clouded Yellows and Painted Ladies were reported. Up to three Lesser Emperor Dragonflies were at Dungeness (Kent) with another at nearby Hythe. A single male Lesser Emperor was at Belvide Reservoir (Staffs) on 14th July where earlier in the month at least four male Red-veined Darters had shown well. Migrant or wandering Norfolk Hawkers included one at Sandwich Bay (Kent) on 4th July and another at Paxton NR (Cambs) on 9th. Dainty Damselflies continued to show in small numbers at Sheppey (Kent) and nearby up to 10 Southern Emerald Damselflies were at Cliffe Pools RSPB. Across the Thames at least one Southern Migrant Hawker was at Hadleigh Marshes NR (Essex) early in July and the first Willow Emerald Damselflies were again on the wing in Suffolk.
References
Waring, Townsend and Lewington. Field Guide to the Moths of Great Britain and Ireland. Revised edition, British Wildlife Publishing, 2009.
UKMoths online photographic guide