Just west of Conwy, along the scenic minor road to Penmaenmawr, is an area of outstanding natural beauty that stretches either side of Pensychnant Pass, including the Pensychnant Nature Conservation Centre and the locally known 'miniature mountain' of Alltwen, which rises to just 253 metres. Lepidopterists have long known this area as supporting two of Wales' rarest moths: Ashworth's Rustic and Weaver's Wave. Both species are found elsewhere in Europe but, in a British context, Wales offers the only chance to search for these elusive creatures.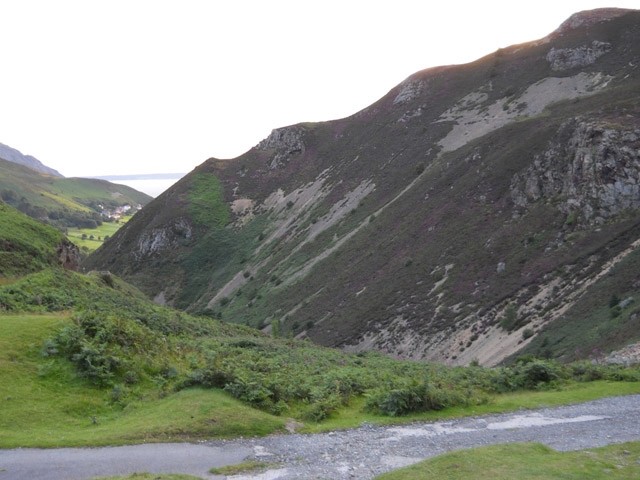 Pensychnant Pass looking west towards Dwygyfylch, Conwy (Steve Whitehouse)
The reserve area holds a mosaic of natural habitats including mountains, moorland, a lake, mixed and oak woodland, traditional agricultural fields and also a large garden at Pensychnant House. Birds such as Pied Flycatcher and Chough can be seen. The impressive gothic-style house is the home of warden Julian Thompson who, apart from looking after the nature reserve, organises art exhibitions and other weekly events. From a moth-er's point of view there is one event that takes precedent above all others. The traditional 'Ashworth's Rustic Weekend' usually takes place each summer around the middle weekend of July, and is open to the general public. Ashworth's Rustic is at home on rocky ground, usually on south-facing slopes, and the larvae can feed on a large variety of flowering plants. Weaver's Wave likes heather, and has an affinity for exposed lichen-clad rocks. Both of these habitats can be found side-by-side at the pass where steep scree slopes, jagged outcrops, gorse and heather flowers catch the eye.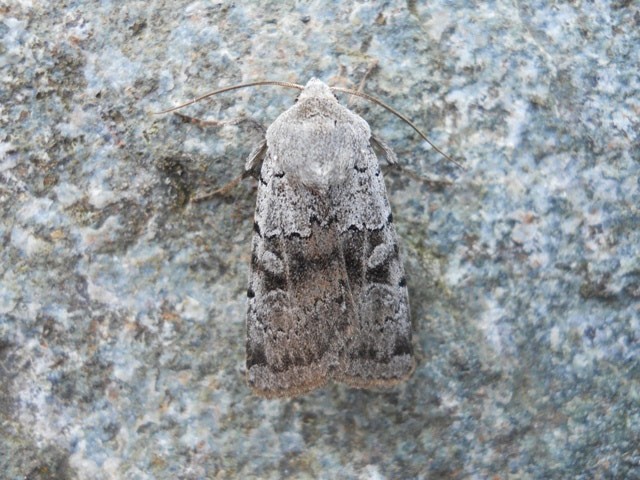 Ashworth's Rustic, Pensychnant Pass (Conwy), July 2012 (Steve Whitehouse)
Seeing these two species sounds pretty straightforward, but there is one other major regulating factor in this part of North Wales — the weather! Ideally you need a calm, warm and overcast night. Predicting all of these together in early to mid-July has been very difficult in recent years and, as the event has to be 'inked in' months in advance, it tends to be a case of come-what-may on the chosen night. With this in mind the author (SW) and Matthew Deans decided to set aside several nights for moth-ing in the approach to 2012's event in the hope that at least one would turn out OK. A group from Warwickshire had already surveyed the pass around 10th July and had been fortunate enough to see at least three Ashworth's Rustic. Julian himself had recorded a Grey Mountain Carpet in the week before our arrival, which is in itself notable at this elevation. On 12th July, six traps were set along the pass track with some positioned in sheltered spots below cliff overhangs.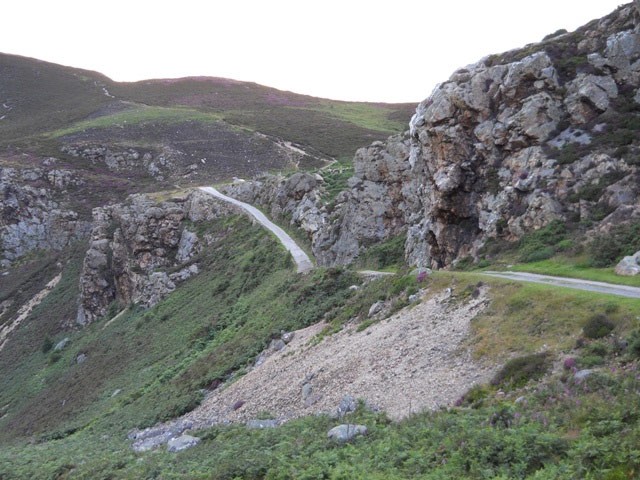 'Pensychnant Pass track showing rocky overhangs to the north (Steve Whitehouse)
The evening started well with perfect conditions at dusk, and many moth species started appearing at the lights soon after 22:00. A few spots of light rain were evident before midnight, while there was some moderate rainfall for a couple of hours up to 02:00. A full inspection of the traps as dawn approached revealed 40 July Belle, six Northern Spinach, three Grey Scalloped Bar, six Crescent Dart, three Northern Rustic, many Triple-spotted Clay, four Ashworth's Rustic, four Confused and several of the Pyralle Matilella fusca (1451). A small influx of migrants included at least 15 Silver Y, a Diamond-back Moth and a Dark Sword-grass. Another 73 species were noted, making this one of the best recent nights of moth recording at the pass. The conservation area has been designated an SSSI, and the occurrence of the Northern Rustics for the first time there since 1998 was particularly welcome — this species was among those that initially aided the designation. Alas, the rather mercurial Weaver's Wave did not show up!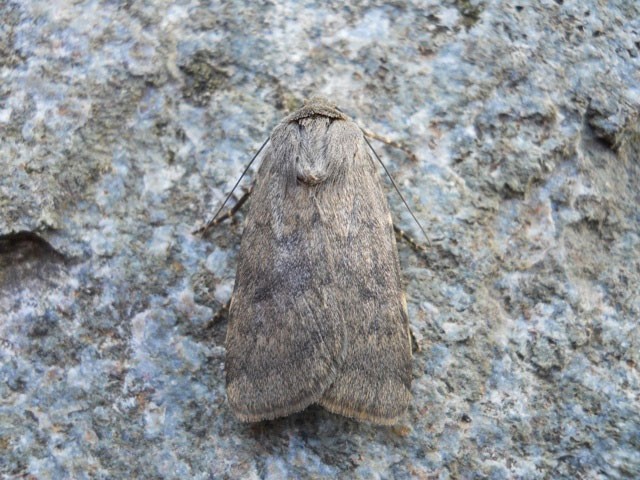 Female Northern Rustic, Pensychnant Pass (Conwy), 13th July 2012 (Steve Whitehouse)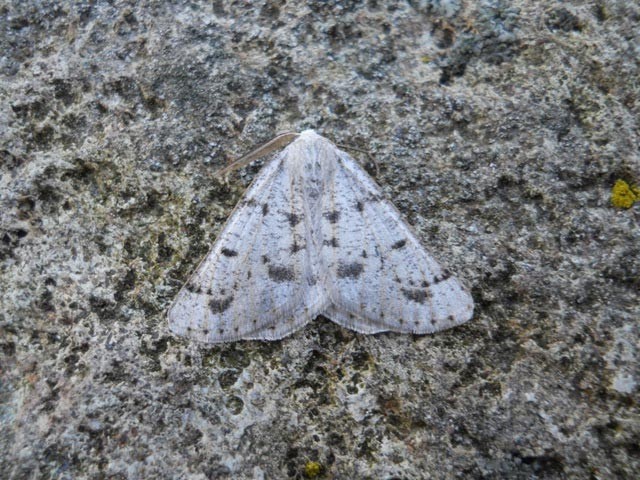 Grey Scalloped Bar, Pensychnant Pass (Conwy), 13th July 2012 (Steve Whitehouse)
Content continues after advertisements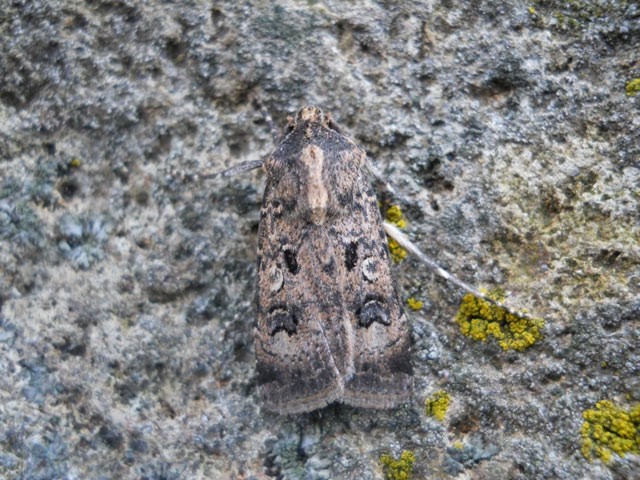 Crescent Dart, Pensychnant Pass (Conwy), 13th July 2012 (Steve Whitehouse)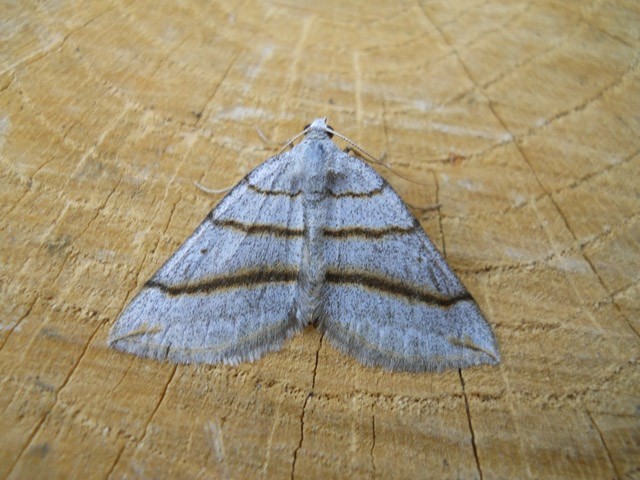 July Belle, Pensychnant Pass, (Conwy), 13th July 2012 (Steve Whitehouse)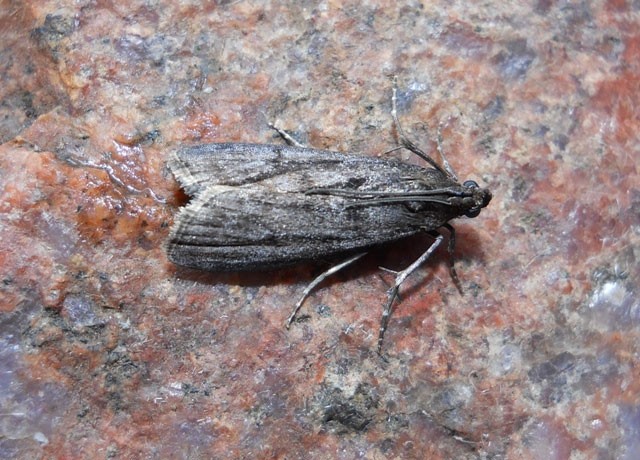 Matilella fusca, Pensychnant Pass (Conwy), 13th July 2012 (Steve Whitehouse)
Heavy rain throughout the rest of the day and night on 13th prevented any more trapping, but did allow recorders to recharge their own batteries. The evening of the event on 14th saw Bill Last, Dave Jackson and Gavin Peplow strengthen the effort across the pass while Julian concentrated on the craggy hillside near the lake. The weather did not seem ideal at dusk, as clear skies and a stiff WNW breeze had noticeable cooling effect. Despite nine traps set among the heather and bare rocks, the numbers of moths seen by 01:00 was a mere fraction of those witnessed two nights earlier. Mid-evening optimism had waned, as recorders withdrew to cars and a tent. However, the pre-dawn trap round revealed more than expected, with a Dark Marbled Carpet, several more Grey Scalloped Bar and Garden Tigers, a Marbled Coronet and 2 Ashworth's among the many True Lover's Knot. Then, as if written in a script, a pristine Weaver's Wave was spotted clinging to the inside lip of the final trap, eventually being potted by Matthew. For most of those present, this was an exciting moment as it was the last of the Welsh endemics for their lists!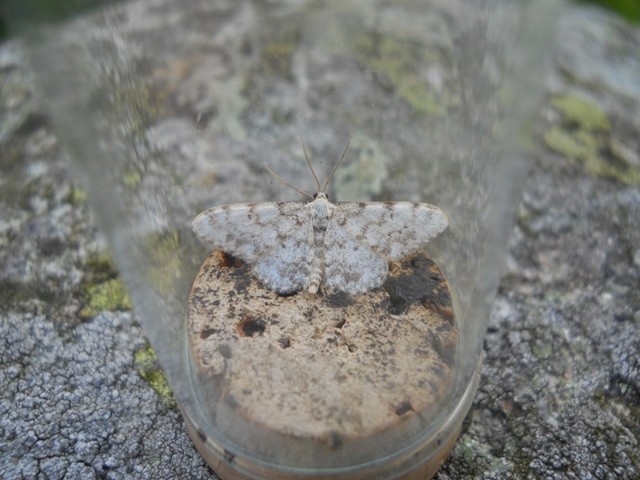 'Potted' Weaver's Wave, Pensychnant Pass (Conwy), 15th July 2012 (Steve Whitehouse)
Back at base, Pensychnant House, Julian was particularly pleased with the event's results — particularly as Weaver's Wave had been very elusive in recent times. The recording effort was due reward for the conservation and stewardship measures that are ongoing across the site. For some, it was their fourth year of involvement in the survey and, finally, they can say they have seen all the 'rocky' moth specialities of this beautiful corner of North Wales!
The Ashworth's Rustic event is free to all those taking part and the details can be found on the events section of the website in the early part of each summer. For those not wanting to stay up most of the night, the contents of traps are normally exhibited at the house from mid-morning on the relevant Sunday.
References
Townsend and Lewington. Field Guide to the Moths of Great Britain and Ireland. Revised edition, British Wildlife Publishing, 2009.
UK Moths online photographic guide
* The numbers stated after a number of micro moth species in the text are the British Checklist Species numbers as assigned by J. D. Bradley in the Log Book of British Lepidoptera (2000).