High pressure continued throughout most of May, with sunny days and clear nights the norm in England and Wales. The second week began with some welcome humid and cloudy nights, but this was short-lived and soon followed by a sobering cold blast from the Arctic. Settled weather with night temperatures in the mid-teens in the second half of the month saw a steady flow of midsummer species emerge and a burst of iconic migrants arrive from the Near Continent. However, the big event of the month was a mini explosion of a macro species that wasn't really on many moth-ers' radars.
An early, wing-damaged fern species at Kingsdown, Kent, on 3rd caught the eye of Nigel Jarman, who took a quick record shot before getting a serious second opinion. Shortly, Britain's fourth Cryptic Fern was confirmed by Graeme Smith and assumed to be a migrant, as the trap is on the western edge of the beach some 200m from the sea. The chalk-based habitat there is mainly gardens, with a variety of plants, including plenty of Old Man's Beard in the hedges and on waste ground.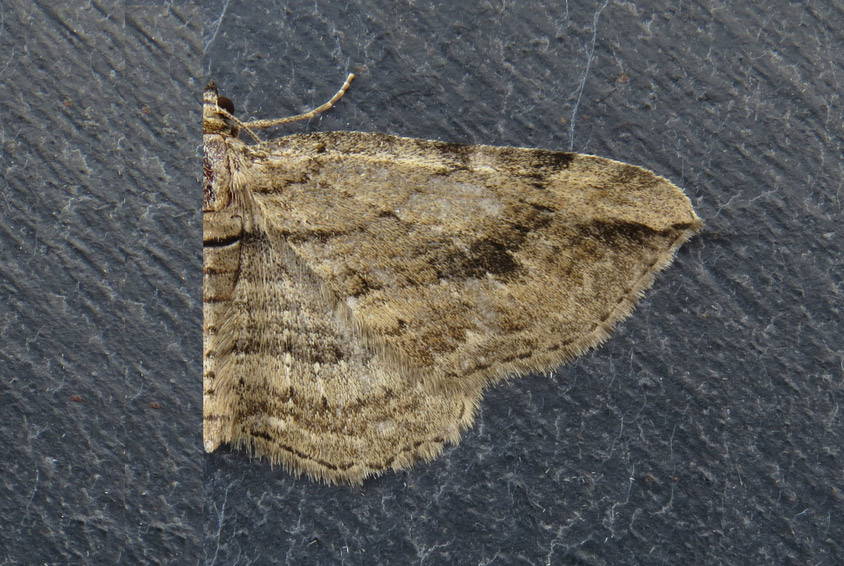 Cryptic Fern, Kingsdown, Kent (Nigel Jarman).
In the same county, at Canterbury, Raphael Long (who has only recently started trapping) photographed another fern in his Robinson trap on 8th but it escaped capture. Fortunately, two more were potted the next night and these were also determined as Cryptic Ferns. The trap site backs onto a well-vegetated railway line with plenty of foodplant. Around this time, three more Cryptic Ferns were confirmed from Aylesham, Kent, and others were recorded at Bracklesham, West Sussex and Ovingdean, East Sussex.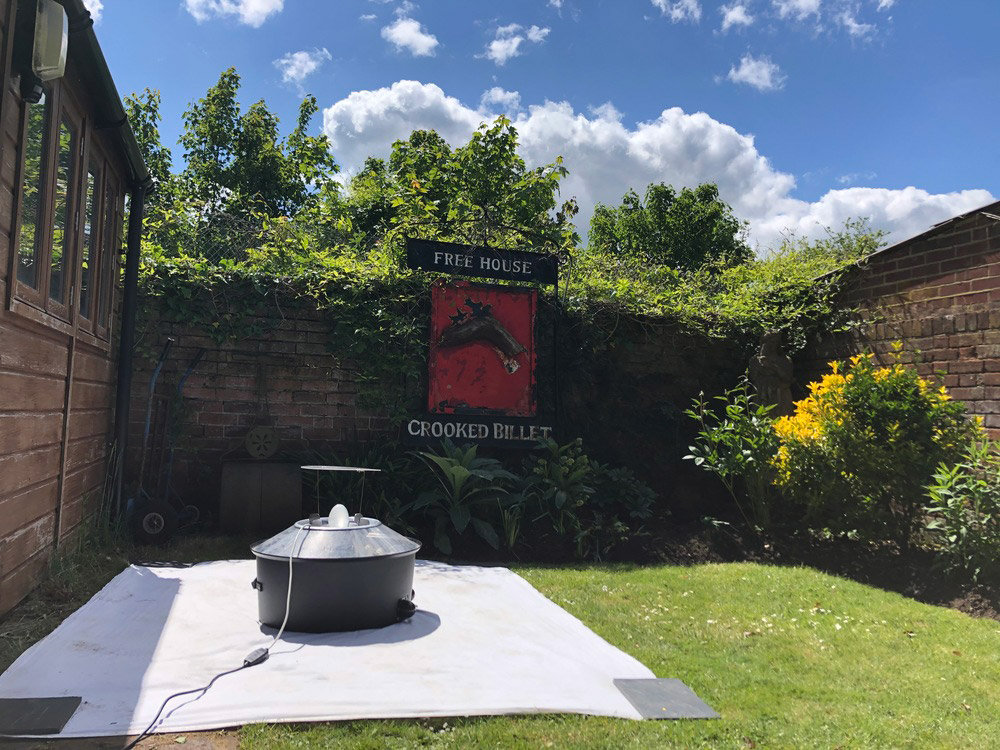 Garden trapsite at Canterbury, Kent (Raphael Long).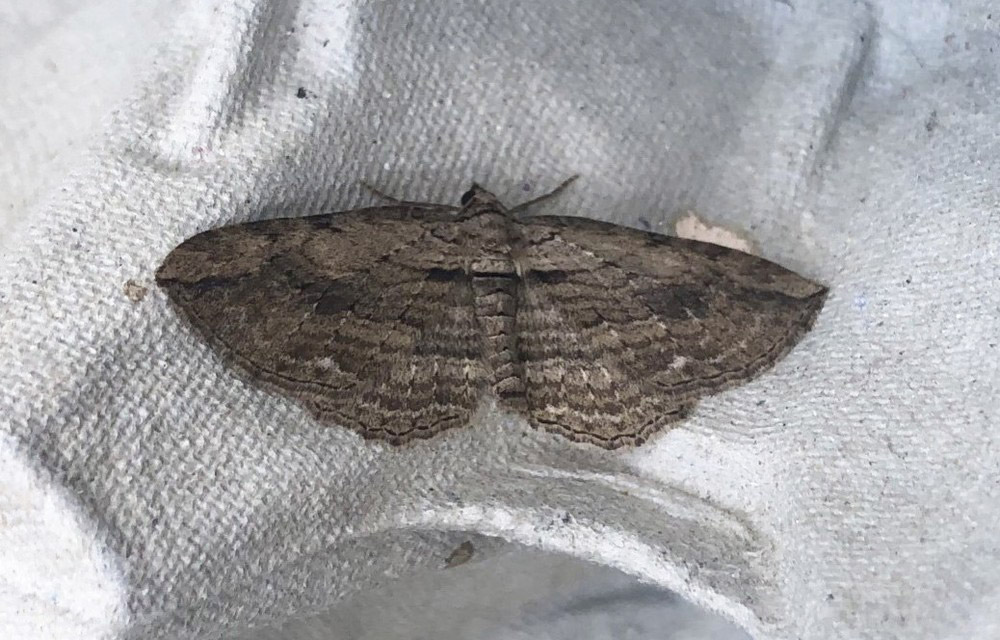 Cryptic Fern, Canterbury, Kent (Raphael Long).
Later in the month, at least six were trapped at Folkestone, Kent, and another at Beachy Head, East Sussex. The big question is, has Cryptic Fern recently colonised the south-east coastal hinterland? Perhaps not – a fern species collected from Rye, East Sussex on 23 June 1990 has recently been confirmed as Cryptic. Following that, a couple of records from New Romney, Kent, in and around 2003 were at the time assumed to be migrants. The moth overwinters as a pupa and no doubt next spring moth-ers will be targeting patches of Old Man's Beard on waste ground in the hope of seeing a species which may have hidden in plain sight for some time.
A Bedstraw Hawkmoth photographed near Hebden Bridge, West Yorkshire, on 10th was the earliest county record ever. Another in north-west Norfolk on 20th was probably from a local breeding colony. Surely, one found by day at Blackwater Bog, Co Offaly, on 29th was a true migrant. A Striped Hawkmoth was reported in Yorkshire on 17th. Southerly winds from the Near Continent picked up from 17th and a male Gem was consequently at Magdalen Laver, Essex, on 18th, with another on 30th at Stocksfield, Northumberland. The first of two Banded Pine Carpets was trapped near Saltwood, Kent, on 19th, followed by the second at Old Coulsdon, Surrey, three nights later.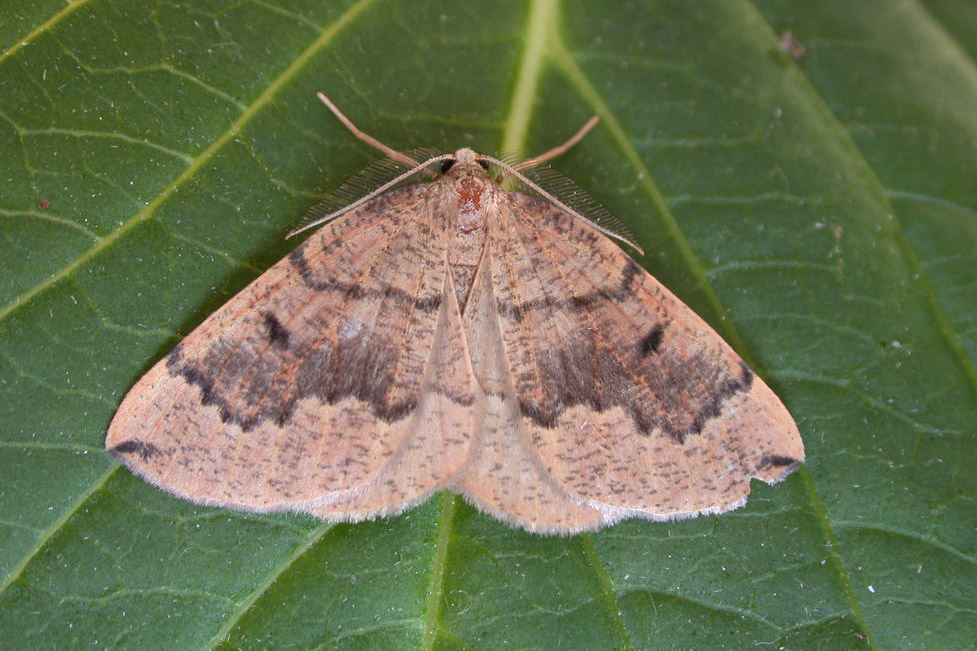 Banded Pine Carpet, Saltwood (Ian Roberts).
The pace of arrivals stepped up on 20th when Pam Worrall, while out walking, unexpectedly found a Pale Shoulder resting on a plant near Tonbridge, Kent. Sadly it was not seen again despite subsequent searches with a moth trap in the habitat.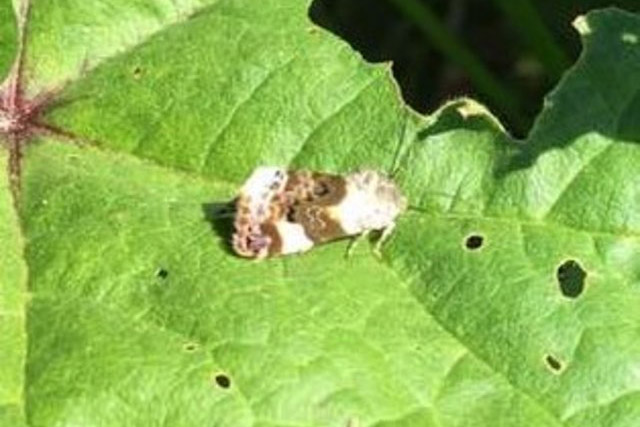 Pale Shoulder, Tonbridge, Kent (Pam Worrall).
That night Jamie Marsh, Reserves Manager at Hampshire and Isle of Wight Wildlife Trust, set his trap on the island at Ningwood and was rewarded with a fantastic Lunar Double-stripe. He said "this was a cream on the cake" bonus for all the conservation work the trust have put in maintaining habitat for the Red Data species, Reddish Buff.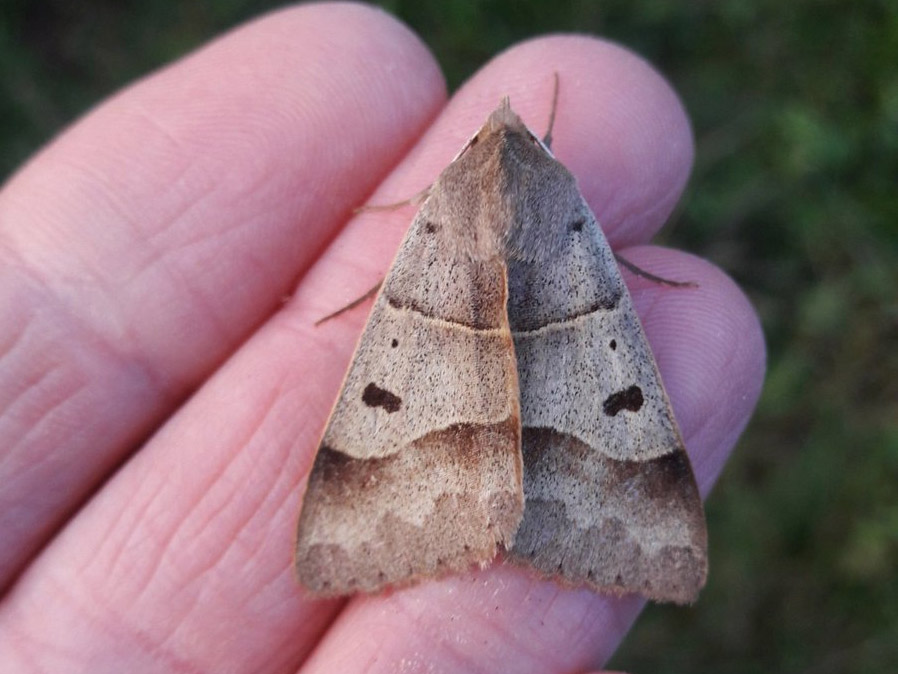 Lunar Double-striped, Ningwood, Isle of Wight (Jamie Marsh).
Back in Kent, a Concolorous was at Sandwich Bay on 20th and a Golden Twin-spot was at nearby Densole on 21st. A migrant Silver Barred was at Southend, Essex, also on 21st, and a Beautiful Marbled was captured in the north of the county that night. Steve Nash's migrant moth forecast that afternoon inspired Andy Millar to do a snap moth trap of Folkestone Warren, Kent, that evening, and it paid off. Field colleague (at two metres' distance!), Andrew Lawson recalled: "a rush of warm air suddenly arrived before midnight and almost immediately Diamond-back Moths started to settle on the trap perspex. A migrant Mocha was next to come in and this was soon followed by a Beautiful Marbled actually watched in-off the sea and straight into a trap!"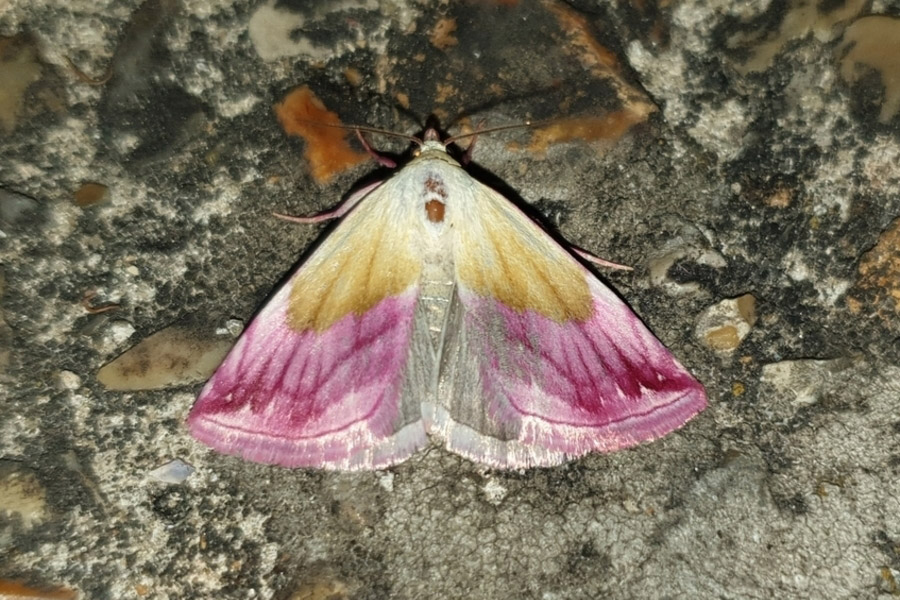 Beautiful Marbled, Folkestone Warren, Kent (Andrew Lawson).
Several other Beautiful Marbled were recorded in Kent and Suffolk over the next few nights. Moth of the of the month, however, must go to Bernard Boothroyd at Ruckinge, Kent, on 24th – a pristine The Alchymist, no less; the sort of prize we all dream about.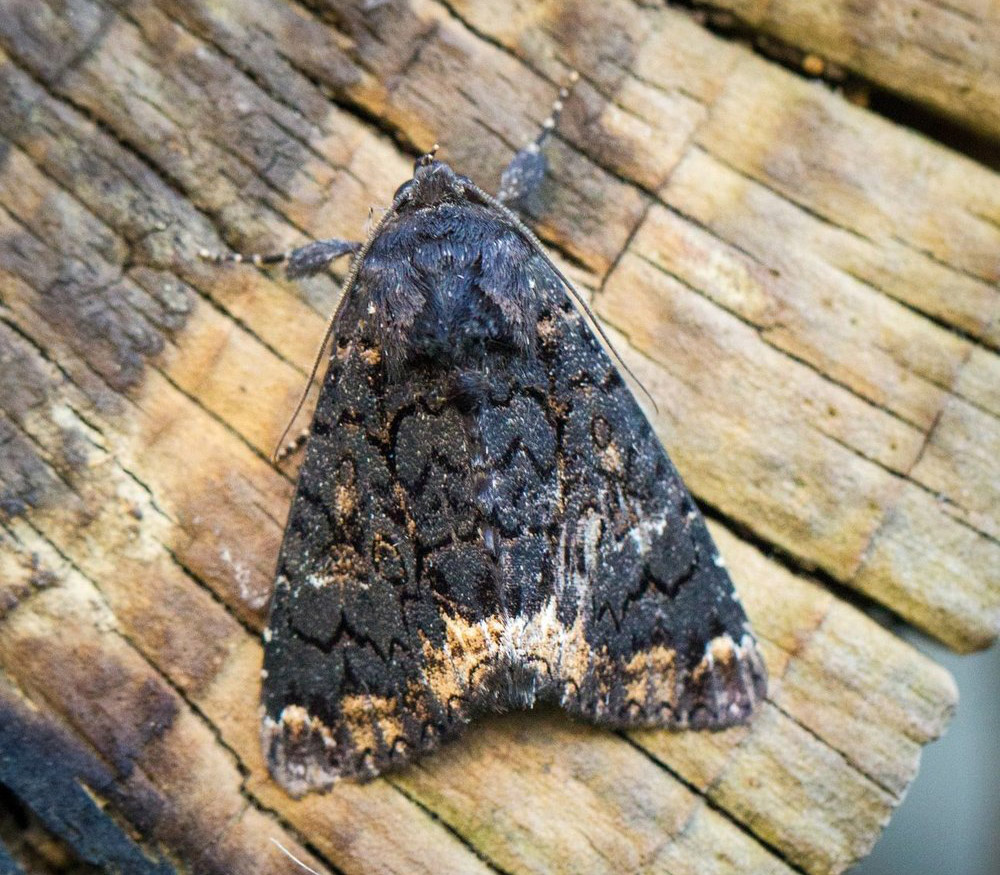 The Alchymist, Ruckinge, Kent (Josh Jones).
The May hawkmoth bonanza continued when a Death's Head Hawkmoth was attracted to light at Longstones Observatory, St Mary's, Scilly on 26th. This adult may have been locally bred as the awesome larvae were discovered on the island last year. Convolvulous Hawkmoths were seen at Knockholt, Kent, on 26th and in Somerset the next day. A fine Spurge Hawkmoth was trapped at Lydd-on-Sea, Kent, on 27th.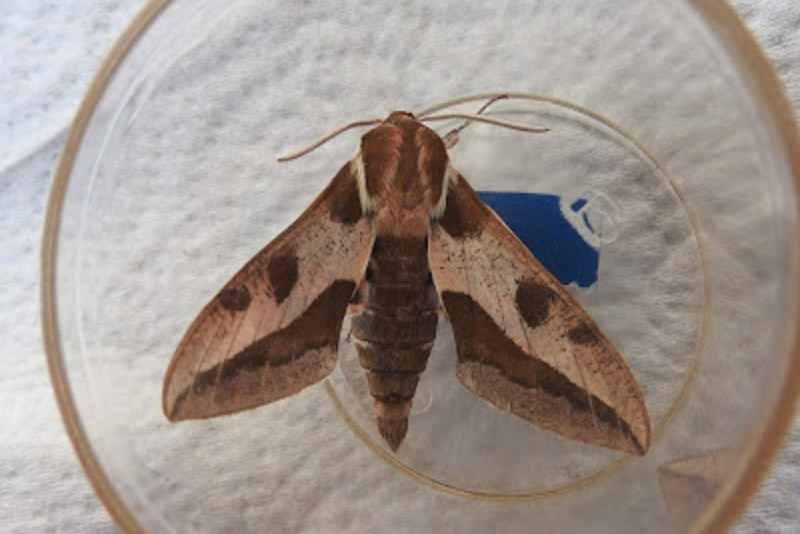 Spurge Hawkmoth, Lydd-on-Sea, Kent (Paul Trodd).
A Pearly Underwing was trapped at Hereford on 27th. The Delicate were at Portland Bill, Dorset, on 27th and at Ruckinge on 28th. Hundreds of Silver Y's were watched flying north on Barra, Outer Hebrides, on 30th. Although probably bred locally, Dewick's Plusias were recorded at Cambridge and Sutton Gault, Cambridgeshire, Thetford, Norfolk, and in Surrey.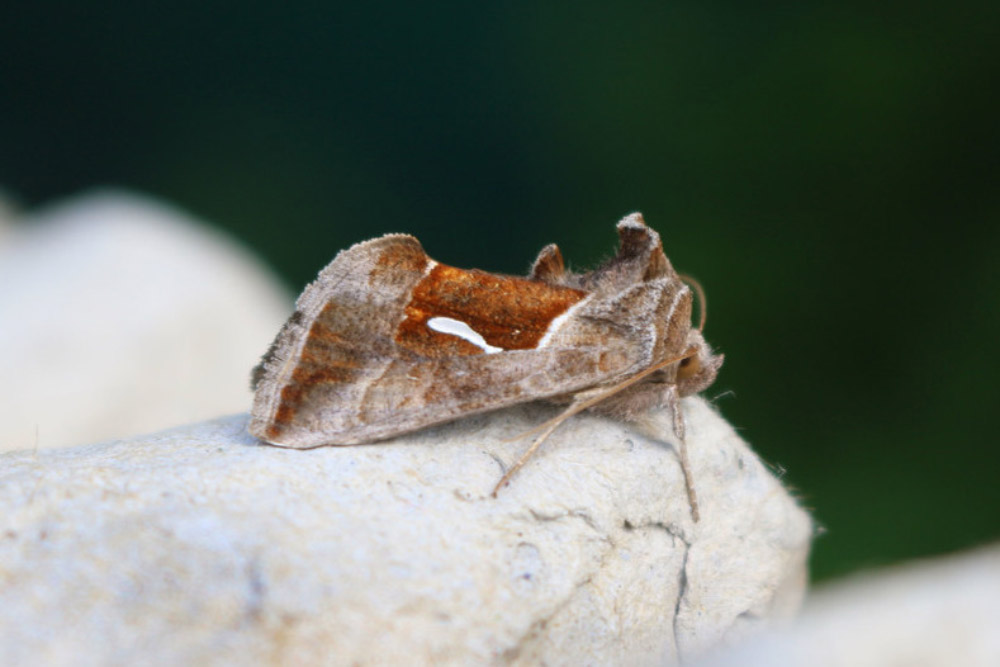 Dewick's Plusia, Cambridge (Jon Heath).
Content continues after advertisements
Another Caloptilia honoratella was confirmed from Stevenage, Herts, on 21st. Two first records for Norfolk came via Agrotera nemoralis north of Beccles on 22nd and, the next day, Musotima nitialis at Horford. A Zelleria oleastrella was at Southsea, Hampshire, on 30th. A small resident population of Vitula serratilineella continues at Tynemouth, Northumberland, with four individuals present on 7th. This colony has an interesting lifestyle, thriving in a nest box containing a Garden Bumblebee nest. The moth larvae feed on the wax left in the box each year and has even extended its UK range to nearby Newcastle upon Tyne.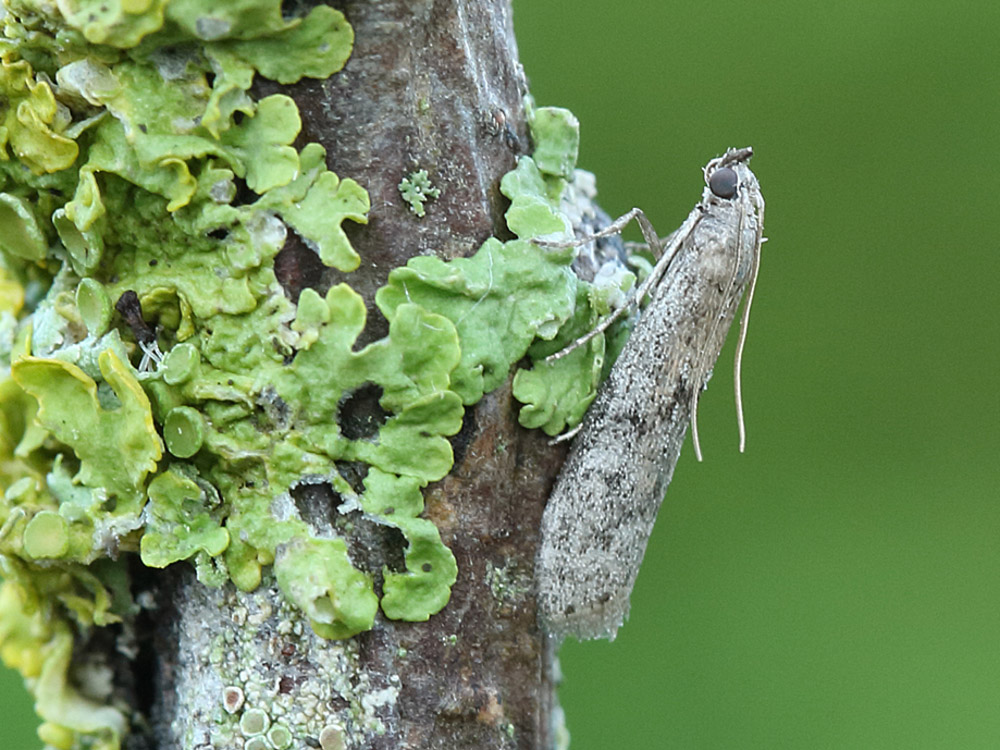 Vitula serratilineella (Tom Tams).
Sadly, Netted Pug has declined by 80% across the UK in the last 20 years. The reason for this is unclear, especially as its foodplants (Bladder Campion and Sea Campion) are widespread. However, a handful of recorders were lucky to add this, the most beautiful of British pugs, to their garden list in May, so the population may have had a small positive bounce for once. Chamomile Shark has had a great spring, which may be due to the extended fine weather, or that more moth garden traps than ever before were being used during the period.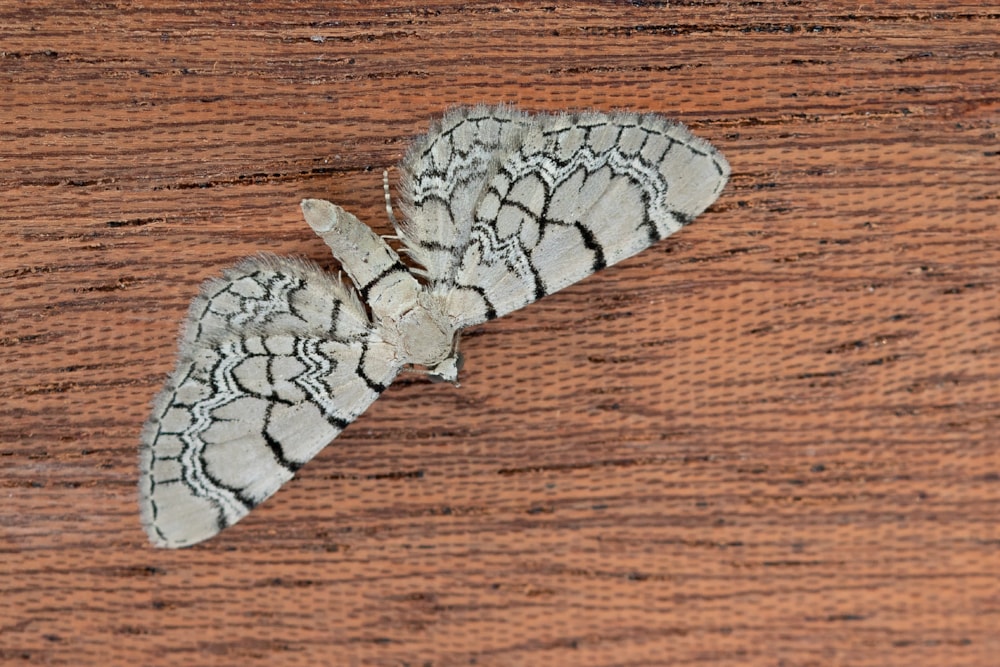 Netted Pug, Deeping St James, Lincolnshire (Josh Jones).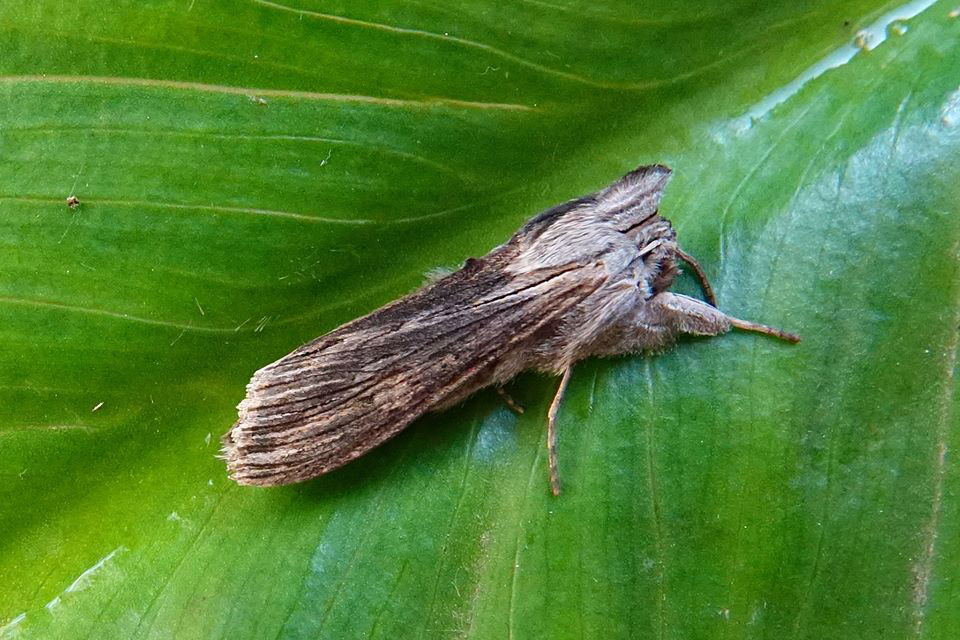 Chamomile Shark (Karen Williams).
Originally a Red Data species, Toadflax Brocade very slowly colonised south-east England during the second half of last century. It has now spread throughout East Anglia and is seemingly marching into the Midlands. It is resident at Rugby, Warwickshire, and there are is a recent record for the Black Country, too. It is thought to be helped by its foodplant, Purple Toadflax, thriving along railway lines, which often have limestone bases to the tracks. This aids the species' travel from city to city. One in Solihull, Warwickshire, was new for the garden for Neil Freeman on 21st and is certainly a heads up for Worcestershire recorders.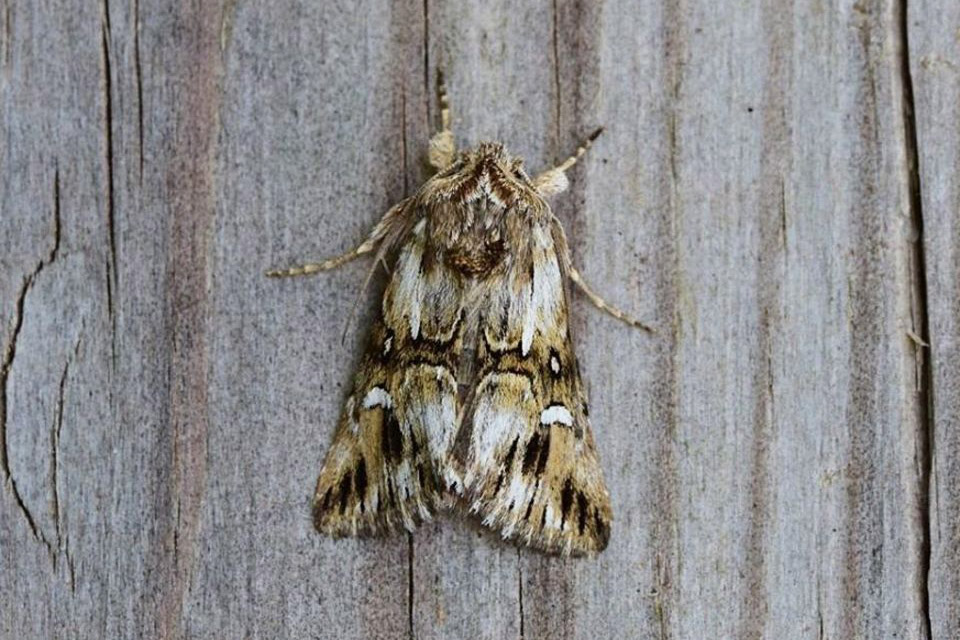 Toadflax Brocade (Neil Freeman).
The dry nights have seen a greater number of suitable trapping dates than one would normally expect and the species range recorded for May was high. Three species that seem to have done particularly well are Puss Moth, Treble Lines and Muslin Moth. Leaving a corner of your garden to 'go wild', encouraging plants such as dandelions and docks to flourish, is one way of ensuring garden moths can prosper and slow the tide of habitat loss elsewhere in suburban environments.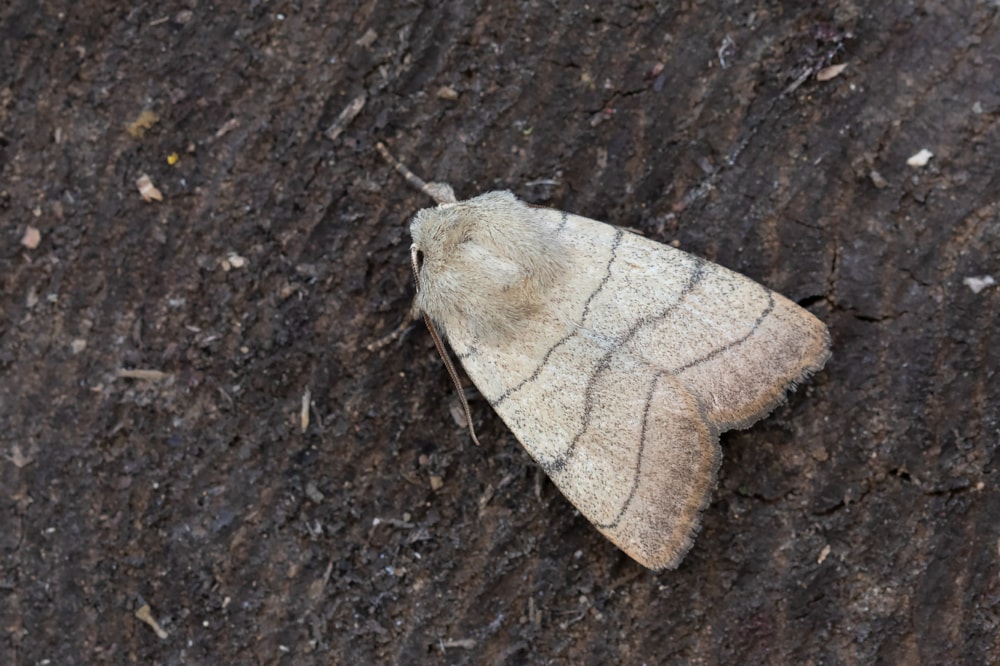 Treble Lines, Langtoft, Lincolnshire (Josh Jones).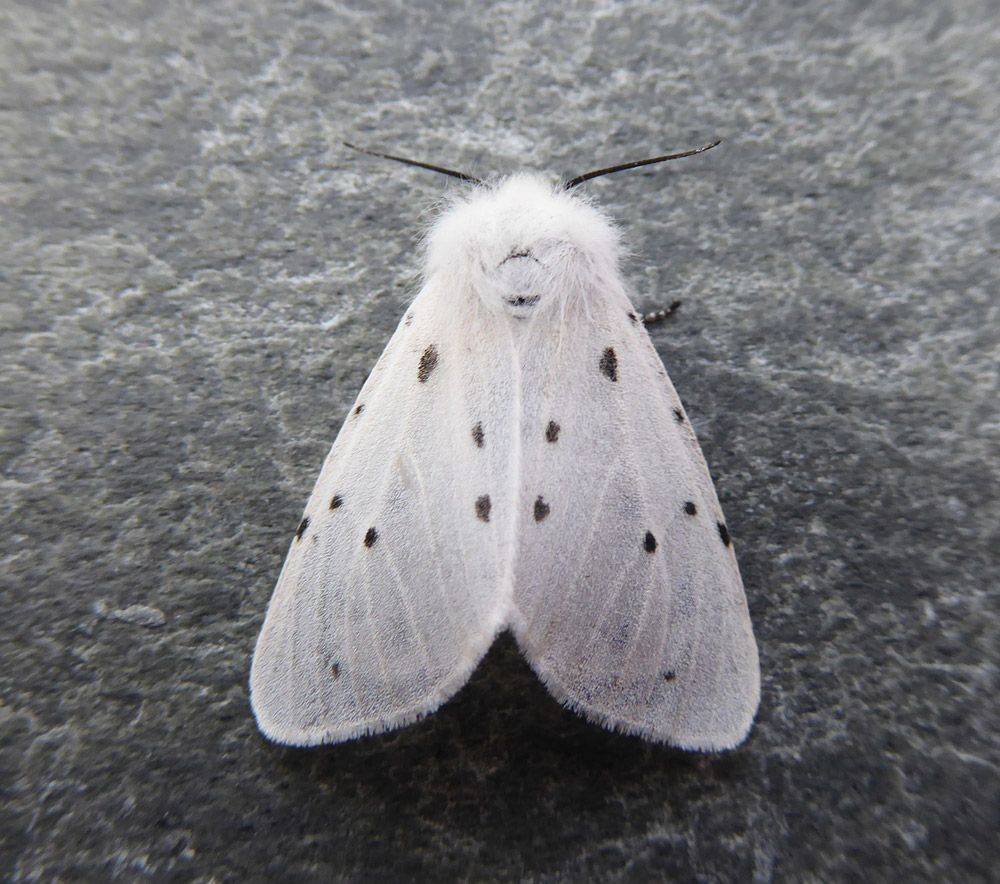 Female Muslin Moth (Steve Whitehouse).
The importance of brownfield sites for Lepidoptera has long been known and many of these are now disappearing under housing estates and warehouse developments. It is pleasing to hear that one near Ashford, Kent, is not being exploited for the time being and still holds the attractive tortix Commophila aeneana. Conservation of even small plots of land can be so beneficial to invertebrates. This is demonstrated nicely at a private site near Woodchurch, Kent, where a small clearing with some bramble scrub, maintained for the butterfly species Grizzled Skipper, was discovered to also be hosting the iconic micro Olethreutes arcuella for its second year.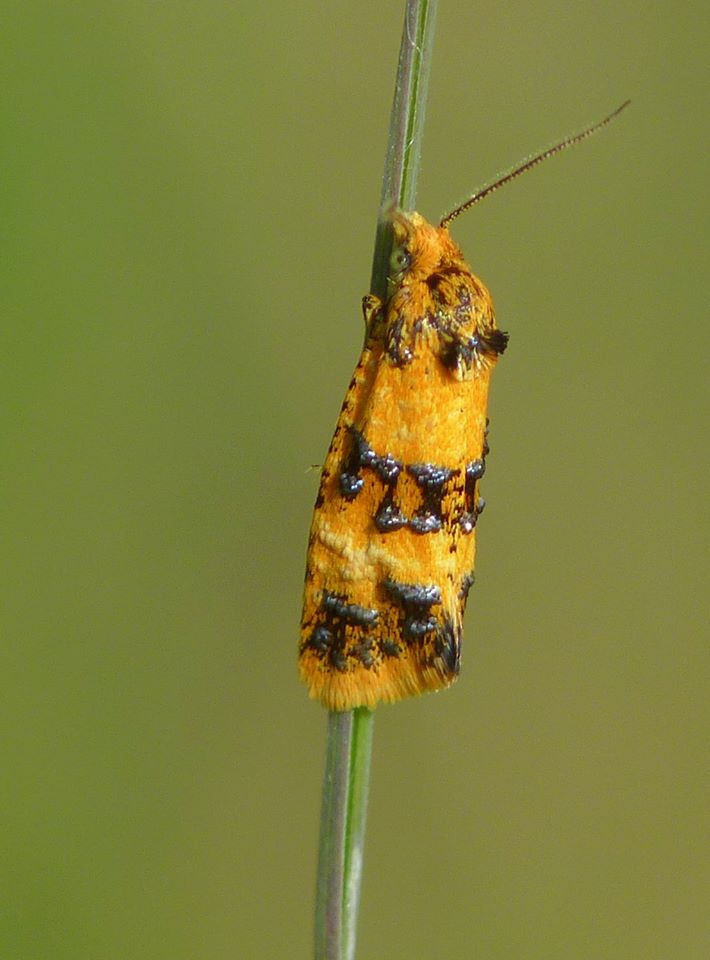 Commophila aeneana (Allen Ward).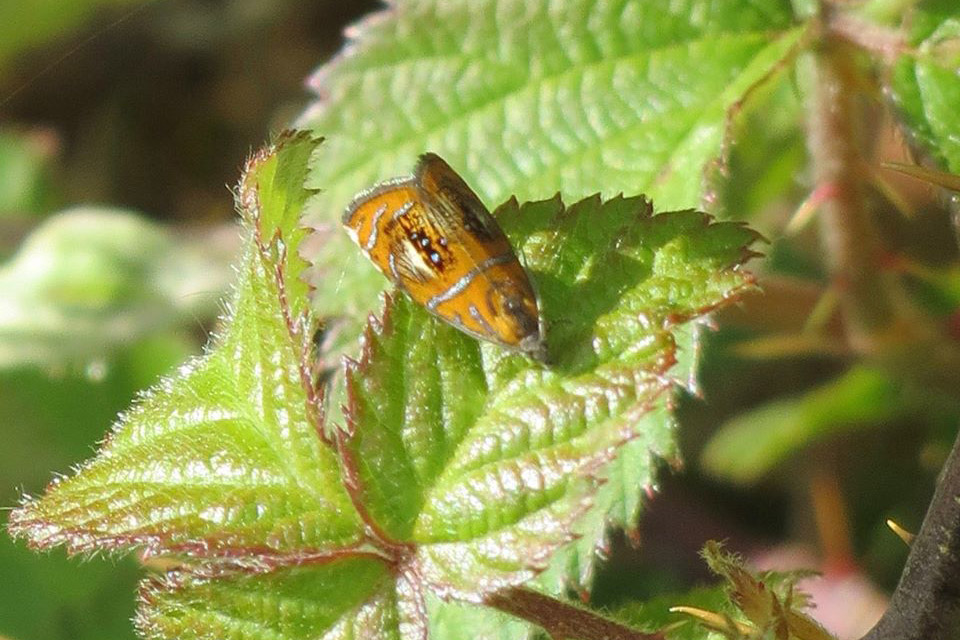 Olethreutes arcuella (Bernard Boothroyd).
Crassa tinctella has been keeping a low profile in western England for many years and one at Worcester on 16th was the first county record since June 1885. Another, in the Shropshire part of the Wyre Forest on 20th, and a further individual at Highworth, Wiltshire, on 21st may mean that conditions this year have been just right for this species and it may be on the up. Other micro highlights included a Borkhausenia minutella at their regular Kent site at Margate and another at Spalding, Lincolnshire, on 26th – a county first for Tim Bagworth. A Cydia servillana in Somerset was only the third county record.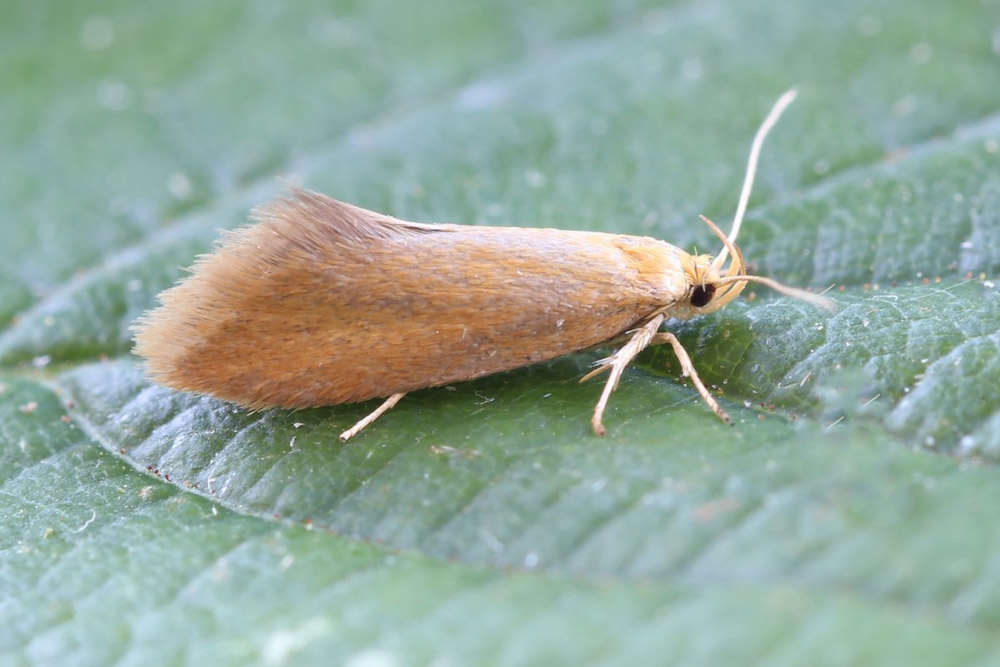 Crassa tinctella (Steve Nash).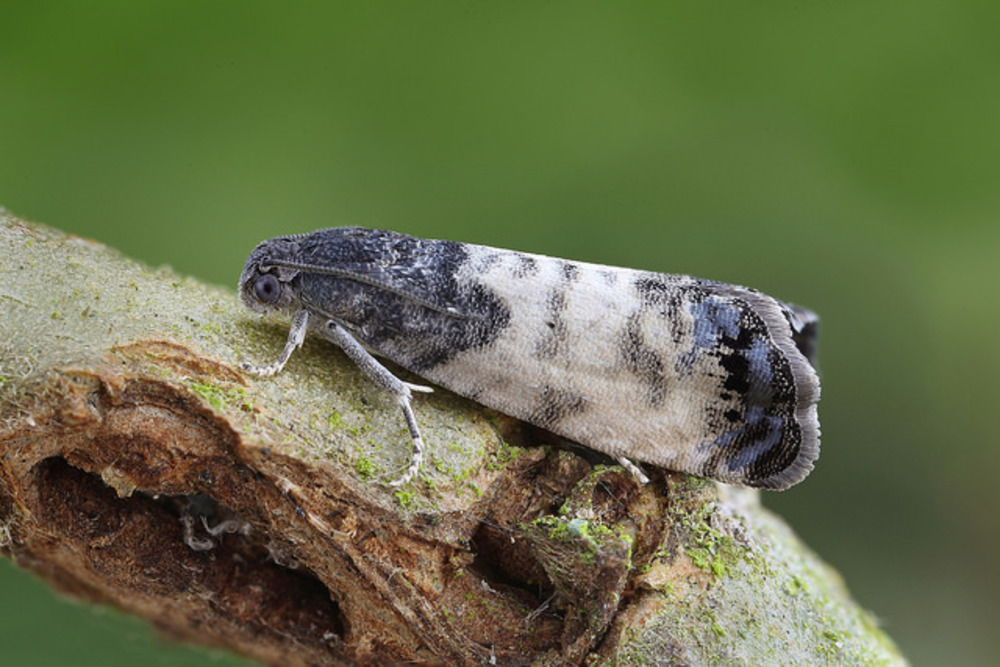 Cydia servillana (Patrick Clement).
The midsummer leaf-mining season will soon be in full swing. Beginners should start on abundant trees and shrubs such as Hazel and Hawthorn. Stigmella microtheriella mines can be widespread and easy to spot and identify on the upper side of Hazel leaves. Apple Leaf Miners can be very numerous on hawthorn. Those wishing to see the adult moth should ideally look for longer, older galleries and the golden-yellow live larvae still feeding at the end. Stationary larvae may mean that it has died or been parasitised.
Place the leaf in a plastic pot on top of a single layer circle cut-out of kitchen roll with a few other similar leaves to help maintain humidity. When fully fed the larva will vacate the galley and spin up into a pupa on a leaf, on the kitchen roll or even the side of the pot. It is best to take off the lid each day and simply breathe on the contents to add a tiny amount of moisture. One collected on 22 July last year saw an adult emerge 19 days later.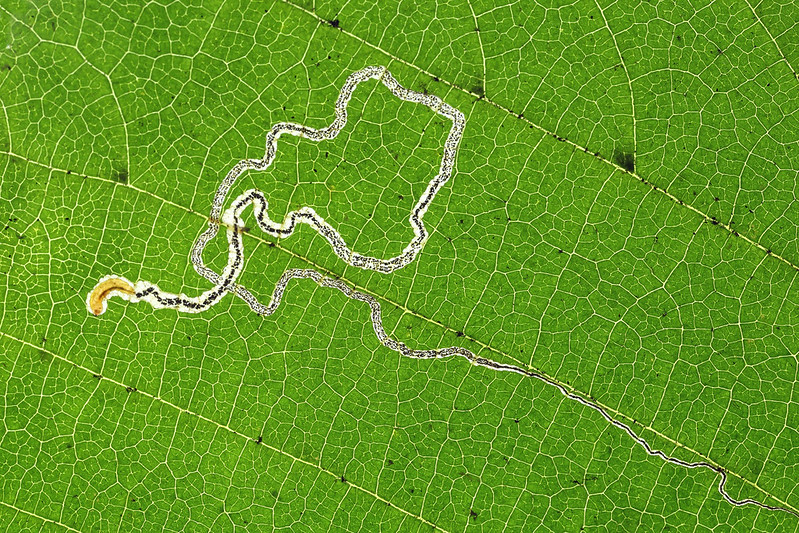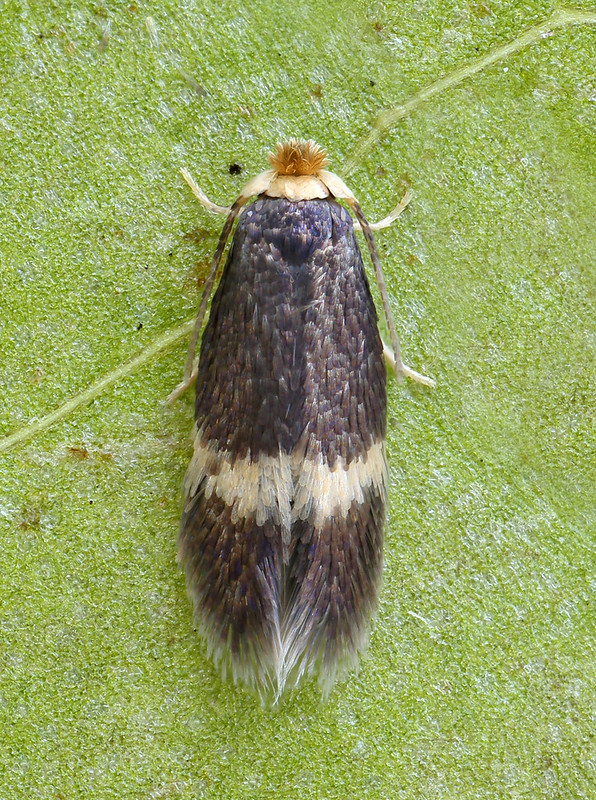 Leaf mine (top) and adult Stigmella microtheriella (Patrick Clement).